Design -

8.9/10

Display -

9.5/10

Performance -

8.4/10

Battery -

6.8/10

Camera -

8.5/10
Summary
Oppo Reno 2 is a blend of beauty and performance; only a good battery optimization could have made it a perfect mid-range device
Oppo brought the Reno series in the second quarter of 2019. Although we are expecting Reno 3 now, Oppo Reno 2 is still the high-end offering in the Reno series at the moment.
The first version, standard Reno, was launched along with the high-end variant Oppo Reno 10X zoom that mainly focused on photography isn't accompanying the second iteration of the phone. So they are only limited to the smaller variant Reno2 F and premium variant Reno 2 this time. We earlier reviewed Reno2 F, which is equally beautiful in looks like the bigger sibling, but it seemed more like an overpriced device.
Reno 2's primary selling point is the quad-camera setup and pop-up selfie camera module that is a shark fin design. Oppo has added some very interesting camera features that are supportive of video making. It also hosts the Qualcomm Snapdragon 730G SoC chipset to power the handset. 
Whether this phone has what it takes to be the best mid-ranger, let's find out below.
Oppo Reno 2 specs
Display: 6.5 Inches AMOLED, 1080 X 2400 Resolution

OS: Android 9.0, Color OS 6.1 

Chipset: Qualcomm Snapdragon 730 G

RAM / ROM: 8 GB / 256 GB

Camera (rear): 48MP + 13MP + 8MP + 2MP

Camera (Front): 16MP pop-up

Battery: 4000 mAH
Design and Display
Oppo Reno 2 isn't much different in design than the original Reno and the Reno 10X zoom if you have had a chance to look at them. So the novelty starts to wear out if you are jumping from the previous version; however, the new model boasts a quad-camera setup on its rear side that is a major difference than dual-camera setups of the previous two base models.
Its a two-tone glass finish on the rear side that shines like a premium phone, which is also prone to fingerprints and smudges. Protected by the Gorilla Glass 5, this 3D curved back panel is jam-packed in the middle area where four cameras are present in the top portion, and an Oppo branded strip run underneath. Everything is flat, and there is no camera bump like the Redmi Note 8 Pro for spoiling the overall experience. Instead, all four sensors rest behind the glass surface. There is, however, an O-Dot, also present in the earlier Reno versions, enclosed in the branded strip that keeps the phone a little elevated from the surface when lying flat mainly to keep the lens area safe from scratches.
We have the Ocean Blue color variant, though, it comes in Luminous Black and Sunset Pink as well, we believe Black and Blue variants look cooler than the third one.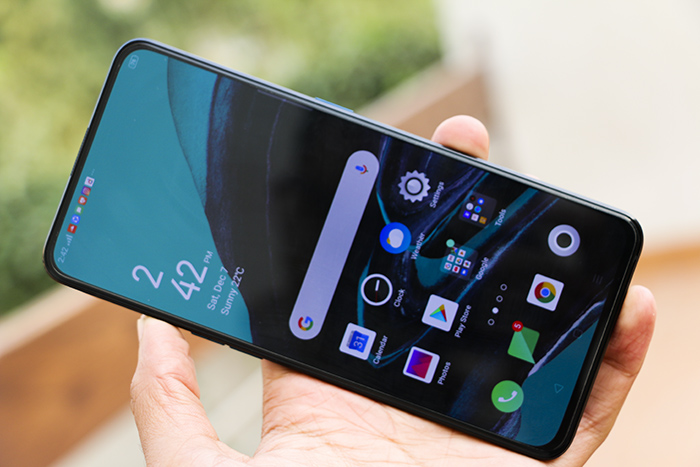 Other than the quad-camera, the primary design feature is the shark-fin design selfie camera that pops up with a blink of an eye. Oppo says it takes 0.8 sec to swivel out at 11 degrees. We can't measure precisely this short interval, but it is speedy, and that helps a lot at the time of facial unlock. There is a built-in dropping mode which retracts the lens to avoid accidental damage in case the phone falls freely. This is not a usual popup mechanism that we witnessed in Reno 2Z, F11 Pro and A9 2020, instead, it is a very artistic design which has made possible the spotless 6.5 inches screen on the front side that falls in between Oppo Reno's 6.4 inches and Reno 10X zoom's 6.6 inches.
There is no intruding notch, and you get 401 pixels density, which was 387 ppi and 402 ppi in the case of Reno 10x zoom and Oppo Reno, respectively. However, Reno 2 offers an aspect ratio of 20:9 against 19.5:9 of the rest of the two earlier variants.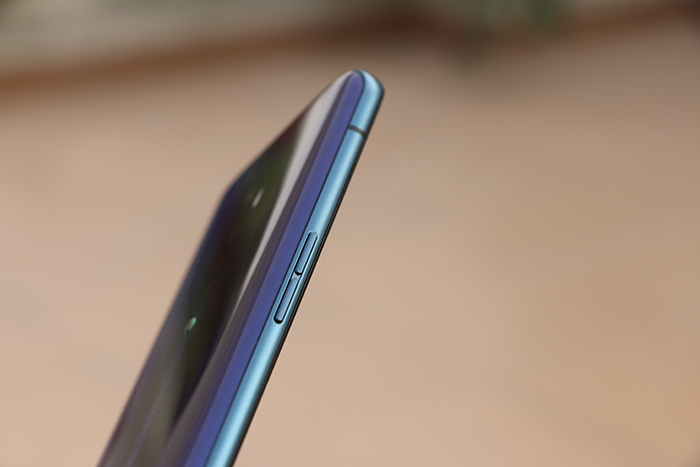 The front has really tiny bezels, and only at the bottom it feels a little bigger, which also not a big turn off. Oppo has placed two separate volume keys on the left side, whereas the power key along with the SIM tray is locked on the right side of the phone. A small green strip on the power key makes it prominent and beautiful. Overall the tactile beauty of the keys is fantastic.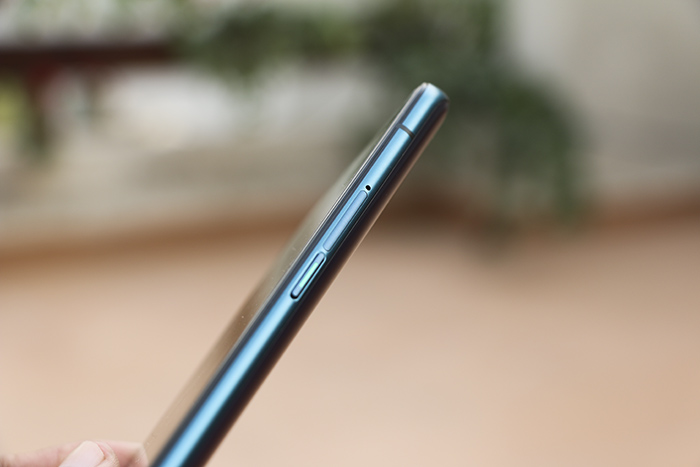 While the top holds the motorized camera and the secondary mic, the bottom offers the 3.5 mm audio slot, a primary mic, a USB Type-C charging slot, and the speaker grille right next to it.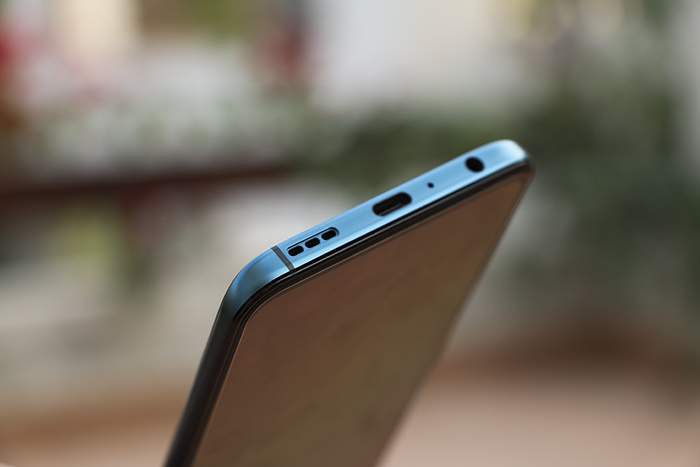 Oppo Reno 2 features a Gorilla Glass 6 protected AMOLED screen offering 1080×2400 px resolution, which produces a quality display and goes as high as 800 nits in brightness. It is sharp, colorful, and very bright at its mid-levels. We did not face a problem with any type of content both indoors and outdoors; however, some darker scenes in the movie like Captain Marvel may compel you to find some shades if you are out on a sunny day, and here I am talking about quite dark scenes.
There are a couple of display settings to customize the visual experience further though they are limited to only a handful of options.  
To sum it up, it's a massive phone with an immersive display, and to be honest, it can't be handled with one hand all the time. You must use the second hand for several tasks. 
Also Read: Oppo Reno 3 Pro is here. Here are its best features
Performance and Battery
Oppo Reno 2 comes with Snapdragon 730G, 8 GB RAM, and 256 GB internal storage. On the software side, Android 9.0 and ColorOS 6.1 run the show and are responsible for all the user interaction.
Although, it looks like an overpriced device for Snapdragon 730G, however, the phone is adequate for most of the resource-intensive tasks.
On AnTuTu, it scored 260374, which is decent, but it is behind 288187 of what Redmi Note 8 Pro produced with Helio G90T. Nevertheless, it left behind the Xiaomi's device in a few areas.
During our tests, we didn't note any sluggish behavior while it played everything with ease we threw at it. Only on a few occasions, we noticed it showing the slightest lag while switching between Call of Duty and PUBG after an hour-long session, which is not a serious flaw for a phone that processes everything normally.
Oppo Reno 2 features a 4000 mAh battery and a VOOC Flash charge 3.0. According to the claims of the company, it gets charged 51% in 30 minutes. The result is almost similar during our test, but for the full charge, it took 1 hour and 17 minutes. 
Our video playback drained the battery in 12 hours and 47 minutes, which is marginally less than what the company claims. You can have a look at the following video for understanding the battery drain and charging activity.
On average, it can consume between 15 – 16% in an hour with common practices; however, a heavy gaming session can eat up to 24% of the battery, which is really quick. In our four-hour battery test, different apps on the mobile data took away 66% of the battery. Have a look at the following graph for the results.
Reno 2 also claims to conserve power efficiently with the help of its Neural Network Processing, but Oppo phones have this common trait of less than desired battery optimization. However, this phone is among Oppo's better-performing devices, even better than last year's F11 Pro and Reno series.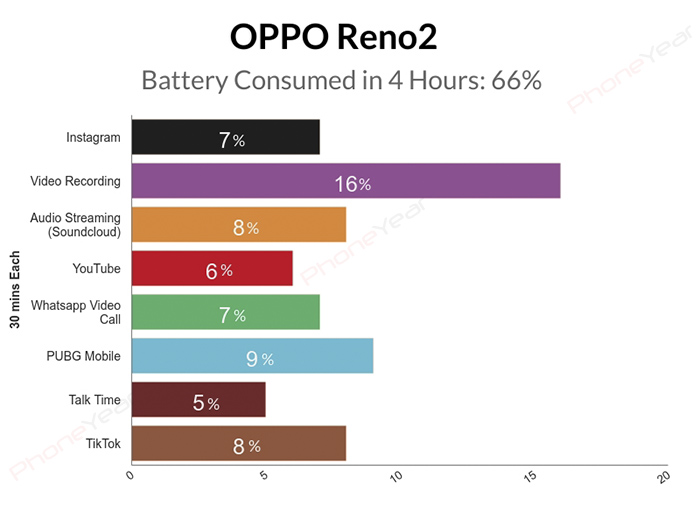 The fast charge can make up to some extent; you definitely need to recharge the phone at the end of the day.
Camera