We have waited quite a bit for the Vivo S1 Pro ever since we laid our hands on the standard S1 version more than five months ago. We have some good memories of the phone for its amazing battery performance and beautiful design. This higher version shares a few similarities with S1, but overall, the Pro looks much better in specs, and the primary being the quad-camera setup and a different design language that is miles different than the smaller sibling. Vivo has put a diamond-cut camera panel on the rear side that gives it a unique look.
By design, S series is a combination of style and smartness, does it hold true for the S1 Pro, let's find this out in the following paras.
Vivo S1 pro Specs
Display: 6.38 inches AMOLED

OS: Android 9.0, Funtouch 9.2

Chipset: Snapdragon 665

RAM/ROM: 8GB/128 GB

Camera (Rear): 48MP + 8MP + 2MP + 2MP

Camera (front) : 32MP

Battery: 4500 mAH
Design and Display
With the advent of S series, Vivo has touted the phones (both S1 and S1 Pro) for their state of the art design language that makes them a head-turner. In line with the smaller variant, S1 Pro also uniquely boasts an attractive rear design featuring a quad-camera set up in a diamond-shaped panel that juts out a little and inspired by the designs of jewelry and royal palaces. All four lenses sit inside except for the LED flash that is placed a few millimeters down the cameras.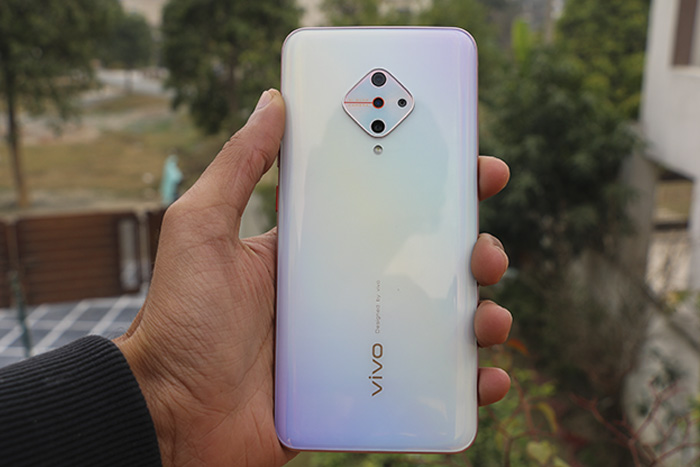 Vivo has opted to go with glass for the rear that is curved from both sides and meet with a little matte-finished aluminum frame that is the reason for a firm grip around the phone. Despite this aluminum and the glass and even the fourth camera sensor, Vivo has successfully kept the weight around 186.7 gm, only 7 gms higher than S1's 179 gms
As usual, the glass surface is prone to smudges, but they are less noticeable on Dreamy White color that has this tendency to refract rainbow shades when the light falls on it.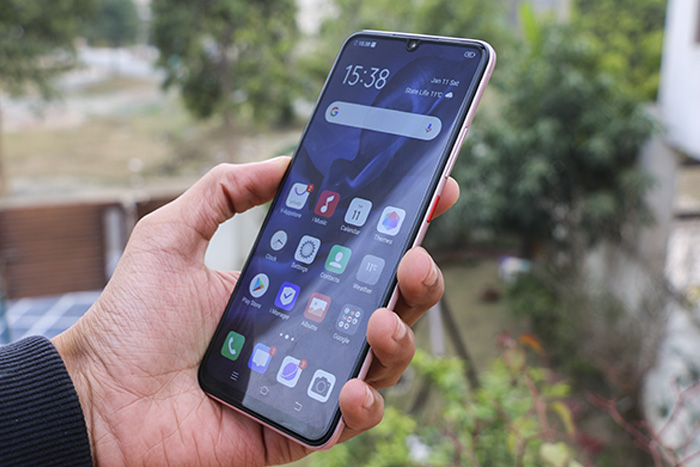 Like many of Vivo's mid-range phones, S1 Pro also features an AMOLED screen of 6.38 inches, 1080 x 2340 px resolution, and 404 pixels per inch density that produces a crisp display. The icons and text look sharp, and the colors are punchy, which can further be altered from the screen color (Display and Brightness) menu from the setting area where out of three color modes, two – standard mode and bright mode –  look almost similar in result. The normal mode applies somewhat natural colors across the screens, turning them less vivid. Additionally, color temperature can also be increased or decreased from the very same menu that only works if the 'Eye Protection' feature is inactive.
The display works brilliantly indoors but degrades a little in the outdoors that is felt more while watching movies and videos with darker scenes. Side viewing angles are nothing much to worry about except for a marginal blur that we noticed at an extreme angle, which is neglectable.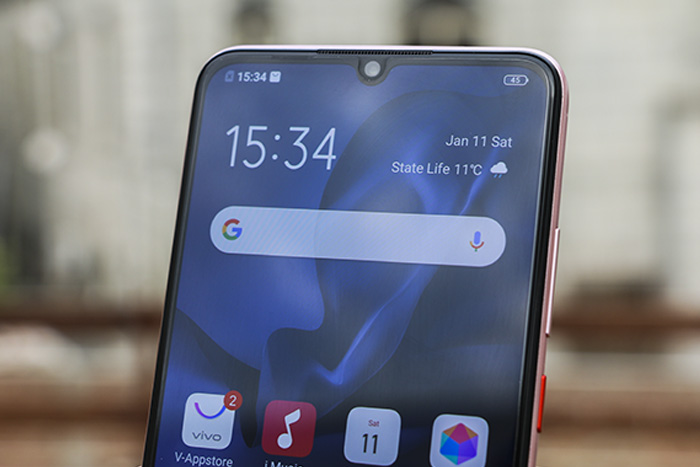 Apart from the display quality, Vivo S1 Pro shows slightly bigger bezels on the top and bottom, which are significantly thinner on the sides. The notch is smartly put in the middle housing the front camera, and it does not feel like an intrusive element; however, you can do away with it from the setting area for some specific or all apps, but its presence or absence does not affect this mega screen display.
Performance and Battery
Vivo S1 Pro uses a Qualcomm Snapdragon 665 under the hood that gets graphic support from an Adreno 610 GPU, and 8GB huge RAM help keep things going faster. For storage, the phone comes with a single memory option of 128GB that is further extendable up to 256GB through a micro SD card.
We found the same processor on Oppo A9 2020 and Redmi Note 8, but Vivo S1 Pro shows a better performance than both of the old fellas. On Geekbench 5, S1 Pro scored 313 for single-core and 1260 for multi-core, while on AnTuTu, it got 181,778. On the other hand, Oppo A9 2020 and Redmi Note 8 reached 133,490 and 177,451, respectively, on AnTuTu.
The phone can play PUBG on HD settings, but Call of Duty can go to a 'very high' graphics option. We noticed a little lag at the time of switching apps during a half an hour-long gaming session, which is very much expected on this middle-level processor.
Vivo S1 Pro comes with a non-removable 4,500 mAh battery along with an 18W charger and fast charging support. While testing, it took 1 hour and 58 min for refilling the battery from 0% to 100%.
Just like the Vivo S1, we found the battery performance to be impressive and value for the money. In our battery draining test, it took 19 hours and 14 mins for the battery to drain completely. Our test consisted of playing back to back 1080 pixels full HD video on loop. The wifi and mobile data were turned off, whereas the brightness level was set to 50% and volume at 100%.
On average, it can consume 14% of the battery in an hour of intense multitasking.
Also Read: Vivo S1 Pro 15 Trips and Tricks; Funtouch Tutorial
In our 4 hours app testing session, it ate 43% of the battery, which is again a splendid work where the rest of the phones in this league never consume less than 55%. You can see the details of the consumption here below.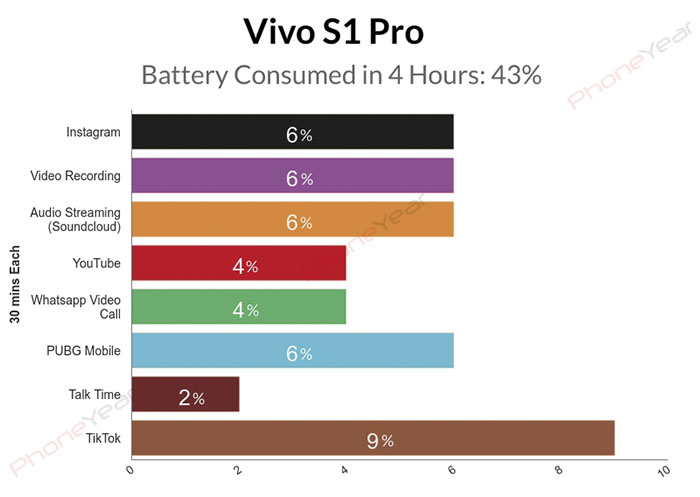 Camera