The Redmi series has been proven quite successful for Xiaomi so far. Started off with Redmi Note 4, the model which created a massive turnout for the Chinese phone maker has come up with another flagship model, Xiaomi Note 8 Pro. The predecessor Xiaomi's Note 7 Pro offered reliable performance and a better camera than the models of the same segment at an aggressive price. Xiaomi has claimed Redmi Note 8 Pro to be one of its best models so far. So, let us analyze and see whether Xiaomi has continued the streak of game-changing models.
Redmi Note 8 Pro specs
Display: 6.53 inches IPS LCD

OS: Android 9.0

Chipset: MediaTek Helio G90T

RAM/ROM: 8GB/128 GB

Camera (Rear): 64GB+ 8MP+ 2MP+ 2MP

Camera (front) : 20 MP

Battery: 4500 mAH
Designs and Display
Xiaomi has upgraded the designs of the Redmi 8 series, and this device is a part of it. The phone comes with a waterdrop notch that holds a selfie camera. The earpiece is just above the front camera, on the border of the top edge, which makes it a very comfortable spot while on a call. The phone also comes with a notification light above the notch area.
Xiaomi has reduced the thickness of the bottom bezel on this device, much better than a bigger chin of Redmi Note 8, which makes it feel like a premium device in your hand. As usual, power and volume buttons are on the side of the phone. While using the phone, the power button seems to be quite reachable with one hand. However, volume buttons that are placed above the power key need a bit of a stretch to reach due to their positioning on this large size device.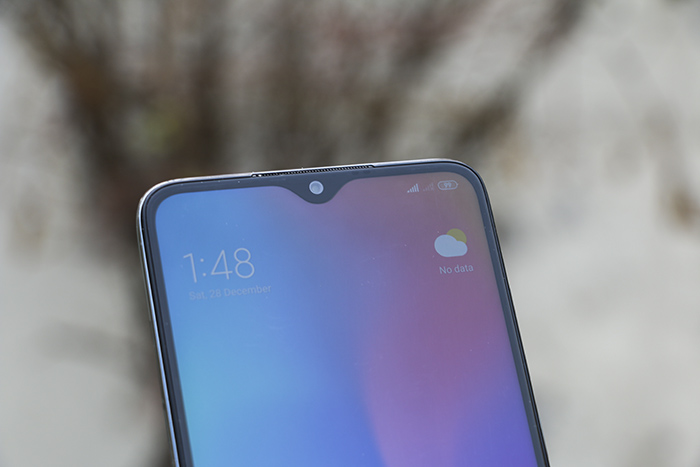 Xiaomi's Redmi Note 8 Pro hosts a dual nano-SIM slot that shares the space with a dedicated Micro SD card. The tray is positioned on the left side, where no other control is available.
Coming to the look and feel of the phone, this device comes in a pearl white color with a glass back and amazing finish quality. It gives the phone a very premium look and feels while holding. Also, the device comes with a 4 sided 3D curved back that makes it easier for a firm grip. On the downside, the glass is also prone to smudges, which are not very prominent, though, but can be noticed if looked closely.
In between the front and back cover, a silver-colored plastic frame is sandwiched prominently on all sides that outshines the rest of the elements on the phone, but it is highly open to scratches and body damages. A solid back cover is therefore recommended for protection.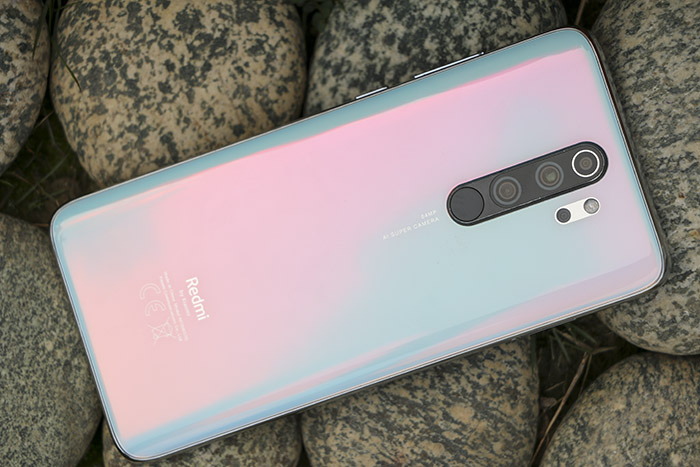 The rear camera is positioned in the center, and well protrude, which makes the phone wobble when put on a flat surface. Xiaomi seems to have compromised on the aesthetics here a little bit, which is not in line with the phone's overall beauty. 
The fingerprint scanner has also been moved into the frame that encloses the camera module, and it is marginally away from the wide-angle sensor. 8 out of 10 times, the finger accidentally rubs against the bottom lens while unlocking the phone that causes the finger to leave an impression on the lens's glass as well. In this time, when the smartphone makers are working towards integrating the fingerprint scanner into the body, Xiaomi's approach for Redmi Note 8 Pro seems very unusual.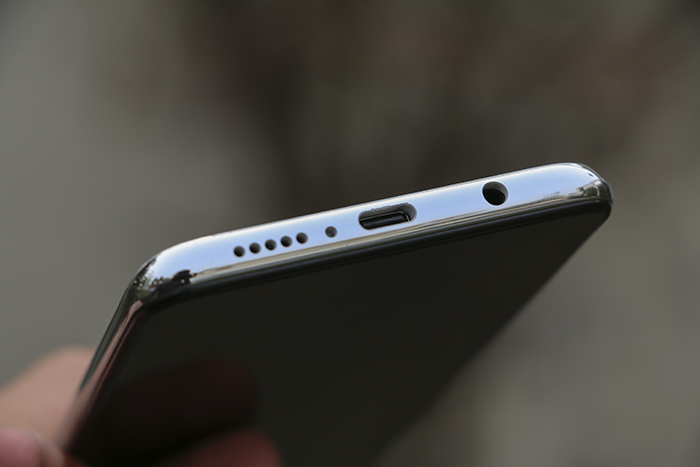 As usual, the type-C port, speaker grille, audio jack, and primary microphone are located at the bottom where the top holds the secondary mic and IR blaster.
The phone approximately weighs 200 gm that feels a little heavier but does not become uncomfortable to hold in hand. 
When it comes to the screen, Xiaomi's Redmi Note 8 Pro offers a tremendous display of 6.53 inches with full HD+ (1080X2340 pixels) resolution and High Dynamic Range (HDR) support. It comes with a corning gorilla glass 5 protection. A nice little feature that also has a beneficial impact on the visual experience, as well as the battery life, is that its display also comes with the smart resolution which adjusts itself as per the surroundings conditions by self-determining the colors and the brightness that can go up to 500 nits.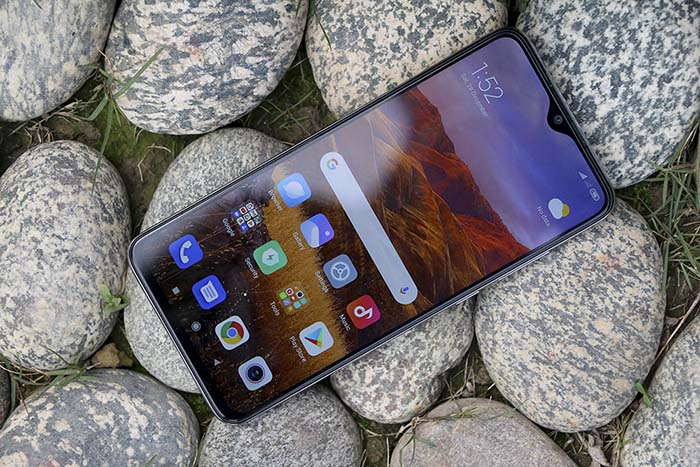 The smartphone comes with a pixel density of 395 ppi that is marginally less than Note 8's 409 ppi that is mainly because of the bigger screen size of Note 8 Pro in contrast to 6.3 inches. The bigger screen and comparatively smaller bezels also give a screen to body ratio at 84.9%. 
All this results in tremendous indoor and outdoor visibility for all kinds of content that look punchy and colorful with a balanced contrast value. 
For notch-haters, it can be deactivated from the setting area; the tradeoff would be an awfully looking black strip that intrudes into the display more than the notch itself. 
Performance and Battery
Redmi Note 8 Pro comes with MIUI 10 (upgradable to MIUI 11) running on top of Android 9 pie. The smartphone has the MediaTek helio G90T octa-core chipset under the hood, which has been specifically designed for gaming, and it should give much better performance than Qualcomm snapdragon 710 and 730. For graphics, it hosts ARM Mali -G76 MC4 Integrated GPU clocked at 800 MHz. 
The model we tested had 8 GB of RAM and 128 GB of internal storage. The Geekbench score is 487 for single-core and 1,623 for multi-core. With 288187 on Antutu, it scored much better than some of the flagships and upper midrange phones of yesteryears such as Galaxy S9, Huawei P20 Pro, P20, Huawei Mate 10 Pro and Mi 9T, which hints a stable performance this phone can give in any situation.
Our everyday usage and gaming tests have never shown a sign of lag. For the games like Call of Duty and PUBG at higher settings, the phone ran smoothly without any frame drop or stutters. But if you are a gaming freak, you can come across a heating issue beyond 30 mins of a heavy gaming session, thanks to the liquid cooling system Xiaomi injected in that does not let it unbearable.
While we play games and do multi-tasking, we usually keep dozens of resource-hungry apps running in the background during our testing sessions. At the same time, we try to receive several video calls and then resume the sessions. Our one such hourly session consumed 17% of the battery which we consider a very decent consumption rate.
Xiaomi equips Redmi note 8 Pro with UFS 2.1 storage instead of old EMMC 5.1. That makes it storage more expandable up to 512 GB.
When we talk about connectivity, this model comes with Bluetooth 5, Dual 4G VoLTE, 4 navigation systems, and Wi-fi 802.11 ac. Xiaomi claims that Redmi note 8 Pro comes with self-cleaning speakers, which cleans out dust by playing low-frequency tones.
Although we didn't like the placement of the fingerprint scanner inside the rear camera frame, it functions really quick and smooth. Similarly, the face unlock works seamlessly under good and low light, but it struggles to unlock the phone in some extremely low light conditions where we have seen some of the phones working fine.
Xiaomi has put inside Redmi Note 8 Pro a 4,500 mAh battery accompanied by an 18W fast charger that takes around 2 hours and 6 mins to charge it fully from 0% to 100%.
It lasted for 12 hours and 35 mins in our full drain test that comprised of 1080p video play in a loop with the brightness level set at 50% and turning off Wifi and mobile data.
In another test on 4G mobile data, it drained 60% of the battery after 4 hours. You can find a breakdown of the apps below.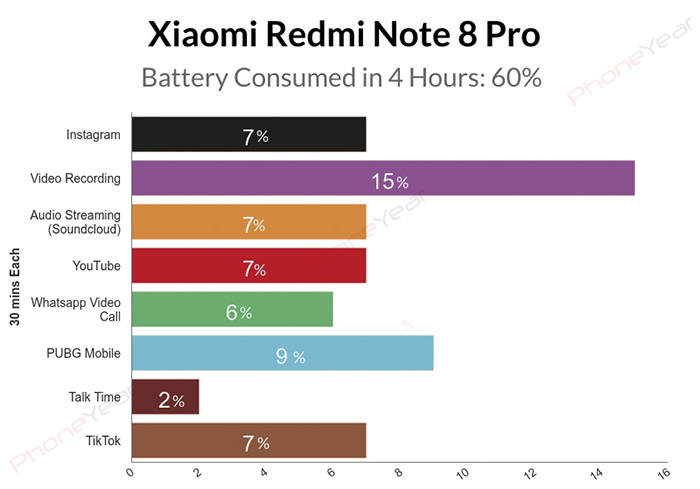 User Interface
Redmi Note 8 Pro came with MIUI 10, but in the following months, it has been upgraded to MIUI 11; however, not all devices have been upgraded to Android 10 yet, and this device still awaits an update.
MIUI 11 isn't significantly different than the previous version, instead, it is an improvement over the previous one and a more refined OS layer.
If you are an old MIUI user, you will find a better font and typography across the OS this time. Milan Pro font is much better aesthetically and can be scaled up and down for visual enhancement. The new version gives a minimalistic user interface, which also offers dark mode across the OS. It is not as thorough as Android 10's dark mode and therefore does not force this feature on apps that don't comply, though menus and submenus appear black everywhere. 
Although MIUI 11 also provides Always on Display, Redmi Note 8 Pro does not offer the feature for being a device with LCD. AOD is usually a trait for AMOLEDs, and this is why dark mode doesn't give a major benefit of power-saving to an LCD screen of Note 8 Pro. 
Swipe right on the home screen brings the 'Guide' area where you get 6 widgets and a Google search bar at the bottom. Widgets include Shortcuts, Recommended, Advanced tools, a brief note, calendar events, and stocks; all can be removed or altered from the top right setting icon.
We have seen similar arrangements in Funtouch and ColorOS, but they have their pros and cons. 
Swipe down from anywhere on the home screen, reveals the notification shade, and do the opposite to bring up the default browser. One thing we missed is the phone wide search box, which is a common feature elsewhere. Looking for an is more like a manual search, however, there is a search box available in the setting menu.
Xiaomi phones are known for coming with loads of bloatware out of the box, but this appears to be a region-specific feature. In Pakistan, this phone lands with only a few apps pre-installed that does not feel like a nuisance. However, you would find ads here and there that are surely irritating for most of us.
Camera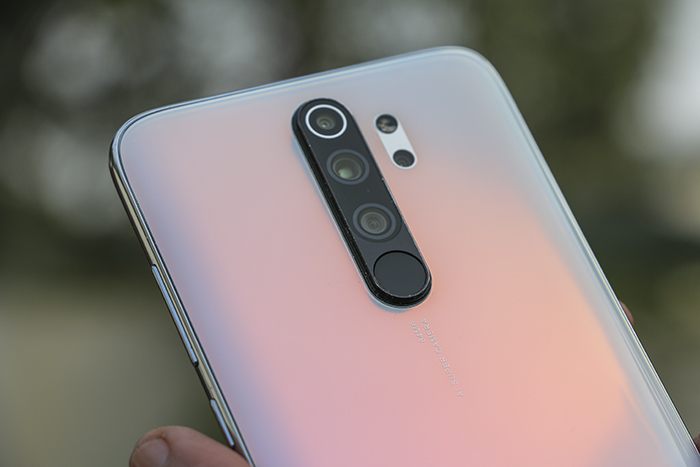 Redmi Note 8 Pro has received a massive camera hardware upgrade from its predecessor Redmi Note 7 Pro. It boasts a quad-camera setup on its rear side, but the jewel in the crown is the mammoth 64MP primary lens that steals the show. Although it's the first from Xiaomi, surprisingly, Realme XT matches the same camera specs sheet. Note 8 Pro's primary lens uses Samsung's GW1 sensor, which has an f/1.9 aperture and gives a large 1/1.7" sensor with 0.8µm pixels. The rest of the three lenses include an 8MP ultrawide angle, a 2MP depth sensor for bokeh, and another 2MP for dedicated macro shots. The last one seems to be more of a marketing gimmick that is just there because it's in trend now to put something on a smartphone for real up-close shots, no matter how practical it is.
On the front, it houses a 20MP camera for selfies that supports autofocus.
Redmi Note 8 Pro can shoot up to 4K videos at 30fps, 1080p at 30 and 60fps and 720p at 30 fps. It can also capture slow-mo videos at 960fps.
Xiaomi's default camera app is pretty much similar to what we usually get in most of the Android phones. Swipe left or right at the bottom let you change modes whereas the top bar carries toggles for flash, HDR, Macro mode, filters, and AI depending upon which mode is active from the bottom bar. A hamburger menu on the top right corner provides further options relevant to the active mode, besides, it lets you enter the app setting area.
Day Pictures
Note 8 Pro takes 16MP pictures with the standard mode that is a result of pixel binning on 64MP primary lens. Xiaomi usually does it for getting better camera results, some times at the cost of picture quality on account of lots of post-processing. However, the Redmi Note 8 Pro behaves very decently and, most of the time produces quite breathtaking shots in the daylight. The noise level is well under control, the colors are natural, and contrasts are good except for overexposure sometimes under challenging light. Still, it is not to an extent where the camera starts to ruin the entire shot. We love the details coming out of standard mode.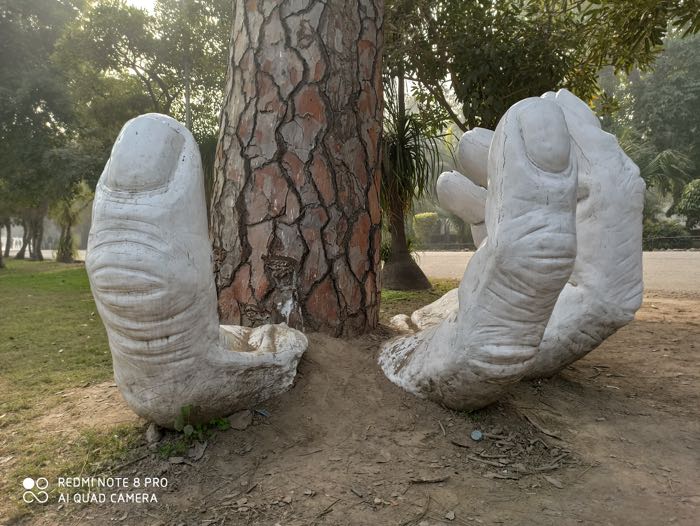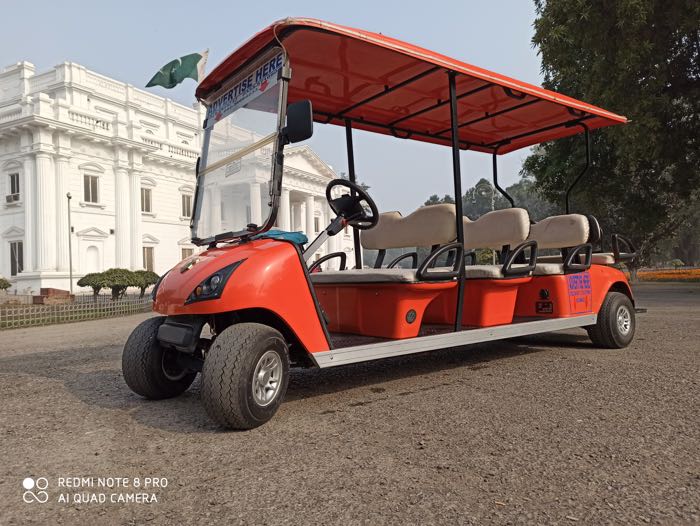 HDR is pretty helpful on sunny days, where shady areas are not getting much of the camera attention. It brightens things up most of the time but does not disturb the balance between bright and dark areas. The following shots can tell how HDR works.
The real excitement on Redmi Note 8 Pro is the 64MP mode that unleashes the full power of the primary lens. You start getting lots of details in your pictures, and the results are merely overwhelming considering a mid-range smartphone camera. The pixel binning does not happen here, the details are great, and it maintains the same level of colors and exposure as the 16MP mode. The daylight shots are awe-inspiring without a major downside other than the file size that can go as high as 26MB.
The phone gives us an ultra-wide-angle mode through its 8MP sensor, but the results are not as promising as the standard or 64MP mode. The details go down significantly, the noise level is higher, and the pictures are underexposed in many cases during the daylight. It more looks like a filler and a huge compromise. However, on a more positive note, the results aren't as bad as some of the rivals out there in the market.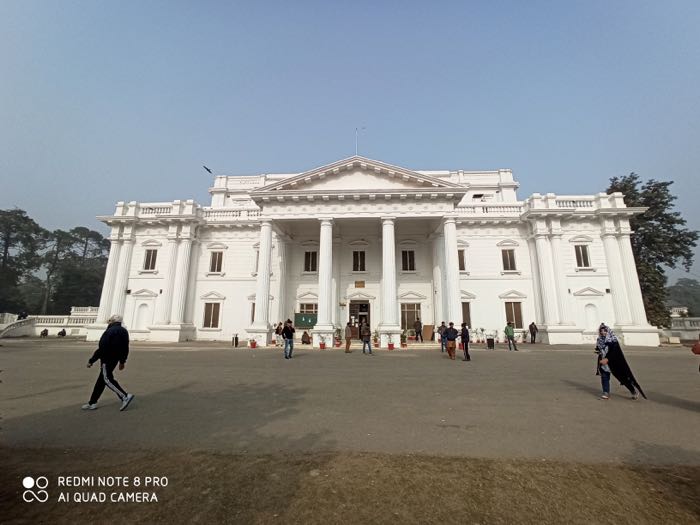 Redmi Note 8 Pro can take 2x shots, which look replica of the standard mode, and we found no sign of deteriorated details in the daylight. It appeared to have used cropping on the 64MP shots. Whatever the internal mechanism is used, the results turned out to be impressive.
Night Shots
The camera is equally good at capturing the moments at night. Well, lit shots display balanced contrast and good colors with an additional noise factor that is more prominent in the 64MP mode as compared to the standard 16MP. The reason could be the extra processing the standard mode undergoes in order to suppress the noise level and to keep things cool. Whereas the 64MP mode, on the other hand, registers more details and does not overdo things to soften the image much, which certainly causes more grainy pictures. Even the 64MP performs where the light is too low.
The dedicated night mode handles the light better than standard mode. The colors are juicier, and the details are on the higher side. It creates an overall balance all across the pictures that come out really well. It is a mode that can be used in almost all lighting conditions.
The ultrawide lens, on the other hand, is as bad as the day. As expected, the images came out with washed-out details, lots of bad noise, and it looked like a decade-old camera phone. This is not something you would want to rely on while using it at night.
Selfies and Portraits
Redmi Note 8 Pro can take some incredible selfies through its 20MP front camera. The details come out nice, and the skin tone looks natural. The aggressive mechanism to beautify selfies that we usually experience in Oppo and Vivo phones does not ruin the shots at default unless you switch over to beauty mode and apply filters. 
For blurry backgrounds, portrait mode offers to change the aperture size that rests at 4 by default.
Similarly, portraits with rear cameras are excellent in detail. Skin tones are maintained, and the subject stands out nicely from the backgrounds.
Macro Mode
As hinted above, the 2MP sensor dedicated for macro shots is only ceremonial. It does not entirely focus on the areas where it is meant to. Many a time, it was hard to take consistent and clear shots with a macro lens, which was much of a hassle. Instead, the results of closeup shots with standard and 64MP mode are more promising than the macro mode. The 64MP is a winner and the main driver behind the entire camera setup on Redmi Note 8 Pro.
Verdict
We found the phone to be trustworthy and reliable in terms of performance. It offers decent functionality for the phone priced at this range. Xiaomi has equipped Redmi Note 8 pro with powerful hardware and operating system. With MediaTek helio G90T, it satisfies the needs of gamers and provides them with a good runway.
We believe Xiaomi could have done better in terms of its back surface, which invites scratches and smudges. And also, the location of the fingerprint scanner. Unless you get quite used to it, you will keep touching the lens in an attempt to unlock the phone. 
But at this range, Xiaomi offers an excellent package and better performance.