Oppo F series has been very popular among smartphone users due to its claim of being a "Selfie Expert." The latest addition to the series is the Oppo F7, and the company maintains the past claim. Although Oppo isn't a very new brand, it has its stronghold in China, India, and Pakistan where its budget phones and mid-range series have done considerably well in contrast to other Chinese phones such as Vivo.
Just like the predecessor, Oppo F7 targets the young segment who is selfie and music enthusiast. What kind of smartphone Oppo F7 turned to be in our review, let's find out.
Design
The back of the phone hosts a single primary camera and flash in the top left corner. An oblong fingerprint reader is slapped in the middle of the phone just above the company branding on the back.
On the front of the phone, you can see an all screen design with an iPhone X inspired notch that many phones have already adopted. Where the phone loses points is its build material. The phone is made out of plastic (polycarbonate) with a glossy back to make it shine like a glass body, although, it doesn't look an inferior design; however, Honor 9 Lite (review) which is way cheaper than the Oppo F7, sports an elegant glass body.
It uses on-screen navigation buttons so you won't find any capacitive keys in the slim bezel at the bottom. On the left are the volume buttons, while on the right are the power/lock button and the triple-slot tray for two nano-sized SIM cards and a microSD card.
On the bottom, you'll find a single speaker grill, a microphone, and a charging port. Sad to say that Oppo F7 does not use a Type-C charging port and is instead equipped with a micro USB.
The rounded sides of the phone settle the device comfortably into the hand and being rightly sized; you can navigate through the phone with one hand.
Display
Oppo F7 uses a huge 6.23-inch FHD+ (2280 x 1080) LTPS IPS display which sums up into a good 405ppi pixel density. The trendy 19:9 aspect ratio can be found on the device with a decent 82.5 screen to body ratio.
We like the viewing experience on the phone because of the accuracy of the colors that it produces. The viewing angles are good, and the screen is vibrant enough to give you an immersive experience.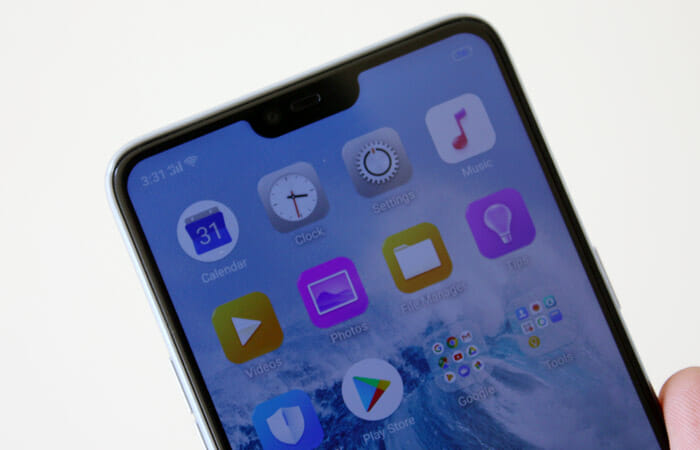 There is, however, one particular flaw that ruins the whole viewing affair. The notch!. Poor optimization of notch results in cutting part of the content displayed on the screen. Whether it's a game or a movie, instead of flattening out as it does in Huawei phones, the notch cuts out the part of the content which is very irritating. You can turn it off entirely, but if you want to keep it and need it to disappear when playing something in fullscreen, it doesn't happen.
Software
Oppo F7 is decorated with the company Color OS version 5.0, which is based on Android Oreo 8.1. Though the custom overlay provides many options, we didn't like it particularly for being cluttered.
The software is loaded with perks like Split-screen, Gesture & Motion commands, Clone Apps, Screen Recording, and Game Acceleration. Full-Screen multitasking is one of our favorite features.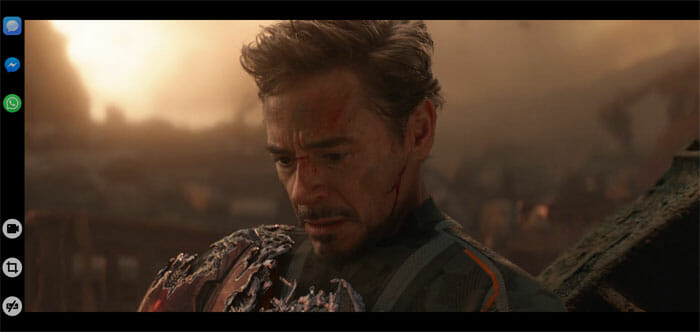 Swiping inside from the notched area while watching a video or during a game reveal several icons above and below the notch which let you choose your desired application. You can also change the placement and choose different apps to place in a specific area.
Unlike the Huawei's EMUI which is bloated with unwanted apps, pre-installed apps in Oppo F7 are kept at bay with a minimum number, however, as mentioned earlier, the software is very untidy, and you need too many clicks to reach to a certain option in the settings area.
For security, the phone also offers face unlock other than the traditional fingerprint sensor, pic, and pattern options, but we do recommend to use a pin or pattern option if you are a security freak.
Performance & Battery
Powering the OPPO F7 is a MediaTek Helio P60 octa-core processor clocked at 2.0GHz along with Mali-G72 MP3 GPU. The device comes with 4GB RAM that is plenty for not only your day to day usage but also for heavy gaming sessions and resources hungry apps. It offers a huge 64 GB storage along with a dedicated microSD card slot to enhance it up to 256GB.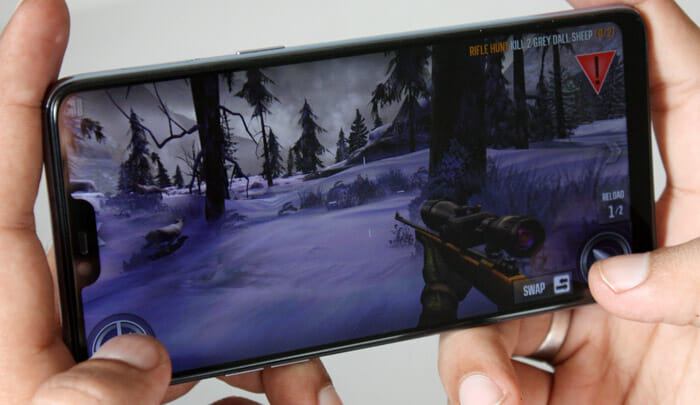 The device scored an impressive 107695 in the AnTuTu benchmark test and a 1523 and 5798 in single core test and multi-core test respectively in Geekbench.
In our real-life usage test, it was astonishing to observe how well is the Oppo F7 optimized for a better and seamless mobile experience. The phone performed smoothly, and we didn't notice any hiccups in moderate usage when switching between apps.
However, as it gets warmer, the device starts to show some performance lags. Whenever we played Real Racing, Deer Hunter or PUBG with its higher settings for some time, the temperature rose that also resulted in an even more rapid loss of battery.
The phone draws its power from a 3400mAh battery which sadly does not support fast charging, so it takes the device a good 2 hours and 15 minutes to take the battery from flat to full.
In heavy gaming and intensive use, we did notice a significant lag which implies that this phone isn't a heavy hitter
On moderate usage testing, the handset consumed 18% battery in one hour, which is slightly above our expectations. It means you can get a screen-on-time of 6-7 hours on light or moderate usage.
Our heavy usage test proves that the phone isn't well optimized for intense use as it should be. It ate up to 26% of battery only in one hour of aggressive usage.
Camera
The device comes equipped with a 16MP single rear camera and a 25MP front camera with AI features and screen flash. The main camera also supports AI, which enables it to recognize 16 scenes and objects.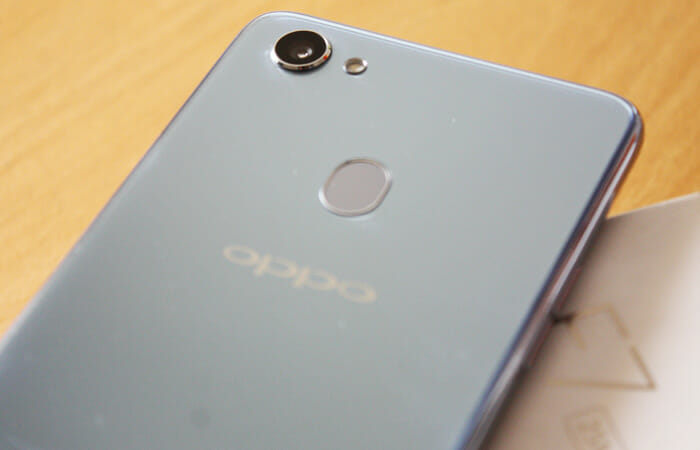 Besides, it comes with necessary features like HDR, Depth Effect, AR stickers, a Pro mode, and other tweaks. The AI beauty mode is only available for the front camera.
The camera result is fairly good, considering it has only a single camera. The pictures are sharp and vivid. We particularly liked how the phone doesn't take too long to focus on the subject, although it doesn't support laser autofocus.
As for the quality, the pictures taken by Oppo F7 in Auto Mode tend to incline to a bit darker side with high contrast. While this may be a good thing for some, we particularly didn't like it.
The super vivid mode on the phone feels like something extra that you won't need every day. Not because it's not a useful thing but because it ruins the picture quality by oversaturating and overexposing.
In a landscape shot, the Auto mode works as desired and produces great results with good dynamic range and more realistic colors, whereas the HDR enhances the colors which were again too much for our liking.
Verdict
The Oppo F7 performs amazingly in two areas, screen display, and moderate performance, but aggressive usage does invite some lags, which is a rare phenomenon, mainly when heavy games are on the screen.
The OS of the phone is not very straight forward and requires a good memory to know which option sits where in the settings area. Though the camera performs good in certain modes, it is equally disappointing in others, and a lack of a dual camera puts Oppo F7 way behind its competitors.