The self-proclaimed selfie expert, Oppo has released its next iteration in the A-series, Oppo A7. The device comes as an upgrade to this year's Oppo A5, but the specs are identical to its predecessor, and only some of the design elements have been altered.
Oppo A7 is available in Pakistan at the price of Rs. 39,999 (price at the time of launch), and we recently got our hands on the device to give you a better idea of how the newest mid-range phone from the Chinese smartphone maker will perform in day-to-day usage.
Oppo's Hyperboost technology can be deemed as the major upgrade and a differentiating element between the Oppo A7 and its predecessor, but will it be enough to call it a significant upgrade? Let's find out in our real-life review.
Oppo A7 specs
Display: 6.2 inches, IPS LCD
OS: Android 8.1 (Oreo), ColorOS 5.2
Chipset: Qualcomm Snapdragon 450
RAM/ROM: 3GB/32GB, 4GB/64GB
Camera (rear): 13MP + 2MP
Camera (front): 16MP
Battery: 4230 mAh
Design and Display
It's somehow not very surprising to see that the company went with the same all-plastic approach with the Oppo A7 as its predecessor had also come with the same plastic body. However, Oppo has always been innovative in the designs of its phones and hasn't once stepped back from experimenting, of which Oppo Find X is a huge example.
Oppo has managed to give the A7 a look that is both appealing and trendy. The device packs an all-plastic body with a plastic frame and glass on the front, which is protected by Corning Gorilla Glass 3.
The phone's build is quite sturdy and can fit in the user's hand quite comfortably. Oppo A7 also doesn't feel too heavy on our hands even after a longer period of usage.
The back of the phone is home to the dual-camera setup and the fingerprint sensor. Both of them are encircled by the golden metallic lining, which makes them stand out at first look.
The volume keys and the SIM tray are located on the left side of the phone. Thankfully, the Oppo A7 carries a dedicated slot for the MicroSD card.
The A7 packs a 6.2-inch IPS LCD capacitive touchscreen that offers a resolution of 720 x 1520 pixels and a 19:9 aspect ratio that translates into an 81.6% screen-to-body ratio.
If you are coming from an AMOLED panel, the display might not be as appropriate with contrast as you would like, but it pretty much gets the job done. The display is vivid and true to color; however, the blacks are not as deep as seen on an AMOLED panel.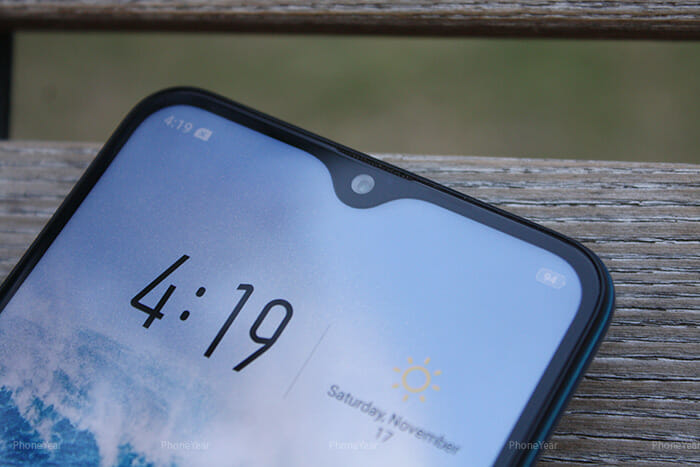 On a positive note, the brightness is sufficiently high. When cranked to full, it can easily be viewable even in direct sunlight. The viewing angles are wide enough and don't incur any shades while you move sideways.
It is a waterdrop screen, which means that it sports a notch that only hosts the camera and is much smaller than the traditional one. This type of notch design is getting increasingly popular.
The corners of the screen are rounded too much for our liking and give a feel of cutting out a part of the screen. The phone, although boasting a bezel-less design, has considerable bezels and that ever ugly chin that we all hate, but we guess you have to accept this design language as a norm in a mid-range phone.
OS
Like many other Chinese Smartphone manufacturers, Oppo also has its custom overlay over the stock android known as ColorOS. Oppo A7 comes with the ColorOS version 5.2 which is based on Android Oreo 8.1.0.
Comparing it with Huawei's EMUI, you'll find many similarities here with subtle differences. Like, both have no app drawer by default. Both the software can be customized with themes and other gimmicks. However, in Color OS, you get a smart assistant at the end of the home screen, which you won't be able to turn off, which in turn makes it more agitating. Like the EMUI, the ColorOS also has a game mode to provide you with a seamless gaming experience.
However, there is a cool feature called Full Screen Multitasking that lets you open an app as a floating window and chat over a video when in landscape mode. Only a few apps support this feature right now, but I hope that more follow suit.
One thing that bugs me is the notification system on ColorOS. For instance, when you get a notification, you cannot remove them by just swiping. You have to swipe them and then press the bin icon to remove the notification. Why is there an extra step for removing a notification? I have no clue.
Obviously, it all boils down to personal preference, and some of you might like all the features of the ColorOS. Nonetheless, if you are coming from stock Android, get ready for hair pulling agitation caused by the bloatware.
Performance and Battery
The Oppo A7 comes with Qualcomm's Snapdragon 450 that is backed by 4GB RAM and 64GB memory. Though the phone is snappy and the phone is quick in the day-to-day tasks, you shouldn't expect much only because it packs an entry-level processor. Here are the benchmarks of the phone.
As for our real-life tests, the phone performed pretty quick, and we didn't experience any lag or stutter in our moderate use during the day. Though on light and moderate use, almost all the mid-rangers perform equally alike. It's the heavy usage that demands more of a phone.
The sound quality on the phone exceeds our expectations. Unlike the shrilling sound on Huawei Y9 2019, the Oppo A7 produces crisp audio that doesn't feel too harsh, although being loud.
In our heavy usage, we noticed that while going from one resource-heavy app to another, the phone experience a pretty significant lag. At one point it got stuck and we had to restart the phone to make it work again.
Oppo somehow managed to pile Snapdragon 450 into a phone with a price that just can't justify the specs
if you are an avid gamer, you'll notice a constant stutter in the processing of graphics even though the game mode turned to on. The phone has a hard time getting from one app to another and reloads the apps every time you switch to another one. This shows the poor RAM management on the phone. Even with Hyperboost technology, Oppo A7 fails to deliver in extensive gaming.
On our moderate usage, the phone consumed 11% battery in just one hour. Normal usage primarily consists of browsing social media, playing a video or two, and other day-to-day works.
Heavy usage depletes a big enough portion of the battery. Maybe it's because, after a certain time of heavy use, the phone becomes hot, which acts as a catalyst for draining the battery. It ate up 21% of battery in one hour of extensive usage, including gaming, heavy multitasking, and downloading simultaneously.
Camera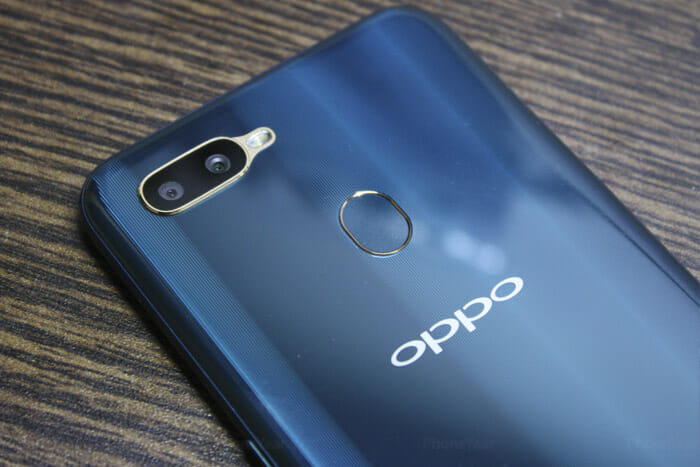 For the optics, Oppo A7 packs a dual-camera setup on its back with a 13MP primary sensor and a 2MP secondary sensor to capture the depth of field. The camera is backed by a colorful camera app filled with tons of options.
Though the camera takes decent photos for a mid-range, at this price point, you can get way better phones with good cameras like the Nokia 6.1 Plus, which is even cheaper. Nonetheless, the pictures taken in auto mode are average, which can't be labeled impressive.
We noticed that Oppo phones, though offering dual-camera setup as per the contemporary norm, don't make full use of it. There are a lot fewer modes than we see on Huawei phones like the Huawei Nova 3i, which also falls in the same category.
Here are some sample pictures of the phones to get you an idea of what we are talking about.
We noticed that the HDR mode treats the picture aggressively and sometimes pops the colors up unwantedly that clearly looks artificial, but sometimes it doesn't do so at all, so an inconsistent pattern in the HDR treatment of pictures can clearly be seen.
However, in indoor lighting, you won't see the vigorous HDR treatment. The HDR mode here keeps a balance and comes up with a good dynamic range.
Though Oppo A7 has a dedicated portrait mode where it gathers the depth of field with that secondary lens on its back and gives the pictures a DSLR-like look, don't expect it to be pitch-perfect. The portrait mode is very erratic and sometimes even misses out on blurring the background altogether, but it gets it right for most of the time only with a setback of capturing lesser detail in the picture.
Verdict
Within the most competitive market segment right now, we really don't think Oppo A7 is going to gather much attention as it really lacks the footprint of a device that aims to leave its impression.
For starters, we think that with an all-plastic design and a 720p screen, the Oppo A7 is heavily priced at Rs. 39,999 in Pakistan. At this price, more or less you get to choose from the most beautiful mid-range handsets available. It's strange that Oppo F9 and A7 are almost priced the same, yet have tons of differences.
The camera on the phone, though being just ok, failed to impress. Again Honor 8X, the recent mid-ranger from Honor takes better pictures and even comes at almost the same price.
So if you are really thinking to buy this phone, think again, think straight and think hard. There are many other alternatives that you can get in the same price category.