MIUI 11 is the latest iteration from Xiaomi, and at the start of 2020, most of their phones have received this latest update. MIUI 11 doesn't load every Xiaomi smartphone with similar features, for those who have a low-end and mid-range device like Redmi Note 8 Pro, the list of features is limited. However, there are still some handy ones to practice in our day-to-day use to make life more comfortable.
1- Cleaning the home screen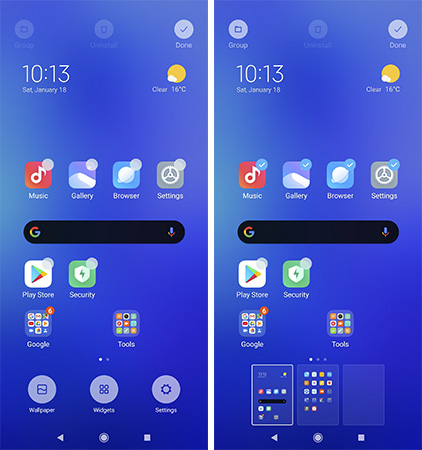 Most of the time, our home screens are a complete jumble with tons of useless old apps we installed and never checked back. Or, there are certain apps we want them to place on a separate screen. It's always cumbersome to select individual icons out of dozens to move or uninstall.
No matter how many home screens you have, just tap and hold the screen for a while, and the screen edit mode will get active with icons showing the select/deselect option at the corner. Soon as you select one or more icons, the bottom will show the existing screen where you can simply drag all the selected icons at once. You can also select multiple apps and tap on the uninstall button for bulk removal.
2- Increase the number of apps on the home screen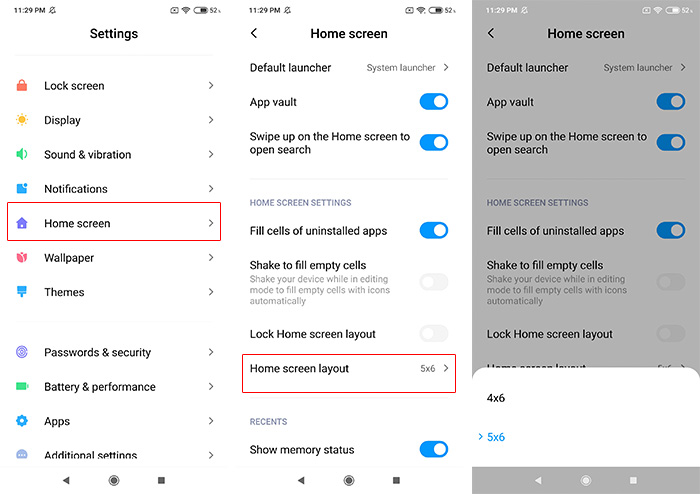 And if you want the home screen to have more apps than presently are then repeat the above process till the edit mode appears again, click on the 'Setting', the third icon at the bottom right, and on the next pop-up screen, select 5×6 instead of 4×6. You can also go there through a longer route; Settings>>Home screen>>Home screen layout
3- Lock Home Screen Layout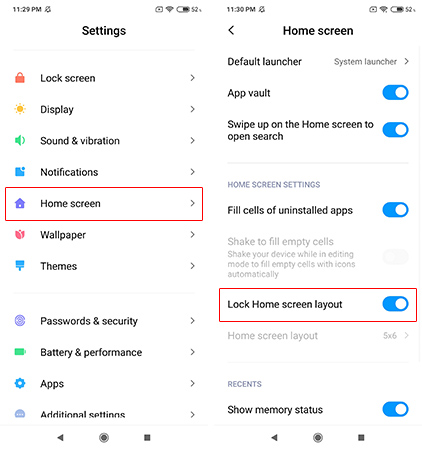 When you are done with all the cleaning of your home screens, and you don't want them to change by mistake, just reach Settings>>Home screen>>Lock Home screen layout. Activate the option, and it's done.
4- Blur app previews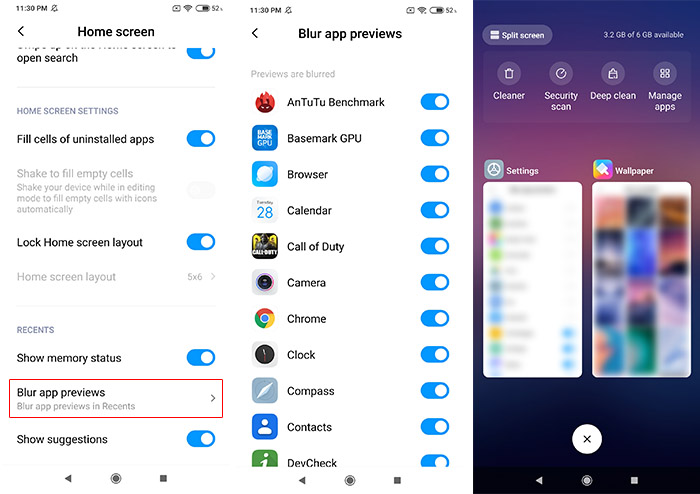 When you are sitting in an environment, maybe a restaurant or a public place, and there is a possibility the person next to you might have a peek at your recent apps. The situation could become risky if one of the recent apps is about your financial information or something you don't want to share with anyone. To avoid such a thing happening, go to Settings >> Home screen >> Blur app previews (at the bottom of the screen) tap it, and select a few or all apps to turn blur when the recent task key is pressed.
5- Avoid too many notifications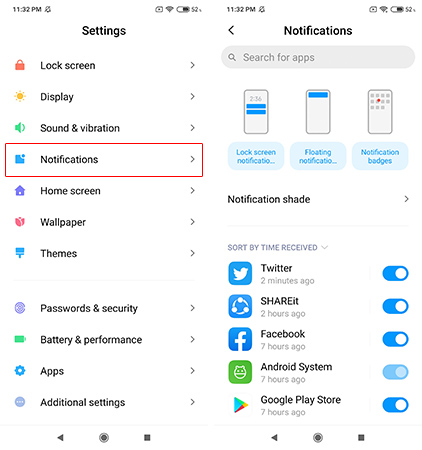 In MIUI 11 notifications handling has been improved; still, they are so much fuss if they keep landing every few seconds. The more apps you install, the frequency doubles unless you slow them down. Go to 'Settings' >> Notifications, activate/deactivate notifications for all three available categories – lock screen, floating, and badges.
6- Awesome Calculator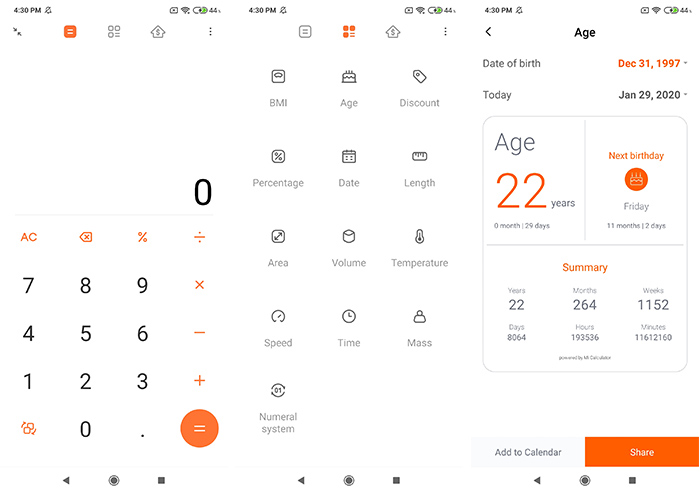 The calculator app is available on every smartphone, but in MIUI 11, it is way too helpful with some preset frequently used calculations. Put a date of birth, and it will show the exact age in years, the number of days, months, hours, and even minutes since you came to this world. For shopping freaks, 'discount' in respective currency can be calculated at once. Similarly, there are various others of likes percentage, the date on a specific day in the future or past, mass, temperature, speed, etc. For those who are into financial services, 'Currency', 'Home loan', or if you are eating out with friends 'Split bill' is also available.
Above all, the app is floating, in case, you are doing calculations from a google sheet, and you don't want to press the recent task key to switch to the calculator app and want to keep looking at the sheet all the time, this app will easily float on the screen.
7- Button Shortcuts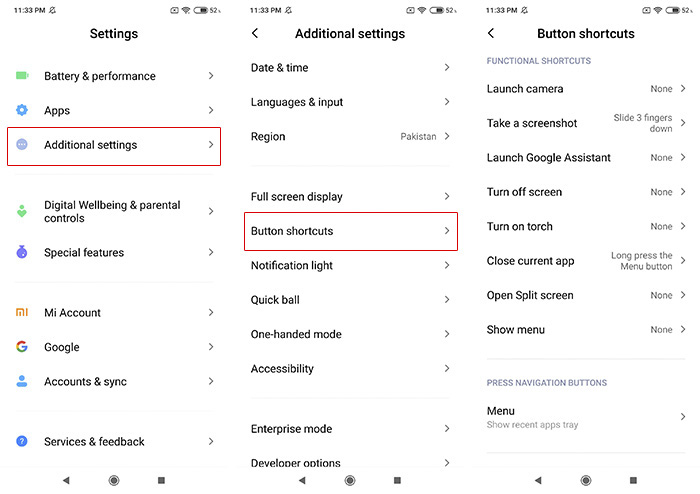 If you are the kind of person who loves to activate shortcuts on your phone for everything quick, MIUI 11 has this feature. Go to Settings>>Additional settings>>Button shortcuts. You can assign several operations to three physical keys (volume+power) and the three virtual navigation keys. For example, launching the camera, taking a screenshot, turning on the torch, splitting the screen, or closing the current app.
8- Quick Ball, more shortcuts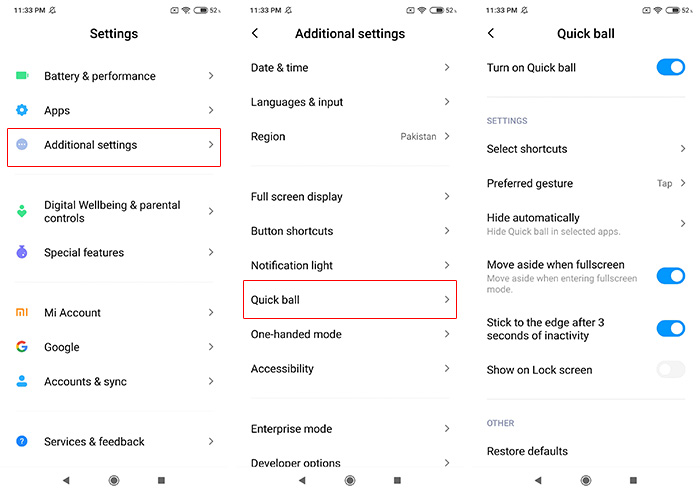 The quick ball tool isn't as extensive as the Easy Touch tool in Funtouch, where you can do almost anything or even customize its appearance; instead, Xiaomi's tool is limited to five operations. Actually, it's a small virtual ball that sticks to the edge of your screen that you summon by tapping or swiping on it, which then expands into five shortcuts. To activate it, go to Settings>>Addtional settings>>Quick ball. You can either associate five different apps of your choice to its shortcuts or blend them with some frequently used features, for example, torch, Bluetooth, wifi, screenshot, etc. It's a convenient tool and can become one of the most used features on your phone.
9- Lock an App or hide it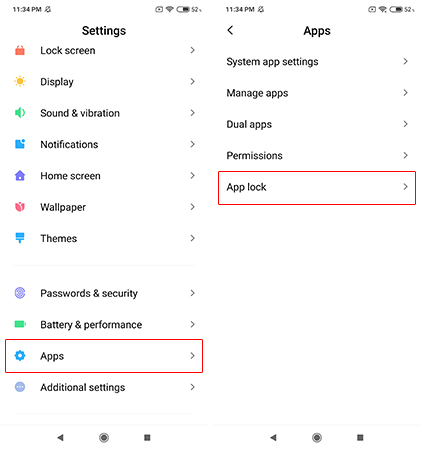 Locking an app or hiding it is recommended, especially if it is your banking app or something you won't want others to open accidentally or intentionally.
MIUI 11 provides two ways to cease access to an app(s). Go to Settings>>Apps>>App lock. You will find two lists of installed apps on your phone; 'App lock' and 'Hidden apps'. From the app lock list, you can select as many apps as you like, set the password/PIN/pattern. You can also activate your fingerprint or face unlock for the same.
The second list offers to hide the desired apps if you wish no one to know if you have a particular app on your phone. However, someone smart enough can still find out if a specific app is installed on your device or not. In the app tool, 'Manage apps' or 'Notifications' in the Setting area can still show the list of all the apps regardless of their status, hidden or not. In case you do not want to show it in the list of apps, the following feature is another better way not only to hide your apps but to maintain a separate identity.
10- Private Space; hide everything on your phone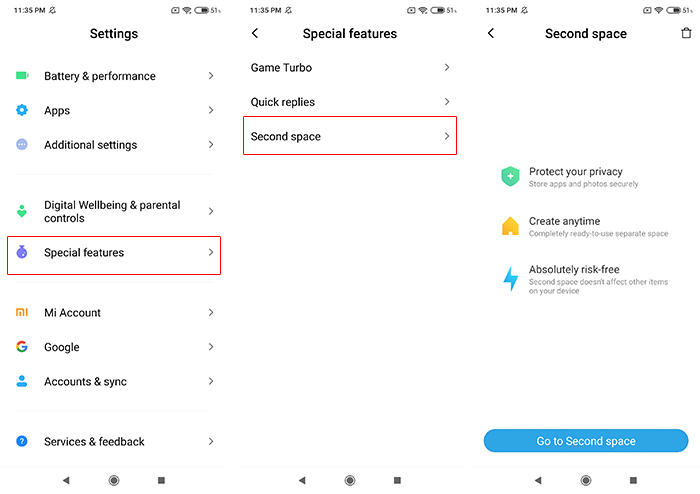 As the name suggests, it is a private space on your phone, which is quite similar to a new login for someone else on your PC. This is very helpful for maintaining two different profiles, one for office and another for home instead of holding two separate phones. The second space lets you customize everything on your phone the way the first space can be managed with a few exceptions. You can't manage the mobile SIM, which is a global setting for both spaces, and similarly, there are a few system-related settings that can not be duplicated individually.
You add a separate Google account in the second space, and that means this profile can have all those apps that you do not want the primary space to have. Both of them can have their own themes and wallpapers. In case your 10-year-old kid can't live without his favorite youtube videos, it's a handy way to restrict him to specific apps.
Both profiles can have different passwords or fingerprint unlocks. For creating a separate space, go to Settings>>Special features>>Second space, and the rest is easy to configure.