Oppo A9 2020 belongs to the A series which is known for making low-budget phones. This time it is a significant upgrade from the earlier version that only featured dual cameras on the backside. The latest iteration comes with quad-camera support and a huge 5000 mAh battery that is also becoming a norm in this price category. Realme 5 Pro, Infinix Hot 8 are some of the rival phones that are available for a much lesser price with almost similar specs. 
Priced at PKR 45,999 (launch price in Pakistan), what really differentiates Oppo A9 2020 from the rivals, let's find out in our detailed review.
Oppo A9 2020 specs
Display: 6.5 inches, IPS LCD
OS: Android 9.0, ColorOS 6.1
Chipset: Snapdragon 665
RAM/ROM: 8GB/128GB
Camera (rear): 48MP + 8MP + 2MP + 2MP
Camera (front): 16MP
Battery: 5000 mAh
Design and Display
Design is where Oppo A9 2020 shines; the Marine Green color that we were given had a little resemblance with the Oppo Reno, although not entirely similar as the latter carries very different design chemistry and, of course, an altogether different specs sheet.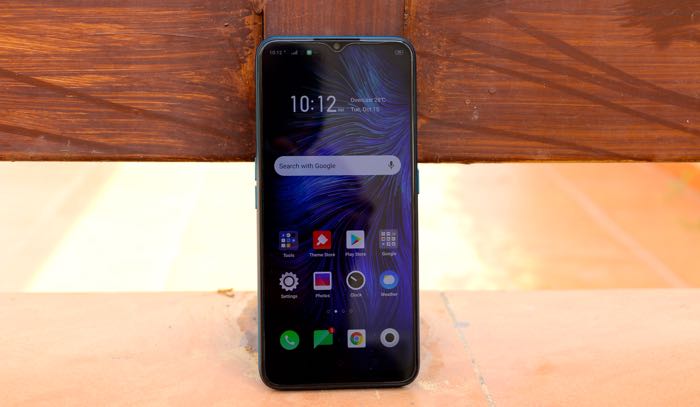 A9 looks like the rightful descendant of the standard A9. The successor follows a similar positioning of the camera, fingerprint scanner, and branding on the rear side, all vertically aligned in the middle. The difference this time is the quad-camera setup and a very prominent gradient color that seems to have been inspired by nature. The rear panel is shiny and looks like glass; however, it is a plastic body that gives a premium look. The plastic meets with a matte finish frame on the edges, which are comparatively thinner due to being curved and provide a decent grip.
Flip the phone, and you get a 6.5 inches IPS LCD that offers only 720 x 1600 px resolution, a mere disappointment in this price range when rivals go beyond the basics. Oppo may have stuck with this resolution in favor of longer battery life and for keeping the cost low. Though it's a bummer, however, the elongated screen provides a pleasant viewing experience; the brightness levels are adequate, colors look punchy, and contrasts are on the higher side. The display is equally good under the sunlight. Oppo has lessened the blue light effect this time to minimize the burden on the eyes.
Side bezels of the phone are not as intrusive as the prominent chin area, but it has a minimal impact on the display.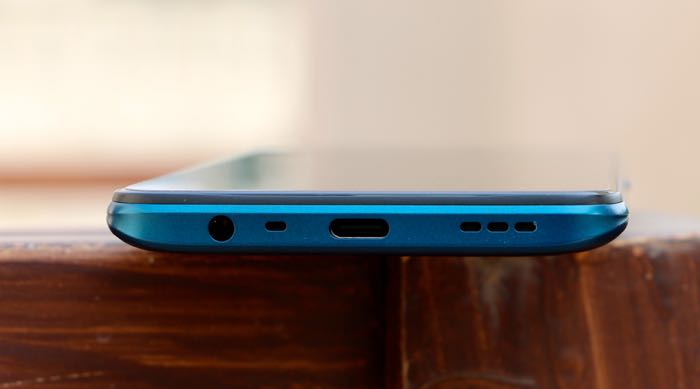 As with Oppo's usual designs, the well protruded power key is placed on the right side. A small green mark embossed on it adds value to the overall aesthetics. The left side is busy with volume keys and the SIM tray that can independently accommodate two SIMs and a microSD card.
The topside of the phone is empty, which means you will get to see a USB-Type C slot, speaker grille, audio jack, and a microphone at the bottom area. 
Performance and Battery
Oppo A9 2020 comes with a Snapdragon 665 chipset that was launched back in April 2019. It belongs to the six series, which is primarily used for entry-level and mid-range phones in contrast to the 7 series, which is dedicated to the upper mid-range devices.
Being a 2019's chipset, we should expect a better performance both in-camera as well as processing, including the battery consumption, which is enormous in this phone.
To support the chipset, there is an 8GB RAM and 128GB internal memory that looks more than sufficient theoretically. The phone has another variant that comes with a 4GB/128GB combination. On the software side, it runs Android 9.0 skinned with ColorOS 6.0.1. 
A9 2020 is good with light to moderate use. It can run PUBG smoothly on lower and medium graphics; the other options are disabled for the app by default, though.
We noticed it restarting music streaming app SoundCloud every time we launched PUBG; however, no such behavior was observed with other graphic intensive apps like Asphalt9, Deer Hunter, or any other game we tested.
While playing PUBG, we didn't note any significant performance issue, the phone's temperature remained normal, and there was no lag, though it consumed 5% battery in 30 minutes. Game Space is to be given credit for such a smooth gaming performance on this phone. You can add games inside the Game Space, and the phone will ensure it spares enough resources to run them smoothly.
A9 2020, however, does show lag during heavy multitasking, particularly when you have opened too many resource-eating apps in the background, and you want to switch between them from recent tasks. Every time we switched over to the Dear Hunter, Dead Trigger 2, or Asphalt 9, they relaunched and started from zero, which shouldn't be considered a good optimization practice. PUBG being the lighter in graphics, resumed from where we left it. However, bringing it back from the recent tasks turned the screen dark on a few occasions. 
Our hour-long multitasking with games consumed 19% of the battery, whereas it dropped 10% – 11% of the juice during an hour-long video test, which is far inferior in the result as compared to Realme 5 Pro and even Samsung Galaxy A30s that is packed with only 4000 mAh battery.
Oppo A9 boasts a 5000 mAh battery, which should last for more than a day with moderate usage and at least one full day for those who remain glued to their screens.
However, our real-life social media test brought down the battery from 99% to 45%, consuming 54% battery life. We ran Instagram, youtube, Tiktok, Games, WhatsApp (video call), audio streaming, and video recording through the default camera app for 30 minutes each.
In another back-to-back video playtest, the battery lasted for 9 hours, which is another disappointing performance and far below what we had expected.
A9 2020 provides an excellent sound experience, loud enough to catch anyone's attention in a small room, thanks to the Dolby sound and dual speakers. Though the sound levels are on the higher side, it lacks the bass effect. I would recommend using your earphones to enhance the experience further. Oppo has also provided customization in the setting area that you can customize as per liking.
Note: we tested back to back video and social media with mobile data turned on and screen at full brightness level. On wifi and half brightness level of the screen, the battery life is expected to produce different results.
Camera
Quad-camera setup is in trend, and one after the other, every mid-range and entry-level phone is hitting the shelves with multiple cameras. Oppo A9 2020 has a 48MP wide-angle primary sensor, 8MP ultra-wide, 2MP depth sensor, and another 2MP lens on the rear side. On the front, there is a 16MP selfie camera right in the center of the notch.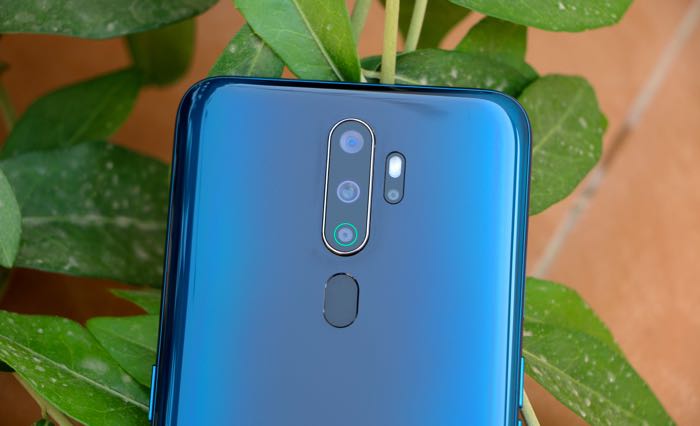 It can take some decent-quality photos under better light. The colors are accurate, and the exposure level is acceptable.
The good thing about Oppo's default camera interface is that it offers a variety of tools well within reach without the need to dig in the menus. You get to play with ultrawide angle lens, HDR, Dazzle Color, and tons of filters for creating some drama in the picture.
The results are good in the daylight. The standard camera works acceptably in the well-lit areas, and to further spice up the photos, Dazzle Color is there to help, something similar to Chroma Boost in Realme and Vivid in Huawei phones.
The low-light pictures aren't as exciting as the one taken in the daylight. At night, it compromises on the details and raises the noise level; however, there is a Night Mode 2.0, which can bring some improvement, but at the same time, it brings extra warmth in the photos and overexposes them.
Oppo A9 2020 can zoom up to 5x digitally, which works for photos and videos alike, but somehow, it gathers more noise at 5x while recording videos.
Apart from this, there are usual modes available, including 'Night', 'Pano', 'Expert', 'Time-Lapse', 'Slow-Mo', 'Sticker', and 'Google Lens'. Night mode is useful to brighten things up, but it sometimes overdoes the treatment and brings in more whiteness than required.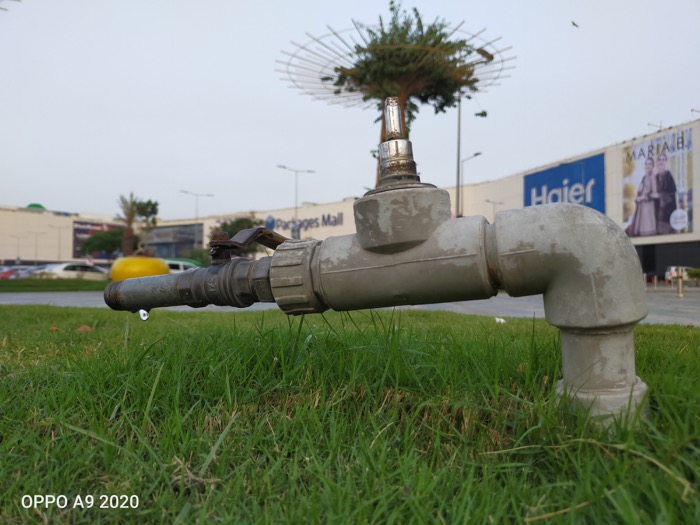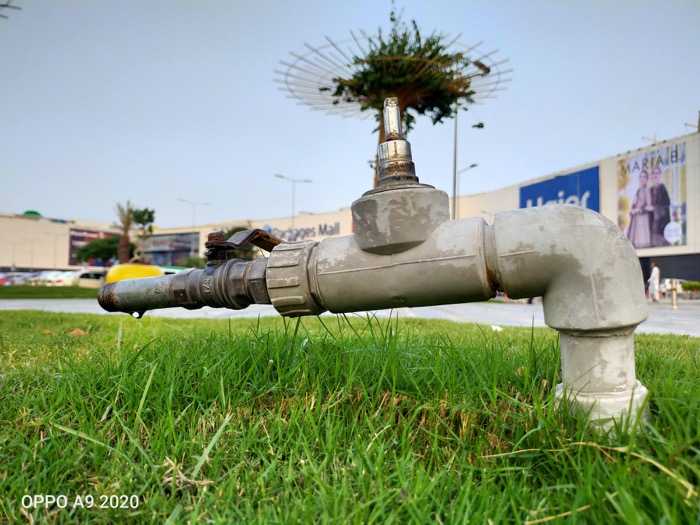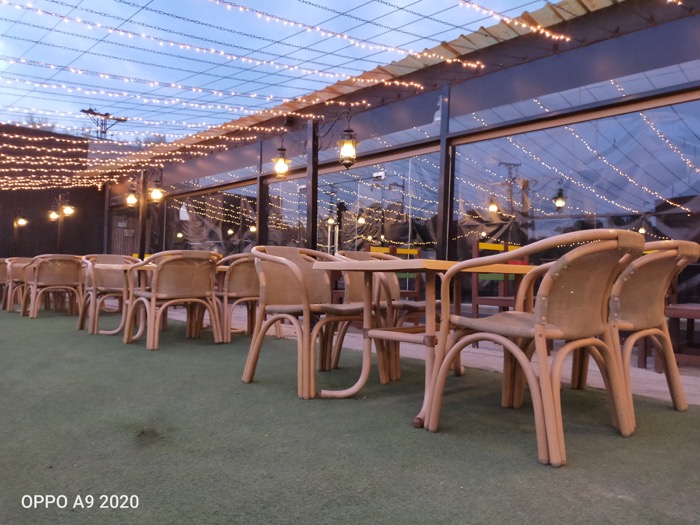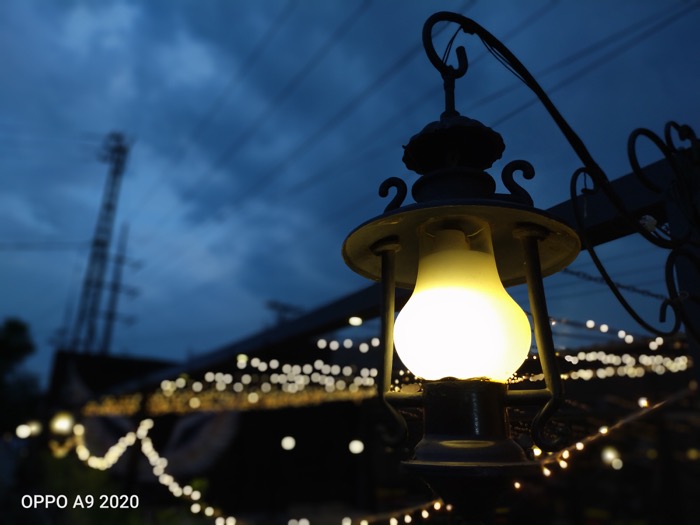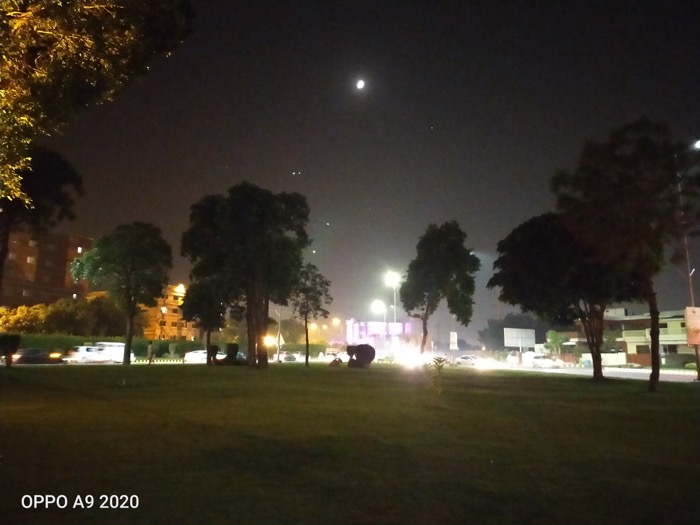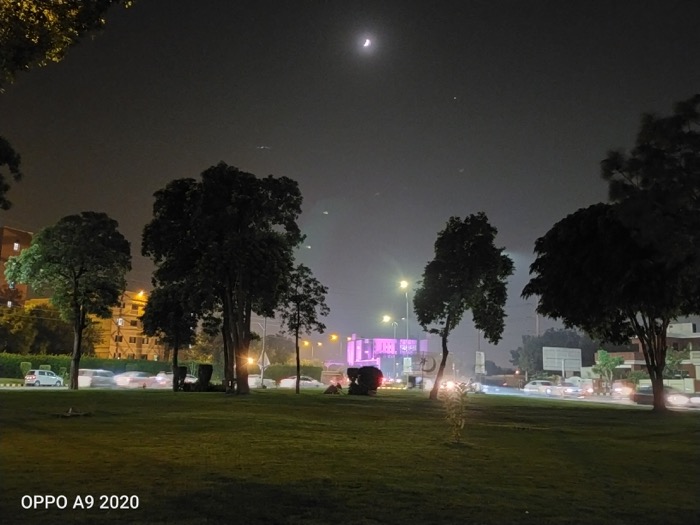 Verdict
Oppo A9 2020 is a significant upgrade from the previous model in terms of camera and battery. Despite a 665 chipset, it can run the show decently, play games at low graphics settings, and take some decent photos in better light conditions. However, the low light result does not impress. The 5000 mAh battery can easily survive a day after a mild to aggressive usage, but if you want to go beyond a full day, you might wish to look Samsung A30 or Vivo S1.