If you look at the camera setup of the Oppo A9 2020 and Realme 5 Pro, they look more or less identical, not to mention they are siblings of the same parents. Not only their OS is similar – ColorOS 6.0 in this case – but the default camera app and the hardware also carry common traits.
There are really few differences between both of them; the primary ones are Ultra 48MP photo and Ultra Macro tools that are present only in the Realme.
The camera app is more or less similar to the extent that when opened, one can not judge which one belongs to which phone.
Common Features
HDR, Wideangle, Color enhancement, Filters, Night mode, panorama, Time Lapse, Expert, Slow Mo, 4K video, EIS
Realme Unique
Ultra 48MP, Ultra Macro, an additional filter in portrait.
Despite the similarities, both phones perform in their way when it comes to photography
Realme 5 Pro Camera Specs
Back: quad lens, 48MP, f/1.8, (wide), 1/2″, 0.8µm, PDAF | 8MP, f/2.2, 13mm (ultrawide) | 2MP, f/2.4 (dedicated macro camera) | 2MP, f/2.4, depth sensor

LED flash, HDR, 2160p@30fps, 1080p@30/120fps, 720p@960fps, gyro-EIS

Front: Single Lens, 16MP, f/2.0

HDR, 1080p@30fps
Oppo A9 2020 Camera Specs
Back: quad lens, 48MP, f/1.8, (wide), 1/2.3″, 0.8µm, PDAF | 8MP, f/2.3, 13mm (ultrawide), 1/4″, 1.12µm, AF | 2MP, f/2.4, 1/5″, 1.75µm | 2MP, f/2.4, 1/5″, 1.75µm, depth sensor

Dual-LED dual-tone flash, panorama, HDR, 2160p@30fps, 1080p@30fps, gyro-EIS

Single Lens, 16MP, f/2.0, 1/3.1″, 1.0µm

HDR, 1080p@30fps
Standard Mode
Realme can capture more detail in pictures, not only of the subject but also the elements around. It reproduces images with amplified contrast values as compared to Oppo's less colorful snaps that seem to grab lesser detail of elements in the images.
In reality, Oppo A9 2020 tends to capture real colors, which we noticed in most of the daylight photos. In contrast, 5 Pro produces more vivid images that are on the warmer side, but the trade-off is the elevated exposure level and contrast. Its Chroma Boost feature, if turned on, works more aggressively than the Dazzle Colors of Oppo A9 2020.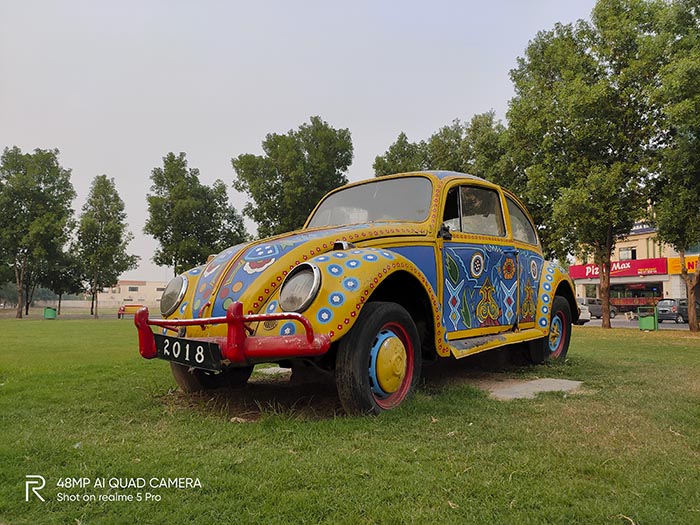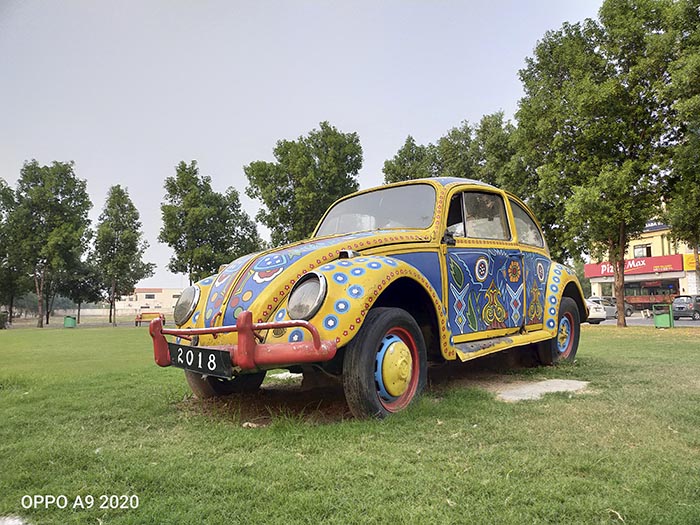 Pictures taken from 5 Pro are sharper and richer in color, a much-desired aspect for social media sharing, but in doing so, it registers unnecessary noise that is only visible on bigger screens. On the other hand, A9 2020 keeps the noise level low, but details are more washed out on various parts of the image.
Zoom
Both phones can go up to 10x digital zoom. Primarily, it is more of cropping than zooming, but the end photos came nearly acceptable during the daylight. At night, the result highly depends upon the amount of light in the surrounding.


Closeup shots
Both of the phones decently capture close-up shots, but contrast and exposure were on the higher side in the photos we took with 5 Pro. They looked more appealing visually, although not the right colors. However, it tends to bring more warmth to the picture, which is its core trait.
But, on the more positive side, Realme also differentiates decently between the backgrounds and the subjects. Check out the head of the tap, which is prominent and crispier in the case of Realme than what Oppo does by maintaining less differentiation between the foreground and the background.
Also, you can see that A9 2020 is not consistent with highlighting details of close-up elements, whereas Realme focuses on a wider area inside the frame.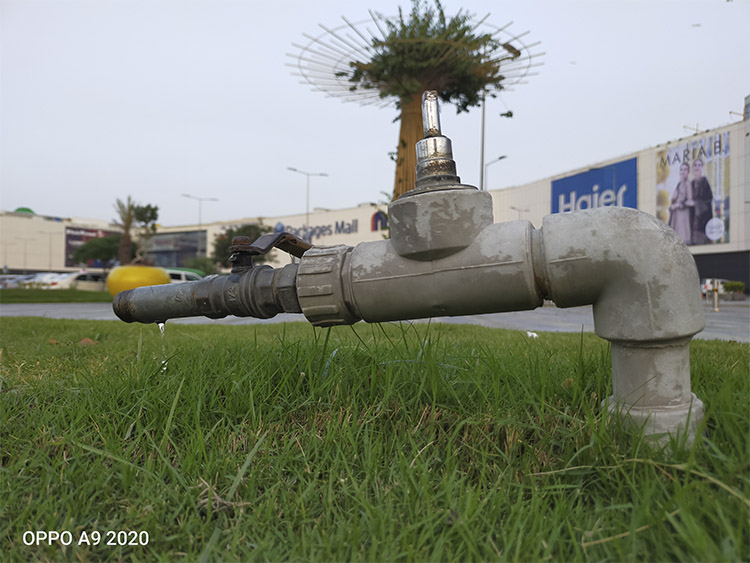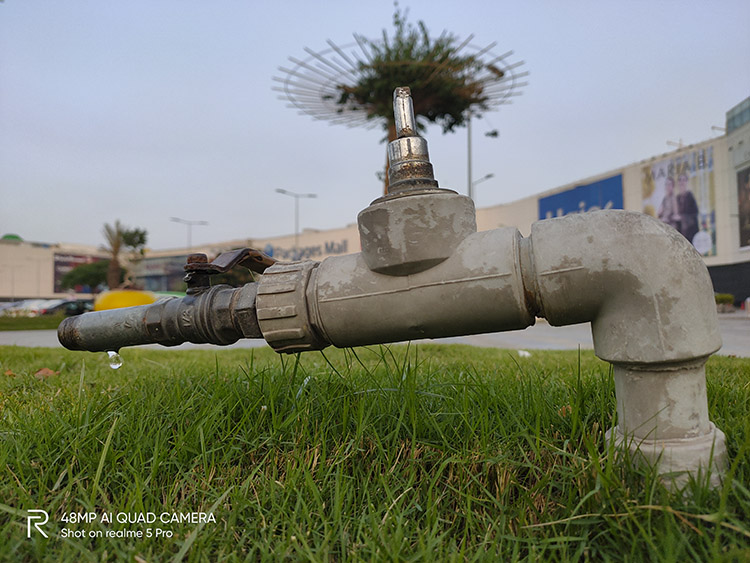 High exposure value and overdo of colors can sometimes kill the pictures. Look at the following photos of sweets where they look more original and real in the case of A9 2020 than 5 Pro.


Macro Shots
Macro photography is not the skill of Oppo A9 2020 as it lacks hardware and software support. The closer you go to the subject with A9, the blur the subject gets on this phone.
On the other hand, Realme has a dedicated Ultra Macro mode that can take some adorable shots. I didn't find it hard to focus on the subjects up close. This is something well managed in 5 Pro in contrast to some of the rival phones we reviewed in 2019.


However, the 2MP sensor does not always catch the original colors. Almonds in the following photo can tell the difference.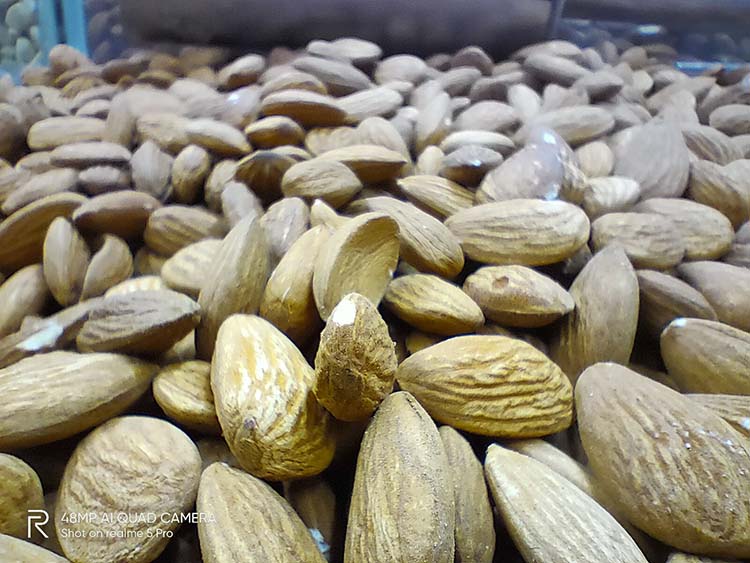 Portraits and Selfies
Portraits and selfies are among the essential features a smartphone has to offer today. Both of these phones do an excellent job in this department. Realme's portraits are full of facial details as it tries to highlight even a pimple on the face and at the same time, keep the subject well separated from the background.
A9 2020, on the other hand, smoothen the face getting rid of the roughness of the skin. In doing so, it loses a lot of essential details, but at the same time, images are very suitable for social media.


The pattern is similar for the selfies as well; however, Realme's selfies are brighter and give a more clean look while registering the details at the same time.
Portraits and selfies in the low light are equally good and follow a similar trend as in the daylight.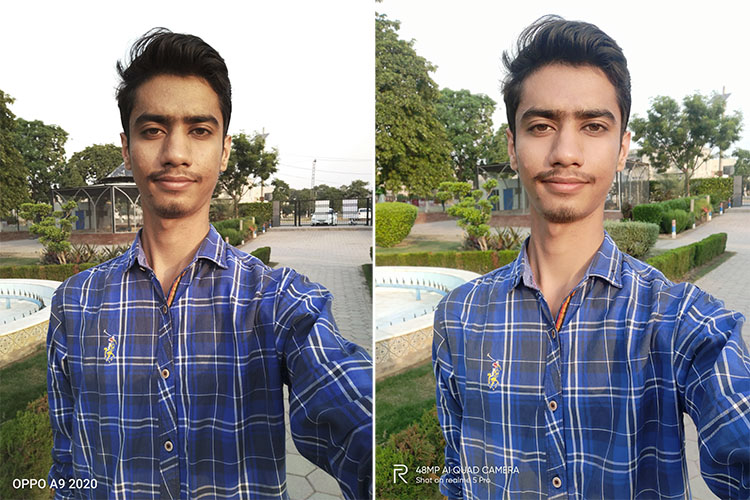 Night
To check the real strength of their camera hardware in the night, I tested them in different lighting conditions at different places. Both of the phones are equipped with dedicated 'Night Mode' and Electronic Image Stabilization for the videos.
It is unusual for someone to carry a tripod every time, so to keep it closer to real-life experience, we preferred to hold phones in our hands while taking night photos.
With the night mode turned on, in the following shots, Oppo seems to have produced more noise and grabbed lesser details than what Realme did. The washed-out areas are quite visible in the image A9 2020 produced.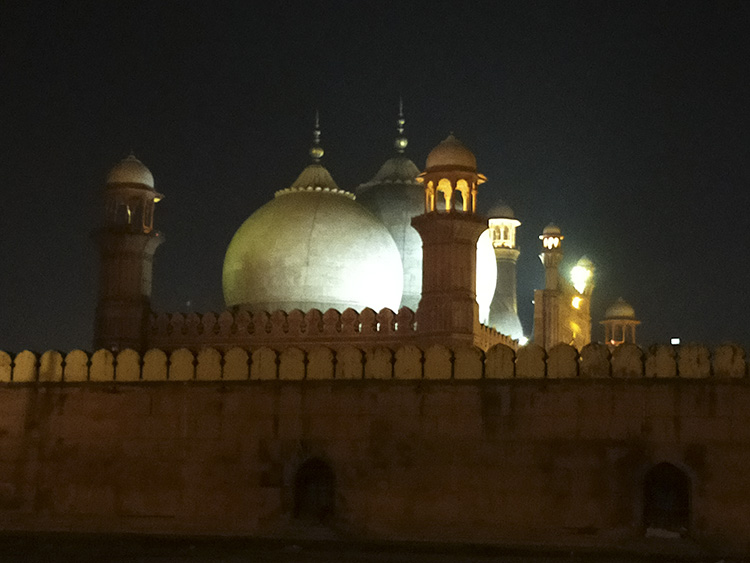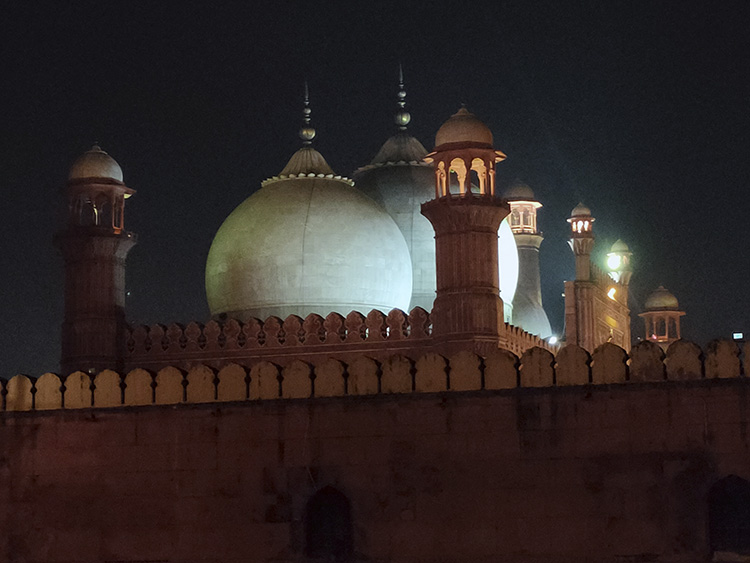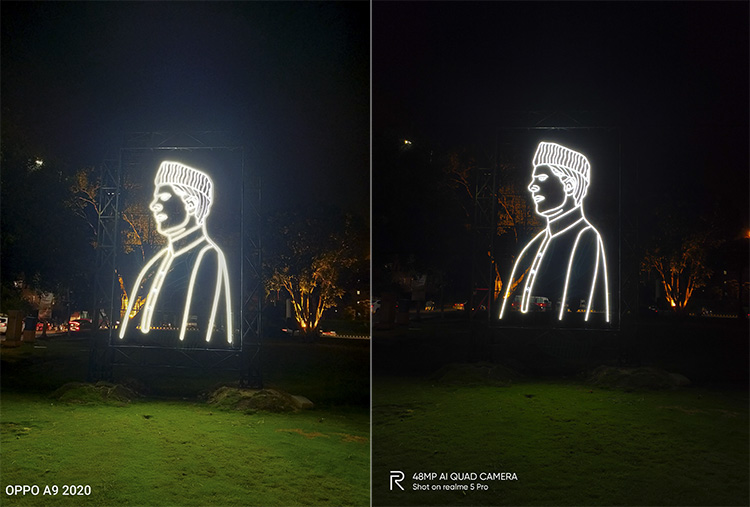 5 Pro's picture looks more refined and well-lit. With its Ultra 48MP tool, which is absent in Oppo, it smoothens the landscape and brightens the scene, adding more light and colors, but some darker areas seem a little washed out. 
On smaller screens, the pictures look cool, but the bigger screens reveal the photos turn out a little unrealistic.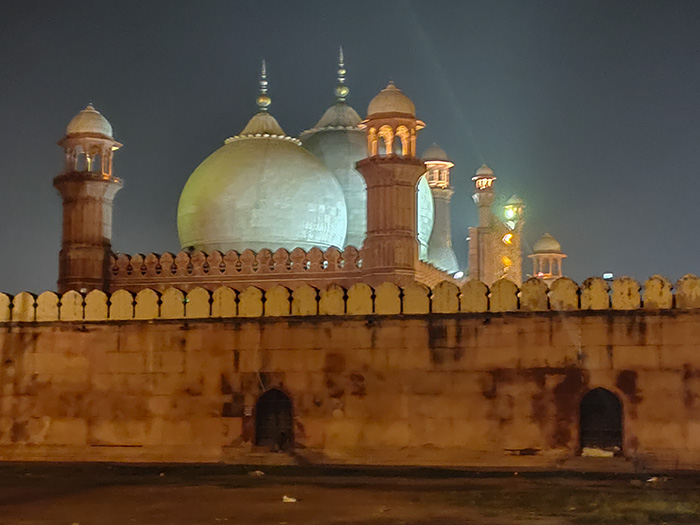 So far, I have only had a good experience with Huawei's P30 Pro for capturing the moon and stars at night. Definitely, these two mid-rangers are not meant to perform in such a situation; still, we tried our luck with standard and night mode activated. Here is the result.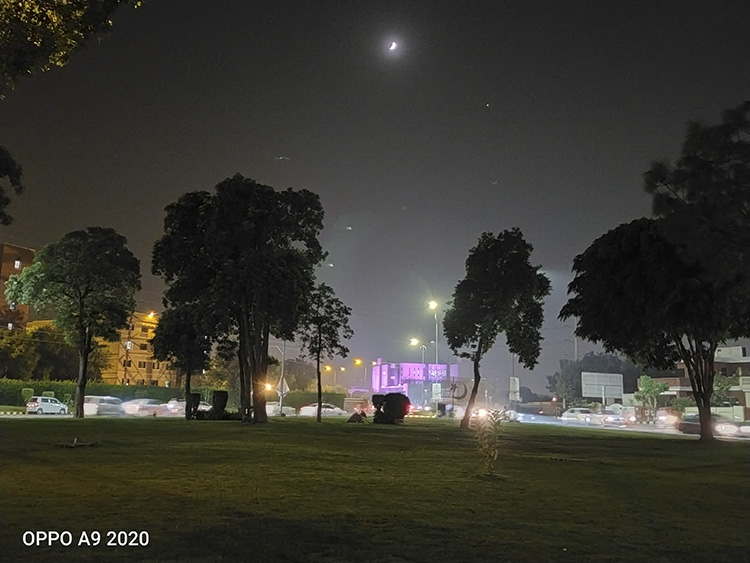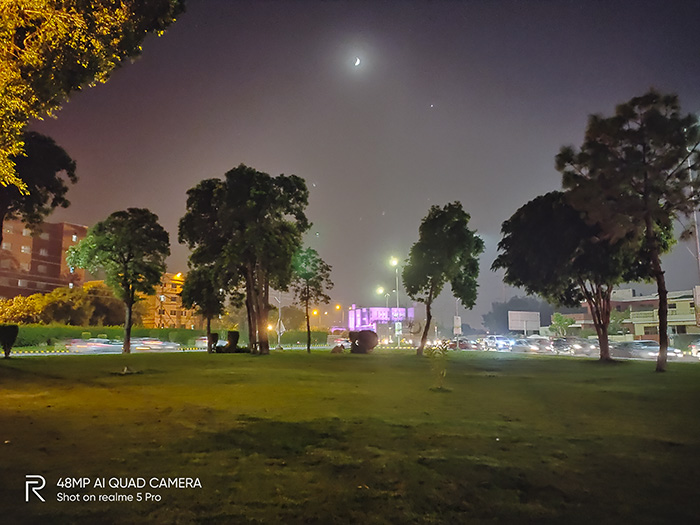 Video
Oppo A9 2020 and 5 Pro can record 1080p and 4K videos (rear cam only). Realme's default camera app is more comfortable to switch to the 4K option, which is placed right at the top bar, on the other hand, you need to tap on the setting icon on Oppo and scroll down to find this option which is comparatively a lengthy process.
Although A9 2020 and 5 Pro come with Electronic Image Stabilization, the function works better in the latter one, whereas it seems absent in the A9 2020. Not only EIS, but Realme 5 Pro can also capture sharp colors and better details and sound along with a stable focusing mechanism, which is not the case with Oppo A9 2020.
Verdict
Although Oppo and Realme have a similar camera setup on the surface, they are too different from each other in performance. Realme 5 Pro, though, has this habit of overexposing pictures, but it excels in the overall performance.
With Ultra 48MP, Ultra Macro, and working EIS in videos, the 5 Pro has the edge over Oppo A9 2020.
On the other hand, A9 2020 captures more natural colors in portraits than 5 Pro, but Realme's results are more suitable for social media as it gives more life to the scene than Oppo does.