Oppo Reno2 F is the latest offering from the Chinese manufacturer that came along with its big brother Oppo Reno2. Both of them share many features, the primary being the look, which is quite elegant. However, the same is not true with the camera setup; the expensive version Reno2 inherits the shark-fin popup lens from the original version, the smaller one still carries the standard popup mechanism we saw in the Oppo F11 series and many other mid-range setups of rival brands.
Let's get to the review and see how it behaves in our real-life use.
Oppo Reno2 F Specs
Display: 6.5 inches, AMOLED, 1080 x 2340 resolution
OS: Android 9.0, ColorOS 6.1
CPU: Mediatek Helio P70, Octa-core
RAM/ROM: 8GB/128GB
Camera (rear): Quad cam (48MP + 8MP + 2MP + 2MP)
Camera (front): 16MP (popup)
Battery: 4000 mAh
Design and Display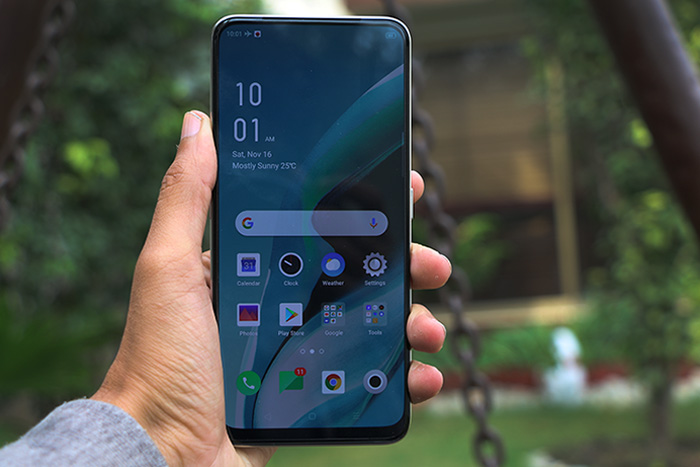 Oppo Reno2 F comes in two colors, Sky White and Lake Green; we have the former one as our review unit. From the looks, it does resemble any premium phone despite carrying mid-range specs.
The back cover provides curved edges that meet with a chromed metal frame, and despite an entire glass-protected rear, gorilla 5 in this case, it gives a very decent grip to hands.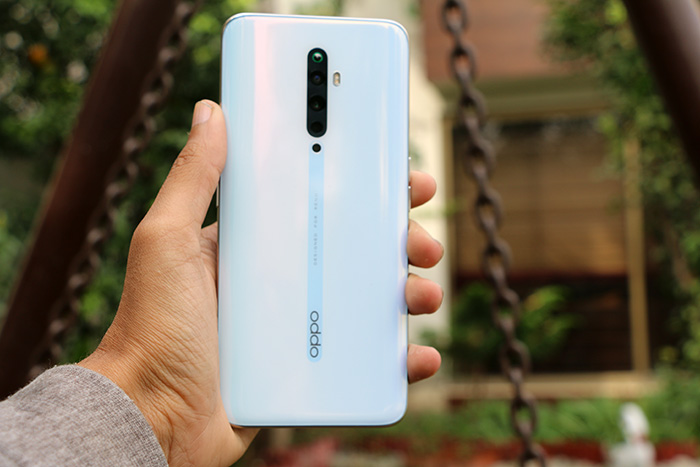 Although it looks like a flat glossy surface, a closer look shows a textured pattern of vertical lines running through the entire body that causes its shade to change every time the light falls on it.
A stack of four lenses resides prominently, right in the middle, and shines under the glass, but a ceramic-O Dot can be seen over the cameras which stick out like in the rest of Oppo Reno models.
Left and right sides house usual buttons, but they are more delicately placed keys this time, however, very clicky. The volume rocker is locked on the left side, while the SIM tray can be seen on the right side right above the power key that carries a green stripe on top of it – a small design element that increases the aesthetic value.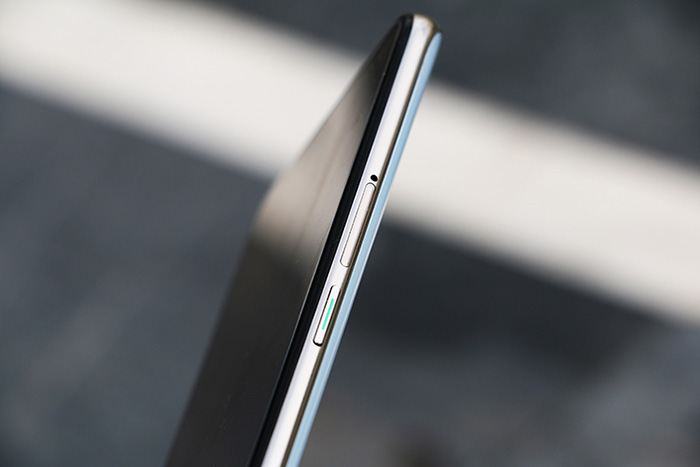 The bottom of the phone shows the 3.5 mm audio jack, primary microphone, USB Type-C slot – a more regular feature nowadays in mid-range phones – and a speaker grille.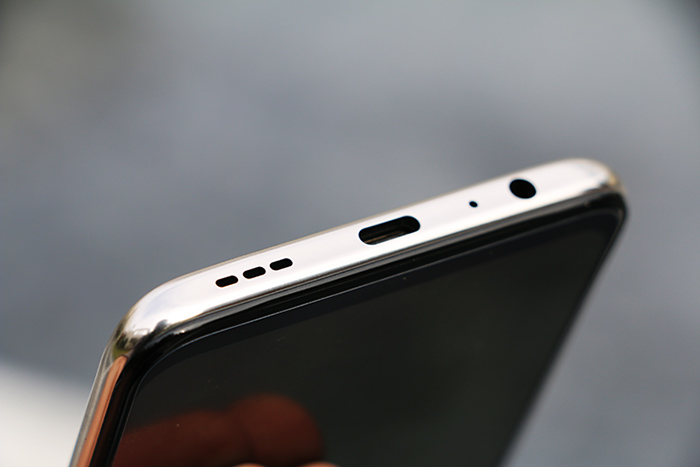 On the top end, there lies a more conventional popup selfie camera precisely in the middle.
AMOLED screens are watery smooth and joyfully cool to swipe your finger on, Oppo Reno2 F is no different in this area. Thanks to the motorized front camera, there is no need for the notch. The entire area is occupied by 6.5 inches of the screen, giving a 1080 x 2340 pix resolution and protected by corning gorilla glass 5.
Despite an all-screen front, it is still an 85.1% screen-to-body ratio. Of course, a slightly prominent chin can take some of the blame, but it is in no way intrusive.
Oppo Reno2 F display gives a nice view. The brightness is adequate, and the color contrast is well balanced. The brightness levels are suitable to perform both indoor and outdoor alike.
Performance and Battery
Oppo has put MediaTek Helio P70 Octa-core chipset under the hood that works with Mali G72 GPU for graphic handling. The phone comes with a huge memory setup, 8GB RAM, and 128GB internal storage in this case that can be further enhanced through a microSD card up to 256 GB. 
The smartphone comes with a 4000 mAh battery, which is not an unusual practice today. Anything less than that isn't considered a good backup.
Our benchmark scores show 291 on Geekbench single-core and 1424 on Geekbench multicore, the latter is slightly behind the Realme 5 Pro but a little better than Oppo A9 2020's score. However, the single-core performs lesser in this case when we compare it to both the rivals.
Oppo also put the same chipset inside the F11 Pro that had 2GB lesser RAM, but interestingly, it scored much higher in Geekbench than Oppo Reno2 F.
For light to normal usage, this phone is not going to create any issue. Whatever we threw at it, it handled quite decently without getting heated and without getting tired. We are talking about at least 15 tabs of browsers opened all the time, social media apps like TikTok, Instagram, Facebook, YouTube, running in the background, and switching them intermittently, making phone calls in between, and sometimes small sessions of the game like Subway Surfers. 
But continuously using all the above and adding games like PUBG and Call of Duty revealed that Oppo Reno2 F started showing lags in many instances. Loading games wasn't smooth, and switching between them was not the best experience among similar phones in the mid-range category. Frame drops were more obvious in PUBG than Call of Duty.
During one such session, the phone consumed 23% battery in 1 hour and 10 minutes.
Playing PUBG and Call of Duty, each for 30 minutes, caused the battery to lose 9% and 14% of the juice, respectively.
During our back-to-back video loop test, the phone could survive just over 10 hours while the brightness level was set at 50% and volume at full. And similarly, our 4.5 hours of battery drain test discharged 61% of its battery. Following is the graph of apps we used to test the phone's battery.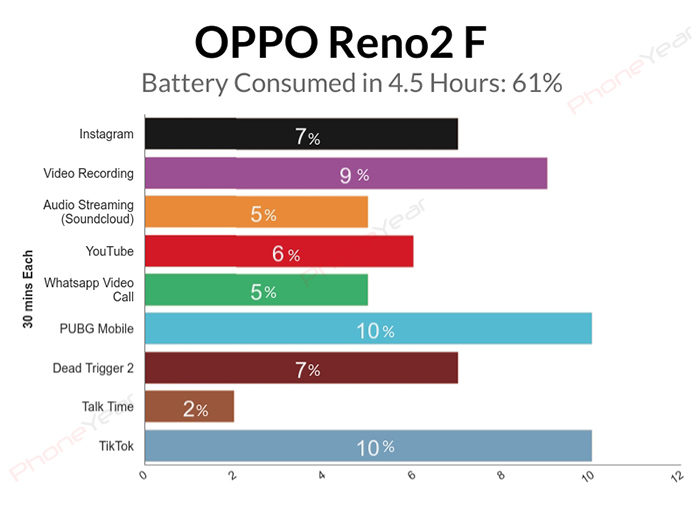 Note: we do all the tests on mobile data (4G), with both the SIMs active and wifi off.
We liked the 20W VOOC charger that refilled the battery from zero to 100% in just 76 minutes (1 hr and 16 mins), which is impressive and very handy in situations when you need a quick charge in a short time.
Oppo Reno2 F can produce an amazingly loud sound through its speaker grille that doesn't shrill too much and provide a pleasing experience. It's enough to fill a medium-sized room. With headphones, it can activate the Dolby Atmos feature which can customize your music experience, though, it is the only software-based sound tweaking.
User Interface
Oppo Reno2 F, like its elder brother, comes with Android 9.0 and Color OS 6.1. At the time of writing our review, this unit has the September 5 security patch, which is almost the latest.
In addition to Google's pool of apps, the phone comes with some pre-installed apps which don't look annoying considering their usability. Theme Store, Phone Manager, and Game Space are useful, but keeping the 'daraz' app is a sheer personal choice.
Although Stock Android and Android One are the most original software UIs, ColorOS can also be counted among the most straightforward skins on top of Android.
Much has been improved over its life cycle, though we are waiting for version 7,  6.1 is still a clean-looking interface. Smart Assistant, Smart Sidebar, and Assistive ball are some of the tools that can save a lot of time.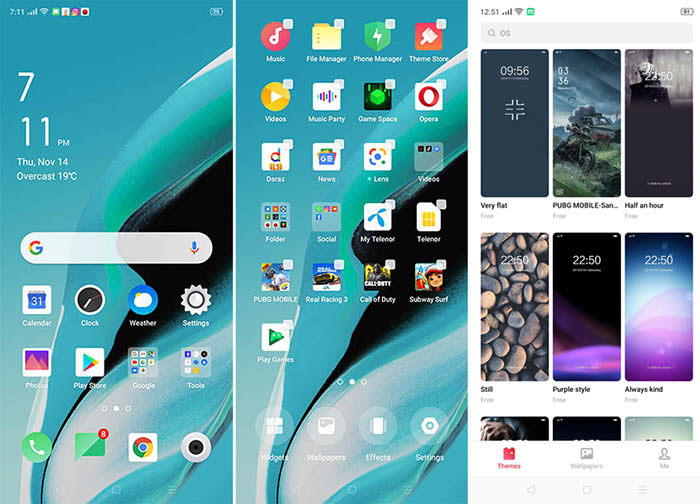 We liked the batch processing of app icons that let you select and move multiple icons simultaneously should you need to clean the home screen.
For biometrics, this phone offers every unlocking system available on the market. The in-display fingerprint scanner is quick, and so is the face unlock, despite the popup mechanism, which, theoretically, should require more time to unlock the screen. However, Oppo seems to have improved the motorized feature this time, and there is a marginal difference between the two in this model.
Oppo has put extra security this time that won't allow someone to take advantage of your facial unlock while you are sleeping. If activated, it stops to unlock the screen if the eyes are closed.
Camera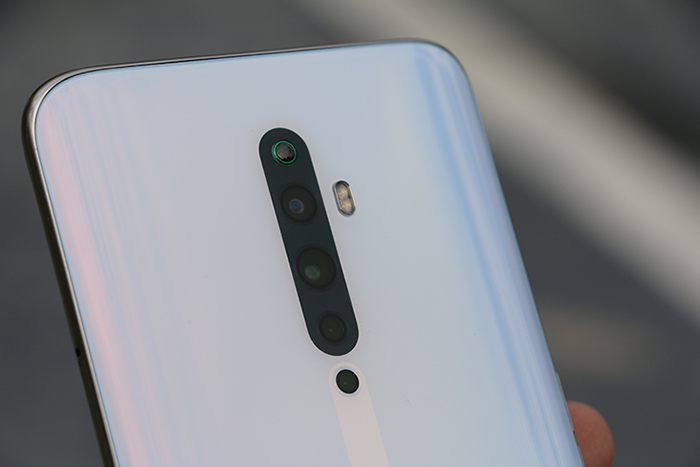 Oppo Reno2 F comes with a quad-camera setup on the rear side that is all about a 48MP primary (wide-angle) lens, 8MP (ultra-wide-angle) lens, two lenses of 2MP each, one of them is a depth sensor.
It can record 1080p video at 30 frames per second and also support EIS when shooting with the primary lens.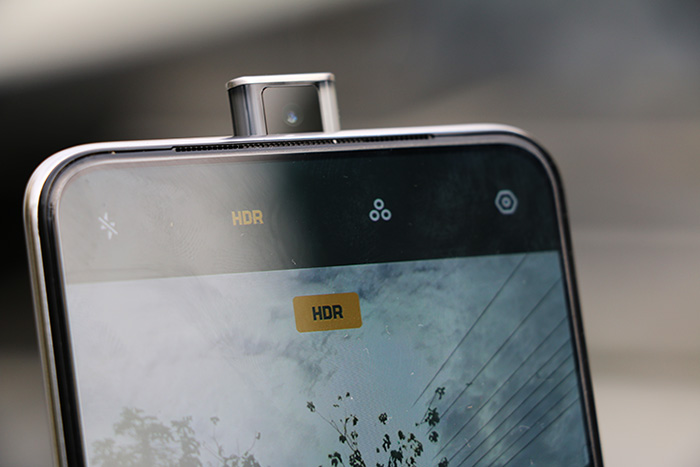 On the front side, the usual popup selfie camera boasts a 16MP lens that can also record 1080p videos at 30 fps with EIS support. The popup camera this time comes with some nice lighting effects that can be seen on the border of the lens bar while going up and down. It's a very smooth light and does not seem to put a lot of stress on the battery. Oppo has provided a way to customize the colors as per the need or turn it off if you don't need this fancy addition. However, it looks kind of catchy at night.
The default camera app is almost similar to what we saw lately in Oppo A9 (2020), but the camera results are a little better in comparison but much behind the Realme 5 Pro's camera strength.
Reno2 F captures decent photos of closely located subjects with its auto mode under good lighting conditions. For making things more dramatic, the phone comes equipped with a number of filters and a Dazzle Color mode – a usual ColorOS feature – but the latter one also boosts up the exposure level sometimes, which is not pleasing to the eyes.
For little distant subjects, the camera setup struggles to register desired details of the elements inside the frame. Although it can digitally zoom up to 10x but pictures, start losing the detail at 5x.
Selfies and portraits with a strong light source in the background do not get much help from the HDR feature this time that, instead of balancing out darks and whites, underexpose images most of the time while putting a lesser focus on the faces.
A little zooming-in for a closer look can reveal considerable noise in the portraits, albeit daylight. Luckily, there is a beauty mode to help reduce the noise, but it does it at the cost of a higher exposure level. The same is not true for selfies. 16MP of the front camera can perform much better than the rear setup.
Oppo Reno2 F also boasts an ultra-wide-angle that can capture more area, but it also compromises on the details and flattens things out in the pictures.
Low light and night pictures also grab considerable noise unless you switch to the Night mode for much better shots that are colorful and filled with details.
Below you can see the camera result of Oppo Reno2 F under various lighting conditions.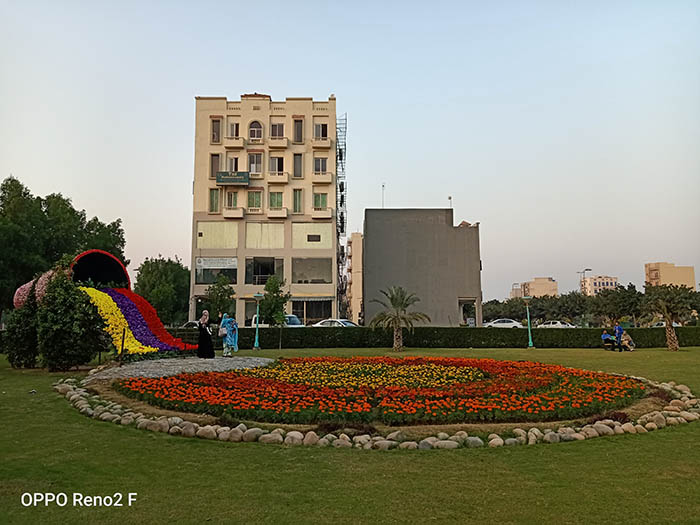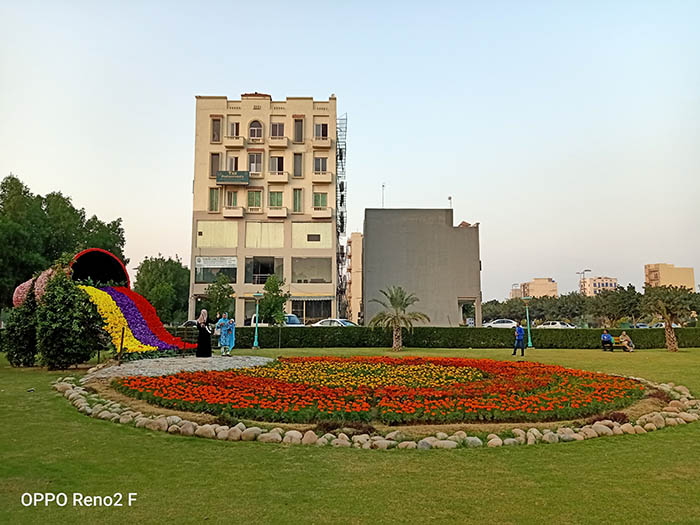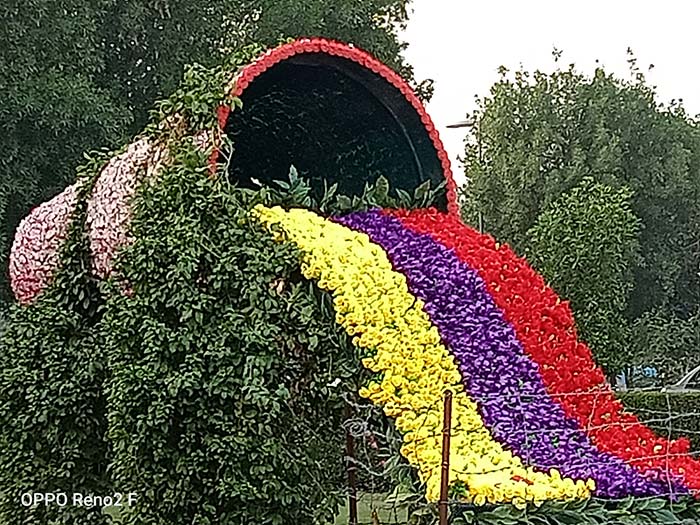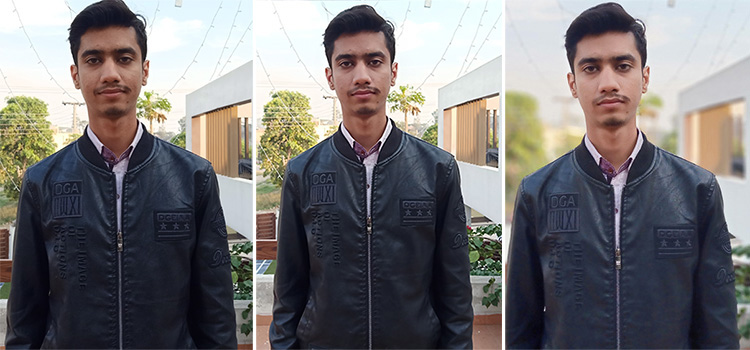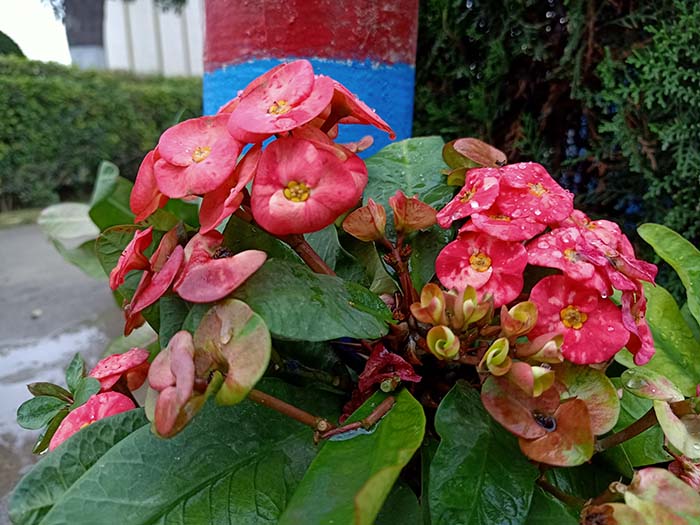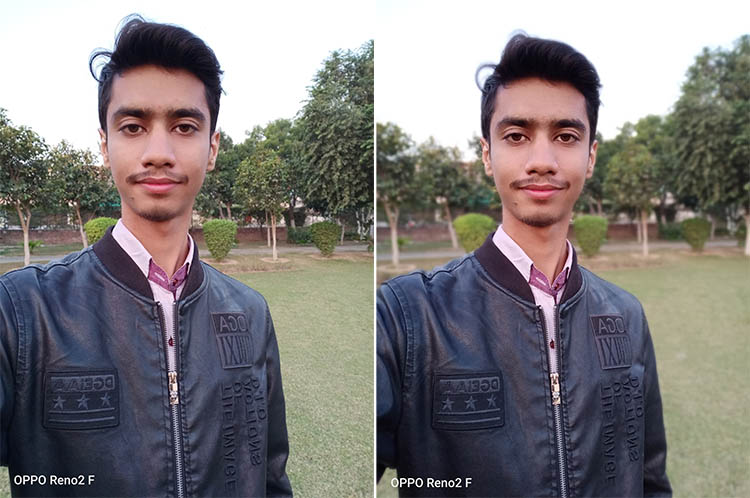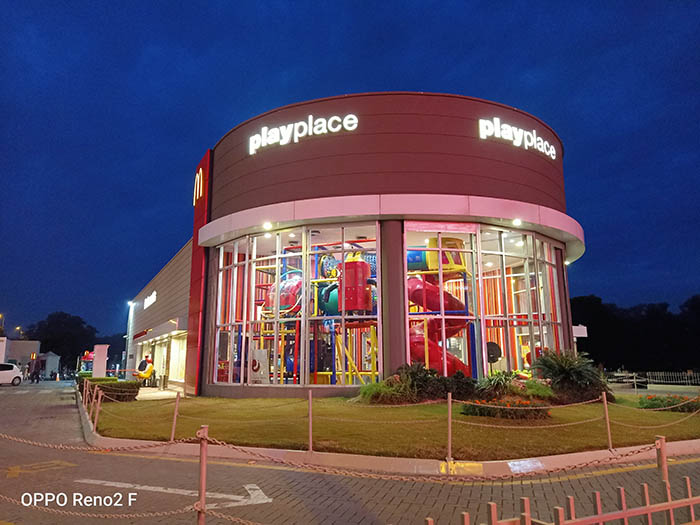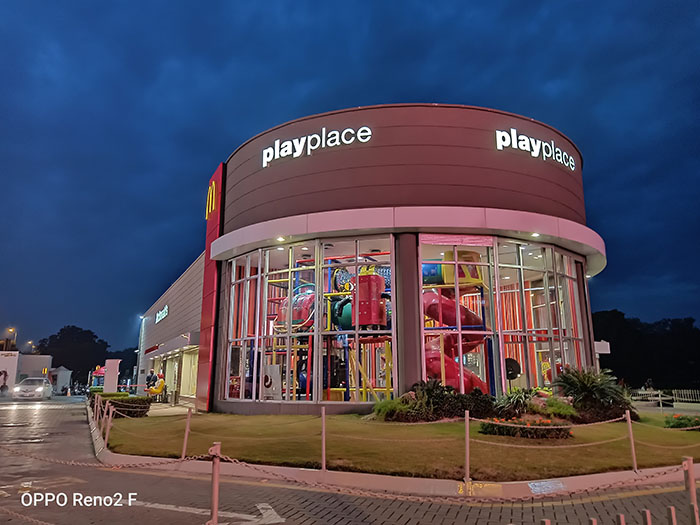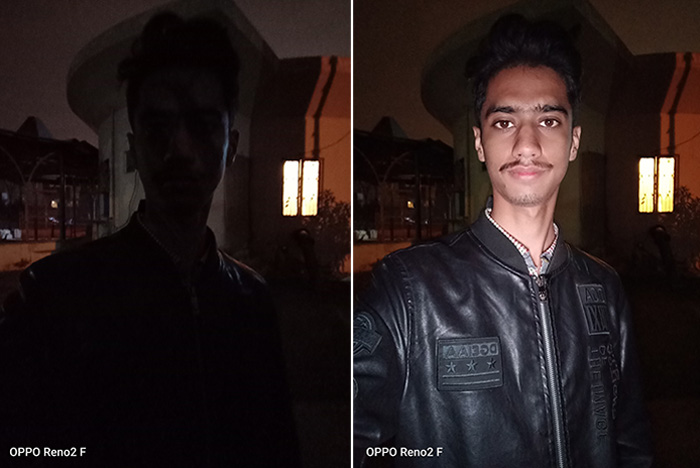 Verdict
Oppo Reno2 F impresses with its looks and design, but the phone certainly looks like an overpriced device and falls short of claims.
Despite having a popup camera, its facial recognition works quite swiftly, and so does the charging with its 20W VOOC charger. However, if you are looking for a phone that bests in camera and performance in addition to the looks, you might want to look at Realme 5 Pro or Vivo S1 that are much cheaper but better in overall performance.