Galaxy A series brought tremendous fame for Samsung in 2019 that also continues in the year 2020, one of the reasons is their budget-friendliness, and of course, the specs sheet has been upgraded on every new device. Samsung Galaxy A31 is the successor of the old Galaxy A30, which was one of the popular A-series devices.
Samsung seems to have acknowledged the fact that budget and mid-range devices need to compete with feature-rich Chinese rivals, which is why Galaxy A31 offers a quad-camera on its rear side and a desirable 5000mAh battery that keeps the ball rolling. Despite these essential upgrades, the Galaxy A31 still lacks in a few significant areas where smartphones like Xiaomi Redmi 9S and even Infinix Note 7 outsmart it quite comfortably. More on it in the following paragraphs.
Common design for all devices
Samsung seems to have kept things very simple, a common design language for the entire league. Maybe it would cut down the hassle of designing ten different devices in the A-series and making everyone a sibling.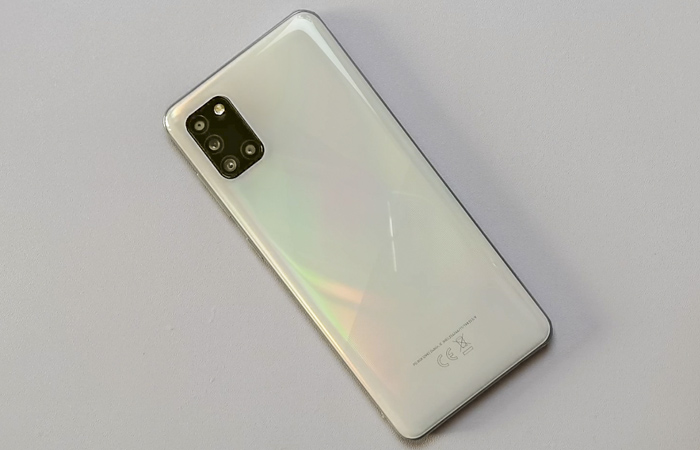 It started from the first generation, and this time also Samsung Galaxy A31 somehow mimics those superior siblings, A51 and A71, at least, to the extent of the diamond cut pattern on the back and the rectangular quad-camera placement. They all resemble so much that only the placement of LED flash inside the camera module distinct them apart.
Samsung pays much attention to the exterior of its devices; even their budget devices stand out from the rest. The Prism Crush White color we have generates rainbow shades when the light falls on it at a certain angle. Flip the phone, and there comes its 6.4 inches dewdrop Super AMOLED screen, aka Infinity V display by Samsung, similar to what we saw in Galaxy A30s. It looks entirely run-of-the-mill concept, perhaps placing it intricately on the left or right would give a much modern feel.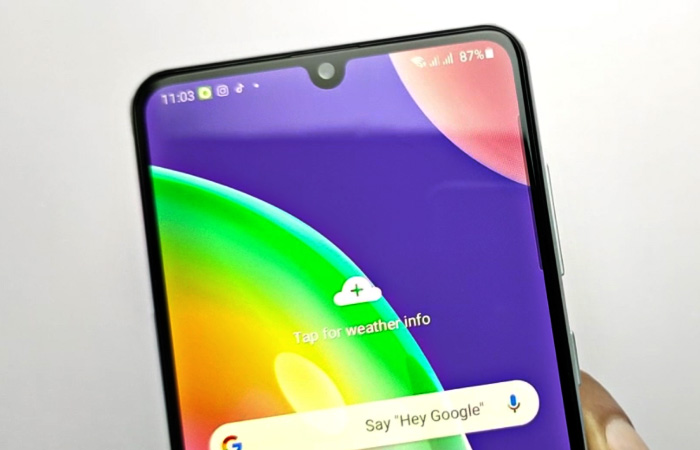 Bezels are not as slim as we would expect, but they are just acceptable apart from the hefty chin that looks odd and lessens the overall delicate look.
From the display point of view, there are no complaints from this Super AMOLED screen. The brightness is quite appropriate, the blacks are excellent, and the screen is decently contrasty; however, the vividness isn't too high, and the settings area doesn't offer too much variation as well although you get the usual dark mode for being an Android 10 device.
Performance: not a phone for gamers
Samsung Galaxy A31 doesn't offer too much to gaming enthusiasts, and the primary reason is the low-powered Helio P65 chipset that offers two A75 cores clocked at 2.0GHz and six smaller A55 cores clocked at 1.7GHz. There is a Mali G52 chip for graphics handling. Although there is a support of 4GB and 6GB RAM – depending upon the region you are located in – the combination doesn't seem to work effectively for online games like PUBG and Call of Duty.
The phone offers enough RAM, 4GB, and 6GB, depending upon the region, but the combination doesn't seem to work well for online games like PUBG and Call of Duty. Although the phone allows us to tune the PUBG at HD graphics and high frames, the gaming experience is mediocre due to seemingly, bad hardware-software optimization. Even the game launcher onboard doesn't help to smoothen the consistent frame drops and occasional lags.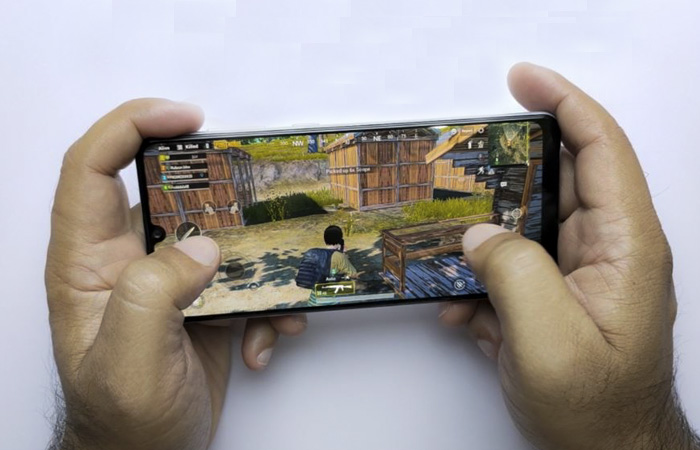 However, we noticed a few problems with day to day general working such as social media activity, movies, songs, or games like Subway Surfers on this device, though, you should expect a little lazy response while opening the apps or switching between them from time to time.
We also couldn't do Antutu benchmarking on this device since the app kept crashing every time we ran the benchmarking app on this device. This may not be the chipset problem since we have already run Antutu on Vivo S1 and Vivo Y19 that have similar chipsets.
The sound from Galaxy A31's single firing speaker at the bottom is loud enough for a small room, but that isn't sufficient for outdoors where you need the earphones for both call and multimedia sound. There is a "sound quality and effects" module inside the settings area, but that only works well with good earphones, the pair Samsung provides out of the box isn't worth relying on and looks more like a cheap deal. You can also attach an additional Bluetooth device to play sound from a specific app and use earphones for a separate app at the same time.
As I mentioned earlier, it's not a lag-free device, the same holds true for in-display fingerprint scanning. From Samsung's standard, the in-display fingerprint scanning has been improved in contrast to the previous year's device. Still, it is comparatively slower than snappy side-mounted scanners on Nova 7i and Redmi Note 9 Pro.
Battery is impressive
As far as the battery is concerned, Samsung Galaxy A31 is quite an improvement from previous models Galaxy A30 And Galaxy A30s that carried 4000 mAh batteries.
Checkout best mobile phones with the longest battery life
This time around, a 5000 mAh battery along with a 15W charger has given this phone quite a boost in battery backup. We could charge the device in 2 hours and 22 minutes, and during our drain test, the device survived for 17 hours and 18 minutes, which is an excellent battery backup time. You can have a look at the battery video below for watching the entire test.
The battery of Galaxy A31 can easily accompany you throughout the day, and if you aren't a frequent user, it can give you a day and a half before it gets exhausted.
Camera: too many compromises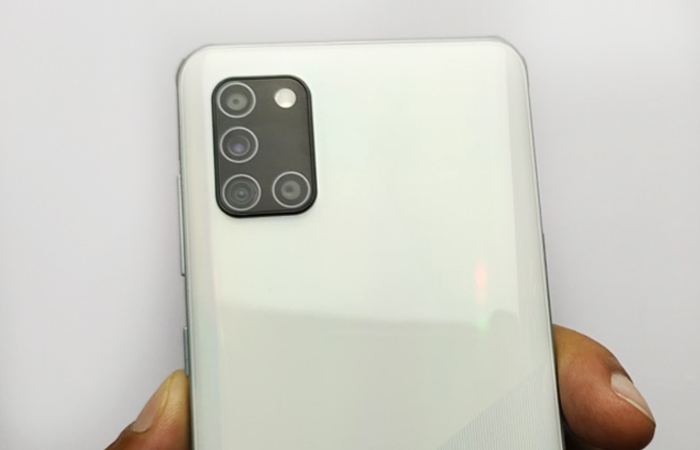 Samsung Galaxy A31 features a 48MP lens as the main performer; the rest of them are 8MP for the ultrawide angle, 5MP for macro, and 5MP for depth sensing.
Although the cameras are upgraded, and mere specs look on par with the rivals in this price range, the phone lacks in some of the most in-trend tools. There is no slow-mo videos mode, a limited pro-mode offers nothing much, and above all, the absence of night mode that limits taking decent shots at night, especially when the light is too low, or it is too harsh.
Despite a 48MP sensor, the day performance isn't as promising as it is expected from a usual quad-camera setup. We found weaker color reproduction, an acceptable amount of details, and smoother images with lesser noise in broad daylight. The 48MP mode isn't impressive at all, the pictures carry no extra detail in contrast to 12MP shots, but the noise level is on the higher side.
The Live focus makes use of the 5MP sensor for bokeh shots to create nice background blur and smooth-looking noiseless day photos that are good in detail. The colors look better than what the main lens would produce, but they are still not accurate.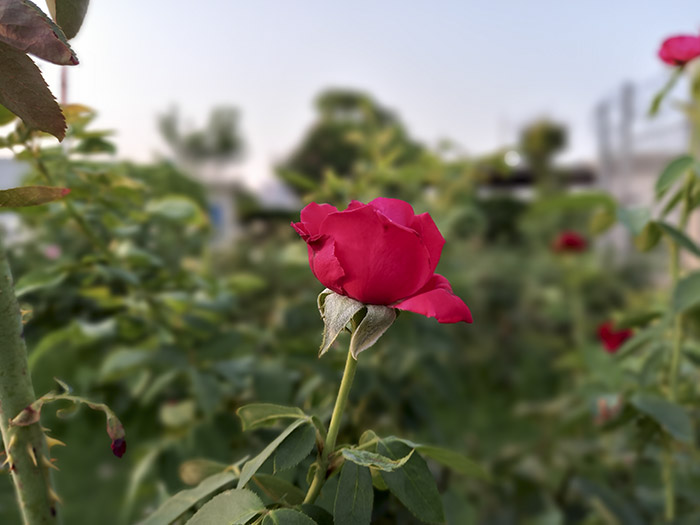 5MP Macro lens can be quite creative for static subjects, but it doesn't seem to handle the daylight and raises the exposure value. Once again, the camera forgets to deal with color accuracy. The images are more yellowish looking and less contrasty.
In the low light, the macro and bokeh modes are not worth a try.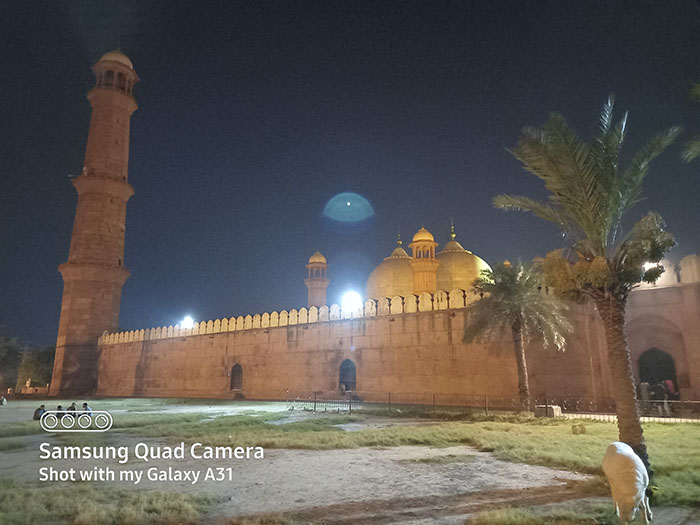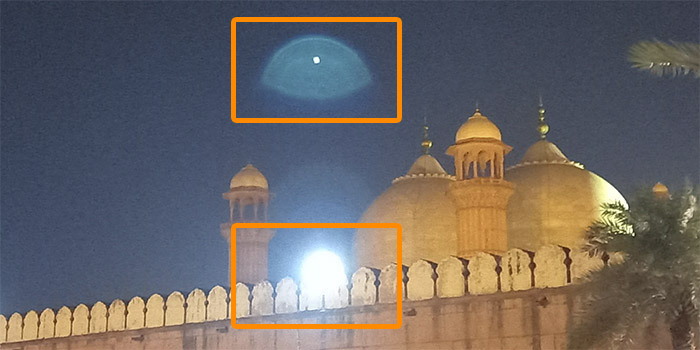 Without a night mode, the Galaxy A31 only depends upon its image optimization algorithm in low light. It struggles to handle the noise and light sources that sometimes cause different artifacts to appear on the images. This is not an ideal situation for capturing moments at events like weddings or musical concerts where one has to shoot the stage. This phone doesn't seem to handle such moments.
The 8MP ultrawide lens is comparatively better with color reproduction and exposure, but its smaller size doesn't allow it to capture fair details. At night, similar to the primary lens, it doesn't get better at anything.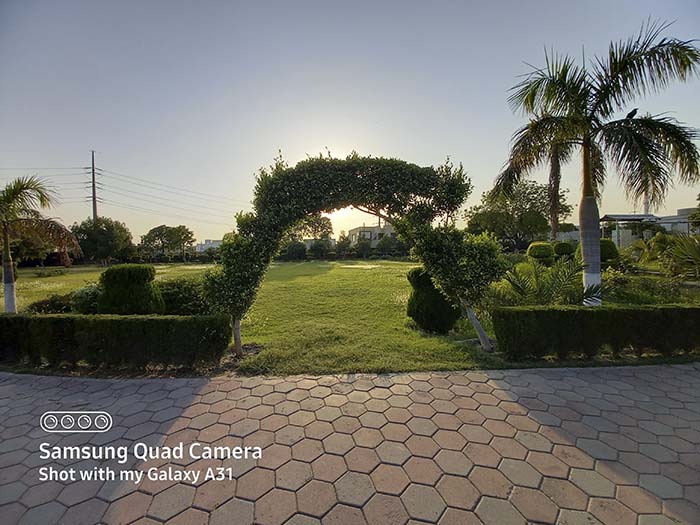 Well, talking about the selfies, the 20MP front camera gets some well-detailed shots that are vivid and well exposed in the day. At night, without a dedicated night mode, it also suffers from grainy images.
The phone can shoot 1080p videos from both front and rear cameras that are good in colors and details. However, we don't find EIS on this phone, which is not an excellent sign for vloggers.
Verdict
Samsung Galaxy A31 is undoubtedly an upgrade in terms of specification from the previous year's A30 and A30s, but it doesn't offer too much performance and camera skill. Being a phone carrying a low-powered chipset, it is not a suitable device for online gaming. Samsung fans who are not into heavy tasking may find it a reasonable device. A long-lasting battery is perhaps the primary feature where this phone excels.
Alternative
If you are looking for a better camera in a smartphone within the same price range, you should consider buying either Huawei Nova 7i or Xiaomi Redmi Note 9S as both of them can produce much better images than Samsung's Galaxy A31. But, if you want longer battery life, then Vivo S1 Pro is your safest bet.