Samsung Galaxy A51 and the rest of the A-series family, including the latest A71, seem part of the strategy to counter rivals at almost every price bracket. Last year, the predecessor A50 turned out to be a decent mid-range performer for the day to day usage, though, same can't be true for an aggressive mobile user. The 2020 model has stepped up the specs sheet in most of the departments, primary being the quad-camera setup, Android 10, and One UI 2.0.
Can this upgraded chipset deliver what was missing in the earlier version? Does this device has what it takes to be one of the best mid-range phones of 2020? Let's jump straight to our findings of the Galaxy A51.
Samsung Galaxy A51 specs
Display: 6.47 inches,

Super AMOLED

OS: Android 10, One UI 2.0

Chipset: Exynos 9611,

GPU: Mali G72

RAM/ROM: 6GB/128GB up to 512GB

Camera (rear): 48MP + 12MP + 5MP + 5MP

Camera (front): 32MP

Battery: 4000 mAh
Design and Display
Samsung Galaxy A51 is visibly different than the predecessor. Unlike the A50 that relied on the Infinity-U display, the latest version features Infinity-O display, a punch hole locked at the top middle of the screen and which is also the reason we are witnessing a little more truncated top bezel and the full view display. However, not significant, all four bezels are not as slim as we see on Samsung's flagship devices.
At 172gm, it is marginally heavier than 166gm of A50; it still feels lighter on hands considering the fact there is a 4000 mAh battery inside. The 3.5mm headphone jack, USB Type-C, and a single firing speaker grille are locked at the bottom area, whereas the volume keys and power button are placed on the right side. The latter one also doubles to activate Bixby with press+hold for a while when the display is active.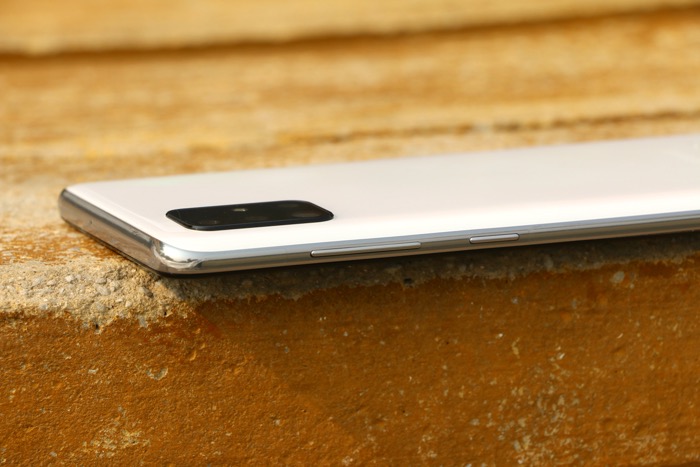 A51 offers a SIM tray on the left that can accommodate two nano-SIMs and a microSD card simultaneously. 
Flip the phone to find a rhythmical pattern on a plastic body that is glossy and appears to belong to a premium phone family, but it's a mid-range phone in reality. This prism-shaped design that refracts rainbow colors when light falls on it is so subtle that it augments the presence of an L-shaped quad-camera setup that juts out a millimeter from the body and does not cause any wobbling effect when placed flat on a surface.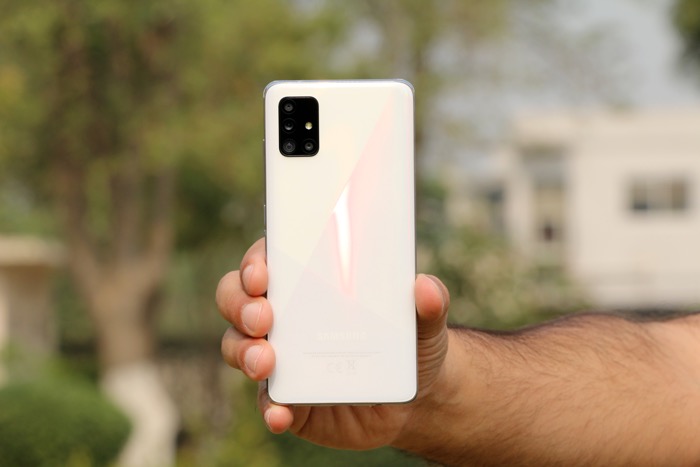 We used the phone in white color, which looks tempting, but the pink and black colors are not lesser beautiful either. There is protective silicon back cover that comes out of the box that we would recommend to paste on the rear to keep the phone spick and span.
Samsung Galaxy A51 offers 6.5 inches of Super AMOLED Full HD+ screen of 1080 x 2400 px resolution and 405 dpi. We also see Samsung's usual aspect ratio of 20:9 that makes it a little elongated device that we are quite used to. It's a tad bigger than 6.4 inches of A50 screen that accommodated lesser screen resolution and aspect ratio.
It's a flat-screen that gives no trouble looking at it, both indoor and outdoor. Even the harsh sunlight doesn't block the display much, but you might feel it getting a little dull for movie content under the sun. The colors are sharp, and the display is bright, though, not as impressive as Samsung's upper models, but its vividness can be further boosted up from the display settings (Setting>>Display>>Screen mode) where in addition to selecting 'natural' or 'vivid' option, you can also tweak RGB colors.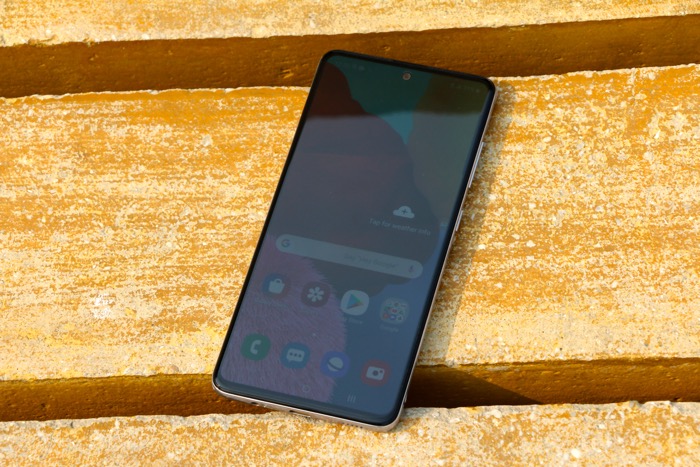 A51 also gets an in-display fingerprint scanner that was also the part of A50. We wouldn't like to give it the benefit of being a mid-range device for a little sloppy performance since we have already come across Vivo S1 Pro's snappy unlocking. Samsung still struggles with its optical scanner; even the problem has been reported a few times with higher-end models. Samsung does not recommend to use a low-quality screen protector that might not perform accurately for reading the finger impression; the one that comes out of the box does not help either.
We consistently experienced a lag at the time of unlocking the phone, and it worsened, many a time, to an extent when it failed to scan the finger over and over forcing us to use an alternative method to unlock.
Performance and Battery
Samsung Galaxy A51 carries a mid-range chipset, Exynos 9611, and for the graphics, a Mali G72 GPU. They are further supported by 6GB RAM and 128GB internal storage expandable up to 512GB through a MicroSD card. Depending upon the region, you may also come across a 4GB or 8GB RAM version as well. The four bigger cores are clocked at 2.3Ghz for heavy works while the smaller cores are clocked at 1.7Ghz. 
The chipset may not be a bigger improvement from the earlier 9610 inside A50, but surely, the One UI 2.0 on top of Android 10 is the real excitement for the Samsung fans.
On AnTuTu, it scored 186414 that is not far ahead of underperforming entry-level Galaxy A20s that reached 181215; however, A51 is still better in numbers than some of the rival Chinese phones such as Vivo S1 and S1 Pro, Realme 5 Pro and Honor 9X.
In real life performance, we found it almost similar to what the Galaxy A50 did during our tests. The processor can handle day to day tasks very easily though a little lag can be felt at the time of switching apps, which is fine for a mid-range device. At the end of the day, it all depends on how high you expect from a mid-level chipset.
We could play PUBG at higher graphics settings for longer sessions with intermittent minor frame drop that pushed us to bring down graphics. The game booster comes built-in, which helps to allocate more resources for the game apps, but that does not seem to efficiently work if other resource-hungry apps are running side by side, the lag becomes more prominent then.
Samsung Galaxy A51 packs a 4000 mAh battery and a 15W charger that is capable of fast charging. It can refill the battery from 0 to 100% in 1 hour and 53 mins, almost two hours. On the other side, it can easily get you through an entire day before you will need to recharge it again.
Our video play test drained the battery in 15 hours and 52 mins which brings it on par with Vivo Y19's 5000 mAh battery. Both fall behind Samsung's own A30s 16 hour and 13 mins.
Our four hours battery test on mobile data (4G) took away 66% of the battery juice. You can have a look at the following chart to see what battery performance you should expect from this phone on social media.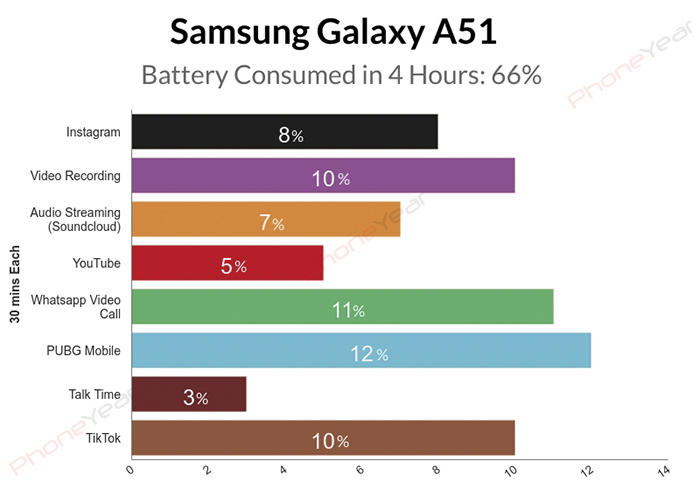 Camera