Realme 5 Pro has landed in Pakistan, along with its standard version. The company is calling it a game-changer for being a feature-packed phone at an amazing price where no other brand is providing these specifications.
The bigger variant looks smaller and lighter than the standard Realme 5, but it exceeds screen resolution, processing, and camera by miles. Although the 5000 mAh battery of the standard version looks bigger than the 4035 mAh battery of the Pro version, it is Qualcomm's seven series chipset that keeps the higher variant going more smoothly.
They both come with four cameras on their back, and with their launch, Realme has announced its future phones will at least have a quad camera setup.
Let's go straight to see how the phone looks like and what it is capable of.
Realme 5 Pro specs
Display: 6.3 inches IPS LCD
OS: Android 9.0, ColorOS 6
Chipset: Qualcomm Snapdragon 712
RAM/ROM: 8GB/128GB
Camera (rear): 48MP + 8MP + 2MP + 2MP
Camera (front): 16MP
Battery: 4035 mAh
Design and display
The moment you look at the phone, it is the diamond cut design on the rear side that catches your attention. It's a unique pattern that reflects differently every time the light falls on it.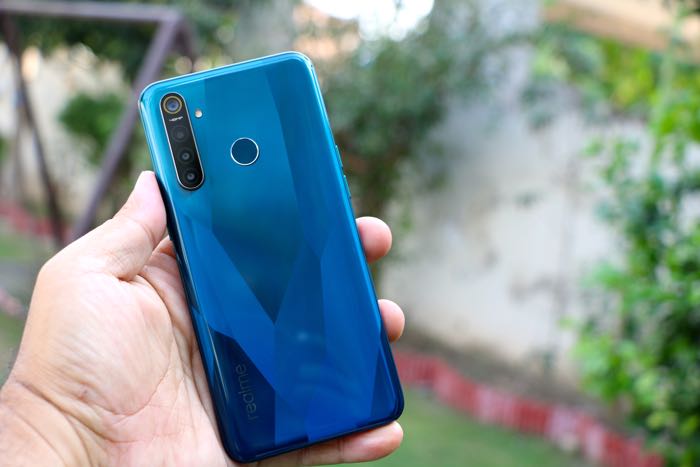 Realme 5 Pro comes in two colors, Crystal Green and Crystal Blue, both are attractive in their ways. The distinction doesn't end here, Quad camera enclosed in a rim prominently sticks out, but it has a minimum wobbling effect on a flat surface which is a welcome sign. Alongside this, there is a fingerprint scanner nicely placed well within reach of the index finger. The edges are curved and end up merging into a matte finished metal rim that helps provide a sturdy grip in hand.
A grayish TPU case comes out of the box, which is helpful to fight against the smudges that otherwise make the beautiful shinny back panel look dirty. The power button on the right side and volume keys on the left side stick out prominently and provide a comfortable click.
Besides, there is a SIM tray above the volume rocker that can house two SIMs and a microSD card at the same time.
Flip the phone, and we get a 6.3 inches IPS display of 1080 x 2340 px resolution in addition to gorilla glass 3+ protection. The top edge fastens an earpiece just above the waterdrop notch, which also houses a 16MP selfie camera.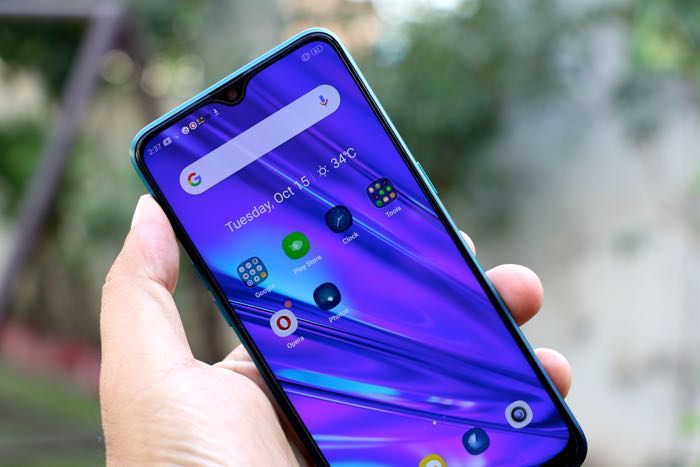 There is no status LED, unfortunately. Bezels around this phone are minimal, particularly the chin area, which gets ignored, usually in love for the notch.
Another welcome feature is the USB Type-C that is placed right at the bottom surrounded by a speaker grille and 3.5 audio jack on each side. A microphone can be seen adjacent to the audio pinhole, whereas a secondary microphone is placed on the top. Overall, the design of the Realme 5 Pro looks sturdy and beautiful at the same time.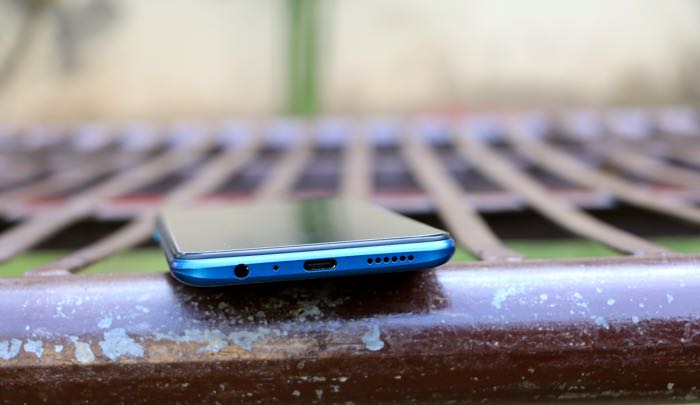 Performance and battery
Realme 5 Pro is powered by the 7 series chipset — Qualcomm Snapdragon 712 based on 10nm processing. It comes with two variants, 4GB RAM / 64GB ROM and 8GB RAM / 128GB ROM. The seven series chipset belongs to the upper mid-range category, and they are usually considered a good performer, better than 6 series chipsets.
Before going into my real-life test, let's first check what the benchmarking apps have to say about this phone.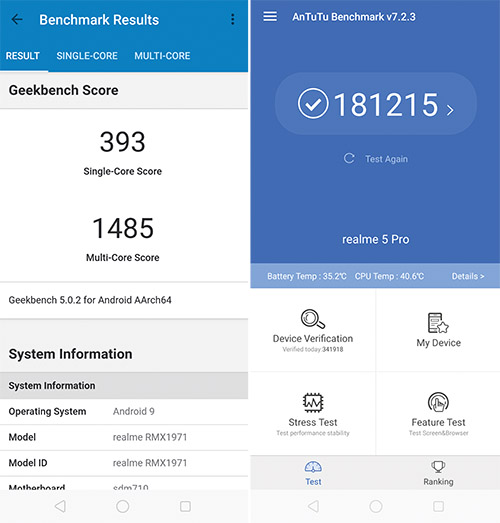 The phone is running ColorOS 6.0 on top of Android 9.0, which is a common piece of software for both Oppo and Realme, but with some marginal differences. Although Realme is reportedly working on its software skin, however, there is no deadline announced as of yet.
As I am writing this review, the security patch shown in the setting area belongs to August 5, which is still considered the latest one. ColorOS comes with specific bloatware, and Realme 5 Pro is no different. However, it doesn't hurt the performance; you can still remove those unwanted apps if you like to keep your environment as personal as you want.
Putting aside what the OS further offers, we are more concerned about the performance. Multi-tasking on this phone is nothing to worry about. I usually don't prefer to tap phone managers quite frequently for recovering memory and cleaning cache because phones have a lot of resources today at their disposal. Realme 5 Pro never gave me a reason to use the tool, either.
I usually test phones with both SIMs active and data running on 4G to keep it as close as a real-time scenario and to test their real might. Through our tests, we found Realme 5 Pro amongst the best mid-range performers.
It doesn't slow down even though multiple apps are opened in the background except for a few instances when we felt a minor lagging at the time of using chrome and games of higher graphics. The lag can also be noticed at the time of moving to the previous screen after a lengthy video streaming session, mostly, when the gesture controls are active.
The phone seems to have an active cooling mechanism inside that doesn't take it to a temperature we call "hot." After an hour of Netflix, it was more comfortable to hold it without feeling a need for the back cover, and the same goes for the lighter gaming sessions.
I tested it with the most favorite games of all, PUBG, Call of Duty, Dead Trigger; all of them are high in graphics and can put a maximum toll on the GPU and the processor. This time they raised the temperature considerably, and also battery drainage was faster.
During an hour-long PUBG session, it lost 21% of the battery on wifi; however, the same session on mobile data ate away 28% juice. There is a 'game space' app that seems to allocate more resources to the game that results in a comparatively lesser drop in frames and minimal lagging, which is more obvious otherwise.
During another video streaming session, it dropped 11% battery after an hour of Netflix streaming.
One of the prominent features of the phone is the sound volume that is loud enough to be heard from across the room.
Although it lacks the bass, one can count on it to be a companion in a situation where you have nothing but the phone and its speaker to rely on for the music or some youtube video.
Camera
The camera app on Realme 5 Pro is swift to launch, and if you are an old Oppo user, there is nothing unfamiliar. The default app is supported by a Quad camera setup on the rear side that comprises a 48MP wide-angle lens, an 8MP ultra-wide-angle camera, and two other lenses of 2MP each, for depth sensing and macro photography.
The app is simple, and every required control is placed on the front screen, which is easier to handle for taking some quick photos. Pictures with the standard settings came quite brilliant without compromising on the details. Colors were intense, and exposure looked balanced in the images that I captured under broad daylight. The standard mode worked equally good under the low light as the pictures didn't catch too much noise.
Realme's version of ColorOs has a Chroma Boost feature on the camera app, which is very similar to Dazzle Color in the Oppo. It enhances the contrast level, a little bit of exposure at some points, and sharpens the image further, but in doing so, it goes beyond the limit sometimes. To increase the visual appeal, it makes them unrealistic.
Object mapping is not like an ordinary mid-ranger in the Realme 5 Pro, portraits with or without the bokeh effect don't get merged with the backgrounds even when the light is not entirely adequate.
2MP macro lens doesn't give as detailed and sharp results as the standard lens; however, it still performs decently well in contrast to the rival phones.
The night is when things become challenging for the camera, noise creeps in, and even though an ultra night mode is useful, it compromises a balance between the details and exposure level.
The rear camera can record 1080p and 4K videos, and there is a support of EIS; however, the 4K is not available on the front camera.
Verdict
Realme 5 Pro can be termed as an allrounder with every internal organ supporting each other. It even beats the rival Oppo A9 2020 that is far inferior in battery, processing, and camera. Multi-tasking and intense graphic games are no problem for this phone except for the high graphic settings when you start to feel a minor dip in the frames; otherwise, it does not show a sign of lag. The volume level is quite high through the bottom speaker, and despite it lacking the bass, the sound does not irritate. With mid-level brightness, it can easily give 10 hours of backup on back-to-back video streaming. All in all, the phone is a good bargain if you want a reliable companion that can be useful in every area.