Tecno is here for quite some time, but for the first time in recent years, the Chinese phone maker has come with a bang. It's not a flagship or a mid-range phone we are talking about but a small entry-level device that has become the talk of the town. Tecno Spark Go is a feature stuffed device that launched in Pakistan with a price tag of PKR 13,000. This entry-level phone offers a plethora of features that every person today goes after; an AI-supported camera, a big display with a waterdrop notch, face unlock, and above all and the gaming mode. 
This all-in-one device could be the first smartphone for some people who are tired of slower data on their feature phones, and even for those who need a bigger screen and the basic power of Android. Let's go straight to our findings.
Tecno Spark Go specs
Display: 6.1 inches IPS LCD

OS: Android 9.0; HiOS 5.02

Chipset: Helio A22

RAM/ROM: 2GB/16GB

Camera (rear): 8MP

Camera (front): 5MP

Battery: 3000 mAh
Design and Display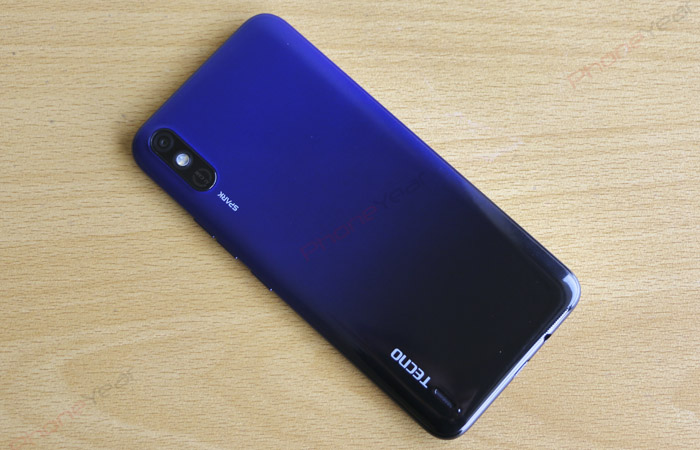 The phone is a plastic body that struggles to keep its weight on the lower side. It inherits the design language from the Tecno Camon i4, to some extent on the rear and entirely on the front side. Camon i4 had a different camera setup and a fingerprint scanner on the back, which is absent in the Spark Go. The back panel of the phone is removable to access the SIMs and memory slots, which are placed in the top compartment. In contrast, the lower part is dedicated to the removable battery.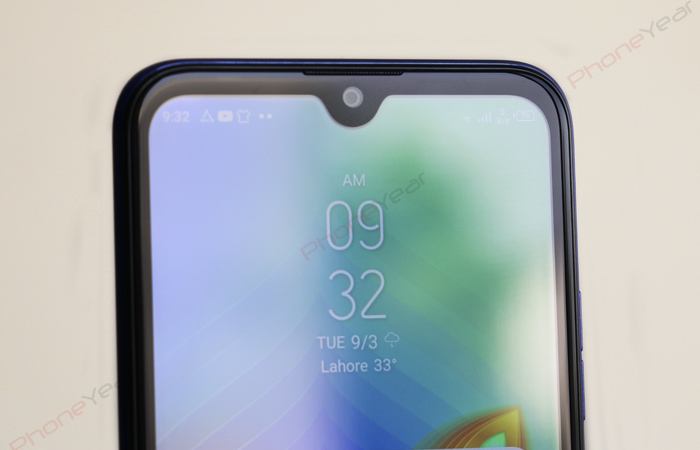 The front is all dark where a huge waterdrop notch is visible at the top edge, placed inside a black panel that circumvents the entire display and creates bigger than required bezels. If you are not a fan of the notch, it can be hidden from the setting area, but it would further minimize the display by a few millimeters.
Also Read: Our list of the highest screen to body ratio phones
The phone gives a 6.1 inches IPS LCD of 720 x 1560 resolution, which is quite good indoors but struggles under the sunlight. However, it can be viewed easily from steep angles. The display can be tweaked further from the setting area, where Tecno has provided some interesting options.
Performance and Battery
Tecno Spark Go is the latest phone the company has launched in Pakistan and India. The device comes with a MediaTek Helio A22 Quad-Core chipset that belongs to 2018 and is only dedicated to entry-level smartphones.
Theoretically, the chipset support AI and up to 6GB of RAM, but Spark Go comes only with 2GB RAM and 16GB internal memory, and the reasons are obvious, to capture the lower-end segment of the customer base who has not tasted an Android phone yet.
Tecno Spark Go is among the cheapest Android phones on the market. Even Nokia's cheapest smartphone, Nokia 3.1, is priced at PKR 19,899 that features 2GB RAM, 16GB ROM, and a 2016's chipset – MediaTek MT6750.
Tecno Spark, Go's chipset, has built-in GPU PowerVR Rogue GE8300, which should run the typical games without a problem; however, in our real-life test, it was a hit and trial for many of the games. 
The phone behaves strangely by not playing some games even they are lightweight. One of the games was Police Chase from its gaming repository, which never functioned despite many attempts.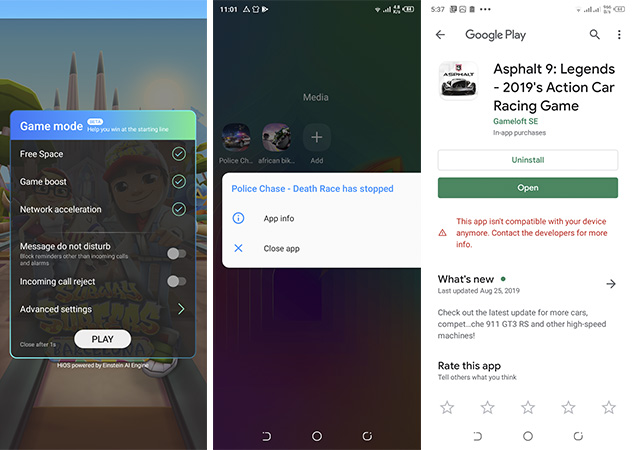 On the other hand, PUBG, both lite and standard version, RealRacing 3, and a few more worked fine on this phone. We happened to experience missing frames and stuttering quite often, but the games kept running, which is a good sign for Tecno Spark Go. Thanks to a dedicated gaming mode, which is a part of this little device.
The internal memory runs out very quickly after installing a few usual social media apps and a few games from the play store. MTKLogger is also a culprit that keeps eating precious internal memory. It's a feature to create and save the log of all activities of a user and app-to-app communication, which is very harsh on 16GB RAM. All in all, the memory card is a must thing for this phone.
Multitasking is not an area Tecno Spark Go is best at, but for an entry-level phone, what it does is a lot. It shows a considerable lag while switching between apps or tapping the home key when a few apps are running. Those who are coming from a feature phone may find it acceptable; rather, it's a relief to see this phone playing movies, songs, games.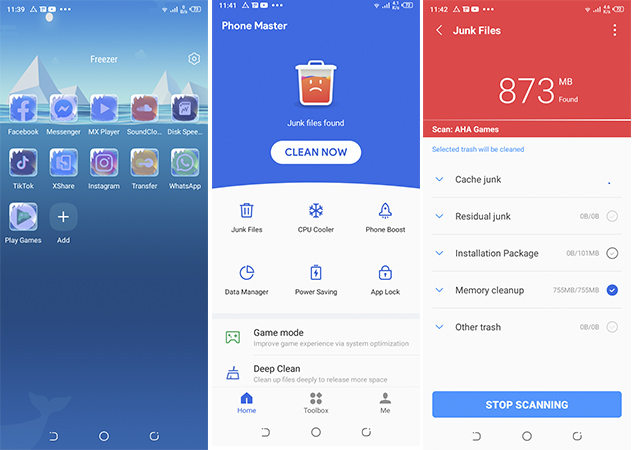 Tecno Spark Go comes with multiple optimization tools to keep limited RAM and internal memory going smoothly. 'Quick Accelerate,' 'Clean' and 'Phone Manager' are here to help, but the 'Freezer' app leaves all of them behind. It's a place to disable any number of third-party applications without uninstalling them but keeping them installed and alive at the same time. The only difference is that no app in the freezer eats a bit of memory.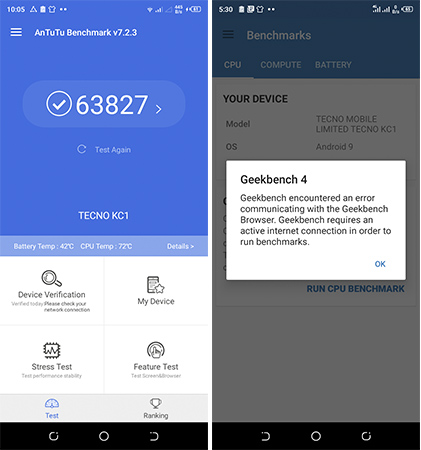 Spark Go doesn't run all the benchmarking apps; Geekbench doesn't work on this phone; however, Antutu showed 63,827.
Tecno Spark Go does the primary job very well. Calling and texting are no problem for this phone. The sound coming through the speaker is decent and varies from app to app. The downside of the speaker grille is its placement, which is on the back of the phone. The sound gets muffled when the phone is placed flat on the surface on its back, so it has to be put otherwise.
Unfortunately, the maker hasn't done much in optimizing one of the most integral parts of the phone, the battery. 3000 mAh battery doesn't last long. In our back-to-back video draining test, the phone could only survive 6 hours and 40 minutes, which is far behind the least performing phones we tested in 2019.
Our second test gives a little more horrible result. It lost 87% battery in just 3.5 hours on mobile data. The phone consumed 15% battery in only 30 minutes running Tiktok, and a 30 minutes WhatsApp video call ate away 19% of the power.
Here is the summary of battery consumption;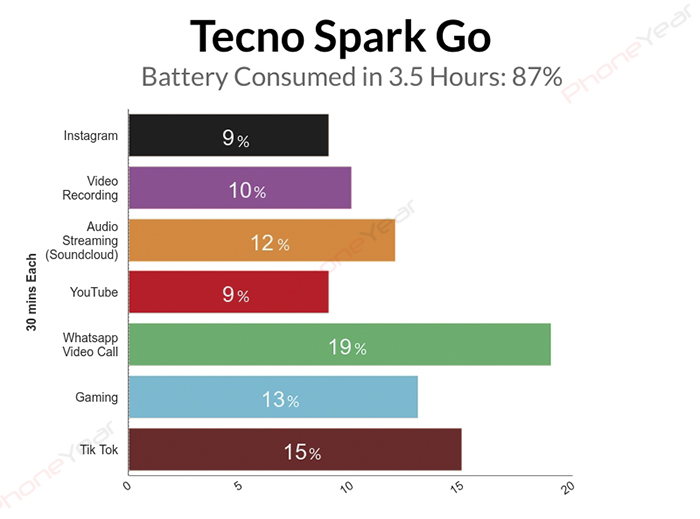 Camera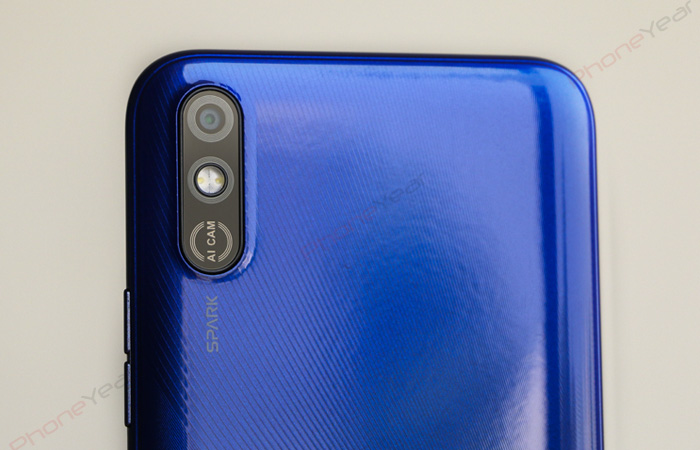 Tecno Spark Go is among the few phones that give almost every popular feature for a small price. The phone features an 8MP lens on the backside and a 5MP lens on the front for selfies. The default app is loaded with AI CAM, Beauty, Bokeh, and AR shot, but trust us, that is only marketing gimmickry. The quality of photos and videos is not ideal, but for an entry-level device, we can't complain much about the noise that creeps in almost every picture.
Autofocus and AI don't work accurately in the Spark Go camera; photos are oversaturated, and with HDR turned on the exposure level increases. On very few occasions, the internal algorithm worked perfectly fine to produce some decent shots. The rear lens can face the light source much better than the front camera, which blows away the details. For taking some good shots, the lighting has to be balanced.
Tecno Spark Go provides up to 4x digital zoom that, apart from going nearer to the subject, gathers a lot of noise. At night, it takes almost 3 to 4 seconds for autofocusing, which is not good at all. It's better to tap the subject.
The front camera can capture more details than portraits from the rear cam despite AI and Beauty modes; however, at night, the selfies are useless, even the flash doesn't do the trick.
AI in this phone is a bad example that fails to recognize scenes in most cases.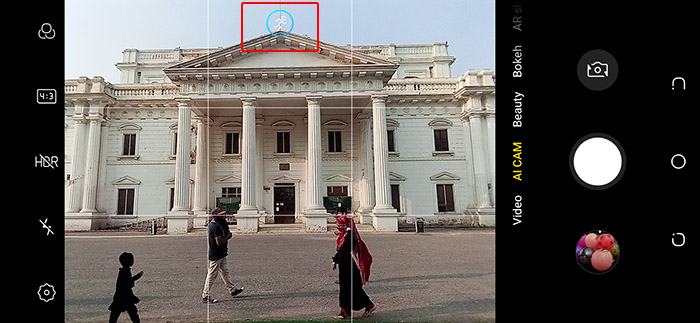 Spark Go can shoot up to 1080p videos, and although it doesn't or rather can not offer stabilization in this price range, a post-shoot stabilization option is available in the editing mode that does the job well.
Verdict
Tecno Spark Go is an overhyped feature-rich phone that falls short in many ways, but here are good things to consider first. As the cheapest Android phone, it gives a decent performance. The lags can be seen, but entry-level phones behave similarly. The big screen and ability to run PUBG is another positive. The battery is where it disappoints. If you are comfortable with charging your battery twice a day, the battery shouldn't bother you much.
However, the phone is a good deal for first-timers who are looking for a device having a big display, and that can play games and movies without a significant letdown.
If you are not the kind of smartphone user who demands a perfect phone, Tecno Spark Go could be your first choice.