If you want to get hold of a most premium Honor phone now, Honor 20 Pro is no doubt the device to look for. The Chinese maker has inherited a long experience of Huawei, which is a trendsetter now in most of the areas. Honor, being the younger kid, has successfully built its own identity, albeit, under the umbrella of Huawei.
I have been using this phone for last two months and, I must say, this phone has proven to be a great companion in almost every area, especially the photography with its quad-camera setup.
On my recent trip to northern areas, I deliberately left my DSLR at home, which I usually carry, but this time my entire trip had long trekkings, so I avoided the extra weight. Instead, I took the risk and put my bet on Honor 20 Pro's camera while I was still skeptical because the onboard 8 megapixels telephoto lens wasn't going to help in any ways like a DSLR. I wouldn't have to worry much had I carried Huawei P30 Pro, the kind of zooming in so far.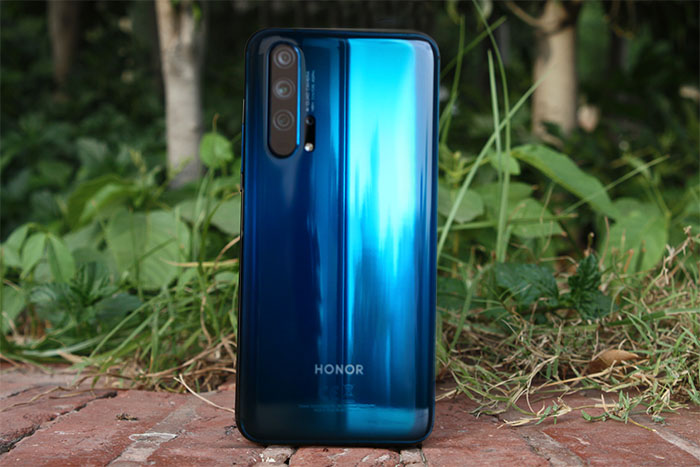 Coming back to Honor 20 Pro, it has this quad-camera setup packing together 48MP primary lens, 8MP telephoto which offers up to 3x optical zoom, 5x hybrid zoom and up to 30x digital zoom, 16MP ultra-wide and 2MP wide dedicated macro camera. On the front side, there is a 32MP sensor housed inside the punch hole notch.
Note: We took over 900 photos in different modes to test the strength of Honor 20 Pro's camera both in the indoor and outdoor environment. Following are the selected photos due to shortage of space.
Main camera features
Quad Camera setup
48MP primary wide-angle lens with aperture size f/1.4
16MP super wide-angle lens with aperture size f/2.2
8MP telephoto lens with aperture size f/2.4 having 3x optical and 5x hybrid zoom
2MP macro lens with aperture size f/2.4, 4cm distance from the subject
32MP front lens of aperture f/2.0
OIS, PDAF autofocus
48MP AI Ultra Clarity mode for photos
4K video capability at 30fps
Despite not entirely matching the skill set of the Huawei P30 Pro in overall performance, the quad-camera set up in 20 Pro is just a few steps behind, if the zooming capability is set aside.
Here on Magic OS, the camera app is similar to what you would find in the EMUI. Aperture, Night, Portrait, Video, and More menu are placed at the bottom where 'More' houses all the typical extra modes like AR lens, Pro, Slow-mo, Panorama, Light painting, HDR, Super macro, etc.
Stabilization, I liked
The first thing that impressed me is that both of the camera setups, front and back, come with some sort of stabilization techniques. 48MP and 8MP lenses have the OIS integrated; however, for front and back camera videos, there is a support of EIS (electronic image stabilization). This is one of the vital camera features of Honor 20 Pro for shooting anything which is not static. During days or well-lit areas, a simple point and shoot can capture nearly every desired detail, if not a perfect shot. Of course, as the light goes away, so does the stabilization.
With my jeep on rough and rocky terrain, I was able to shoot some stable videos which wouldn't have been possible without EIS with all the bumps and shakes. You can have a look at those photos and videos below.
Exposure, Colors, and Noise
With standard mode, it captures natural colors without disproportionately enhancing the colors in photos. With AI turned on, it increases the contrast but keeps it well within the limits of acceptability. Captured photos showed excellent exposure levels with a very impressive dynamic range showing the right balance between dark and bright areas.
It captures very adequate details of the subjects in almost every lighting condition, however, on very rare occasions, the exposure level went up beyond limits under extreme lighting conditions; I mean the direct sunlight falling on the subject and the lens. Glare is visible on photos when facing the light source. This is where HDR mode comes handy to some extent which is deeply buried inside the menu where we usually find modes in EMUI. I really wish a few adjustments only if Honor intends to develop Magic OS; further, it should design its layouts differently, at least bring frequently used items on the default camera home screen.
Reducing exposure level (EV) in the Pro mode can also help in such situations, and with AWB preset and manual values, photos can be further tweaked and dramatized even.
Noise levels are also impressive in the daylight photos, but noise creeps in the low lighting condition, indoor and outdoor. Honor 20 Pro has this powerful option of 48MP AI Ultra Clarity mode that removes every bit of noise and captures a very high-resolution picture.
Portrait and Bokeh
I really liked the way it handles portraits with or without portrait mode turned on. The photos show natural-looking skin tones, and there are no artificial smoothness and whiteness unless applied through beauty mode. Portrait mode maps the subject very intelligently without merging edges with the background resulting in some nice bokeh effect.
Zooming-in
You can make use of 3x optical zoom, 5x hybrid and further you can go up to 30x digital zoom. My experience with the first two resulted in some beautiful landscape shots without missing much of the required details. 10x and 15x are just acceptable, in good light; however, beyond that, there is no point of using them as everything seems to fall apart.
Macro Lens
Usually camera obsessed smartphones make use of software techniques for close up shots but Honor's 48 megapixels primary camera doesn't provide close up shots, however, there is a dedicated 2MP super macro sensor, an interesting new approach which to some is not a good selection by Honor but in reality it can give you some fantastic closeup shots. The hand needs to be steady, and the distance right, about 4 cm from the subject; Honor suggests; but in contrast to the primary lens, this one needs a little bit of practice. It can provide you even those detail you might not notice otherwise. I could use it at very few instances with static subjects with balanced ambient light. It sometimes produces washed-out details under bright lights. In my opinion, it's an interesting addition that might evolve to perfection in the future.
Night
For night there is AI super night mode which adds more light to the photos while slowing down the shutter speed a bit. In most of the cases, pictures came out really nice, and when I felt noise was more than my expectations, I used 48MP AI Ultra Clarity for being the moment saver. But my effort to shoot the moon along with roaring river and the mountains and without the tripod made me do some extra work to get the acceptable shots. Although, I took the shot but at the end, It really reminded me of the strength of P30 Pro's camera that could really see in the dark.
Selfie
Videos
Default setting record 4K videos at 30 frames per second, but it can not exceed 10 minutes recording limit. However, other options are 1080p and 720p. It does an outstanding job by stabilizing the videos, and as I mentioned above, footages remained stable even I took them from a moving jeep on a rough track. Exposure, colors, and noise levels are good in the daylight, and there is no complain about the autofocus, but low light video shooting is the area Honor needs to work more.
Video samples will be added soon…