Tecno, a Chinese smartphone brand, is widely known for its budget phones as the company's primary strategy revolves around providing feature-rich phones in the entry-level market. To carry on with the tradition, the company recently launched its new entry-level Tecno Spark 5 Pro smartphone in Pakistan which comes with a quad-camera setup, a trending feature in the popular mid-range devices, and a much-desired 5000mAh battery in Rs. 19,999. It is uncommon for mobile phone brands to offer a specs-rich device at such a price so let's test the phone to see whether it is worthy to be a part of your daily life or not.
Design and Display
Tecno Spark 5 Pro is a multi-colored device. Our review unit is in seabed color and you can easily spot different shades of blue by looking at the phone's back. It is one of the flashiest smartphones in the entry-level segment and can easily be recognized in one's hand due to its powerful first impression. The formation of a quad-camera setup is similar to what we usually see in other smartphones i.e. a rectangular array of lenses.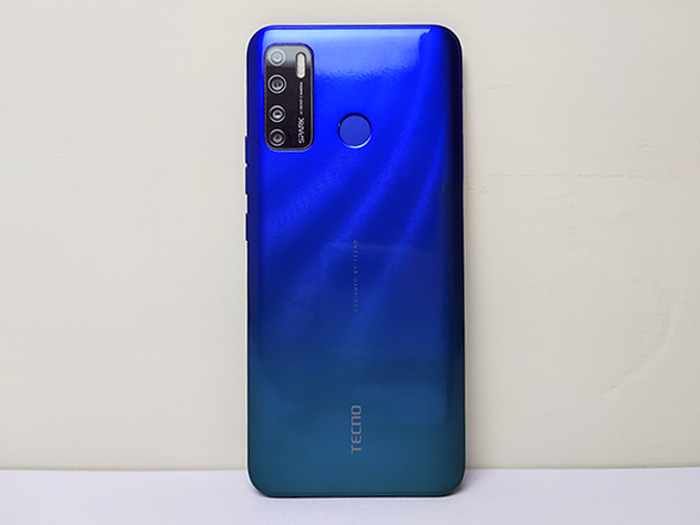 The smartphone features a 6.6 inches of HD+ display with 720 x 1600 pixels of screen resolution and can reach 480 nits as the maximum brightness but we needed to keep it at half-past mid for indoors. In our previous tests, we encountered a much brighter screen of itel Vision 1 Plus, a phone which is available at a much lower price than Tecno Spark 5 Pro, but a plus point for the latter is that the color contrast of the screen is much better. The smartphone also features a dark theme for users but we don't get any extra features to tweak the display and color settings on this phone
Performance
The smartphone is equipped with MediaTek 6762 (Helio P22) chipset which was first launched for budget phones in 2018. The company has also provided PowerVR GE8230 for graphics, 4GB RAM, and 64GB of internal storage under the hood. It also features Android 10 which comes to us with the company's HiOS 6.1.0 skin on top.
On Antutu benchmark, Tecno Spark 5 Pro scored 96634 which is a little better than itel Vision 1 Plus' 93047 score but a tad behind Huawei Y6s which scored 98230 and comes with Helio P35 chipset in the same price category. The Redmi Note 8A, however, features Qualcomm Snapdragon 439 chipset and scored 88821 on the same benchmark.
The phone's operating system, HiOS, has improved from a very complex and aggressive OS to an improved and well-optimized interface over the years. While testing the device, we didn't feel any lag especially with the lighter apps like TikTok but we found it struggling during our gaming sessions. Online games like PUBG and Asphalt 9 put a huge toll on this entry-level chipset. These games take a bit more time to load on both, mobile data and wifi.
As PUBG runs on the basic graphic settings, you should not expect the HD or above results for the display. We also noticed continuous frame drops but they were not irritating to such an extent where they will ruin the whole gaming experience. We should give this phone a little margin of error, after all these phones are not meant to cater to such graphic hungry apps. But, you should expect heating issues especially if you are using the phone for a longer gaming session and also be ready to experience a minor lag while switching between apps.
Battery
The battery life is one of the most enticing features of this smartphone. In our video loop battery drain test, Tecno Spark 5 Pro was completely discharged in 15 hours and 2 mins, and during our 4 hours of social media test, the phone drained out only 33% of battery which is a very satisfactory consumption rate. Most of the battery, in our 4 hours test, was consumed by PUBG i.e. 10% whereas watching videos on YouTube only used 3% of the phone's battery.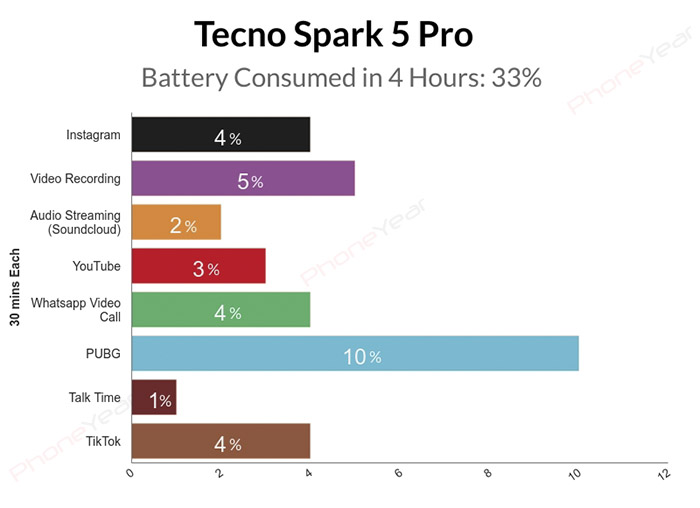 Overall, you can bank on the phone's battery to keep you connected for the whole day but the charging time on the other hand is too slow. It took the smartphone 4 hours and 24 mins to charge from 0 to 100%, the longest charging time we have encountered so far in our tests. The second-longest charging time we have seen so far is by Tecno Pouvoir 4 which took 3 hours and 56 mins to fully charge the battery.
Camera
Tecno Spark 5 Pro comes with a quad-camera setup at the back which includes a 16MP main sensor, a 2MP bokeh lens, 2MP macro lens, and lastly an AI lens. For selfies, there is an 8MP shooter at the front.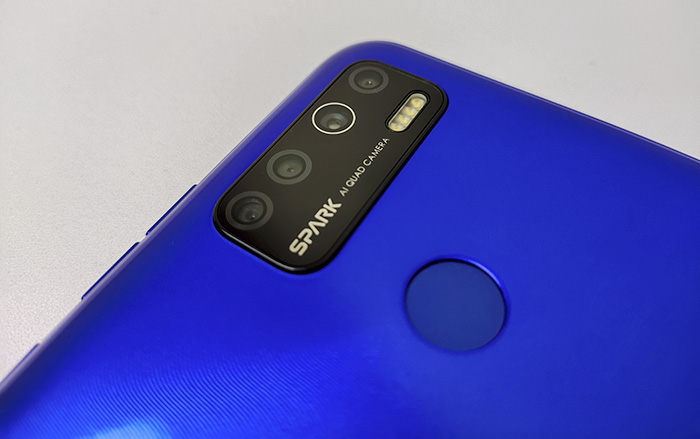 The main highlight of the phone's camera module is AI Camera 3.0, an enhanced internal algorithm whose job is to take correctly exposed images during the day as well as at night even without the presence of a dedicated Night Mode. According to Tecno, this feature can improve a picture's sharpness by 14%, but does it actually work? Let's dive into the phone's camera result to find the answer.
For a device that is priced at Rs. 19,999, Tecno Spark 5 Pro produces an acceptable camera result though some of the phone's features have been exaggerated and do not perform as they have been advertised to do so. For instance, the phone's macro lens is a great disappointment as the macro shots produced by the sensor are filled with noise and show fewer details of the subject as compared to other smartphones boasting a 2MP macro lens in the market.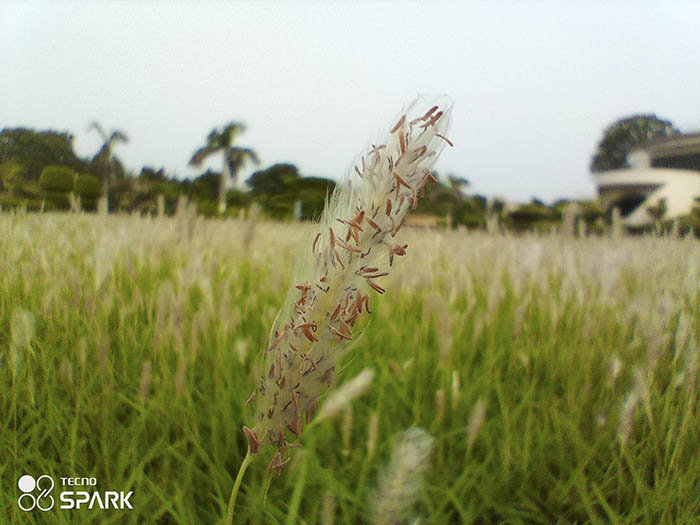 Bokeh shots, on the other hand, are colorful, feature a good amount of detail and have less noise in the image.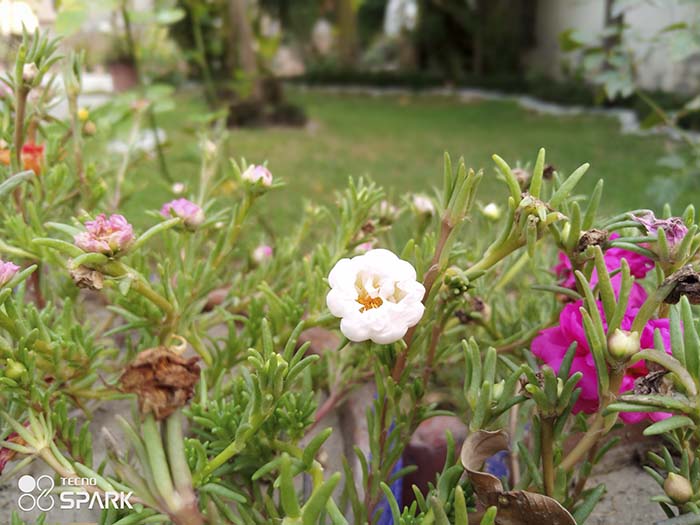 The phone's AI detection is limited to only 10 scenarios and does not work perfectly or error-free in every situation. One of the good things about the phone's camera is that the internal image processing does not boost up the colors of the image to make them feel unnatural. The overall color reproduction is good and surprisingly we get near-natural colors in the photographs. As you can see in the image below, the phone can impressively take in more details of the subject in the daylight, a respectable feat for such an affordable phone, but noise is too high in certain areas and can be witnessed in almost every image.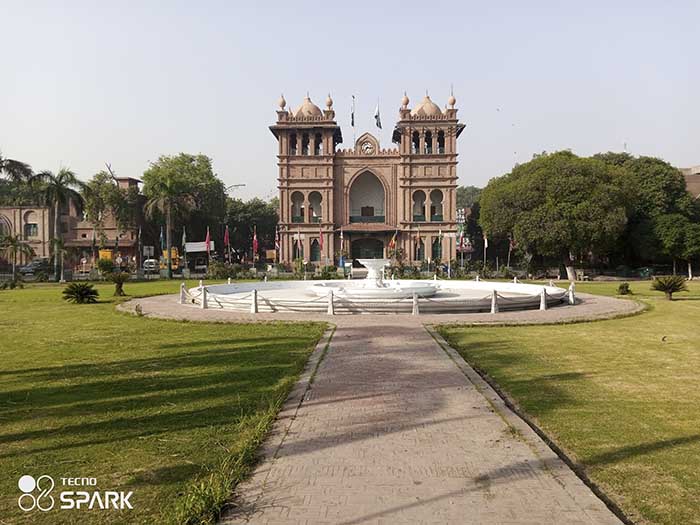 You can notice that the center of the image carries reasonable details whereas the sides are either washed out or carry fewer details.
The HDR shots are quite vivid but slightly overexposed than the images taken by the AI Cam. But, with the HDR mode, you can get to see more details of the scene being captured especially when the light source is facing the lens but we noticed HDR struggling to contain the sunlight properly.
As we have described before, Tecno Spark 5 Pro does not come with a dedicated night mode. The performance of the phone's AI Cam mode, on the other hand, is a bit disappointing; perhaps the company has relied too much on the AI algorithm for the success of this feature. The AI Cam mode couldn't shine brightly during the night photography but HDR mode was able to carry some weight to make up for the absence of night mode. If you look at the following night images taken by the AI Cam mode and HDR mode, you can see HDR performing better in contrast to the standard mode.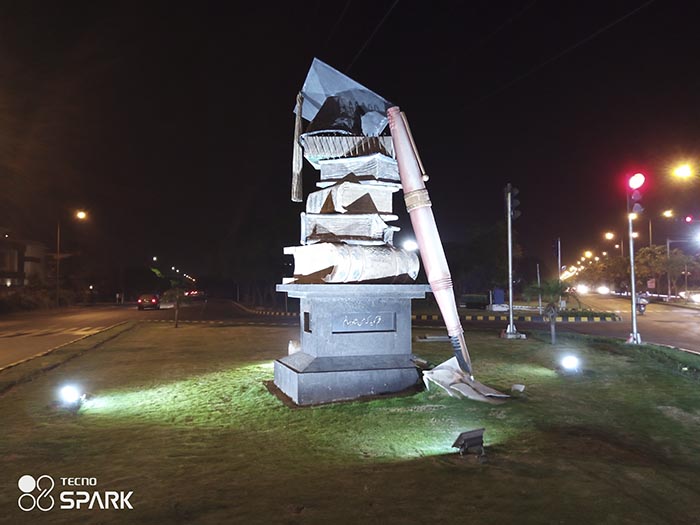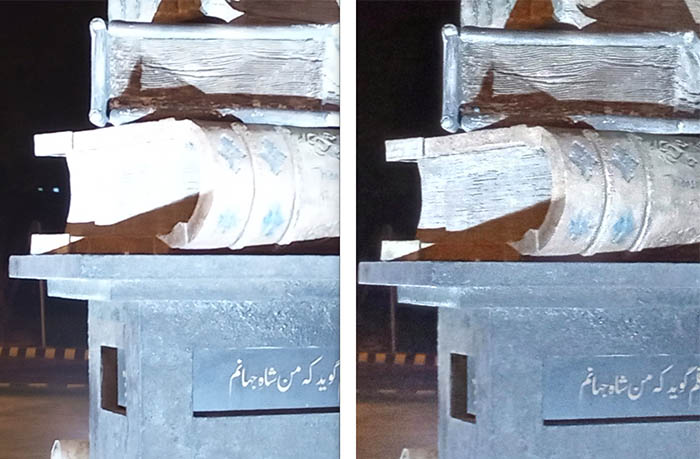 Another good aspect of the phone is the absence of lens glare while taking a shot against a source of light, a problem which we usually encounter in many pricey phones.
While taking selfies, the HDR mode gives us a bluer sky but it can distort the skin tone of the subject creating yellow patches on the face. For more natural-looking selfies, you should rely on the AI Cam but if you are looking for a beauty-inspired outlook, you can use the dedicated beauty mode which comes with some preset options to change the look of your face.
The smartphone can also shoot 1080p videos using both the front and the rear cameras and the resulting videos are quite decent in quality as well exposure and offer good color reproduction, however, the voice recording isn't too loud.
Verdict
Tecno Spark 5 Pro is a good looking smartphone that offers a good battery life, an average performance as well as decent camera results. But, if you want more value for your money you may also consider Huawei Y6p, itel Vision 1 Plus, and Tecno Pouvoir 4.