WhatsApp security is the concern for all 1.6 billion users of the app today. Even though Facebook owns it, the security of conversations on it is still questionable.
Although, the social media company keeps introducing new features to improve WhatsApp security but it's always the hacker's passion to breach the security walls.
Recently, at a conference in Las Vegas, security experts revealed that a malicious actor could hack WhatsApp and change the names and messages of the senders.
With the help of a tool, it is possible to hack into WhatsApp quoting feature and manipulate the conversation. The hacker can create and send messages from a particular sender who never wrote those messages. That means false messages can be associated with people who never wrote them.
Whatever happens on the server-side, Facebook is responsible for taking measures, but most of the time, users take things for granted because of, either laziness or lack of knowledge. Whatever the case is, here are the ways you can make your WhatsApp security foolproof and avoid many possible intrusions.
1- Protect Privacy
WhatsApp is a communication platform, and by default, it is designed to share much-unwanted information with your friends and other users without you realizing it.
When you install WhatsApp, you are given the option to upload your photo and write a short bio of yourself. Most of the users replace the default text "Hey there! I'm using WhatsApp" with their passions, occupation, designation, or social media account info.
All this information is available to anyone who messages you on WhatsApp. It could create a problem for some people, mainly if the bio text includes your workplace or something important about you. For example, you shared your WhatsApp number to someone at a conference and wouldn't like something more to share, this could become a problem, and anyone could use the information to stalk you. To improve the WhatsApp security, you can change the permission to fix the problem by going into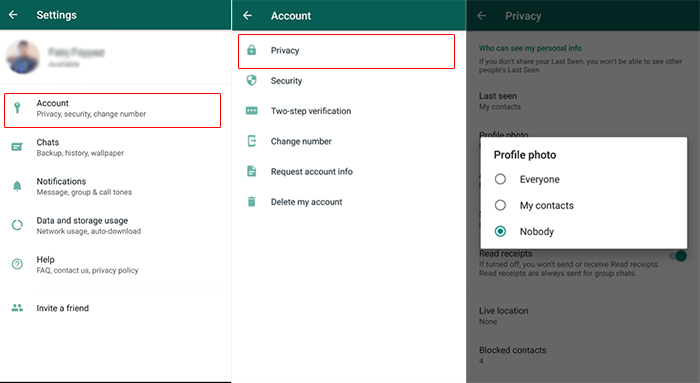 Settings > Account > Privacy > Profile Photo and
Settings > Account > Privacy > About
Select "Nobody" or "My contacts," and you are done. "My contacts" allows only the users in your contact list to see your photo and bio, "Nobody" will hide it from everyone.
2- Hide Status
There is a feature called "Status" in WhatsApp that allows sharing a text message or photo or video to everyone by default as your status unless you limit it. You may want to share your status with friends, but it's not always good to share the same with your bosses or someone you don't want to reveal what you are up to.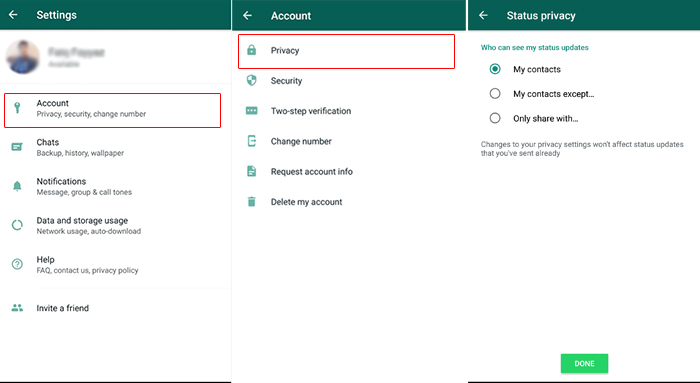 It's good to be selective by going down to Settings > Account > Privacy > Status and choosing from "My contacts", "My contacts except" and "Only share with". The last two options are powerful enough to filter out anyone you wouldn't like to share your status with. The last one is always a better option if your statuses are meant for a specific audience.
Two more options can save you from being stalked by even your friends. Now it's up to you, if you are not comfortable telling people when the last time you used the App or you don't want to answer their messages any sooner and don't want them to know you read their messages; you can toggle on/off the "Last seen" and "Read receipts".
Change "Last seen" to "Nobody" and turn off "Read receipts" will serve the purpose and maintain your privacy.
3- Don't share everything with Facebook
Facebook claims that it respects your privacy and doesn't do nefarious things with the data WhatsApp collects from your phone when you give it system-level permission at the time of making your first video call, sending a file or sharing a location. You can limit its access outside the App.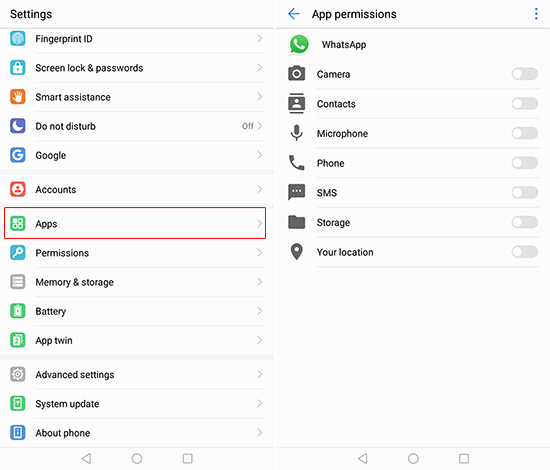 In both Android and iOS, you can turn off the permissions by going into App's permission area. I would recommend turning off permission to the camera, location, and contacts. But I must warn you that doing so will take away most of the App's abilities and you will end up limiting it for sending and receiving messages.
That shouldn't be a problem; you can always manually allow WhatsApp for such tasks and turn them off after you are done. This way, it will not access anything in the background without your permission.
You can turn off the permission to contact as well, but Facebook doesn't like it. The social media company wants to know who your friends are and who are their friends. It loves to keep track of everyone you are connected with, directly or indirectly.
If you turn off the option, Facebook will strip your ability to see the names of your WhatsApp contacts, though, it can still show the names of WhatsApp users, since every WhatsApp user sets a name, usually their own, at the time of installing the App.
The company forces you to keep this option active because otherwise, you would see only the numbers instead of names, and that will be annoying enough to force you to share the contacts data with the company.
4- Keep privy eyes away from your messenger
If you have fixed all the privacy settings mentioned above, still your App and data are vulnerable to those who have access to your phone.
First of all, enable two-step verification for not letting anyone register your WhatsApp account on another phone. Go to Settings > Account > Two-step verification, and it will require the PIN whenever you wish to register your phone number with WhatsApp again. It means bad guys who have spoofed your number will not get into your account without the PIN.
Secondly, there is another layer of biometric security to open the App. You can find this in Settings > Account > Privacy > Screen Lock. The feature is already available in iOS and its users can choose between Face ID or Touch ID. In Android, the feature is still in the beta version, and it will roll out in a few days.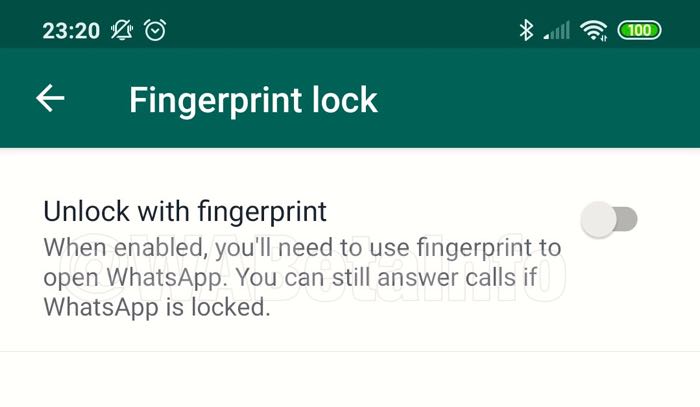 However, for enabling it, go to Settings > Account > Privacy and find "Fingerprint lock."
5- Activate the "Unlock with fingerprint."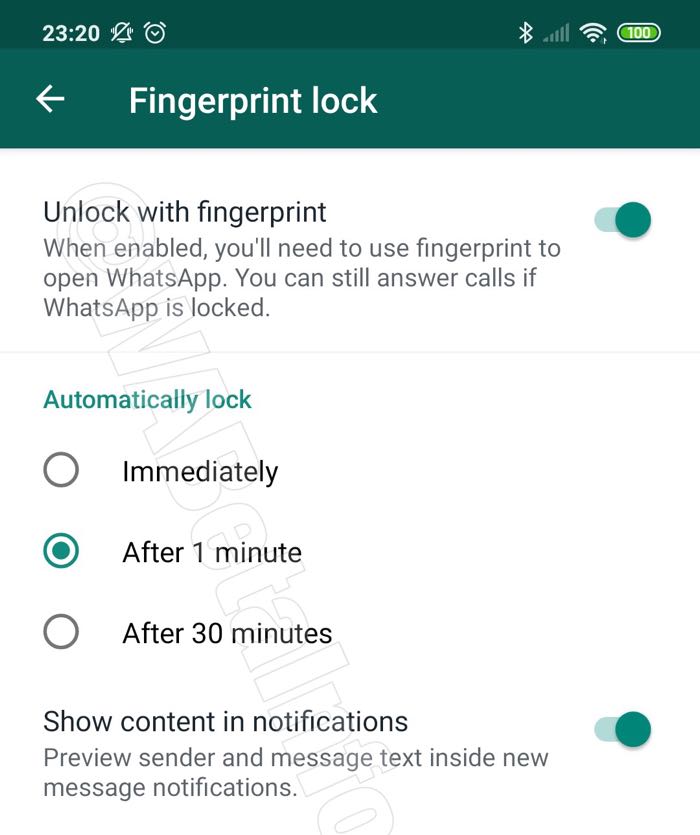 After activating the feature, you can choose from how long it should take to lock the messenger; the choices are "immediately," "After 1 minute", "After 30 minutes". Immediately will lock the App right away, and it will always require your fingerprint impression to open the App. It may be annoying, but it is the best option if you care about your privacy and WhatsApp security a lot.
Even if you activate the feature, you can still reply to the landing messages from the notification area and answer the WhatsApp calls since the fingerprint lock feature only work when you open the App.
To get rid of this issue, there is an option in the newer version, "Show content in notifications" that solves the problem. It shows/hides the WhatsApp notification when the fingerprint feature is active.
6- Don't trust unknown sender
WhatsApp sends you a PIN to register the phone whenever you install/re-install it. If two-steps verification (point 4) is not active, anyone having access to your phone's messenger app can use the PIN to install WhatsApp on another device. Sometimes, people send you a message to click on some image or a link luring you to get some free offer. Don't fall prey to such a thing and never click on any link unless you know the sender.
Such messages are usually sent to install malware into your phone for gaining access to WhatsApp PIN or sometimes more than that. This kind of hacking is very common so It's better to delete those messages.
That's all for now if you think there is something else we can do to enhance WhatsApp security, do tell us in your comments below.