Huawei has already been setting standards in the mid-range category and pushing out specs packed phones in a pocket-friendly budget to ace the fierce competition. Huawei Nova 3i, a recently launched device with an amazingly controlled price and dazzling beauty, is undoubtedly going to leave its footprint on the market.
Other phones, such as the Honor Play and Pocophone F1, have also debuted with game-changing specs at a restricted price, which makes them irresistible handsets. However, these handsets can be availed with a little bit higher price than the Huawei Nova 3i, which gives an edge to the Nova to expand in the existing space and capture a decent market share in its price tag.
With such intense competition, will the Huawei Nova 3i be able to stand out in the crowd? Will it be able to deliver? Read ahead to find out.
Nova 3i specs
Display: 6.3 inches, IPS LCD
OS: Android 8.1 (Oreo), EMUI 9.0
Chipset: Hisilicon Krin 710
RAM/ROM: 4GB/128GB
Camera (rear): 16MP + 2MP
Camera (front): 24MP
Battery: 3340 mAh
Design
I got my hands on the Iris Purple color of the Nova 3i, and without any second thought, I can say it is one of the best-looking smartphones that you can buy right now. The design language of Huawei Nova 3i is so drastically different from its predecessor, Nova 2i, that both phones don't seem to belong to the same family.
The device comprises of a glass body that sandwiches a metal frame. The back glass has a gradient color to it and runs from purple to blue, which undoubtedly looks stunning and way above its price.
The back of the phone is home to dual camera setup stacked vertically in the top left corner and a fingerprint scanner in the middle of the phone. On the bottom left corner of the back, it carries the company's branding.
Coming to the front, it hosts a notch design. The notch trend seems to be inevitable now, but handsets like OPPO F9 have appeared to find a way around by providing a minimal distraction. However, the notch on Huawei Nova 3i is considerably larger and resembles the one on Honor Play.
Despite the large screen, the phone is pretty compact for one-hand use, thanks to its bezel-less design, which is why the power key and volume buttons are easily reachable and operable.
Nova 3i uses a Hybrid dual SIM technology, which means you will have to relinquish your dual SIM usage in favor of a microSD card. You'll find a micro USB port, a 3.5mm headphone jack and a speaker grill on the bottom of the phone. Sadly, Huawei hasn't upgraded to the USB Type C port, although it is becoming a standard for smartphones these days.
The overall design of the phone is, no doubt, a flagship-grade offering. With its well-rounded ends, the handset sits perfectly in hand, but all this shine and shimmer comes at a cost; the device is an absolute fingerprint magnet. You can't touch the phone without making it spotty, so you have to cover it or continuously clean the device to keep it that way.
Design and Display
The Nova 3i is equipped with a 6.3-inch FullView Display 2.0 with FHD+ (2340 x 1080) resolution or equal to 409 ppi. Given the notch design, it now has a 19.5:9 aspect ratio and boasts an 81% screen-to-body ratio.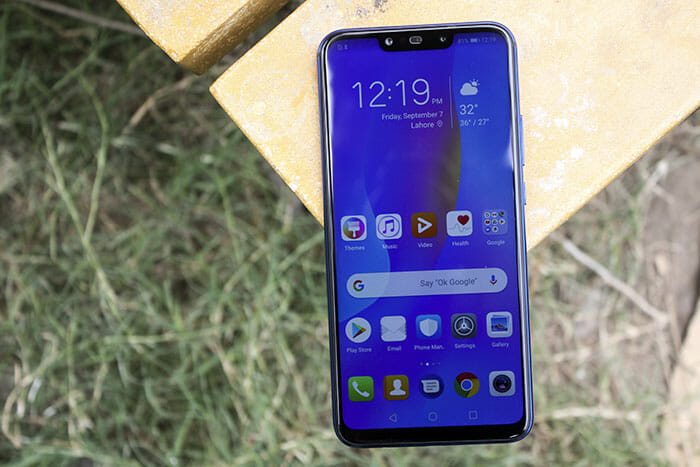 The notch is noticeably larger than the one we earlier saw on the Honor 10. That's because it houses a dual-camera setup, an earpiece, and other essentials like the proximity sensor and the ambient light sensor. Though on a cooler side, the display on the phone exhibits a great dynamic range and impressive levels of brightness.
As is the case with all phones from Huawei's stables, the display exhibits a wide dynamic range with good contrasts and impressive levels of brightness. Sunlight legibility is also decent, however, while viewing angles are fairly wide.
OS
While the hardware is impressive for its category, the Nova 3i comes with EMUI 8.2 on top of Android Oreo. If you have already used any previous version of EMUI, you should be at home with this.
However, the software on the Nova 3i is bloated enough to agitate stock Android users. This has always been the problem with EMUI. Though the optimization has improved, the company still has gotten rid of the useless apps included in the software.
For all you customization freaks there, EMUI comes with a dedicated theme store, hosting custom wallpapers, themes, fonts and much more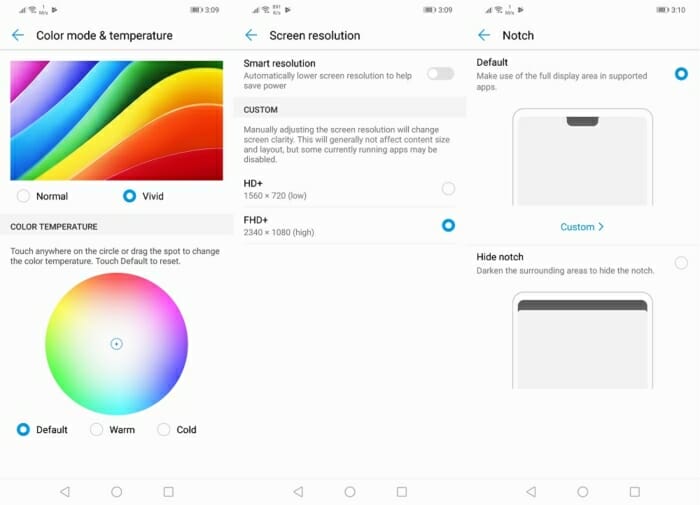 It ensures snappy performance and impressive RAM management despite the amount of bloat that comes preloaded on Huawei phones. A ton of unwanted apps on the phone can be uninstalled while other Huawei apps are there to stay even if you don't want them.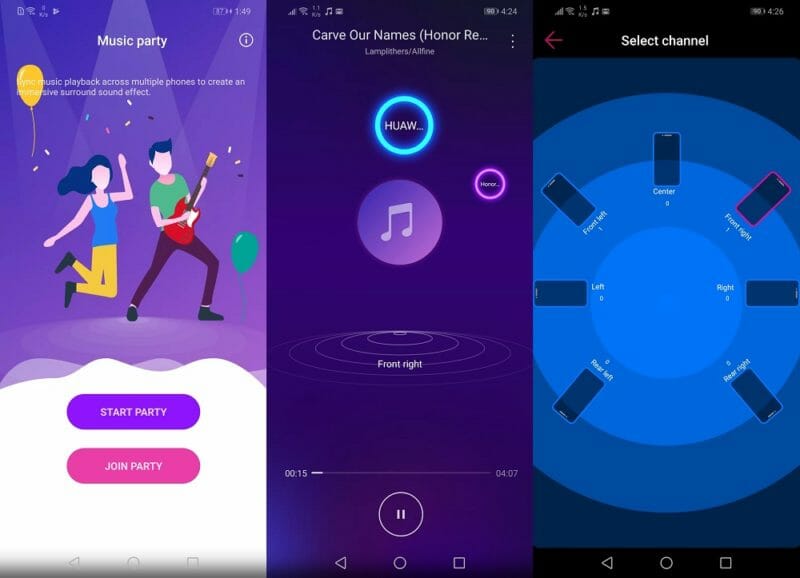 Not everything is dark and gloomy. EMUI also presents some mart AI-based features and in its current EMUI 8.1 iteration, consists of specific features that make it easier to live with daily. An app drawer, tweaking the resolution of the display, etc., the phone also hosts the company's famous Party Mode like the Honor 10, where you can connect 7 phones to play a single song simultaneously on all devices.
Performance and Battery
Huawei Nova 3i comes as the first device with Kirin 710 Chipset and is coupled with 4GB RAM. As for the storage, it comes with 128GB internal storage, so you don't have to worry about space shortage for your data.
The device produces decent scores in both Geekbench and AnTuTu benchmarking apps topping the scores from OPPO F7, Vivo 11, and even the P20 Lite.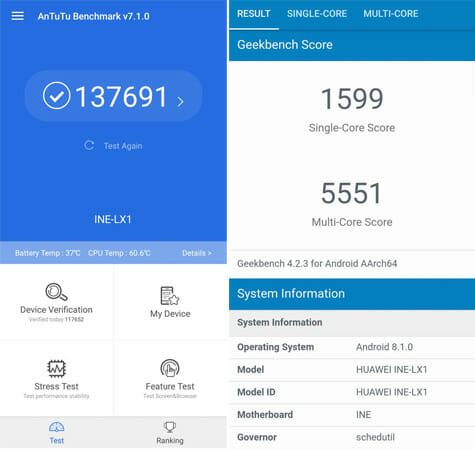 The new processor is a significant upgrade over its predecessor Kirin 659. It gives a 75% increase in single-core and about 68% in multi-core performance as compared to the older chip, as the company claims.
In our real-life usage tests, we noticed that the RAM management is a lot better than the previous chip. We didn't come across any hiccup or lag in moderate usage whatsoever. Multitasking was on point, and the phone didn't restart the app when switched within recent apps.
Handling daily tasks such as multitasking with multiple social media apps, messenger apps and a browser with a couple of tabs is no big deal for the Kirin 710 chipset
The heavy usage, however, affected the phone but not to a point where it lagged enough to be called an underperformer. The device plays massive games with ease. Though we noticed some frame drops in extensive gaming, it didn't affect the overall performance.
The heating issue, like most of the Huawei phones, persists in Nova 3i. Under heavy usage, the phone came to a point where it became uncomfortable to hold in hand, and that's when it became difficult to play power-intensive games continuously.
Huawei Nova 3i comes with a 3340mAh battery. Though it can easily last a day for most of the users, it does not support Huawei's Supercharge technology and instead uses a micro USB port for charging the device up.
In moderate usage like the intermittent use of the camera, going through social media and texting or calling, the phone uses up 15% of battery in 1 hour while heavy usage and extensive gaming take up 20% of the phone's juice in 1 hour.
Camera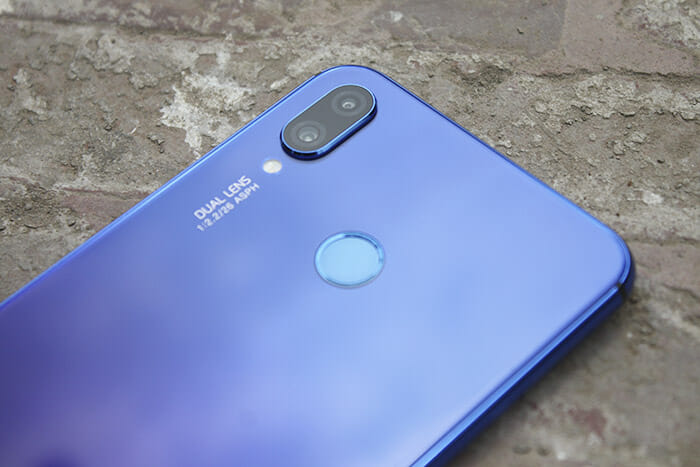 Besides its superb design and quite worthy performance, the camera is another selling pitch of Huawei Nova 3i. It packs a total of four cameras, a dual-camera setup on the back with 16MP + 2MP lenses, and a front camera with 24MP + 2MP.
The camera app interface is quite crowded. We liked the previous one better, where you had to swipe to the left to choose the modes. Now, if you want to choose a mode that lies at the end, you have to swipe multiple times to select your modes.
The Aggressive AI features that we saw in the Honor 10 previously, have also made their way to the Huawei Nove 3i.
Here are a few camera samples.
In favorable scenarios, the camera on Nova 3i is nothing short of astonishing. The camera is capable of handling light quite decently, and the HDR mode further enhances and pops the color to bring out an even refined picture, but on the other side, sometimes you get over-treated pictures too.
The AI mode in the camera works on point. It can recognize detect up to 22 types of scenes and tweak the parameters accordingly to produce a color-rich image, albeit overexposed sometimes. AI mode also ensures more lighting in low-light situations by tweaking the ISO and the shutter speed accordingly to snap photos worthy of your social media timeline
Verdict
In the midrange segment, Huawei nova 3i is undoubtedly one of the most stylish handsets you can get. The gradient color alone is enough to invest in. If that's not enough, you also get a pretty fluid daily performance, a good display, and great cameras. Do note that EMUI may not appeal to everyone, and the lack of USB-C port may irk those who dig the latest features.
However, if you are a Huawei fan being an avid gamer and are willing to put up with bloaty software and a lower camera performance along with a compromised aluminum body against the glass one, we suggest you pick the Honor Play by paying a little more. With flagship-grade Kirin 970 chipset, it is designed to squeeze the best performance out.