Huawei has been making some amazing smartphones lately and the primary reason behind it is their commitment to providing feature-rich devices at a decent price in almost every category. The most recent addition to its budget smartphones family is the Huawei Y5 Prime 2018.
Y5 Prime 2018 was launched in May 2018 and is the successor to the last year's Y5 2017. The company has initiated a series of budget devices under the moniker of "Prime 2018". Earlier we reviewed Y7 Prime 2018, which proved to be a slight let down. Let's see how the Huawei Y5 Prime 2018 fares in our real-life usage tests.
Huawei Y5 Prime 2018 Specs
Display: 5.45 inches, LCD
OS: Android 8.1 (Oreo), EMUI 8
Chipset: Mediatek 6739
RAM/ROM: 2GB/16GB
Camera (rear): 13MP
Camera (front): 5MP
Battery: 3020 mAh
Design and Display
Apart from providing the extraordinary design in flagships, the company has amazed us by providing an elegant design and adequate build material in lower-end devices too, and this phone is a superb example of Huawei's craftsmanship in an affordable price.
The back of the phone hosts a horizontal camera along with flash in the top left corner and Huawei branding on the spine of the phone. Apart from that, the entire backside is empty and there is no fingerprint scanner. We can't complain much since it's an entry-level phone.
Despite having a plastic body embedded in a metal frame, Huawei Y5 Prime 2018 looks stunning and also fits in hands pretty well.  On the front, the phone includes a Fullview display with minimum bezels to feast your eyes. Above the display, a selfie camera is placed on the right side of the earpiece. The phone doesn't include a dedicated speaker instead uses the earpiece as the speaker which exhibits a rather poor sound.
Volume Rocker and the power key reside on the usual right side of the phone. On the left, we have a dual SIM card tray which also includes a dedicated microSD card slot. Top of the phone hosts a 3.5mm headphone jack, and on the bottom, there is a micro USB charging port and a mic along with it.
The phone only weighs a 145g and surprisingly even with a big screen, it doesn't feel hefty at all. The back of the phone is slightly curved from the edges to attain a better grip.
The handset comes in black and blue colors both of which have a matte finish to them which makes them less prone to fingerprints, unlike its older brother, Y7 Prime 2018, which is a smudge magnet due to its glossy finish. However, Huawei Y5 Prime 2018 in blue color looks no less than a premium smartphone.
It looks Huawei is on a mission with the new bezel-less trend in the industry and stands among the first smartphone manufacturers to bring a minimum bezel design to its entry-level lineup.
The 5.45-inch LCD display produces a 720 x 1440 resolution that sums up to 295 PPI. The screen stretches to an 18:9 aspect ratio with a 73.8% screen to body ratio giving you enough screen space to enjoy your media.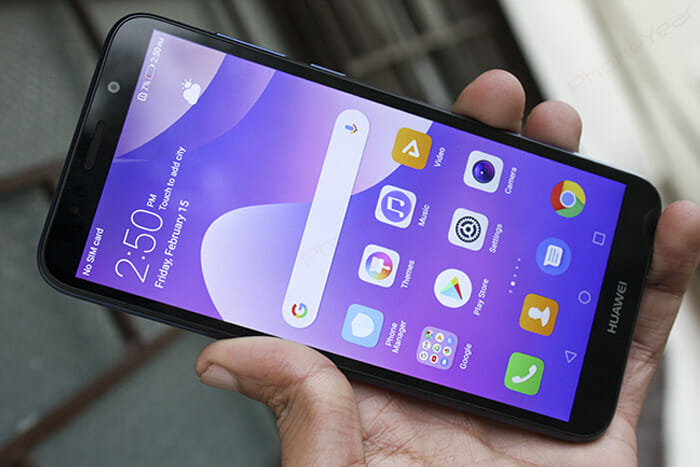 The display produces crisp results and watching movies can be an enthralling experience. The viewing angles on the phone are great and don't compromise the color saturation of the screen. The device is fairly usable in broad daylight, however; since the color reproduction on a 720P LCD is not as vivid as an AMOLED screen, watching movies can be difficult in direct sunlight.
OS
Huawei Y5 Prime 2018 comes with EMUI 8.0 skin on top of  Android 8.1 Oreo out of the box. Huawei has somehow managed to stuff their phones with preinstalled bloatware like unnecessary apps and games.
However, the phone includes all the goodies we have earlier seen on EMUI like the power saving mode and the home screen style options. We also have a night light mode that spreads an amber-colored tint over the screen to assist you in reading mode.
As per the company claim, the phone comes with Power Saving 6.0 technology that enhances the endurance of the phone. Other than that the phone provides pretty basic and ordinary functions for being a cheap device.
Performance and Battery
The phone packs a low end MediaTek MT6739 quad-core chipset which is a successor to Mediatek 6735. The chipset is relatively old and was released in September 2017. Not only is it old but it is also known to be an underperformer in comparison with Qualcomm's budget processors.
Supporting the chip is a 2GB RAM and a 16GB internal memory. Since it is a budget phone, we refrained from treating it like a mid-range and gave it the space it needed, however, our real-life usage tests proved this phone to be an underperformer whatsoever.
Huawei Y5 Prime 2018 performed decently in a moderate usage test until we had to switch between apps which caused lags and hiccups on the phone. If you play music in the background, switching between apps may cause lags that disrupt the music.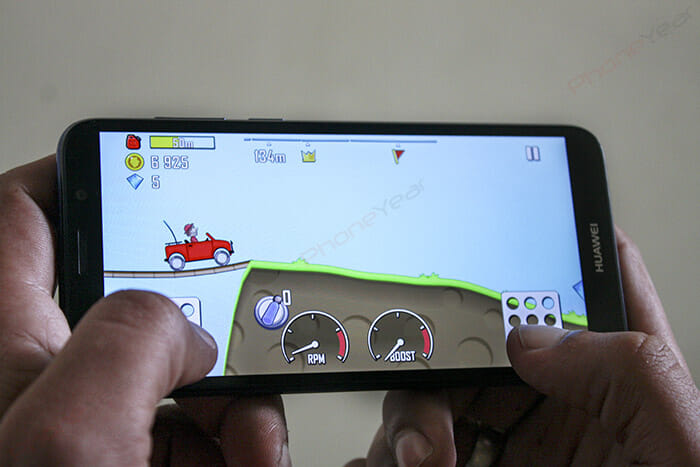 Minimizing multiple apps, updating apps on the Play Store and even setting up the phone caused slight hiccups. Even on moderate use, it exhibits lagging behavior that increases to a stage where the screen blacks out for a couple of seconds.
The most annoying thing was that the phone had to be restarted time and again just because it got stuck every time we minimized an app and opened another slightly heavy app simultaneously. Google chrome failed to load web pages smoothly, and Google Play constantly lagged when downloading or updating apps.
The earpiece works as the phone's main speaker which fails to deliver the sound we expected. Being an entry-level device, Huawei Y5 Prime 2018 is going to be inevitably used for media consumption, the maker should have provided with at least a dedicated bottom-firing speaker.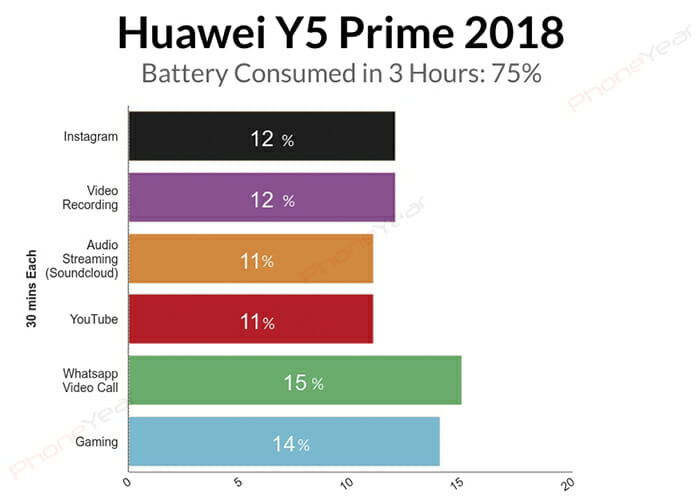 Huawei Y5 Prime 2018 comes with a 3020 mAh battery, and with low-end internals we expected the battery to last longer than its older sibling, Y7 Prime 2018.
Thankfully the battery of Huawei Y5 Prime 2018 is not as awful as the performance of this phone.
Firstly, we plugged the phone in at 0%, and it felt like it is going to take forever to charge it. It's a shame that Huawei labels its phones as '2018' models but fails to provide a reasonable charging speed on this phone. It took the phone 2 Hours 45 minutes to charge from 0% to 100%.
During our moderate test, we noticed that the phone did not drop much battery as the screen was kept on all the time. Social media apps, streaming, file sharing with Bluetooth connectivity, calls and texts were our major activities while connected to the 4G LTE network. The phone just ate 15 % of battery in 1 Hour of light usage which is pretty impressive in contrast to the Y7 Prime 2018 which lost 22% of its battery in the same moderate test.
Measuring the phone's discharging rate on heavy usage was also a fair compensation after its poor performance. Playing games, online browsing, and heavy multitasking although stuffed up the phone pretty bad and it had to be restarted, yet it did not lose as much battery as expected. The phone lost 23% battery in 1 hour of heavy usage while connected to a 4G network.
Camera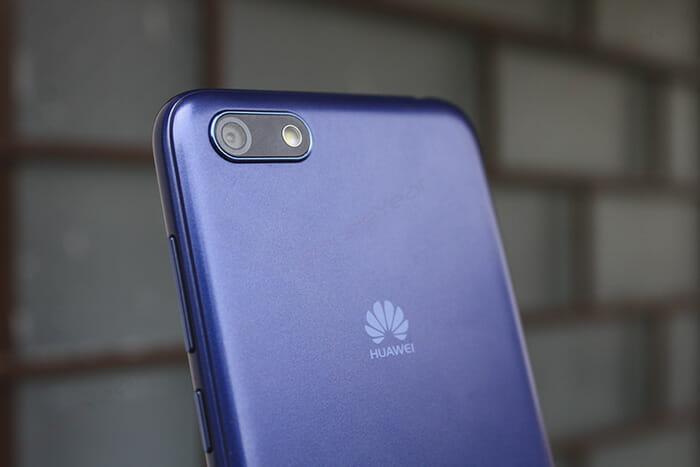 Being an entry-level device, Huawei Y5 Prime doesn't have much to offer in the camera compartment. Camera specs, however, are identical to that of Honor 7S. The phone bears a 13 MP rear sensor and a 5 MP snapper at the front along with LED flash to tone your selfies.
Not only the specs are identical, but the camera result of Huawei Y5 Prime 2018 also resembles that of the Honor 7s. It takes average photos in plenty of light with a subject in close range but loses detail in landscape shots in auto mode.
The HDR mode overkills and brightens the whole image which not only looks awful but the colors also fade away in the image due to the excessive brightness that encompasses the image.
The 5 MP front camera takes average pictures in ample light without compromising the color saturation. It's all good until the beauty mode is turned on, which excessively whitens and smoothens the skin, resulting in a picture that looks artificial and fabricated.
Verdict
The point of making a budget device is to make a certain technology available even to the lower segments of the market, and Huawei Y5 Prime 2018 offers a great opportunity in this regard. Although not fit for heavy users, the phone is an average budget device that meets the standards of current trends in the smartphone industry.