Among all the excitement about the launch of Huawei P20 and P20 Pro, the company has not abandoned its budget lineup and has recently launched its successor of the last year's Y7 prime, Huawei Y7 Prime 2018.
The Chinese smartphone manufacturer might be following the footprints of Samsung as we can see it is throwing multiple devices into the market in a very short time and it's getting literally hard to remember the names and specs of the phones. For example, Honor 7c and Huawei Y7 Prime 2018 are almost identical in terms of specs and design.
Being the latest phone in the series, we expect Y7 Prime 2018  to be better than its predecessor in every way and be good enough to satiate the needs of the modern user.
Take a look at our review of the phone to see where it stands among the budget-oriented market of phones.
Huawei Y7 Prime Specs
Display: 5.99 inches, IPS LCD
OS: Android 8.0 (Oreo), EMUI 8
Chipset: Qualcomm Snapdragon 430
RAM/ROM: 3GB/32GB
Camera (rear): 13MP + 2MP
Camera (front): 8MP
Battery: 3000 mAh
Design and Display
Looking at the front of the device, you can instantly notice that it has slimmer bezels than its last year's model, but the device is noticeably bigger which makes it quite challenging to manage with one hand.
The phone has a plastic body embedded in an aluminum frame and has a glossy finish on its back. Earlier in our overview of Honor 9 Lite we professed how it's nothing less than a premium phone, however, Huawei Y7 Prime 2018 despite being of plastic build, proves itself as a phone to show off.
On the front, Y7 prime 2018 flashes Huawei's Fullview display with minimum bezels, an 8MP selfie camera on the top left corner, and Huawei branding on the bottom bezel. When taking selfies with a single hand, you need a firm grip as the phone might slip out of your hand due to its large body and greasy back.
On the back of the device, we have a dual-camera setup of 13 MP+2 MP with an LED flash on the top left corner and a fingerprint scanner is placed in the center of the device. As for its placement, it is positioned way above than where it should have been, particularly, if you have smaller hands you might want to stretch your finger a bit more to reach to it.
The back of the phone is prone to smudges and fingerprints due to its shiny finish. A matte finish could act differently, but if you are not uneasy with the back cover Huawei provides with it, things won't be messy.
On the right-hand side, we have a power button and a volume rocker, both of which are placed conveniently within thumb's reach. On the left, we have a SIM tray that hosts dual SIM slots and a dedicated micro SD card slot.
The bottom of the phone hosts a 3.5 mm headphone jack, a single speaker grill and a micro USB charging port along with a microphone. Interestingly, Huawei Y7 prime weighs 155 g, which is not heavy at all considering the size of the phone.
The phone comes in Black, Gold, and Blue colors. The last one has a dazzling shine which Huawei is calling "Mirror Effect."
Huawei Y7 Prime 2018 includes a 5.99-inch Huawei Fullview display that makes an aspect ratio of 18:9 and gives a resolution of 720 x 1440 pixels. The downside of this display is it's 76.3% screen to body ratio, which is on a lower side and also the 269 PPI which are not enough for rich viewing experience.
However, not everything is as depressing as it looks, the bezels around the display are pretty thin, so you get a more immersive screen experience when watching a movie or playing a game. Thankfully the phone doesn't feature the infamous notch that most of the people seem to loathe.
Huawei has added an array of tweaks for customizing the display. You can increase the bluish tint or play with the "color temperature" option for modifying the screen according to your liking.
Another feature is the eye comfort mode, which tends to spread a warm yellowish tint over the screen putting less strain on the eyes. This feature is handy if you want to use the phone for more extended periods, i.e., reading a book or looking at the display for long.
Movie watching experience is much more enjoyable on a bigger screen, but unfortunately, the phone offers only a 720P display so movies with higher resolution won't produce as crisp results as you'd expect.
The phone also exhibits rather poor display at different viewing angles, tilting the phone to certain sides results in darkening of the display. In the outdoors, while the screen is bright enough to browse through the phone, direct sunlight makes it almost impossible to watch movies or other media on the phone.
OS
Huawei Y7 Prime 2018 comes with Android 8.0, along with Huawei's EMUI 8.0 which now also comes with an app drawer but is littered with bloatware like preinstalled games.
Huawei has also encompassed some gestures in the all-new EMUI 8.0 which can be enabled in the Smart Assistance section of the settings which include three-finger screenshot, double-tap to wake up and turn off the screen and flip the phone to mute while ringing.
One of the best features that EMUI offers is the file safe. It can be enabled in Settings>Security & Privacy and creates a password enabled space for your private data. Apart from that, you can also enable App Lock for every app separately in the settings.
As per the latest and the hottest trend in the industry, Huawei has also included face unlock feature in the Y7 Prime 2018 which means you can unlock your phone just by looking at it from a certain distance. It uses facial recognition technology to unlock the phone. The face-unlock works quite well and snappy and recognizes your face even in the dark.
However, the face-unlock option might not be as secure as the PIN or password protection, so we recommend you to use password protection as the primary option for locking your phone for keeping your data safe.
Performance & Battery
Since Huawei has separated the Honor phones from their line-up, we haven't yet seen a solid performer in Huawei's budget line up. It's like Huawei is focusing more on the flagships like P20 and P20 Pro and neglecting the budget phones like the  Y7 Prime 2018.
It doesn't happen usually, but the processor is downgraded from its predecessor's Snapdragon 435 to Snapdragon 430 in Y7 prime 2018 that also comes with 3GB RAM and 32GB memory. It's ridiculous to use a 2-year-old chipset in a phone whose name shows it to be a 2018 model.
Y7 Prime 2018 scored 59532 on the AnTuTu benchmark test and achieved a 670 single-core and 2765 multi-core score respectively on the GeekBench.
With a relatively old and entry-level SoC, we didn't expect this phone to be much of a performer. However, we ran our real-life usage tests on the phone, and the results were, as we expected, pretty ordinary. We always try to keep the tests as real as possible to give you a proper idea of how this phone would perform in day-to-day use.
We started with Y7 Prime 2018 as our main driver of the day. Light usage tests included downloading files, simple multitasking between social media apps, watching videos, and YouTube while going through the phone. Occasional use of the camera was also involved throughout that time.
During the test, we kept the display at full brightness. The phone behaved well, and we didn't receive any significant lags or stutters in light usage.
A noticeable increase in phone's temperature could be felt on heavy usage. We opened maximum apps while playing music in the background to check the processing behavior. That's where we began to spot discontinuity in the phone's processing flow. The phone started to lag and heat up.
Playing resource-hungry games like "Deer Hunter" and "Real Racing" even with mobile data turned off in the background resulted in an extreme lag in the phone while repeating the same with mobile data made the phone froze and had to be restarted. This clearly demonstrated that the phone with its basic specs wasn't fit for power users.
We also noticed that even a minimum time of  15 mins of simultaneous mobile data and gaming tend to overheat the phone, which ultimately results in quick battery drainage.
Huawei has once again downgraded the battery in a weird turn of events. Earlier, Y7 Prime had a battery of 4000 mAh with a screen of 5.5″ while Huawei Y7 Prime 2018 hosts a 3000 mAh battery with an increased screen size of 5.99″. That doesn't make sense.
Hypothetically, with an SD 430 chip, a 720p screen, and a 3000 mAh battery, Huawei Y7 Prime 2018 should be able to get the user through a day of heavy use. But that's not the case. The 5.99 inches of the LCD panel on the phone plays the horrendous part of driving maximum juice out through the day.
Huawei Y7 Prime 2018 mainly targets youngsters who expect their device to do well in media consumption and performance-wise. However, the phone's performance is questionable.
Another feature that we are still missing in entry-level and mid-range phones is USB type C. Y7 Prime 2018 is no different than the rest and comes with a micro USB port which is quite frustrating at the time of charging your phone. It gains its full charge from 0% to 100% in 2 hours 50 minutes.
In our real-life usage test, the phone dropped from 100 % to 78% with 1 hour of light use. It included playing videos on youtube, browsing through social media apps, and playing music. The test was performed with wifi connectivity and full brightness on the screen.
On heavy use, the phone started to drain the battery really fast. After half an hour of heavy gaming and multitasking with a 4G connection, the battery dropped from 78% to 64% and the device began to heat up. As soon as the phone heated up, the battery drain increased exponentially, and within another half an hour the phone's battery reached 46 %.
So, the battery reduced from 100% to 46% in just 2 hours of combined moderate and heavy use. It didn't last the whole day; thus, we don't assume it to be fit for power users.
Camera
The rear camera comprises of 13MP + 2MP dual-lens. However, in terms of quality, the Y7 Prime 2018 camera is a significant downgrade rather than an upgrade from its last year's model.
As in Huawei's other phones, when you open the camera app, it takes you to the main camera screen. From there you can swipe left or right for more options. On the top bar of the main camera screen, we have toggles of wide aperture mode, beauty mode, flash, and secondary camera.
Swiping right takes you to different modes of the camera, which include video, HDR panorama, watermark, and filter. Swiping left takes you to camera settings. Here you can tone your camera resolution, set the timer, turn on smile capture (photos are taken automatically when a smile is detected) enable audio control over the camera, etc.
We tested the camera in outdoor conditions, and as it came out to be, the colors were very washed out and out of place. The camera lost it at capturing the detail too. On zooming in, excessive noise and loss and lack of sharpness can clearly be seen in the image.
We were so intrigued by the wide aperture mode and so eager to test. Not only were the colors compromised in wide aperture mode, but the blur effect was also imbalanced and inappropriate. The camera couldn't focus and decide on which areas to blur out and which to keep. Bokeh effect in wide aperture mode remains unreliable as the camera struggles to keep the subject in focus and spreads an unwanted blur across the picture.
Wide Aperture mode gives you the interesting option of adjusting the intensity of focus after taking a picture and saving it in your photos. However, the software processing of the pictures is poor on the phone. After taking a picture in the wide aperture mode, when you try to adjust the softness of the background focus, it also affects the color of the subject in the picture.
The beauty mode on the rear camera is a disaster. We took some photos in ideal condition, i.e., in the daytime with plenty of light, and still, the pictures came to be extremely washed out and off the colors. The beauty mode smoothens the skin tone to the point where it starts looking artificial.
HDR on the rear camera is nothing more than an artifice as it does not affect or enhance the image quality at all, even in outdoor conditions. Images with or without HDR look almost the same.
Beauty mode cannot be used along with wide aperture mode on the front camera. Anyway, the beauty mode on the front cam is even more horrible. It repeats the same story, so we decided to take pictures without beauty, and it turns out that beauty mode diminishes the details in the picture and gives an artificial look. Beauty mode also tends to enlarge the eye size which looks unnatural.
After all our tests in ideal light conditions, we did not expect much from the phone to perform in low light, and that's exactly what happened. Low light pictures came out to be very dark and full of grain and noise, and even with HDR on, the difference remained very minute. However, it would be unjust to expect more from a budget phone like the Y7 Prime 2018.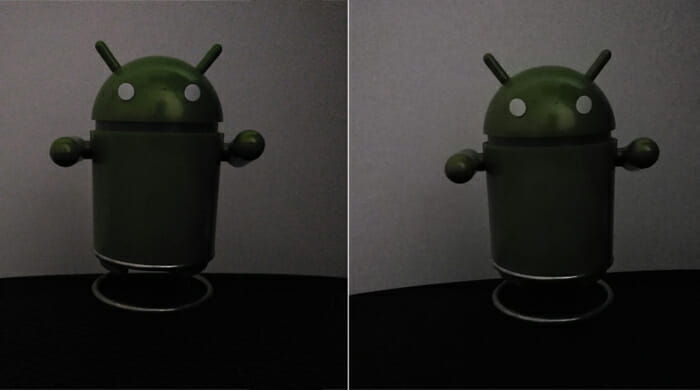 All in all, Huawei Y7 Prime 2018 is a total disappointment in camera quality and controls. Huawei has ripped this phone off the modes that were present in last year's model like Pro Photo, Pro Video, Time Lapse, and Slow-mo. If you are looking for a budget phone with a good camera, we recommend you to look for better alternatives. Also check out our detailed review of the Honor 9 Lite, a budget phone with four cameras.
Verdict
It would have been better if instead of marketing it insanely, Huawei would let the phone speak for itself but what happened was opposite, and in spite of the massive advertisement, the phone turned out to be a disappointment
The phone costs $163 at the time of launch and comes in Black, Gold and Mystic Blue colors and out of all, the Blue one has a mesmerizing shine to it while other colors look pretty dull and boring.
The processor and the battery, both are downgraded from last year's model. Moreover, for just around $20 more you can buy Honor 9 Lite which has four cameras and much better performance than the Y7 prime 2018.