Smartphones with the highest screen to body ratio have their own charisma. They look delicate and give a premium look. The race to produce phones with a huge display and the highest body ratio started back in 2018, and we have witnessed tons of models ever since boasting the feature.
However, no manufacturer has still been able to produce a commercial unit with a 100% screen to body ratio, though there are concept devices and a few worth mentioning efforts from one or two phone makers but nothing practical so far for the consumers. Even the latest Galaxy S21 series doesn't compete with the topper in this area although, Galaxy S21 Ultra 5G gets a maximum screen to body ratio.
Still, we maintain a list of the latest smartphones with the highest screen to body ratio so that those who are passionate about huge displays could find them in one place.
Although you can find a comprehensive list at the bottom of this article, here, we have chosen the top 3 smartphones with the highest screen to body ratio in each category. These phones are the latest in their respective categories.
Huawei Mate 40 Pro/Pro +
Huawei Mate series is once again among those phones which don't feature Google mobile services (GMS), but this does not make it a strong reason to expel it from our list of smartphones with the highest screen to body ratio. Mate 40 Pro and Pro+ both boast a 6.76 inches huge display that translates into 94.1% screen to body ratio, highest among all the latest flagships so far in 2021. Although like always, there is a more expensive Porsche design in the series that is not different in the display specs.
These phones offer 1344 x 2772 px screen resolution (456 ppi) and an 18.5:9 aspect ratio.
Additionally, the Mate 40 Pro+ sports Kirin 9000 under the hood, 12GB of RAM, and 256GB of internal storage.
Samsung Galaxy A51 5G UW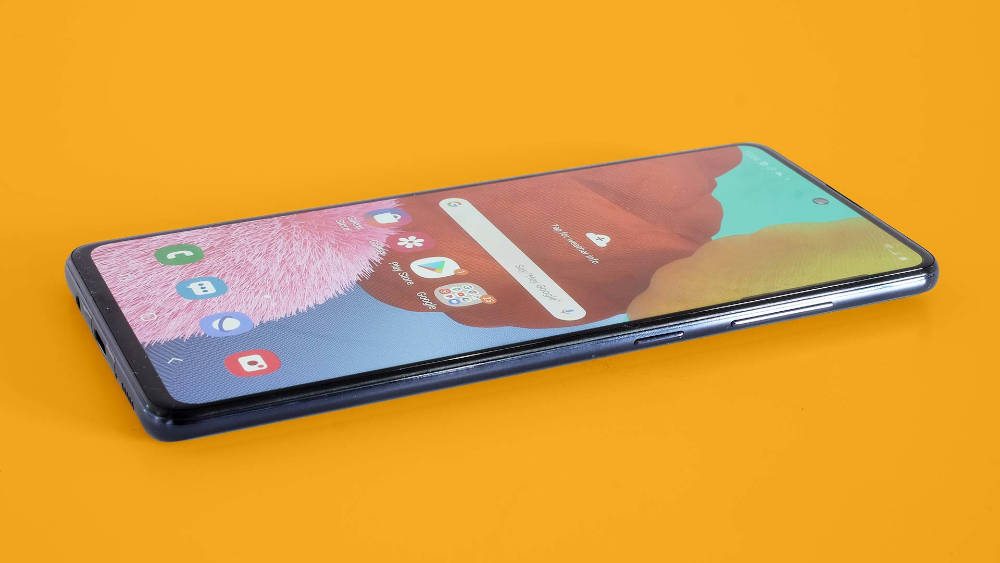 At mid-range, we find Samsung Galaxy A51 5G UW as the smartphone with the highest screen to body ratio in our list. Although the device launched in the mid of 2020, it still holds the number 1 spot in this category unless another contender overthrows it.
The device is coming with a 6.5 inches Super AMOLED screen of 1080 x 2400p resolution and 405ppi. The screen to body ratio reaches 87.5%, which easily crosses the closest rival Infinix Zero 8 (86.8% ratio). The display is additionally protected by gorilla glass, whereas the rear is just plastic.
This mid-range phone is equipped with Qualcomm Snapdragon 765G, 6GB RAM, and 128GB internal storage. There is a quad-camera setup on the rear side with a 48MP sensor leading them all; on the front, it offers a 32MP selfie camera.
Samsung Galaxy A12
Our third category belongs to budget phones, where we have Samsung Galaxy A12 once again on top of everyone. With an 85.8% screen to body ratio, Samsung once again comfortably crushes the immediate rival, which is Motorola Moto G Stylus 2021, in our list.
Unfortunately, the 6.5 inches display offers an HD display (720x1600p) and 264ppi density. There is a Mediatek Helio P35 chipset running the show. There are 3GB, 4GB, and 6GB RAM variants depending upon the region.
Flagship Phones
| Brand | Model | Sceen Ratio | Screen Size |
| --- | --- | --- | --- |
| Huawei | Mate 40 RS Porsche Design | 94.1 | 6.76 |
| Huawei | Mate 40 Pro/Pro+ | 94.1 | 6.76 |
| Huawei | Nova 8 Pro 5G | 91.7 | 6.72 |
| Xiaomi | Mi 11 | 91.4 | 6.81 |
| OnePlus | 8 Pro | 90.8 | 6.78 |
| Vivo | X60 Pro 5G | 90.1 | 6.59 |
| Samsung | Galaxy S21 Ultra 5G | 89.8 | 6.8 |
| Huawei | Nova 8 5G | 89.3 | 6.57 |
| Huawei | Mate 40 | 89.3 | 6.5 |
| Oppo | Reno5 Pro+ 5G | 89.3 | 6.55 |
| Samsung | Galaxy S21+ 5G | 88.3 | 6.7 |
| Apple | iPhone 12 Pro Max | 87.4 | 6.7 |
| Samsung | Galaxy S21 5G | 87.2 | 6.2 |
| OnePlus | 8T+ 5G | 87 | 6.55 |
| Apple | iPhone 12 Pro | 86 | 6.1 |
| Apple | iPhone 12 mini | 85.1 | 5.4 |
| Samsung | Galaxy S20 FE 5G | 84.8 | 6.5 |
| Sony | Xperia 5 II | 80.9 | 6.1 |
Mid-Range Phones
| Brand | Model | Screen Ratio | Screen Size |
| --- | --- | --- | --- |
| Samsung | Galaxy A51 5G UW | 87.5 | 6.5 |
| Infinix | Zero 8 | 86.8 | 6.85 |
| OnePlus | Nord | 86.7 | 6.44 |
| Google | Pixel 5 | 85.9 | 6 |
| Motorola | One 5G Ace | 85.7 | 6.7 |
| Oppo | Reno5 4G | 85.6 | 6.43 |
| Huawei | Nova 8 SE | 85.4 | 6.53 |
| Xiaomi | Mi 10i 5G | 84.6 | 6.67 |
| Xiaomi | Redmi Note 9 Pro 5G | 84.6 | 6.67 |
| Vivo | iQOO U3 | 84.4 | 6.58 |
| Honor | 10X Lite | 84.3 | 6.67 |
| Samsung | Galaxy A42 5G | 84.3 | 6.6 |
| Samsung | Galaxy M21s | 84.1 | 6.4 |
| Xiaomi | Redmi Note 9T | 84 | 6.53 |
| OnePlus | Nord N10 5G | 83.5 | 6.49 |
Budget Phones
| Brand | Model | Screen Ratio | Screen Size |
| --- | --- | --- | --- |
| Samsung | Galaxy A12 | 85.8 | 6.5 |
| Motorola | Moto G Stylus 2021 | 84.8 | 6.8 |
| Huawei | Enjoy 20 SE | 84.3 | 6.67 |
| Oppo | A53 5G | 83.9 | 6.5 |
| Huawei | Nova 7 SE 5G | 83.8 | 6.5 |
| Motorola | Moto G Power (2021) | 83.8 | 6.6 |
| Xiaomi | Redmi 9T | 83.4 | 6.53 |
| Infinix | Hote 10 Lite | 83.2 | 6.6 |
| Tecno | Camon 16 Pro | 83.2 | 6.8 |
| Lenovo | K12 Pro | 83.1 | 6.8 |
| Oppo | A15s | 83 | 6.52 |
| Nokia | 8 V 5G | 82.9 | 6.81 |
| OnePlus | Nord N100 | 82.9 | 6.52 |
| Motorola | Moto E7 | 82.3 | 6.5 |
| Nokia | 5.4 | 81.9 | 6.39 |
| Samsung | Galaxy M02s | 81.8 | 6.5 |
| alcatel | alcatel 3L (2020) | 81.6 | 6.22 |
| Vivo | Y20A | 81.6 | 6.51 |