Smartphones were not meant for kids, but the impression no more stands true today; It's a haven for children and most probably their first toy in most parts of the world.
Instead of putting useless efforts to keep them away from the shiny gadgets, it's time to make use of the Play store for polishing kids' intelligence. The app store is filled with a plethora of Android games for kids that can groom their minds, analytical skills and educate them at the same time in a healthy way.
Though we also have some of the best racing games in Android along with a comprehensive list of Android Puzzle games, nobody wants their child to get hooked on such addictive games. That's exactly why these Android games for kids are the best suited to bring out the creativity in your little one.
Here, we have compiled a detailed list of educational and fun Android games for kids that are also very creatively colorful.
Endless ABC
PROS
Vocabulary building ability
Teaches to recognize shapes
CONS
Lacks plenty of modes that the competitors offer
This game comes from the developer studio "Originator Inc." and has so far been our favorite, especially in terms of graphics and animations. You get to choose words in the game and after you do, its alphabets are scrambled and you have to put them in place.
This game teaches the kids about shape and color recognition as well. If you get to complete a word, it will animatedly display the meaning of that word as well as read it out loud too. So basically your kids learn shape and color recognition and even new words too.
Play and learn science
PROS
A fun way to understand laws of physics
Great graphics
CONS
The game escalates too quickly and difficult stages appear soon
This app is best to learn the basic rules of physics and science. It does so by giving the kid some problem-solving challenges to complete using daily life objects like flower pots, garden hoses, etc, all the things that kids can easily recognize.
This also encourages the kids to see and notice science in their everyday life, thus increasing their observational power. It includes 15 scientific games that cover almost all the core scientific topics, enough for any kid to learn the basics.
Jack's House – Educational Games for Kids
PROS
Encouraging sound and commentary voice
Detailed shape recognition made easy for kids
CONS
Limited to very few options
Yet another one of the best android games for kids. It also has a paid version that unlocks more levels and more interesting in-app games for your kid, but if you don't want to pay for that, you can find plenty in the free app. The game adapts to the age level of your child and is suitable even for toddlers.
With its mini-games, it develops logic, attention, memory, and color perception. Colorful graphics and lots of animation with phonic voices, lively music, and funny sounds will not get you bored.
Puzzingo Puzzles
PROS
Amazing interactivity
Focuses not only on letters but on many daily life objects
CONS
An overwhelming number of mini-games turns annoying
Out of all the best Android games for kids, this one takes the cake for interactive UI and fun animations and graphics. It even offers visual and audio cues throughout the app are designed to make the game accessible for kids with autism, speech impediment, and children with special needs.
Puzzingo comes with 8 free puzzles containing over 100 vocabulary words and pieces. In addition to this, a "Free Daily Preview" puzzle game will keep the interest of your kid every single day.
ABC Kids
PROS
Easily delivers phonic sounds and tracing experience
Encouraging rewards
CONS
Pretty basic and may get boring quickly
ABC Kids is a free phonics and alphabet teaching app that makes learning fun for children, from toddlers all the way to preschoolers and kindergartners. It features a series of tracing games to help kids recognize letter shapes, associate them with phonic sounds, and put their alphabet knowledge to use in fun matching exercises
ABC Kids is not only the best Android game for kids but it was also designed for adults to play their part in the learning process of their kids too. Adults can access settings to engage Teacher Mode, look at report cards and keep a check on the performance of their kids.
Dinosaur Pet
PROS
CONS
Too many ads
Requires purchase too early
This game may not be an educational one but is definitely an entertaining one due to its cute and colorful graphics. This also counts among the best Android games for kids because in this game you tend to take care of a dinosaur pet which is way too cute to be a dinosaur.
Anyways, your kid will be required to take care of his/her pet, feed him, wash him, etc. This will develop empathy in your child and though it won't teach him any of the school stuff, it will groom his/her personality in certain ways so that he/she will start to exhibit caring behavior.
Brain Games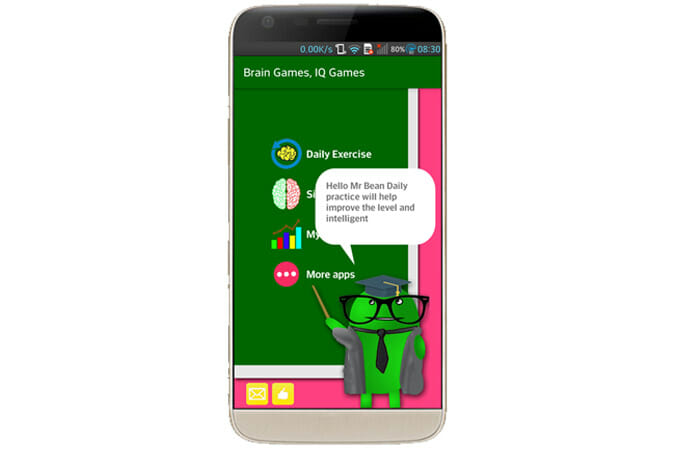 PROS
Many games in one
Diversified games
CONS
The game gets tougher in higher levels
Brain games application is actually a consolidation of many Best Android games for kids. There are different exciting modes that include daily exercises and challenges. Both the modes have a number of games including puzzle games, Math games, logic games, and memory enhancement games.
Upon completing any exercise or challenge successfully, you also get encouraging rewards in the form of medals. This is by far the best educational game you can find on the Play store with such a huge variety of in-app games.