This year, Samsung has bid farewell to its Galaxy J series and revamped its Galaxy A series to include new smartphones that can appeal to all users irrespective of their budget. In the last few months, we have seen the launch of Galaxy A10; Samsung Galaxy A20 is next in the series, which is followed by Galaxy A30, Galaxy A70, and Galaxy A80 and reportedly, it still plans to introduce more later in the year.
While we have already tested the entry-level Galaxy A10, we didn't get a chance to get familiar with the Galaxy A20 until now. The smartphone has been launched with a price tag of PKR 30,000 and comes with a great design. Here is a summary of the specs before we jump on to our findings.
Samsung Galaxy A20 specs
Display: 6.4 inches, IPS LCD
OS: Android 9.0, One UI
Chipset: Exynos 7884
RAM/ROM: 3GB/32GB
Camera (rear): 13MP + 5MP
Camera (front): 8MP
Battery: 4000 mAh
Design and Display
The design of Galaxy A20 is similar to the higher member of the A-series. If you put it beside the more expensive Galaxy A30, it will be quite impossible to tell the difference between two phones without taking either in your own hands.
The smartphone comes with a polycarbonate back, which gives the illusion of a glass build. The glossy finish makes it a fingerprint magnet. While using the device, we noticed that it is highly susceptible to getting scratches even when you are carefully placing it in your pocket or on a table.
Unfortunately, Samsung Galaxy A20 does not offer a back cover, a feature which most of the entry-level phones of the likes Honor 8S and Infinix Smart 3 Plus are offering today; therefore, you should make sure to buy one before you unbox your smartphone.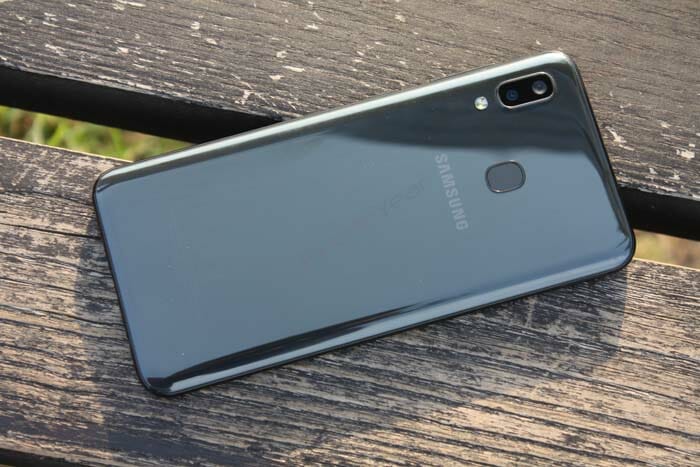 At the back, there is a dual-camera setup at the top-left corner of the smartphone accompanied by an LED light, and a traditional fingerprint sensor is placed in the middle encircled in a ring that gives a premium look to the users.
Coming to the front of the smartphone, we can notice minimum bezels at the sides and a small chin at the bottom of the display. The Infinity V-display houses the selfie camera for Galaxy A20 while the call speaker is placed at the top of the device.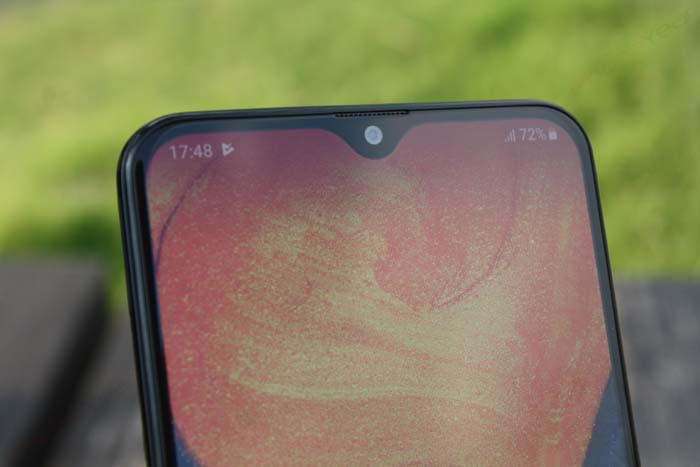 There is no LED notification light to let us know about any new messages, so you'll have to open up your device to see whether you have received a new notification or not. The power button and volume rocker are placed at the right side of the smartphone while the SIM slot rests at the left side and comes with a dedicated MicroSD card slot.
Galaxy A20 is not a bulky device and can sit comfortably in one's hands. Despite a glossy finish, it will stay firm and will not slip from the user's hands.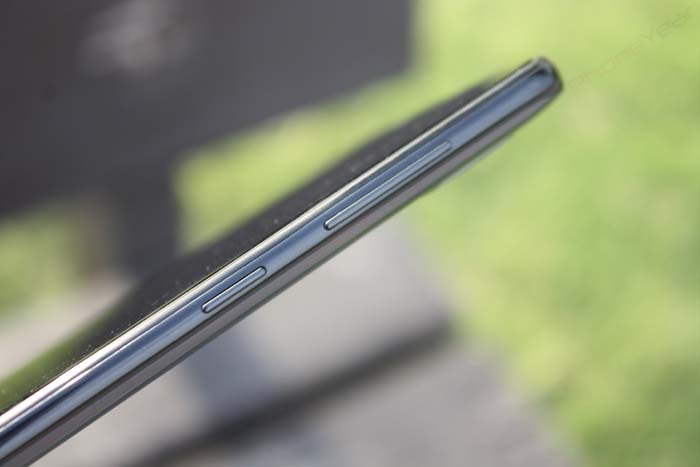 Also Read: Samsung Galaxy A20s review: Another disappointment
Samsung Galaxy A20 has a large 6.4 inches of Super AMOLED display, but the presence of only 720 x 1560 pixels of screen resolution coupled with 269-pixel density makes the videos look less immersive. We have already seen 1080p resolution from the phones like Vivo V9 and Realme U1 in this price range, and that makes us a little disappointed since we will need to restrict our Netflix and Youtube experience to limited pixels.
The good part is, the viewing experience of the smartphone is pretty great, and the Infinity V-notch does not feel obtrusive while watching movies or any other videos. Still, good viewing angles make us less bummed about the compromise.
Under direct sunlight, you can see the smartphone's content on display, and you even get a dark mode in the phone's UI that blacks out the background of the phone to cause less strain when you are using the phone at night.
User Interface
After using Galaxy A20 for a week, I can safely say that I have become a massive fan of Samsung's new One UI software, and it won't be too far-fetched to call it even better than Huawei's beloved EMUI.
The new software is designed to allow Samsung users to operate their devices with only one hand, and thus, even with the large display, you do not have to grip the phone in two hands to perform any action on the smartphone.
One UI 1.1 offers some very user-friendly experience and a plethora of exciting features for users. When you first power up the smartphone, you will notice that there is no visible app drawer, but it is there in hiding and can be summoned by swiping upwards.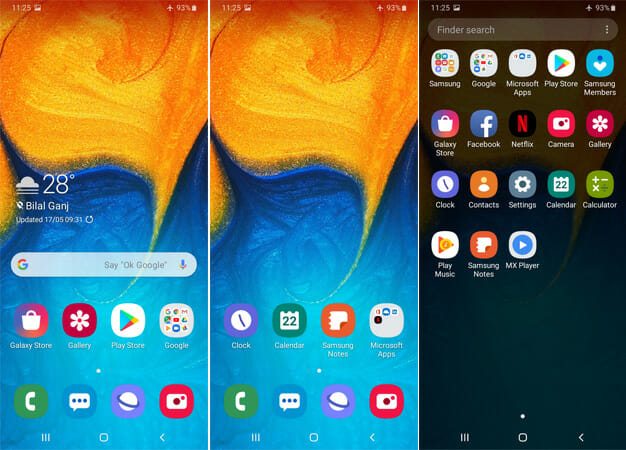 One of the best things about the new user interface is the notifications panel. It is clutter-free with tons of optimization options for users.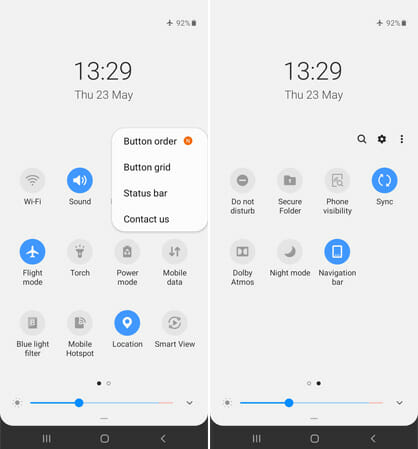 By tapping the three dots at the top right corner, you can choose the order of the buttons present in the panel or can even tweak the grid options by opting 3, 4, or 5 buttons in a single row. By pressing the cog icon, you can also go directly to the phone's settings.
There is s dedicated blue light filter option to protect you from straining your eyes, and the night mode option can turn the background to black, which is quite useful when you are using the smartphone at night.
Samsung Internet has also been upgraded and comes with an add-on option where you can enable Ad-blockers and Amazon Assistant. For Pakistani users, the second option is useless as we do not have Alexa in our region; however we can opt between different suggested ad-blockers to surf the internet without being distracted by online ads.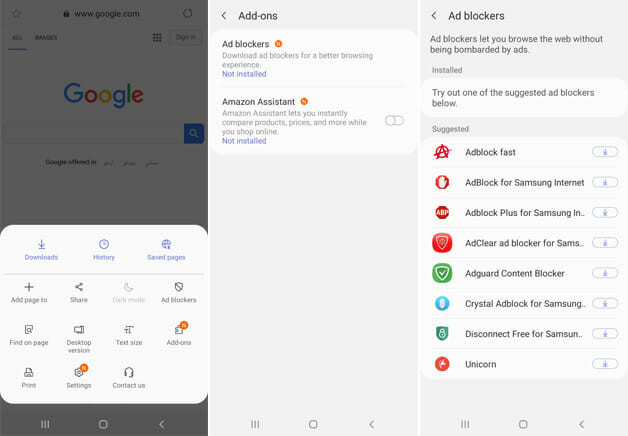 Going to the settings page option the smart pop-up menu, you can see that it also comes with various privacy and security features. You can enable the secret mode, which works as Google Chrome's incognito mode that stops the browser from recording your internet activity and does not allow the website's cookies.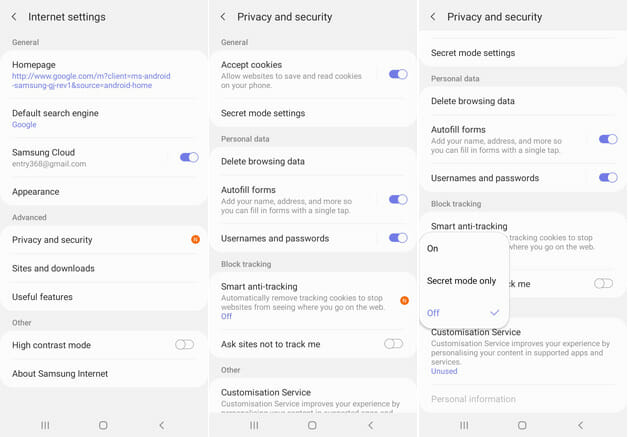 There is also a new Smart anti-tracking option, which, when enabled, can stop the websites from keeping track of you with cookies.
To keep the smartphone well optimized and running smoothly, there is a Device care feature in Samsung Galaxy A20 where you can see the status of your phone's battery, storage, memory, and security.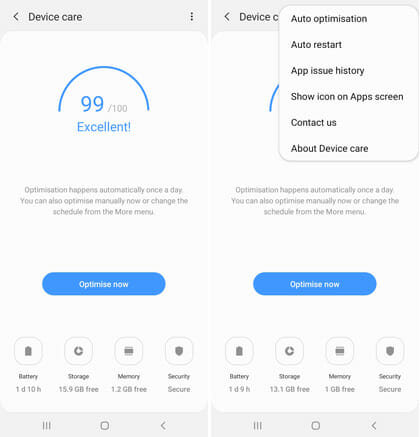 By tapping the three dots at the top right corner, you can choose from further options like auto-optimization and auto-restart to determine the smooth running of the device. Through the Contact Us option, you can directly get in touch with Samsung's customer care service in case your phone is causing any problems.
For gamers, One UI offers a highly useful feature known as Game Tools, which offers different shortcuts accessible by just a simple tap.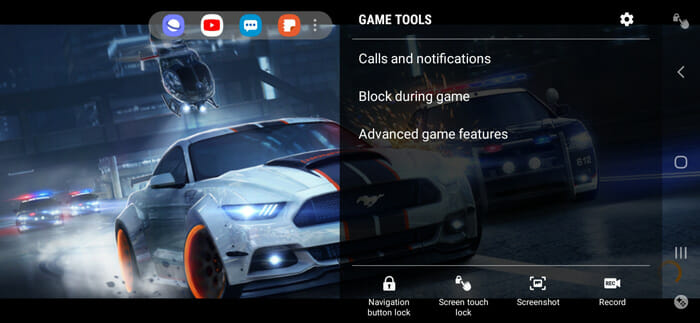 Using this feature, you can access apps like messages, notepad, YouTube, Samsung Internet, without exiting the game. Interestingly, you can also record your gaming session to review it later or share it with your friends.
Other small features that are worth mentioning are the improved notes app that now offers categorization options for better organization of lists. The digital wellbeing helps to keep track of how much time you spend on a single application so you can be mindful about smartphone addiction.
Moreover, you can also use the volume keys for controlling media volume by default, and by pressing them up and down, the ringtone will not be affected in any way whether you are playing music in the background or not.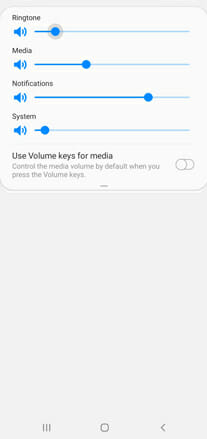 Performance and Battery
Coming to the Performance of Samsung Galaxy A20, it is an average device that is powered by Samsung Exynos 7884 chipset, which is also available in the entry-level Galaxy A10 smartphone. It also includes Mali-G71 MP2 GPU, 3GB of RAM, and 32GB of internal storage. Here are the benchmark scores of the smartphone.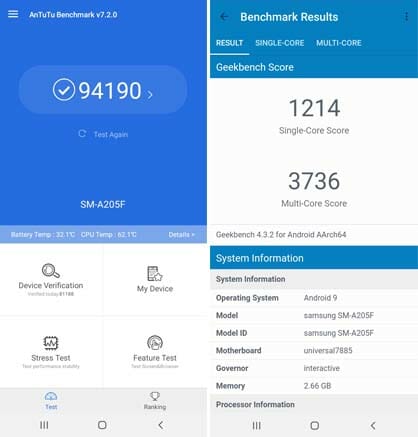 In light usage, the smartphone works like a charm and can run any operation like surfing the web, browsing social media, calling, texting, watching movies, etc. smoother. It quickly loads applications and can be a great companion for everyday use.
During heavy usage, the smartphone does not give an ideal performance, but at the same time, it is not too great as well. During a dedicated gaming session, we played big games, including PUBG, Asphalt 9, Deer Hunter, Real Racing 3, etc. for an hour, and aside from slight lag while switching apps and drop of frames in PUBG, we did not encounter any significant issue.
It also slightly heats up at around the top- backside of the smartphone while playing games, but it never reaches a level where you cannot comfortably hold the device.
It is a given that Galaxy A20 cannot be expected to be on par with other gaming phones in the market, but if you want to be able to play heavy games while holding a stylish phone, Galaxy A20 is not a bad option.
One thing that put us off while using Galaxy A20 was the sluggish performance of the fingerprint sensor. It takes around a second or two for the phone to wake up and unlock when you put your finger on the sensor, but it was confounding to see that once you press the power button and then use the fingerprint sensor, the phone unlocks without any delay.
When it comes to battery timing, be prepared to be amazed. The 4000mAh battery provides more than 14 hours of screen time to go from 100% to 0% while playing different movies back to back without SIM cards.
During our one hour of a gaming session (without active SIM cards), Galaxy A20 consumed only 11% of battery, which is a beacon of light for all the users who want a smartphone with lasting battery life.
Camera