In 2019, budget smartphones are gaining traction in the Pakistani market, and every major mobile phone brand is launching several devices in the segment to cater to the demands of mobile phone users who want a smartphone in a budget that gives value for money. Honor 8S is one of the entry-level phones which has been launched with the price tag of PKR 18,999 that comes with a pretty standard list of features.
Honor 8S specs
Display: 5.71 inches, IPS LCD
OS: Andriod 9.0, EMUI 9.0 Lite
Chipset: Helio A22 chipset
RAM/ROM: 2GB/32GB
Camera (rear): 13MP
Camera (front): 5MP
Battery: 3020mAh
Design and Display
We have come to expect a higher degree of design language from Honor and Huawei's budget devices. Fortunately, we were rewarded with a new split between matte and patterned back that does not attract fingerprint smudges. The smartphone easily stands out among other budget devices that are rushing after the glossy finish.
On the right-hand side, we have the usual suspects, a volume rocker, and the power button, which are conveniently placed within the thumb's reach if you are right-handed. On the left, we have a SIM card slot that comes with a dedicated space for the MicroSD card.
At the bottom, we get a micro USB port for charging along with the speaker while the 3.5mm headphone jack resides on the top of the device. It is very rare to see a back cover included in the box of a budget device, but Honor 8S has one. Though the smartphone does not get as dirty as the phones with glossy backs, we recommend you use it to safeguard your phone in case of a free fall.
Honor 8S features 5.71 inches of IPS LCD with a 720 x 1440 screen resolution. There is a small notch at the top of the display while it sports minimal bezels on the sides and bottom. It is a bit taller than the last year's Honor 7S smartphone and offers more screen space due to the presence of a dewdrop notch.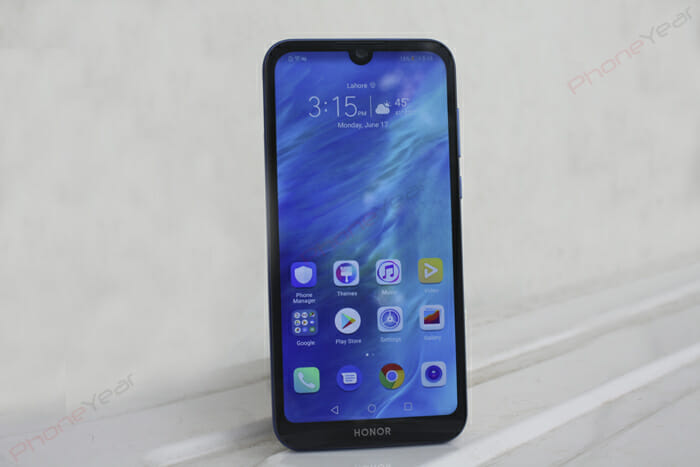 The display is considerably bright and is blessed with good viewing angles irrespective of whether you are using Honor 8S indoors or outdoors. You can also easily view the phone's content under direct sunlight
The color reproduction is average, which is expected from an entry-level smartphone. The colors on the screen are inclined towards the cooler side, and you can see a bluish tint display that can be adjusted from the device's display settings.
User Interface
Honor 8S runs on EMUI 9.0 based on Android Pie, which is quite user-friendly and easy to use. Finally, the Chinese firm heard our cries to get rid of extra bloatware in the shape of mobile games that no one wants and has provided us with a simple interface,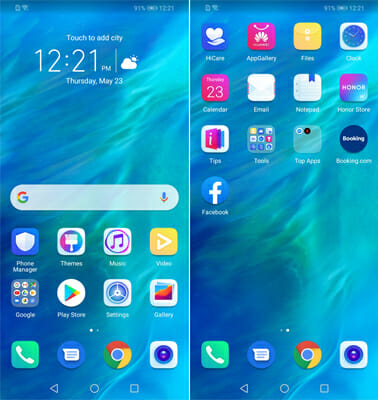 The smartphone also comes with Google's Messages as a default texting app, which means that the user can even send or receive messages through their computers. If you are someone who is switching from a feature phone to a smartphone, there is also a simple mode that can help you get familiar with the workings of Honor 8S before you move towards settings for Pro.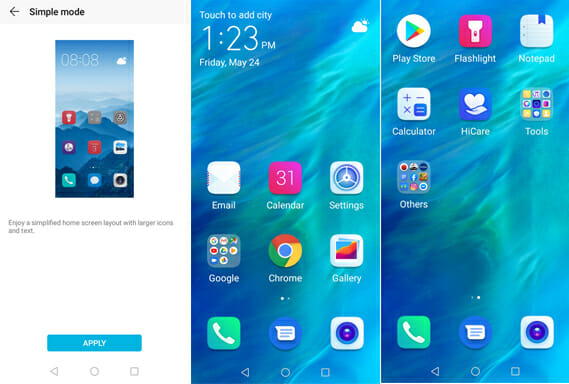 You also get the option of choosing between the on-display buttons and gestures for navigating the smartphone. If you find the notch bothersome, you can also get rid of it through the phone's settings.
Through Device connectivity, you can also connect Honor 8S with your printer by downloading the relevant app from the options provided by your device.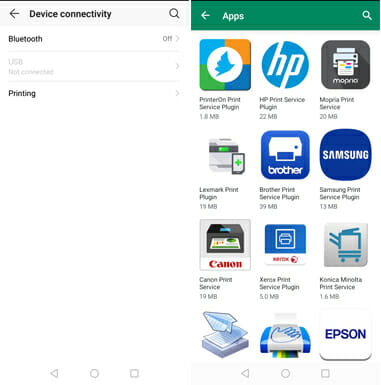 For added security, EMUI 9.0 offers File Safe, where you can add your sensitive documents or any photo, video, etc. for safekeeping.
Performance and Battery
Honor 8S hosts Helio A22 chipset, which is present in the slightly pricey Huawei Y6 Prime 2019. It also hosts 2GB RAM with 32GB of internal storage under the hood. Here are the phone's benchmark scores: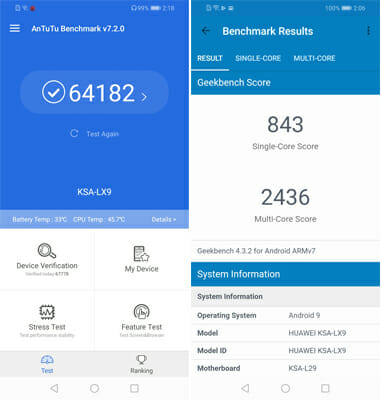 While testing for moderate use, the smartphone performed amicably. It didn't show any sign of a problem during our session, which mostly included calling, texting, using social media, browsing through the web, and watching videos, movies, etc. Even, there was no noticeable lag when we watched dramas on Netflix on 4G LTE, and apart from craving for a 1080p display, we didn't feel too let down.
During heavy usage, expectedly, the phone faces stuttering while playing big mobile games because of the presence of 2GB of RAM and a budget chipset. Multitasking between heavy apps also freezes the phone, and you either have to clear the RAM or restart the device to get it working right.
Honor 8S comes with a 3020 mAh battery that takes 2 hours 41 mins to charge from 0% to 100%. If you are looking for a phone that can last all day, sadly, Honor 8S is not the right choice for you. During our 3 hours of battery test, it consumed around 60% of charge whose details you can see below: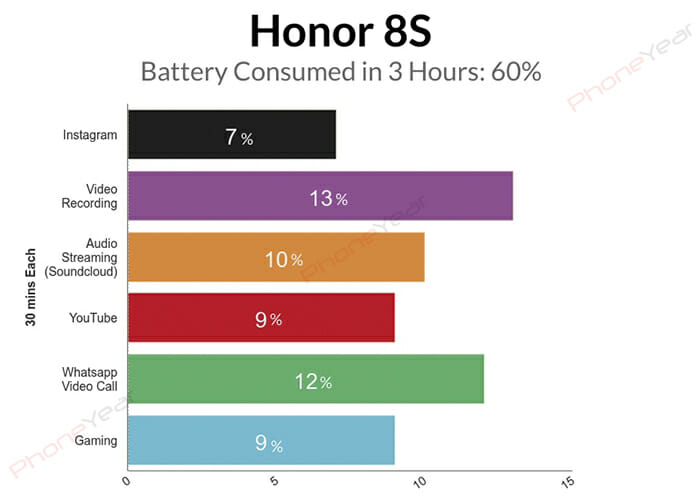 During our moderate testing, the phone's battery dropped by 10% in one hour, and while testing the phone for heavy usage, the battery fell by 15%.
Camera
Honor 8S comes with a standard 13 MP primary camera on its back, which can take some decent pictures during daylight but completely fails under low-light conditions.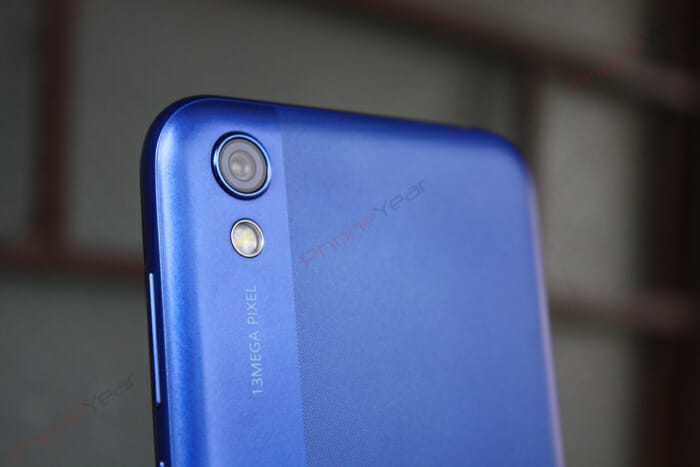 Starting with the camera app, the interface is quite user-friendly, a term we have come to associate with Huawei's EMUI in the last few years. The app doesn't have many features to play with except an HDR mode, Panorama, Beauty mode, and Pro mode.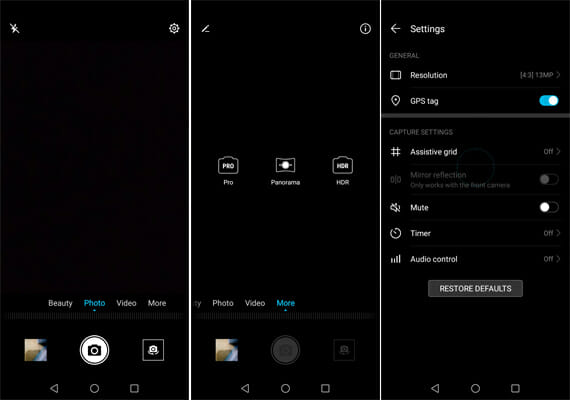 You can see in the image below that Honor 8S is capable of capturing pretty decent pictures in Auto mode.
When you are taking a shot against the sunlight, the Honor 8S can try to minimize the impact of the dispersing light to some extent with HDR Mode, which is not too bad for such an affordable phone.
Similar to its predecessor, the phone's auto-focus feature does not work at all, and you have to manually tap on the phone's screen for the camera to detect it and adjust the settings like light, exposure, etc. The following two images are taken at the same time, and you can see that the second one, where we had to tap on the screen, is quite bright.
As we have said before, the phone's performance suffers badly at night, and quite shockingly, it turns the black sky into a blue one in the photos. It fails to capture any detail, and the noise level is through the charts in the images.
In the end, you get pretty blown-out pictures at night with no details and poor color reproduction. Moving on to selfies, Honor 8S has a 5MP shooter at the front, which can take average pictures.
The beauty mode smoothens the skin tone of the subject and also lightens the selfie as compared to the simple auto mode.
Verdict
Honor 8S is good looking entry-level smartphone that offers adequate performance but falls short in providing a lasting battery life. If you are looking for slightly better camera quality, you will have to spend a little bit more and opt for devices like Tecno Camon i4, Galaxy A10, etc.
Being a budget device, this smartphone is not made for heavy users and is an excellent choice for anyone who is looking to switch from a feature phone to a smartphone