There is fierce competition among the phone makers in the budget and mid-range phone categories. It always becomes hard to choose the best from the stack of identical phones carrying nearly similar specifications. One of them is Infinix Hot 8, which is a decent-looking device, and considering the launch price, it should be praised for its design language.
The phone has landed in Pakistan in three variants, Hot 8 lite, Hot 8 2GB/64GB, and the third one is 4GB/64GB. The device has all the ingredients to attract the attention of budget smartphone users.
Infinix Hot 8 specs
Display: 6.52 inches, IPS LCD
OS: Android 9.0, XOS5.0
Chipset: Mediatek Helio P22 (Octacore)
RAM/ROM: 4GB/64GB
Camera (rear): 13MP + 2MP + QVGA
Camera (front): 8MP
Battery: 5000 mAh
Design and Display
It's a massive phone with 6.52 inches of IPS LCD, which is the first point of attraction. With a 20:9 aspect ratio, this phone provides 720 x 1600 px resolution. Infinix Hot 8 follows the latest trend of featuring a waterdrop notch right at the top where it also holds an 8MP selfie lens. Right above the notch, sticking to the edge is an earpiece, and moving a little left, there lies an LED flash which is not visible unless it blinks.
Infinix Hot 8 is not a minimal bezel phone, but considering the size of LCD, they don't look odd, though the chin occupies too much space, it still doesn't take away the beauty. Volume and power keys are placed on the right side, well within reach of your thumb, a comfortable approach, but the bottom has some different placement of elements. Infinix has swapped the position of the audio jack and speaker grille, placing the latter on the left side of the micro USB port. The downside of this arrangement is that the speaker gets covered with the hand when the phone is held in landscape mode, and the sound gets muffled at the time of playing games.
The back of the phone is one clean piece of polycarbonate that comes in a dual-color tone. Our review unit is of Cosmic Purple color that catches smudges and gets dirty easily. Infinix has provided us with a printed silicone cover to counter the problem.
There is a triple camera setup placed vertically on the left-most edge, which also houses a quad-LED flash. Not far from it, we get a rear fingerprint scanner.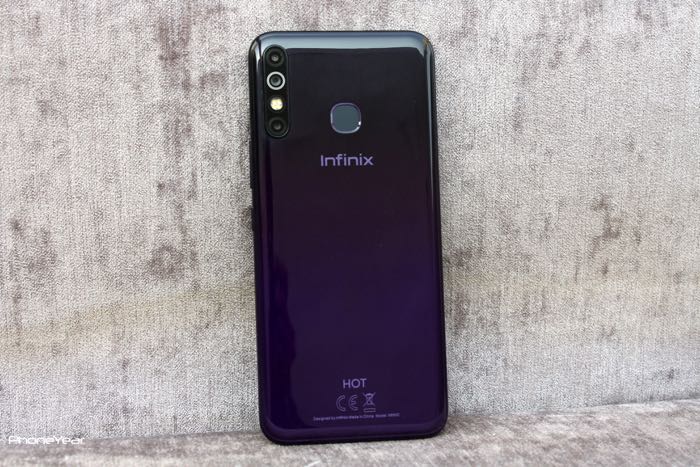 Talking about the display, Infinix has done a great job with its 720p display. Though it's not as sharp in this price range as other rivals are providing but it still somehow manages to capture the attention with nearly sharp icons and easily readable text. It may look dull at the 50% brightness level, but anything above the middle mark makes the screen reasonably comfortable to look at, however, it struggles under direct sunlight though.
Performance and Battery
Hot 8 is a budget device that carries a relatively old Mediatek chipset Helio P22 that was launched back in 2018. It is the same processor that we are spotting in Samsung A10s, Realme C2, Vivo Y12, and all of them belong to the budget category. There is a PowerVR GE8320 GPU integrated for handling graphics with the help of 4GB RAM.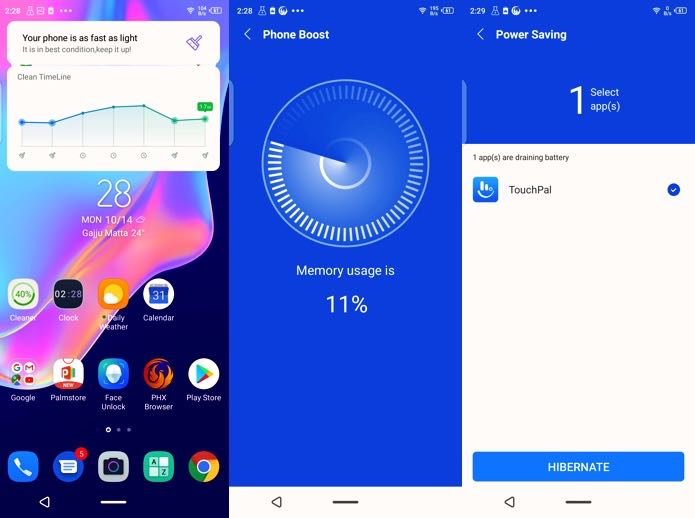 Infinix Hot 8 comes with XOS 5.0, Infinix's skin on top of Android 9.0. We have a prior experience of XOS that pre-packs a lot of apps mainly to keep the phone in order. Some of them are useful, but others are real bloatware. Since Infinix primarily relies on the lower price bracket that usually means low-power hardware, it needs a somewhat aggressive approach for managing the memory and processor. It prefers to give you a lot of choices for putting additional limitations so that no app consumes extra resources. It could be a good approach for keeping low-level chipsets running smoothly, but you might lose auto-synchronization for a lot of apps. Let's check how it performs during our multitasking and gaming test.
Being an entry-level phone, we shouldn't demand high-end performance; nevertheless, it can play some heavy games smoothly if played with low graphics settings. Light multitasking does not put a toll on the processor, and it keeps things running without a problem. Games like Subway Surf, Real Racing 3 can run smoothly. PUBG can't go beyond medium frame rate, and you can only choose between smooth and balanced graphics; however, it stutters on choosing a 'colorful' style; however, it is recommended to use it on the lower settings. I was happy to see that Call of Duty, Asphalt Nitro, and Deer Hunter are playable, but that doesn't mean everything is buttery smooth. I experienced an intermittent frame dip. I would suggest using the game mode and Don't try to tap the 'cleaner' app in the middle of any process; it is designed to either kill or restart the apps and recover the memory.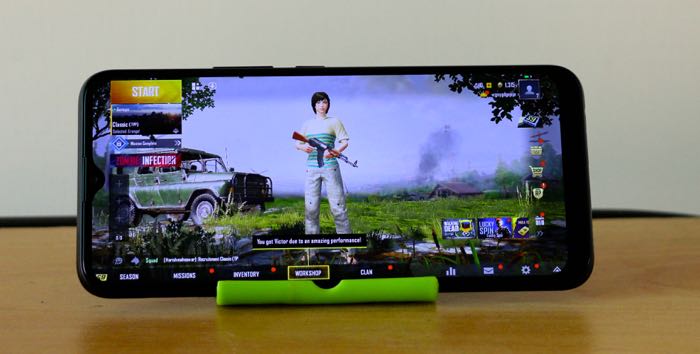 Holding the phone for games or movies in a natural order blocks the speaker that muffles the sound unless you use the earphone. However, the sound level is adequate for a small room, but like the Realme 5 Pro, it also lacks bass.
Infinix Hot 8 comes with a whopping 5000 mAh battery, which can provide an impressive battery life considering the 720 display, low power chipset, and aggressive battery management. It consumed 9% of the battery during one hour of YouTube streaming on mobile data. However, turning the brightness level at full and putting both the SIMs inside doubled the drainage during the same time slot. We couldn't check it on Netflix as the app does not support this phone. It is not even visible on the play store; however, manually installing it gives an error message. Nevertheless, its battery performed well against the data-eating apps. We could comfortably run it for one and a half days with a moderate usage that involved every social media app, including Instagram, Tiktok, FB, YouTube, movies, WhatsApp, SoundCloud streaming, calling, a couple of photos, FM radio, etc.
Infinix Hot 8 carries the latest tradition of biometrics through fingerprint scanning and face unlock. Both of the mechanisms are snappier, although the pattern and PIN code are still reliable.
XOS is way different in many ways than other OS layers that we are accustomed to. It is a complicated piece of software with several options spread across multiple locations where they don't belong in a natural order. For example, app lock is usually found in security settings on EMUI, ColorOS, or Funtouch, but Infinix has put it inside Phone Master, which is no way a user-friendly approach.
'Freezer' is available in all Infinix and Tecno phones for hibernating the third party apps where it doesn't let them misuse a bit of memory, it does not remove them either but keep them installed without a burden on resources. Adding apps here will usually hide them from the home screen, but they remain available in Freezer for as long as you want.
There is an FM radio app that is very quick in catching stations. Just tap the app, and it will grab the frequency right away. Additionally, you get this option to record a track and save it locally for later use.
I think there is a lot of room for Infinix to improve the OS by simply rearranging the menus and making it a little less complicated.
Camera
The chipset inside the Infinix Hot 8 supports a dual camera setup; it is interesting to see third camera support, which raises the question if Infinix did this only for the sake of calling it a triple camera phone or there is a practical use to it.
Infinix Hot 8 has filled the default camera app with popular features that we usually happen to experience in mid-range phones. AI Cam, Beauty, Bokeh, AR Shot, Panorama, and HDR are right there to make you feel not much behind a pricey phone.
Although it claims to have AI support, Infinix Hot 8 camera is not among the best scene recognizers. Most of the time, it wrongly detects the scene; however, the photos it takes are very acceptable. Selfies and portraits are usually overexposed, but HDR can help to some extent. The bokeh feature performs reasonably accurately and maintains a visible balance between the object and blurred background, but sometimes you come across photos with an inaccurate mapping of the object. Have a look at the sample photos we took with Infinix Hot 8.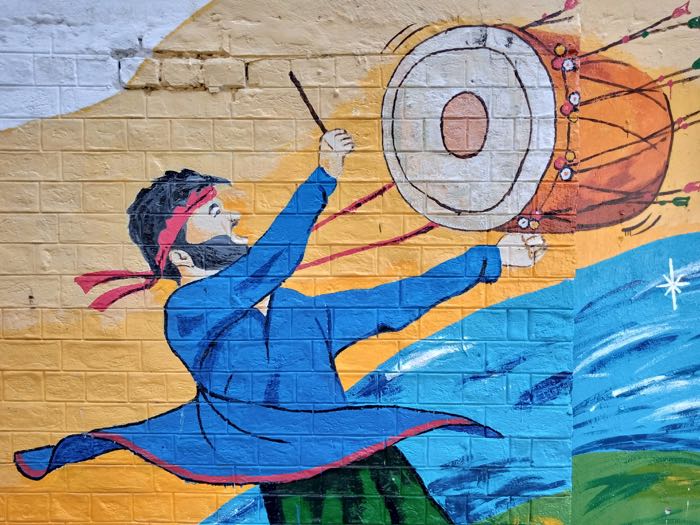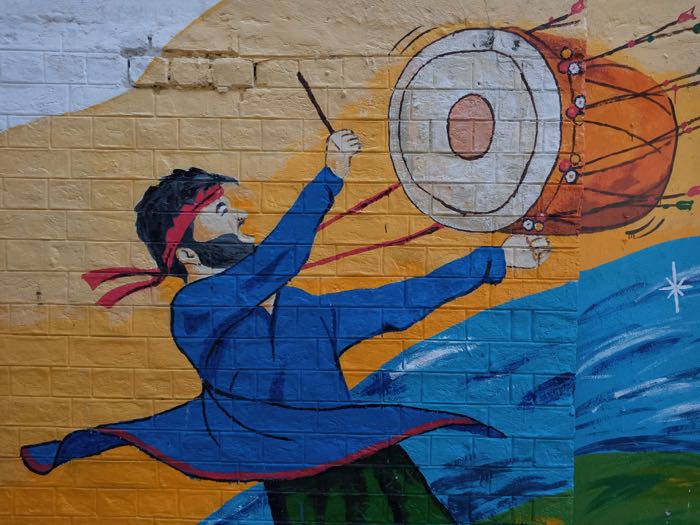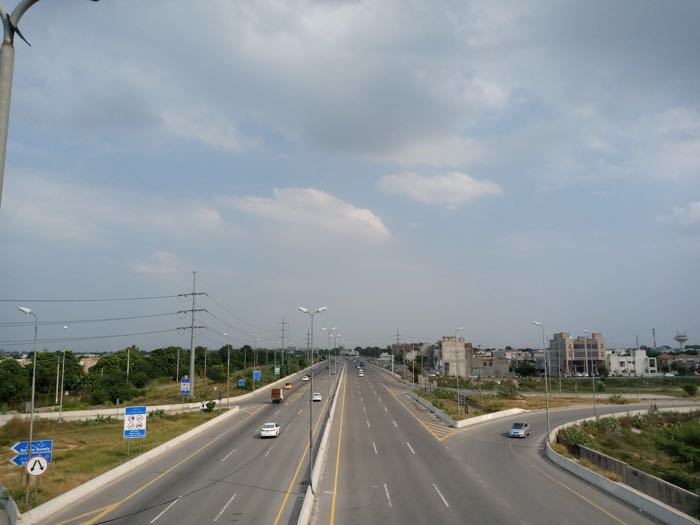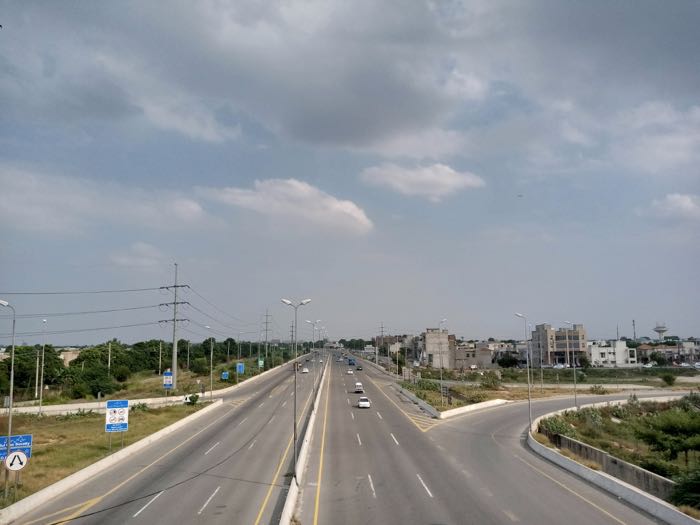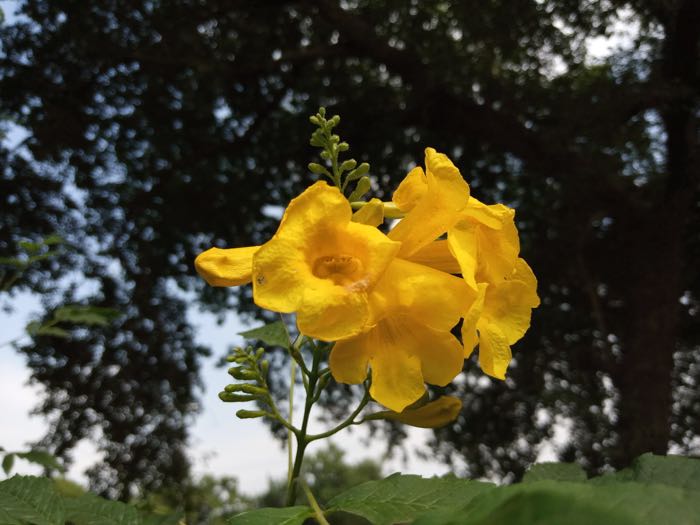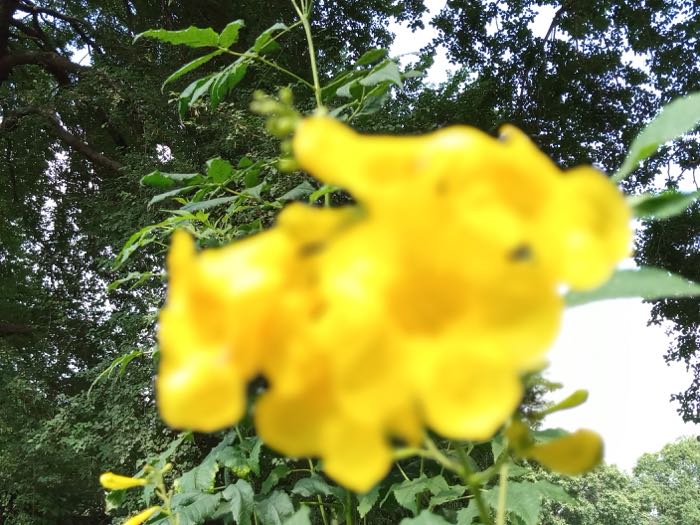 Verdict
Infinix Hot 8 is a good-looking smartphone whose entry-level Mediatek chipset Helio P22 chipset can easily perform average day-to-day tasks but will show lag while playing heavy-duty games especially if you forget to lower the graphic settings. The battery performance was quite alright, it was neither too depressing nor too amazing. When it comes to the camera, we have seen better results in the budget phone segment and the device failed to produce quality images during our tests.