The fancy Infinix Note 10 Pro lands in our hands with many bells and whistles that are usually part of premium smartphones, not to mention 8GB RAM, 256GB internal storage, a fast processor, and a huge display serve as its major highlights.
Huge superfluid display
Faster performance
Impressive super night mode
Cooling system isn't perfect for outdoor video shooting
Dual speaker sound quality isn't impressive
Average battery life; no fast charging
Not long ago, Infinix Note 7 received record popularity for being a stylish and feature-rich device. It is still among the top-ranking Infinix videos on our YouTube channel, but its users also reported a few significant bugs that started popping up as they spent time on it. Fast forward, we believe, Infinix must have had a great learning curve, and this latest Note 10 series in 2021 might prove decisive and take rivals head-on.
Let's cut the story short and check out what it hides under the hood that makes it so appealing gadget.
Infinix Note 10 Pro specifications
Display: 6.95-inch LCD, FHD+
CPU: Mediatek Helio G95, Mali G76 GPU
RAM/ROM: 8GB/256GB (128GB available on stores)
OS: Android 11, XOS 7.6
Camera (rear): Quad Camera (64MP primary lens)
Camera (front): 16MP
Battery: 5000 mAh, 33W fast charger
Launch price: PKR 29,999 (PKR 30,999)
Design is impressive; how about the display?
One of the things Infinix has understood for winning the hearts of its fans is to pay attention to the outlook of the device. Infinix Zero 8 gave us a loud and clear message.
And with Note 10 Pro in hands, I see a similar thought process that drove Infinix to develop another impressive design language.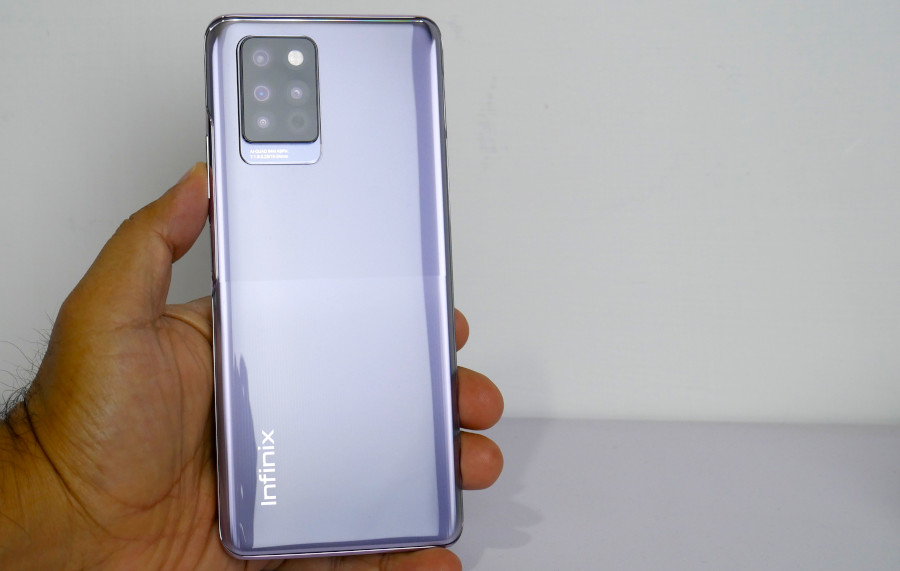 The prominent back panel on Infinix Note 10 Pro cuts into two halves, a plain-looking glossy area on the top that also holds a protruded quad-camera set up and the textured bottom filled with symmetrical lines. This part only carries Infinix branding.
These straight lines in the lower half add to the beauty of the phone that looks nothing less than a device from a big brand.
Even the phone is enormous, it is comfortable to hold for an extended period, and it's even easier to reach the multifunctional fingerprint sensor on the right side that also doubles as a power key.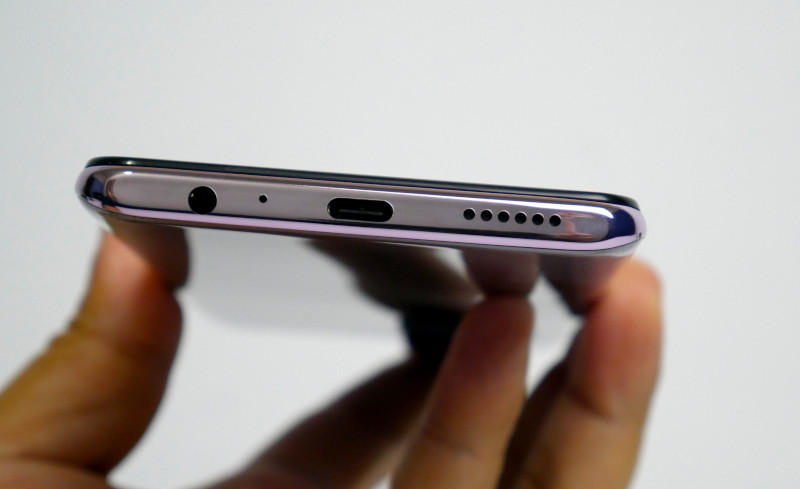 The volume rocker is well protruding and easily manageable. The rest of the controls are where they should be, but another highlighting feature is the presence of a dual speaker setup which, along with a 6.95-inch LCD screen, helps create an immersive experience. We will talk about the quality of sound later in our review.
Coming to its display, Infinix communicates it as a 91% screen-to-body ratio on the front. Although I found the bezels noticeable, especially the bottom one, the enormous size overshadows everything and makes those edges less prominent. It's sporadic to find a silky smooth and highly responsive LCD in the entry-level segment. The maker calls it a "superfluid" display, and they are right about it.
It shines, and it's a treat to look at the poppy colors and sharp icons on this 1080×2460 px display that offers a 90Hz refresh rate and 500 nits of peak brightness level.
From the display setting area, you can choose between 90Hz, 60Hz refresh rates or select the auto switch to let the phone decide which is the best for the screen. But I would recommend keeping it at default 90Hz for a smoother multimedia experience, even at the cost of slightly lesser battery life.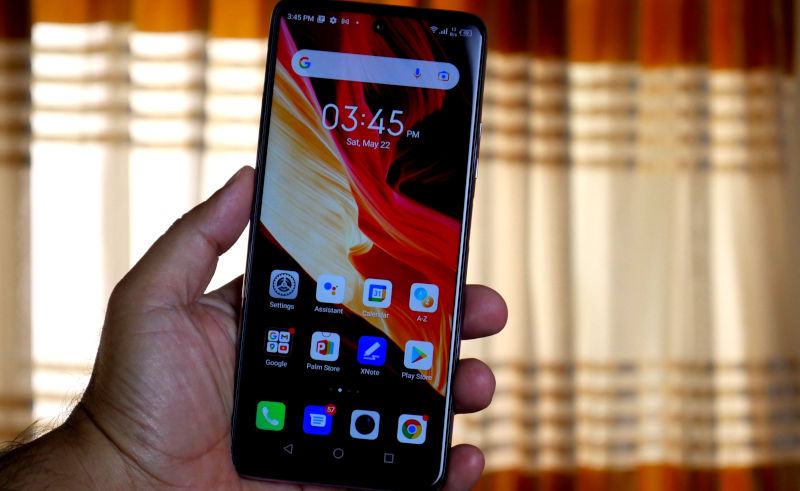 It's a TÜV Rheinland certified screen, so the blue light effect should have less impact on the health of our eyes.
For this entry-level phone, it would be nearly unfair to expect a color management tool in the display setting area, but considering the screen size and other fancy specs, Infinix could have provided it to customize the display further.
The screen legibility looks reasonable at 60% indoors; the outdoor is relatively good at 100%
Performance and Battery
Infinix Note 10 Pro is nothing short of the desirable ingredients. With a G95 gaming chipset comprising two A76 cores clocked up to 2.05 and six A55 cores. Coupled with Mali G76 GPU, the 8GB RAM and 256GB internal storage (UFS2.2) practically make it a performance hound.
Theoretically, the CPU is 25.8% better in performance than G80, whereas the GPU gets a performance boost of 120.8% from the predecessor.
On the benchmark table, the Note 10 Pro outperforms Note 8 (G80) in Antutu testing by scoring 354680 against the 199882 of the latter.
The device comfortably leaves behind some of the famous rivals, such as realme 7 Pro (285910), POCO X3 NFC (280164), even Infinix Zero 8 (292053).
During my real-life test, I never found it choking anywhere. The ample RAM and speedy chipset always spiced up my experience.
It was good to see G95 supporting HD graphics on PUBG. The XOS 7.6 has this built-in Dar-link ultimate gaming booster that plays a vital role in smoothening everything pro gamers need. My hours-long indoor gaming sessions never gave me a reason to question its processing ability; however, you should expect heating issues and lags while playing outdoors, especially in summers.
Although it appears too lucrative an offer, it still falls short of a premium sound experience that its dual speaker should have provided. I have fewer concerns about the volume level, albeit I have experienced better loudness; it's the quality of sound that lacks in bass and a true DTS experience, though it's there. I simply found it better with earphones. The customization in the sound settings is also less noticeable.
Another area, Note 10 Pro cries out for improvement is the battery life. The 5000 mAh capacity just died in less than 13 hours during our back-to-back video loop test. It's less than the average performance, much similar to the 4500 mAh of Infinix Zero 8. You can expect an even faster drain percentage with dual speakers at max volume. We noted it around 9% an hour.
An hour of PUBG drained out 17% of the juice.
The phone accompanies a 33W charger out of the box and promises fast charging; however, the charging time is above two hours. It's 2 hours and 10 minutes exactly.
Infinix claims that the battery can survive in 55+ Centigrade for at least a week and, in contrast, 3 days in freezing temperature as low as -33 Centigrade. Indeed, we couldn't test it out, so we have to go by their words for it unless someone pops up with a different real-time experience.
A safety feature I liked about the charging mechanism is that it shuts off automatically when the phone gets fully charged.
If you are interested in finding out more about its battery, check out our detailed battery test video below.
Camera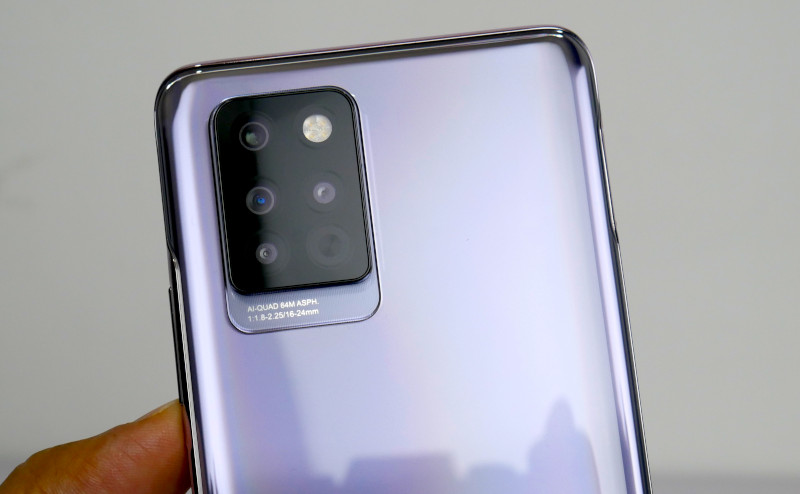 The Infinix Note 10 Pro gives us the joy of a 64MP main lens and its ability to shoot 4K videos from rear and front camera setups, a rare trait in this price point. Here are the camera highlights;
Front: 16MP AI selfie camera with quad flash
Rear: 64MP + 8MP (ultrawide/super macro) + 2MP depth sensor + 2MP B/W with quad flash
There is much focus on Super night mode. Infinix claims the camera captures 17.8% more light, and images are 35% brighter than the predecessor Note 8, thanks to a 1/1.72″ large sensor size.
And, of course, video stabilization and bokeh videos are part of the package.
16MP shots are better than 64MP
Infinix Note 10 Pro takes 16MP default picture with its standard AI Cam mode, but one of the key marketing features is its large 64MP quad-Bayer camera that can shoot considerably bigger images in contrast to standard mode. However, the 16MP shot turns out better in exposure value, white balance, and dynamic range than its bigger variant in most scenarios.
Infinix does not overdo the color and boost saturation level beyond the natural colors. There is no added feature to boost colors, though. However, if you are an old Oppo user and obsessed with chroma boost, you can use Super Night mode even in the day shots and get vibrant colors in your picture. By the way, more on Super Night mode in the following paras.
Take a look at the following duos, where you can see a visible difference between the images from the two modes. Although bigger and making far-off text readable with ease, the 64MP shot shows a blackish tone all over. The under-exposed areas are also noticeable that are much more visible on smaller 16MP shots.
1x is better than 2x
Usually, full-resolution modes don't allow zooming features on rival brands; Infinix and sister company Tecno allow similar zooming on standard and high-resolution mode. On Infinix Note 10 Pro 64MP can magnify the scene up to 10x. However, I found 1x zoom to carry better details than 2x and beyond. Check out the same image with 2x zoom for both the modes and also notice the same area cropped out from 1x zoom. The 2x zoom image seems over-sharpened but lacks in desired details.
Noise is the culprit in most indoor pictures unless the surrounding light is good but outdoor images in the daylight are less grainy.
Infinix Note 10 Pro struggles to capture moments that involve facing the light source. Sometimes, the light source blows out badly and disturbs the overall image. A quick remedy is to use Super Night mode that is effective for almost every situation in the day and night. The downside is it involves a firm grip that may not be an effective practice for moving objects.
Grabbing the following sunset shot turned out a little hard for me. I tried almost every default mode, and most of the time it gave me a blown-out sun. Though bringing down exposure value helped contain the sun, but it also darkened the overall image at the same time.
Note 10 Pro is quite reasonable with portrait, the edge mapping of the subject is good, and so is the background blur. For beauty mode, Infinix hasn't done a great job. It washes away all the natural skin patterns overdo the makeup and make images a lot more artificial.
Super Night mode grabs more light
Like I said earlier, Super Night mode works in almost every situation. I used it indoors and outdoors, where ever the ambient light was below the recommended level, and it turned out vibrant, sharp, rich in detail, and handling light source in a much better way. You would find it shooting some awesome pictures of the skyscrapers. I couldn't' get a similar result with standard or a 64MP shot. They are just below-average performers at night.
4K is a huge charm
At this price point, shooting 4K video from both front and rear cameras is a huge charm, especially for Vloggers. Like the Super Night, the algorithm keeps 4K videos rich in details and vibrant colors. I could comfortably shoot 30 minutes video without a glitch in surrounding temperature under 30 centigrade, but for outdoor, you will need to shorten your clips as rising temperature, and corresponding notifications keep plaguing the screen and shutting down the recording.
You can also make 1080p (30/60)fps videos on this phone, and the exciting aspect is that Infinix Note 10 Pro allows bokeh and stabilization at 1080p resolution, unlike 720p videos in earlier models. However, both these modes only work at 30fps.
30fps videos carry lots of grains in the low light. An easier fix is to use 60fps mode for clearer, colorful, and noiseless footage. However, an extra frame brings down the exposure value and asks for more ambient light. When the light is low, 30 fps is perhaps the only solution.
Infinix Note 10 Pro also gives you this feature to shoot slow-mo and short videos. Take a look at the following samples to see the video quality.