The pop-up camera trend has taken over the world this year as after Vivo and OPPO, many leading smartphone brands, including Huawei, have launched a smartphone that offers a full-screen display courtesy of the hidden selfie camera. The Chinese smartphone maker recently launched Huawei Y9 Prime 2019 in Pakistan, the company's second phone after Huawei P Smart Z that features a motorized pop-up camera for the users.
The smartphone has been launched in Pakistan with a price tag of PKR 33,999, which makes the most affordable pop-up camera phone in the market. Here is the rundown of its specs.
Y9 Prime 2019 specs
Display: 6.59 inches, IPS display
OS: Android 9.0, EMUI 9.0
Chipset: Kirin 710F
RAM/ROM: 4GB/128GB
Camera (rear): 16MP + 8MP + 2MP
Camera (front): 16MP
Battery: 4000mAh
One look at the phone tells us that Huawei has left no stone unturned to try to make us fall in love with the phone at first sight, but is it worth our attention? Let's find out:
Design and Display
We have been a fan of Huawei's smartphone design language for quite a long time, and the new Y9 Prime 2019 has not disappointed us in this area. The mid-range smartphone comes with a beautiful two-toned design with a glossy finish that gives it a premium look.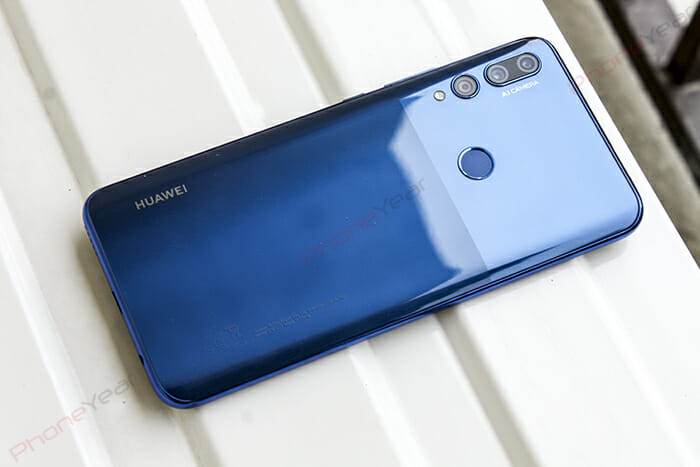 The body curves smoothly at the back, which helps maintain a firm grip around the smartphone. The amalgamation of the lighter and darker shade makes Huawei Y9 Prime stand out in the cluttered smartphone market.
At the back, you can also see the triple camera setup and a traditional fingerprint sensor encircled elegantly. On the right side, we get the volume rocker and power buttons that are within the user's reach regardless of whether they prefer using the right or left hand.
The hybrid SIM slot sits comfortably at the top alongside the pop-up camera while the company offers a USB Type C charging port, 3.5mm headphone jack, and a speaker at the bottom of the phone.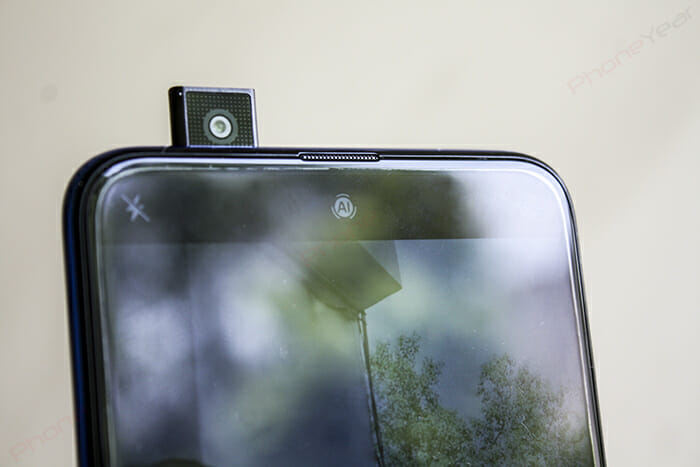 It was refreshing to the Type C charging port in the lower tier-mid-range phone as it is about time that all smartphone makers say farewell to the Micro USB slot.
Huawei Y9 Prime 2019 features a large 6.59 inches of IPS LCD, which comes with 1080 x 2340 pixels and a 19.5:9 aspect ratio. Thanks to the presence of a motorized pop-up camera, we get a full-screen display without a notch that adds to the beauty of the phone.
Watching movies or playing games on such a screen was a delight but mind you, not all apps support the Full-Screen display and when you pinch to zoom in while watching videos on YouTube or Netflix the details at the edges are lost, and you'll have to zoom out to see the whole picture.
The display of Huawei Y9 Prime 2019 also presents vibrant colors and is blessed with good viewing angles. If you are using the device outdoors, you may face some difficulty reading the phone's contents even with the maximum brightness while it works perfectly in the indoors.
User Interface
Huawei Y9 Prime 2019 runs on EMUI 9.0.1 based on Android Pie, which is not just user-friendly but also is free from the excessive bloatware and gives a clean interface.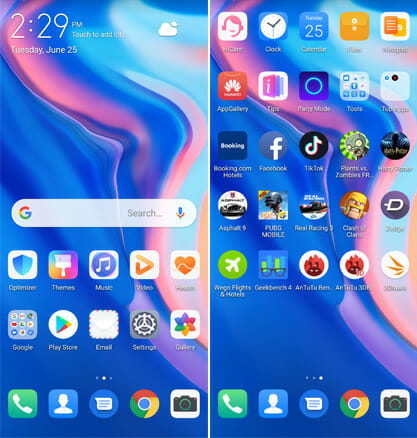 Interestingly, the smartphone uses Google's Messenger as its default texting application, which allows people to send and receive messages through their computer as well. The Party Mode is no longer hiding inside the music app in Huawei Y9 Prime 2019, and you can use the mobile app to connect other Huawei devices to create a phone-based sound system.
Like other Huawei smartphones, it also comes with a simple mode, which makes the device super easy to use. This is a handy option for those who are switching from a feature to a smartphone and need time to get familiar with the touch interface.
Huawei has provided new gesture options in Y9 Prime 2019, which if you are an avid fan of on-screen buttons, can cause some discomfort at the start. Moreover, using the gesture navigation during games was a pain as it took us 10 minutes to figure out how to switch between apps or go back to close the game.
Apart from battery saving options, Huawei Y9 Prime 2019 also comes with a Performance Mode, which optimizes the device to give optimum performance but drains out the device even faster. It can come in use when you want your phone to become a performance beast.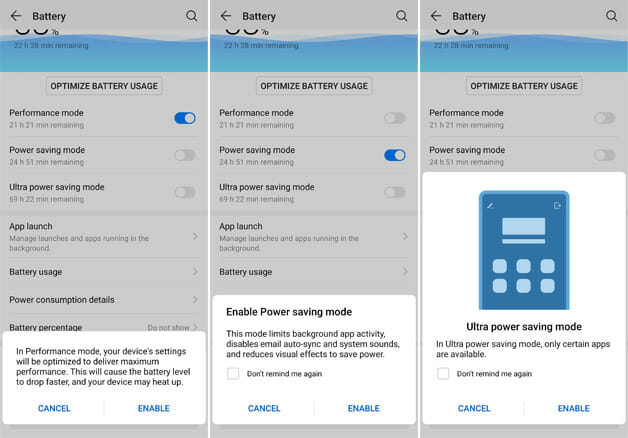 For added security, the smartphone also offers File Safe, and you can add all of your sensitive documents, photos, videos, etc. to keep them away from prying eyes.
Performance and Battery
Huawei Y9 Prime 2019 is powered by Kirin 710F chipset coupled with Mali-G51 MP4 GPU, 4GB of RAM, and 128GB of internal storage. Here are the benchmark scores of the smartphone.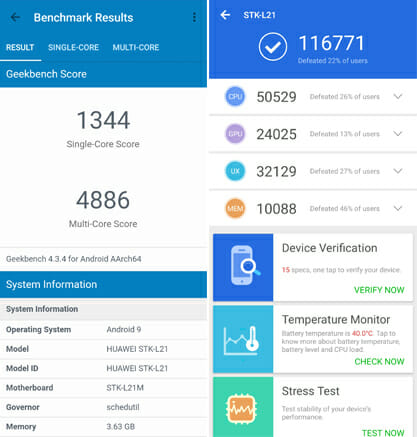 During moderate use, the phone worked flawlessly, and with an almost bezel-less screen, we were welcomed by quite a refreshing smartphone experience. The light usage entailed surfing the internet, using social media, sending texts and making calls, watching videos on YouTube and Netflix, etc.
Even with prolonged use, we experienced no visible lag or stuttering while switching between different mobile applications.
Coming to heavy usage, we are pleased to inform you that even with heavy apps like PUBG, Asphalt 9, Real Racing 3, TikTok, etc., the performance of Huawei Y9 Prime 2019 never faltered. The device worked smoothly without any heating issue, and no visible lag was reported during multitasking sessions.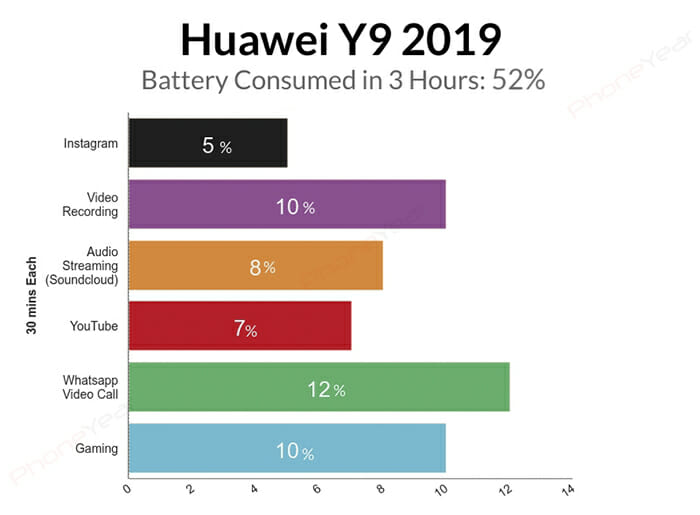 We were quite satisfied with the performance of Huawei Y9 Prime 2019, but sadly, the same cannot be said about the phone's battery life. The device packs a 4000mAh battery, which takes 2 hours and 4 minutes to charge from 0 to 100%. It takes 8 hours and 36 minutes of playback (running movies in the loop without enabling WiFi or mobile data) to drain the smartphone from 100% to 0.
In one hour of moderate use, the phone's battery dropped by 12%, while after an hour of heavy usage, the battery percentage fell by 16%.
Camera