Honor has been known to produce quality phones, mainly with a pocket-friendly price tag. The Chinese manufacturer has recently launched its new mid-tier phone, Honor 9 Lite. It is yet another feature-packed budget smartphone from Huawei's affordable sub-brand.
While its name suggests a cut-down version of last year's Honor 9, the Honor 9 Lite has far more in common with the Huawei P Smart and the Honor 7X. With high-end features and a reasonable price tag, honor 9 lite is clearly the most tempting budget phone in today's competitive race for the best budget phone.
Earlier in our overview of the Honor 9 Lite, we discussed the phone and its specs superficially. Here we are going for an in-depth review of the phone to see whether this is capable of being the new budget king.
Honor 9 Lite Specs
Display: 5.65 inches, IPS LCD
OS: Android 8 (Oreo), EMUI 9.1
Chipset: Hisilicon Kirin 659
RAM/ROM: 3GB/32GB, 4GB/64GB
Camera (rear): 13MP + 2MP
Camera (front): 13MP + 2MP
Battery: 3000 mAh
Design and Display
On the back of Honor 9 Lite, we have a fingerprint scanner and a dual-camera setup with 13 MP+2 MP lenses. Fingerprint scanner rests on an ideal position where your finger hovers naturally over it so that you don't have to stretch them extra to reach the scanner.
The glass back of the phone is prone to smudges and gets dirty easily, you have to keep wiping it to keep it clean or you can always cover the phone with the protective case that comes out of the box.
It seems that the headphone jack-eliminating trend has not made its way to budget smartphones yet. The bottom of the phone hosts a 3.5 mm headphone jack and a micro USB along with a single speaker grill and a mic.
The power button and the volume rocker are on the right-hand side of the device and, on the left, we have a hybrid dual SIM tray which means that either you can use two SIMs or you can use a single SIM along with a micro SD card.
The well-built and slightly curved aluminum frame feels pretty solid, which is rounded from the corners as well. Hypothetically, it should rest on hand pretty well, but due to its sleek design and a glass back, the phone slips out of hand unless you hold it firmly.
Honor 9 Lite weighs only 149 g and doesn't feel bulky at all. Its catchy looks and overall build virtually bring it on par with a premium device which is an attractive feature of this phone in this budget price tag.
Honor 9 intends to provide a bigger screen in a compact body, and with a screen size of 5.65 inches, Honor 9 Lite gives you a generous amount of screen to play with while also being manageable single-handedly.
The optimum screen-to-body ratio is achieved by Honor's inclusion of the 18:9 aspect ratio in a Fullview display. All these factors combine to shrink the bezels to create a 75.5% screen-to-body ratio.
The Honor 9 Lite has an IPS display with a Full HD+ resolution of 2160 x 1080 that successfully produces crisp results on a 5.65 inches screen which has a pixel density of 428 PPI just like its flagship counterpart, the Honor 9.
As soon as you turn on the Honor 9 Lite for the first time, the IPS display captures your attention right away. It gives a decent view from almost all angles with minimum degradation; even the screen is very acceptable under direct sunlight.
Huawei's IPS LCD may not be able to compete with Samsung's OLED displays in terms of contrast and saturation, but the color reproduction on Honor 9 Lite is fantastic. Watching movies and media content on this screen is a pure delight because of its natural colors, thanks to an FHD+ display.
However, the display is a bit on the cooler side with a bluish hue over it, but with an array of contrast options, you can adjust the warmth of the screen within the device's settings.
You can also tweak the screen resolution to 720p, which although affects the display quality, but on a positive note, it also enhances the battery life and reduces the burden on the chipset.
Software
Driving the hardware is Huawei's latest EMUI 8.0, based on Android 8.0 Oreo, which makes the Honor 9 Lite one of the first budget smartphones to rock the latest Android OS.
At first glance, EMUI 8.0 may feel and seem like EMUI 5.1, but Huawei has done some significant changes in its latest OS upgrade. One of the major ones is machine learning. EMUI recognizes your usage patterns and automatically boosts up the apps that you use frequently. Lesser used apps are granted very fewer resources hence conserving energy, which means less strain on battery and chipset.
Customizing notifications has become a lot easier in EMUI 8.0. You can now pop into settings and customize app notifications separately for each app. It also supports twin apps now, which means that if you want to log into two different social media accounts, you can easily do that just by enabling App twin in the settings.
As mentioned previously, the phone's performance and battery life can also be optimized by downgrading its display resolution from 1080p to 720p from the setting area which means it will consume less battery while compromising on-screen quality.
"Face Unlock" helps to unlock the phone using face recognition technology though it misses the face sometimes especially in the dark, we liked the feature that it hides the notifications until the phone identifies if you are looking at it.
An eye comfort option is also included in the display settings which produces a yellowish tint on the screen to lay less strain on your eyes while reading an e-book or looking at the screen for a long time.
Originally, the EMUI 8.0 comes without an app drawer; those who are accustomed to it can also enable it from the display settings. Adding to that, the EMUI 8.0 is a bloatware bin. Several pre-installed apps eat up the phone's precious resources and tend to slow down the device and result in hiccups, especially while multitasking.
Huawei and Honor must realize that they should give users an option to remove them should they don't like it.
Performance and Battery
One of the reasons that Honor phones seem to have a low price tag with better features than their rival budget phones is that they use mid-tier processors from HiSilicon, which is owned by their parent company, Huawei. The Honor 9 Lite houses an octa-core (4 x 2.36 GHz and 4 x 1.71 GHz) Kirin 659 processor which is accompanied by 3/4 GB RAM.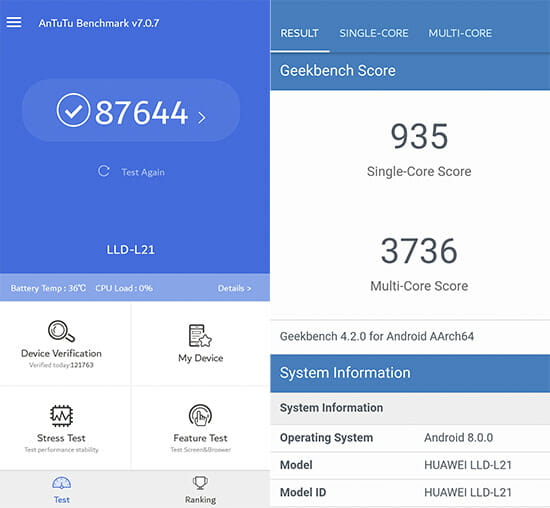 The phone delivers an amazing performance in these specs. Honor 9 Lite astonished us in Geekbench 4 benchmark test. Its multi-core result was 3736, which is on par with Xiaomi Mi 5 and Samsung Galaxy Note 4. In the AnTuTu benchmark test, with a score of 87644, the Honor 9 Lite proved its place with the likes of Xperia X and Redmi Note 3 that has a Snapdragon 650.
We ran the most rigorous testing on Honor 9 Lite, which included extensive downloading at different platforms simultaneously in the background while playing with several other apps. Although occasional hiccups occurred when switching between heavy apps but it never lagged terribly to call this smartphone an under-performer.
Even, we were shocked when we played resource-intensive games like Modern Combat 5 and Dead Trigger 2, the phone ran smoothly in spite of a plethora of apps running in the background and mobile data turned on.
While multitasking, one particularly irritating thing was that every time an app was opened from the 'recent' menu, it refreshed and started from the very beginning showing aggressive RAM management that could have been better.
Extensive and resource-hungry apps also tend to heat the phone pretty quickly which indicates that the phone is not meant to handle stress for a more extended period of heavy usage. Other than that the phone works perfectly alright and is pretty fast enough for a budget phone.
Honor 9 Lite come equipped with a non-removable 3000mAh battery. Typically, the mid-tier internals, like the Kirin 659, promise a lengthy battery but in our real-life usage test of the Honor 9 Lite, the phone came short on that.
First thing First, we plugged in the phone at 0%, and it took 2 hours 30 minutes to fully charge the phone to 100%. That's a long time, and disappointingly, Honor failed to provide fast charge technology on the phone.
Moderate usage included browsing the internet and social media apps and downloading files on a 4G network. Streaming videos on youtube, making calls, and texting were also part of the moderate use test. With full brightness, the test got the battery from 100% to 85% in 1 hour.
We stretched the phone's performance to its limit to have a better idea about its battery life on heavy use. Playing Modern Combat 5 and Dead Trigger 2, each for half an hour while all the apps running in the background resulted in the phone's battery plummeting from 85% to 60%.
We tried to put it further to the test by multitasking, gaming, and downloading files on mobile data simultaneously. Doing this for 15 more mins and the battery dropped to 49%. Watching a movie in the phone's default player and streaming YouTube videos on mobile data for half an hour after that, drained the battery to 27%.
If the battery is your main concern in any phone, we suggest you look for something else
Though the battery turned out to be quite sufficient for an average moderate user but proved quite volatile with heavy use, the phone's battery plighted from 100% to 27% in our battery test of 2 hours 45 minutes.
Power users on this phone may not get enough battery and might need a recharge in the evening whereas light and moderate user can get pretty decent battery life.
Honor has introduced some of the software tweaks that help out in the longevity of battery time. These tweaks vary from adjusting the output resolution to an extreme power-saving mode, which disables most of the phone's smart functions to provide as much battery life as possible.
Camera
Honor 9 Lite is the only phone that offers 4 cameras in this price range. The dual-lens setup of Honor 9 Lite consists of 13MP + 2MP both on the back and front. The phone promises a lot with four cameras, and quite frankly, it reaches the expectations to some extent.
The camera UI is pretty simple to use. When you tap on the camera app, it takes you to the main screen with a bunch of toggles and features on both top and bottom. To be specific, the top bar consists of toggles for flash, wide aperture mode, portrait mode, moving picture mode, and front camera option, whereas the bar at the bottom houses image viewer, shutter button, and video mode.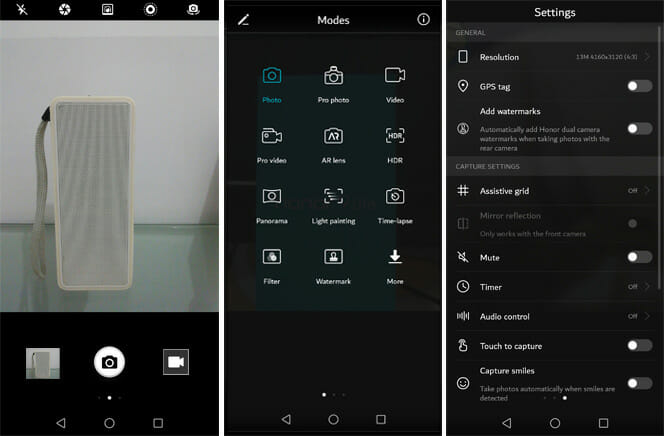 By swiping to the right, you can see several modes for the rear camera. Here you can play with Pro photo, Pro Video, AR Lens HDR, Time Lapse, and Night shot, Good Food, Panorama, Light paint, Filter, and more.
Swiping left on the main camera screen takes you to camera settings where you can adjust the resolution of the camera, watermark your pictures and play with other camera settings like enabling audio control, setting a timer, capture by touching the screen.
Honor 9 Lite snaps very decent pictures in auto mode. We have not seen a more well-balanced camera in this price range. The dynamic range is good with a natural color and contrast ratio. It doesn't over saturate the colors nor does it wash them out.
With a dual lens, we were hoping to see auto HDR, but during our real-life test, we notice that it lacks an auto HDR feature and you have to swipe to the right side to enable HDR from the modes manually. Honor should have included a toggle for HDR on the main camera screen for smooth accessibility. The HDR mode on the Honor 9 Lite, however, pops up the colors well.
Both the rear cameras work in sync to give out a picture with blurred background in portrait mode. The 13 MP camera captures the detail whereas the 2MP sensor calculates and processes the depth of field.
Instead, the blurred background was better when we took pictures in a wide-aperture mode. We could adjust the softness of the background blur after taking the pictures which made the image look less artificial and more natural. However, in landscapes, the wide aperture struggles hard to identify which area to blur and often fails very badly.
We suggest using the portrait mode and wide aperture for close objects only.
The Pro photo mode in Honor 9 Lite also lacks adjustment of controls. More specifically, the contrast toggle is missing. Moreover, the exposure value and shutter speed are way out of sync and behave abnormally when one of them is adjusted for the desired results. The photos either come too dark or too bright. Other than that the photos look very crisp and capture a lot of detail.
The rear camera performs more than what we expected in low-light conditions. We took the photo in extremely low light conditions, and the results surprised us. Using HDR in low light brings out the best of the Honor 9 Lite and a clear difference can be spotted between the pictures.
The front camera also has all the modes and options except HDR, Pro photo, and Pro video. Other than that, in our selfie results, we found Honor 9 Lite to be quite delivered in the camera compartment.
The front dual cam doesn't affect the color reproduction; however, in full beauty mode, it alters the skin tone and smoothens the skin excessively giving an artificial look. Other than that the color reproduction is natural, but on the downside, the camera loses details in the picture.
With the new update, Honor 9 Lite gets an Augmented Reality lens, which is pretty fun to play with wherein there are different backgrounds and filter effects to enhance the camera experience in real-time. Although many filters and effects have been added, it still needs better facial and body recognition, but we think with the subsequent updates, it will improve.
Being a budget phone, astonishingly Honor 9 Lite is a complete package and successfully delivers a handful of smooth user experiences to the extent that one might not believe it to be a budget phone. Moreover, it has got pretty cheering surprises and features under the hood.
Verdict
Honor 9 Lite is a refreshing breeze in a monotonous budget smartphone market. It provides a decent spec sheet at a reasonable price. The combination of an all-glass body in an aluminum frame with an 18:9 narrow-bezel display, good looks, and decent performance make it an attractive proposition. It may not be the fastest phone and have the best of batteries for power users but keeping in view the price; this phone can be considered.