Honor has been producing quality phones both in the midrange as well as the budget category since its autonomous separation as a sub-brand of Huawei. We happened to review the Honor 10, which was a great device with flagship features, and on the lower end, their budget device Honor 9 Lite was also impressive in performance. 
Here comes another budget smartphone from the Chinese company, Honor 7c.
The budget category in mobile phones is the most saturated one, and any brand has to do its utmost to deliver in this competitive category. However, Honor has been known to produce quality phones that don't fall heavy on your pocket.
Apparently, Honor 7c might seem like a clone of Huawei Y7 Prime 2018, but it has got upgraded specs and better performance than Huawei's budget phone, which was a disappointment in many areas. Does it have what it takes to be the budget king? Let's dive into our real-life review of the phone to find out.
Honor 7C specs
Display: 5.99 inches, IPS LCD
OS: Android 8.0 (Oreo), EMUI 8
Chipset: Qualcomm Snapdragon 450
RAM/ROM: 3GB/32GB, 4GB/64GB
Camera (rear): 13MP + 2MP
Camera (front): 8MP
Battery: 3000 mAh
Design and Display
As earlier mentioned, the design language on the phone is the same as Y7 Prime 2018. It's impossible to differentiate between the phones just by looking at their front panels. The back of both the phones, however, sets them apart with antenna lines drawing at the top and bottom of the phone.
Full view display in Honor 7c helps in contracting the bezels, providing more screen to play with. The phone has a pretty solid build but doesn't feel heavy on hands.
The device has an aluminum back with plastic patches on top and bottom edges for better signal reception. The back panel is embedded in a metal frame that is smoothly rounded to feel comfortable in your hands. On the rear, Honor 7c hosts a dual camera set up along with the flash in the top left corner while the fingerprint sensor is placed just above the middle dissecting line.
Easy to reach power key and volume rocker are placed on the right while on the left a dual SIM card tray resides along with a dedicated slot for micro SD card. The bottom of the phone contains a single speaker, a headphone jack, and a micro USB charging port.
The phone's overall build quality is satisfactory; however, just like the Y7 Prime 2018, the phone is a little oversized and may be difficult for people with small hands to hold Honor 7C.
The phone boasts a 5.99-inch Full view IPS LCD with 720 x 1440 resolution and 18:9 aspect ratio. Such a low resolution for a screen this big produces average results, and that's what happened with Honor 7C.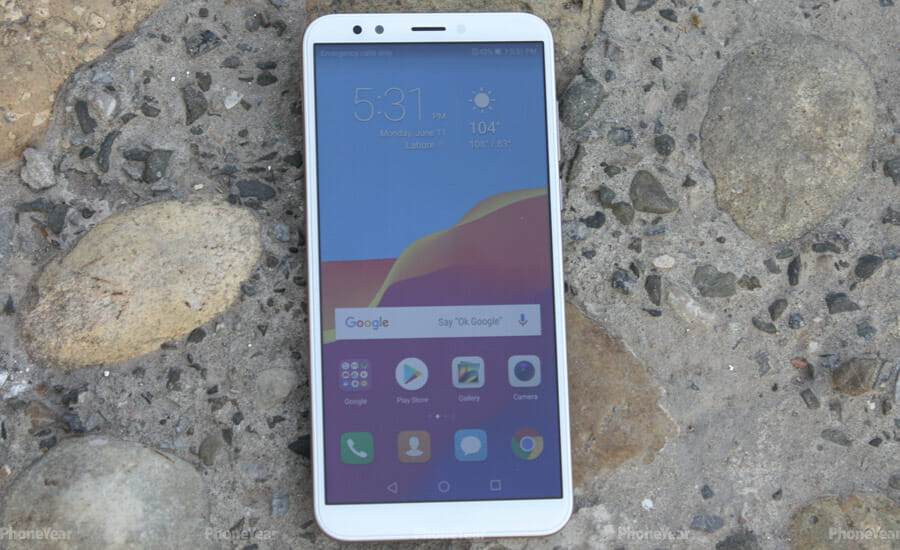 Since the phone only has a 720p display, it won't be justified to compare it with other higher resolution devices so while watching a movie, we compared Honor 7C with Huawei Y5 Prime 2018, another cheaper handset, and the color loss could easily be spotted on the Honor 7C.
We wouldn't call 7C having the best of side viewing angles as a slight tilt of the screen significantly dulls it even in the indoors. Similarly, the screen under the direct sunlight makes it pretty hard for your eyes to see anything clearly. I wouldn't recommend using any dark wallpaper if your job involves tremendous fieldwork; it reduces the visibility on the phone's screen even further.
OS
Honor 7C comes loaded with the latest Android 8.0 and a customized EMUI 8.0 on top. While it may be purely a subjective choice but EMUI hasn't stopped preloading the bloatware that always puts pressure on the phones' resources. But if you are an old Huawei user, you will live with it.
Other than that, there are several tweaks in the settings like the smart resolution that automatically lowers the resolution to save power or a power-saving mode with different profiles based on how much juice you want to get out of your battery.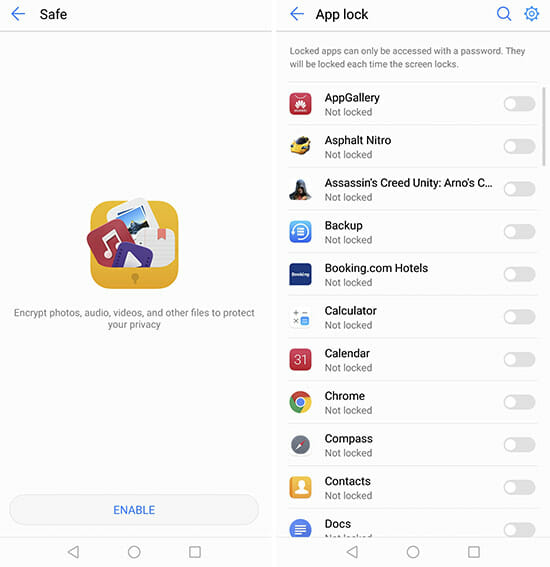 Besides other more conventional unlocking tools, Honor has also provided Face unlock feature which we found to be quite useful and it worked even in relatively dark conditions as well.
Performance and Battery
Honor 7C is loaded with Snapdragon 450 which is a considerable advancement in comparison with the Snapdragon 430 of Huawei Y7 Prime 2018. 3/4GB RAM accompanies the chipset along with 32/64GB internal storage.
Considering the price, the phone is a solid bang for the buck and provides good value for money in terms of performance. Our real-life usage tests reveal that, if not the best, Honor 7c is definitely among the budget phones that stood out in our performance tests.
The phone scored a 70,428 on Antutu while on Geekbench, the single-core achieved 753 and Multicore grabbed a score of 3,800.
During our testing, we noticed that the phone responded to moderate usage pretty efficiently. The RAM management was optimal with a ton of apps opened in the background. Usually, our moderate usage test includes a little bit of everything. We check the phone from streaming videos to file sharing while playing music in the background. The phone decently processed everything thrown at it except the minor hiccups that we experienced with website loading when browsing the internet on Google Chrome.
However, even with light usage, the phone gets mildly warm after some time which somehow negligibly affects the performance of the phone.
All of our usage tests are performed with 4G connectivity and full brightness so that we can milk out every bit of performance from the phone. On heavy usage, we noticed that the phone got substantially warm to the point where it was uncomfortable to hold.
The phone does not respond well to heavy games with advanced graphics like Modern combat 5 and Deer hunter 2018. Whenever these games were launched, the phone froze and had to be restarted. Other than that, the phone responded pretty well. However, once the phone got hot, its performance gradually came down the hill, and the hiccups began to increase which were obvious during internet browsing, and scrolling through social media feeds like the Facebook timeline or Instagram feed.
Honor 7C sports a 3000 mAh battery that doesn't do justice with such a huge screen, in our charging time test, the battery charged from flat 0% to 100% in 2 hours 40 mins.
In our real-life usage test, the phone ate up 22% battery in 1 hour of moderate usage, which included downloading files, browsing social media and a little bit of calling and texting. For the sake of comparison, Y7 Prime 2018 also lost the exact percentage of battery in a similar test.
In another test, the phone lost 28% of battery with 1 hour of heavy usage. This included a 2GB file on download in the background while connected to a 4G network and some resource-hungry games, phone calls, texting, streaming videos on YouTube, and playing music in the background.
The phone lost 50% of its battery in just 2 hours of combined heavy and moderate use so if you are an avid gamer or a heavy user then you should not expect a full day battery from the phone.
Camera
Honor 7C is one of the cheapest dual-camera phones. The rear camera setup consists of 13MP+2MP lenses with f/2.2 aperture. The 2 MP sensor collects depth of field for bokeh effect shots. The front camera boasts 8MP resolution. The camera app is fairly easy to use; however, it lacks a pro mode that should have been present to take the maximum out of dual camera setup.
The pictures shot from the phone in favorable lighting conditions turn out to be vibrant, with poppy colors. However, the lack of details can easily be spotted.
The HDR mode didn't quite play its part in the pictures, and you can't tell the difference in a simple picture and a picture with HDR. The blur effect does not accurately detect the edges of the subject and somewhat blurs them out.
The 8MP front shooter captures good selfies in auto mode, and just like other Honor and Huawei phones, Honor 7c camera is also haunted by the notorious beauty mode that proceeds on to smoothen the subject skin to an artificial look.
Verdict
Honor 7C, to some extent, managed to deliver our expected performance. Although the software and the camera need a little more work. When comparing it with the Huawei Y7 Prime 2018, the phone is a far better option. Having said that, we think with a few updates, the company might fix the battery and camera issue. However, it is an easily recommendable phone if you are looking for a budget device with dual cameras and decent performance.