What makes our smartphone truly ours is not the receipt of purchase rather the apps and third-party mobile launchers that help us customize the device into a gadget that suits our personality.
Nowadays, it is not hard to find good-looking wallpaper for your smartphone but the difficulty lies in finding the right app that can reduce the energy it takes to go through millions of options present on the internet and present the one that matches your style.
With tons of apps claiming to solve this problem for you, we have taken it upon ourselves to test the majority of them and pick out the best wallpaper apps for Android. You can pick any one of the apps from the following list to better customize your smartphone.
KLWP
PROS
User-friendly interface
Can export the preset you've created
Highly customizable with tons of options
CONS
Can only import presets in the Pro version
A bit intimidating for the beginners
KLWP is one of the best wallpaper apps for Android as instead of giving us a headache of going through tons of options, it gives us a chance to build our very own custom wallpaper from scratch.
It may seem a bit intimidating in the start but once you get the hang of it, you can design live wallpaper that tells who you are and how you use your smartphone. KLWP integrates the features of launchers and widgets in one single app to create a highly customizable home screen builder on any platform.
If you want to import different presets, then you'll have to buy the pro-version of the app, if not then you can enjoy it all for free.
AMOLED Wallpapers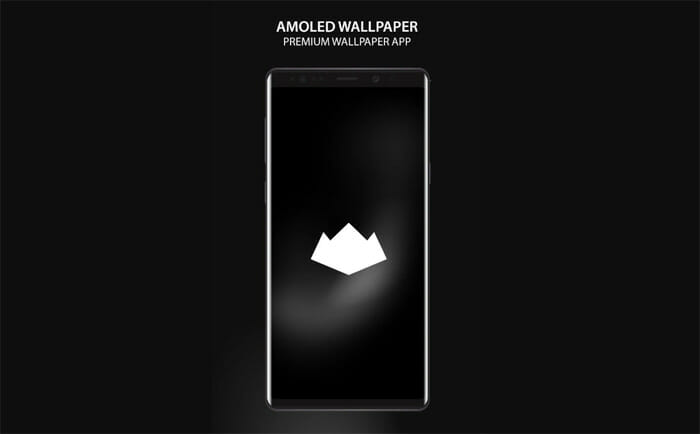 PROS
User can see the size and resolution of wallpaper
Top 10 selection to choose from
Enable or disable live wallpaper
CONS
Many smartphones nowadays are offering AMOLED displays to users especially Samsung which has included this feature in many mid-range smartphones.
AMOLED technology helps enhance colors so no ordinary wallpaper will look good on your phone screen but you don't have to lose heart as AMOLED Wallpapers is one of the best wallpaper apps for Android lovers who love dark and defining home screens.
The mobile app comes with an easy-to-use interface and tons of wallpaper choices for users. You can go through different categories like Superheroes, Nature, Space, Stock, etc. to navigate.
Zedge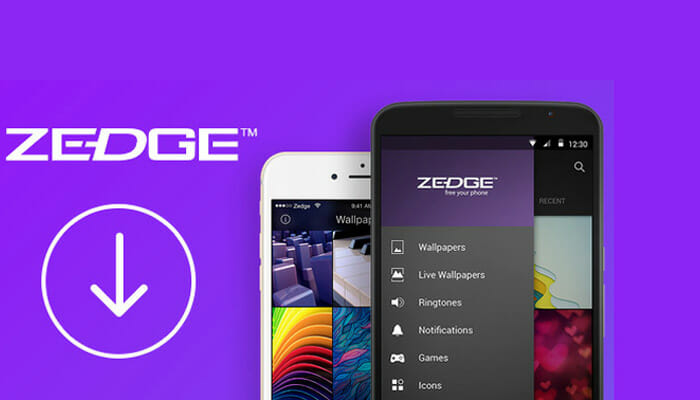 PROS
Multi-purpose mobile app
Option to customize the wallpaper
CONS
Collecting credits is such a hassle
Zedge has one of the coolest collections of video wallpapers that can surely steal your heart away. What makes Zedge one of the best wallpaper apps for Android is the vast collection present in front of the user and the option to further customize those wallpapers to suit your needs.
It is a multi-purpose app, so you do not just get the best wallpapers but you can also receive a vast collection of ringtones to further personalize your smartphone.
The wallpapers are neatly sorted into a number of categories like comedy, Classical, Games, etc. and you can see the popular searches in the app as well. It is essentially a free mobile app but if you want to remove ads, you'll just have to pay Rs. 119 per month or Rs. 395 per year which is not too bad of a deal.
While most of the wallpapers are free, to get your hands on the premium options, you'll have to pay with credits which you can purchase within an app or you can watch an ad, complete a survey, etc. to fill the wallet.
Walpy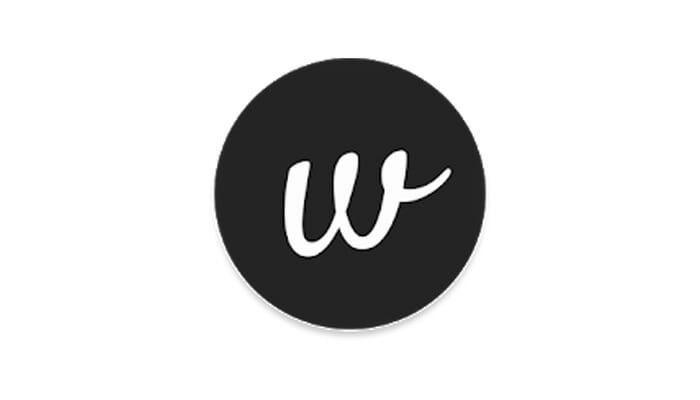 PROS
Quite thematic photography collection
CONS
Walpy is one of the lesser-known apps but trust us, it can make your smartphone look like a picturesque embodiment of the lifestyle magazine. The app itself is quite simple unlike the ones mentioned above. It features a lot of wallpapers with warmer and lighter tones to lift your spirit.
The wallpaper collection is too aesthetically pleasing and thematic with the option to add a blur effect for some more drama. The app is quite straight forward where users can save their favorite wallpaper for later use.
While many of these wallpapers are free, for some you will still have to pay for some premium ones.
Resplash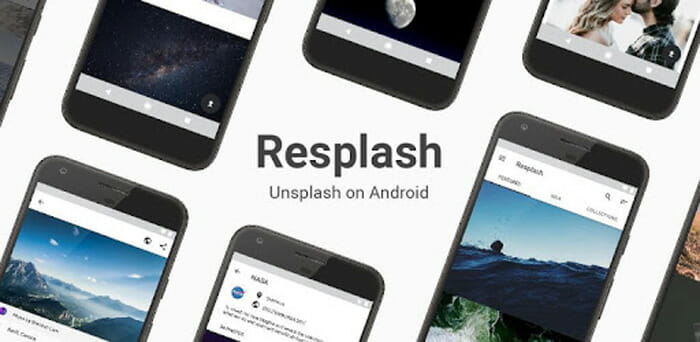 PROS
Photo statistics and EXIF data are available
Great collection of photographs
CONS
Resplash is another hidden gem and just like Walpy, it is a great source of photography wallpapers. It is a paradise for photography lovers and a great source of everyday inspiration as well when you look at your phone screen.
Its layout resembles Wallpy but in this app, you can see many small details regarding different photos like the make and model of the camera which took the photograph, aperture, ISO and focal length settings, etc.
The auto wallpaper option is also present for users who want a new wallpaper every day but don't want to go through the hassle of choosing one every single day. You can also download raw photos and find dark and black themes for the AMOLED screen as well.
Muzei
PROS
A large gallery of artwork
Can customize gestures to trigger an action
CONS
The interface is a bit tricky
Cannot just scroll through the wallpaper options like other apps
It is a live wallpaper app but the user also gets tons of high-quality still wallpapers to choose from. It is quite different from the mobile apps mentioned above. When you open the app, you are greeted by an "Activate button" which will automatically change the current wallpaper of the smartphone.
Muzei is made for artwork buffs as its gallery has an exhaustive amount of artwork but what's more interesting is that every single piece comes with a small history lesson. SO if you do not know much about art, you can learn small things while making your phone's screen look pretty.
There are also three effects, Blur, Dim, and Grey which can help lower the impact of the artwork as it can be distracting while you searching for apps.
Tapet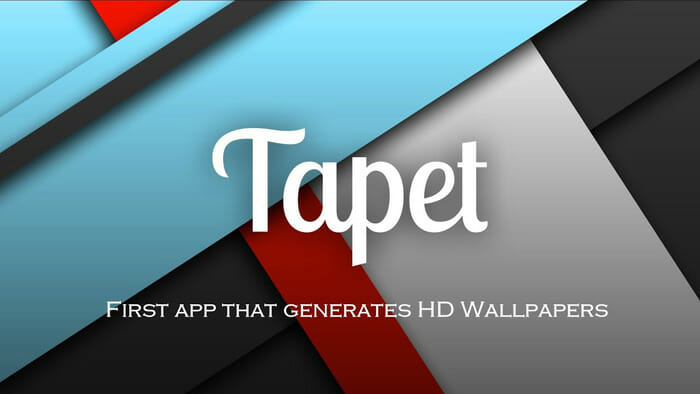 PROS
Generate your own wallpaper
Can be double down as a fun game
CONS
Cannot customize too much
Not many design options for free users
Tapet is one of its kind wallpaper apps where nothing is taken from the internet but everything is generated within the app itself.
It is quite fun to use where you simply swipe upwards to create a new wallpaper, swipe right to change colors, swipe left to change the pattern, and swipe down to generate the previous wallpaper.
The user can generate different designs by frantic sessions but if you want more design options, you'll have to pay for the premium features. From the sidebar, you can also play with the colors and designs and can save the wallpapers that you have created for future use as well.
Wallp
PROS
A large collection of wallpapers from different smartphone brands
Easy to find the wallpaper of a particular device
CONS
Not every smartphone model is present in the listing
Wallp is another lesser-known app but is a great source of stock wallpapers for your Android phone. Sometimes, we like the wallpaper which is featured in another company's smartphone but with Wallp you can find it by choosing the make and model of the device and setting it as your current wallpaper.
It is an amazing app for minimalist users who like the wallpapers offered by different smartphone brands and don't want to spend too much time customizing their home screen but still want it to look pretty.
Backdrops app
PROS
The diverse variety of wallpapers
Notifications for newly added wallpapers
CONS
You have to pay for the premium collection
Thanks to its huge collection of custom-made designs, Backdrops is one of the best wallpaper apps for Android phones. You can search your desired wallpaper through tags and categories or check out different lists of wallpaper under the collections heading.
While many of the collections are free, you'll have to pay to unlock the exclusive ones and get rid of annoying ads. The diverse variety of wallpaper makes it easy for people with different needs to find something that they want in a single app.
Backdrops app has wallpaper for a photography buff, artistic people, minimalists, Earth lovers, etc. Though, if you are more into nerdy wallpapers, you can use Zedge to the one you want.
Minimalist Wallpapers
PROS
Artsy and creative collection of wallpapers
Well balanced themes and content on the wallpapers
CONS
Ads popping up every time you want to set a new wallpaper
This app is made for people who believe less is more. Minimalist Wallpapers app offers a large variety of unique as well as creative wallpapers with a simple background to make your phone screen look clean and less cluttered.
You can view different categories by going to the sidebar and choosing the kind of wallpaper you are looking for instance typography, food, festivals, games, etc. If you like the simple background for your Android phone, you can choose from gradient or plain colors and rid yourself of the hassle of wallpapers altogether.
Do you think we missed your favorite app? Let us know in the comments which app you are using at the moment for wallpapers.