Are you tired of your same old smartphone or hate the custom user interface provided by the company? If you want to upgrade the feel of the device without changing your smartphone, it is time to get acquainted with the world of Android launchers.
Thanks to the open-source nature of Android, you can customize your smartphone in a million different ways with different apps on Play Store. The Android launchers can help you break free of the company-offered user interface and experience something that is more akin to your taste and preferences.
We here at PhoneYear have tested and played with many launchers to see which ones offer the most value to the user. So for a complete makeover of your smartphone, here is a list of the best Android launchers for the year 2019.
For Customization Lovers
Customizing your smartphone the way you want is a great joy which comes at the price of a lot of time but is worth it in the end. If you want to change everything about your phone's interface from fonts, gestures, themes, folder styles, etc., you have to try these best Android launchers for people who love to customize their gadgets:
Nova Launcher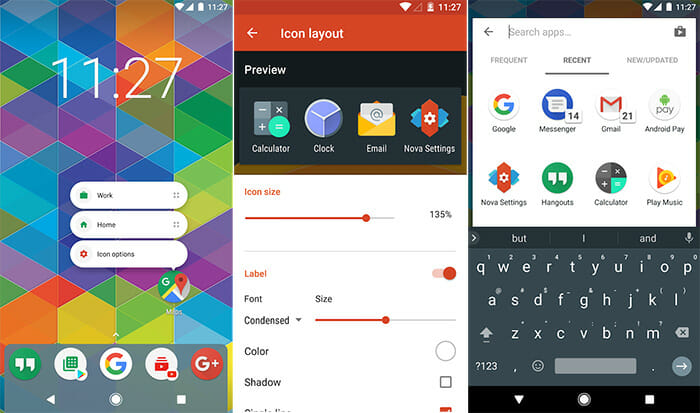 PROS
Subgrid positioning
Tons of customization options
Search bar for Nova settings
CONS
Some hidden settings make it hard for new users
Only basic customization options in the free version
This app launcher is simply made for people who want to customize the feel and look of their smartphones. With tons of choices to choose from, the user can give a makeover to their boring devices without getting too much of an unfamiliar user interface.
The basic mobile app is free but for more customization options, you've got to spend some money, which will be worth it. It is quite fast and lightweight, so you don't have to worry about mega-processing power to use this Android launcher.
It comes with tons of customization options where users can make it more Pixel-like or Galaxy-like if they prefer a specific user interface. Nova also has some hidden settings for users which sometimes confuse the newbies but once you get the hang of it, it is quite difficult to let it go.
ADW Launcher 2
PROS
Tons of add-ons and extensions available on Play store
Very user-friendly settings
Easy to customize gestures
CONS
Pricey in-app purchases for premium features
Delay in animations sometimes
Doesn't allow third-party widgets
ADW Launcher 2 is yet another Android launcher that is made for people who crave customization on their devices. The gesture controls make it quite easy to operate the smartphone, for instance, you don't have to swipe from the top for the notifications panel, you can do it in the middle of the screen.
It is quite fun to operate for example you can play with the size of the widgets, themes, wallpapers, icons, etc. to make your smartphone truly yours
Action Launcher
PROS
Great gesture control
Hidden features like covers, shutters, and Quickpage
Easy to play with themes
CONS
Google-esque design is a reminder of stock Android
Lack of vibrant colors
Pricey in-app purchases for customization
Action Launcher is one of the most customizable and intuitive Android launchers in the market that comes with many hidden treasure troves for the user who dare to explore. It has been in the market for quite some time and it lures people by offering what we all are looking for; quick solutions.
The gesture-based user interface makes it very easy to operate the smartphone with one hand, no matter the size of the device. You get many quick launch options for the app drawer and an extra page for the home screen, so everything is simply at the mercy of your hands.
For Professionals
Many of us professionals despise the flashy interfaces on the smartphone and prefer something that can offer functionality and efficiency which can help us in our day-to-day routine. If you feel the same way, then here are some best Android launchers to personalize your smartphone according to your tastes and style:
Microsoft Launcher for Desktop like Smartphone
PROS
Simplistic and clean interface for professionals
Cortana is available
edge-to-edge widget placement and subgrid positioning
CONS
Few customization options make it boring
For those of us who do not prefer using Apple's MacBook, Microsoft Windows has become an integral part of our lives, especially if you spend most of your day at work using the OS at work and at home.
It is quite natural for someone to get accustomed to the feeling to the extent you want to replicate it on your mobile devices. This is where Microsoft Launcher kicks in.
It is another free Android launcher that can transform your phone to look like your desktop. You get a very professional-looking layout and you can swipe up to see features including WiFi, Bluetooth, torchlight, brightness, etc. just like on Windows computers.
It is quite a simplistic app launcher with tons of options for personalization and gesture controls and a great choice for professionals.
AIO Launcher
PROS
Easy to use and clean interface
Customizable features
All the important information can be seen in one place
CONS
Poorly compatible with Huawei devices
You may get tired of the plain screen after some time
AIO launcher is not your everyday launcher as it does not come with flashy and colorful icons, animation effects, etc. It is quite a simple launcher for people who do not want to waste their time finding things and prefer a list showing all that they need to know.
It is quite simple to use and shows information like weather, system monitor, apps, messages, emails, etc. on the home page. It is quite unique from other options available in the Play store and is a perfect app for people who want all the information in one place.
Just because it is simple, does not mean that it has no customization options. Users can make use of different features like gesture control, themes, and advanced search system for applications, etc to make life easier.
Lucid Launcher
PROS
Super fast app search
Built-in browser
Everything is a swipe away
CONS
You can't customize sidebar's alignment
Lucid launcher is a highly functional and good-looking launcher that you didn't know you needed. What makes it unique from others is that there is no grid and the user can an unlimited number of widgets wherever they want.
Every app and setting is just a swipe away. It comes with three basic workspaces, one for apps, second for the home screen, and third for Google where you can search without going for the external browser.
The launcher was written from scratch and thus offers some unique features that we cannot find in other flashy apps like the sidebar slides, an option to place apps where they are easy "for you" to find.
Do you prefer or love any other Android launcher? Let us know in the comments below.