After partnering with Leica in 2014, Huawei has crossed some impressive milestones when it comes to smartphone photography, and combined with the power of AI-equipped chipset, it has raised the bar in terms of innovation for other mobile phone makers around the world.
It has come a long way from being another name when it comes to camera phones and thus, Huawei's struggle to beat the odds can be seen in its recent flagship device, Huawei P30 Pro. The flagship device, since its official debut in March 2019, has managed to shake up the smartphone industry thanks to its leading quad-camera setup which includes
40MP Wide Angle Lens with f/1.6, OIS, 1/1.7 inch sensor
20MP (16mm) Ultra Wide Angle Lens, f/2.2, 1/2.7 inch sensor
8MP (125mm) Telephoto, 5x optical Zoom, f/3.4, OIS, 1/4 inch sensor
ToF (Time of Flight) 3D sensor for depth perception
In our detailed camera review, we managed to capture some amazing shots using Huawei P30 Pro's rear and front cameras and were surprised to see how many details it can manage to preserve in an image even in low-light conditions. But, everything about this camera phone is not as breezy as it may seem.
To give you a peek into the dark aspects of this device, here are some of the things that we disliked about the cameras of the Huawei P30 Pro.
50x Zoom and the Mystery of the Shaking Hands
The 8MP telephoto lens of Huawei P30 Pro enables us to take 5x optical zoom and 10x hybrid zoom but the main selling point of this sensor is the 50x digital zoom that can capture a subject that can hardly be seen by the naked eye.
During our testing, it was not much of a surprise to see the phone struggling while going above 32x zoom but at night it becomes almost impossible to take a picture with 50x zoom because it is helpless against the shaking of one's hands. Most of the time, the pictures came out completely blurry and we had to take repeated shots in this camera mode.
Ultra Wide Angle Lens Does Not Know Colors
The 20MP Ultra Wide Lens comes with the ability to cover more than 120 degrees field-of-view and while it does pan out to take in more of the scenery, it fails on a major front; color reproduction. Let's see the camera lens in action below:
The pictures taken with the ultra-wide-angle lens are oversaturated and there is a visible loss of details that can be observed especially on the sides of the image.
You can also notice that the photo is covered with a bluish tint which has snatched away the subject's original color, making it seem like an edited byproduct of faulty software. Below, you can again observe the same behavior of the ultra-wide-angle lens.
It continues its behavior even in low-light conditions. You can see that the ultra wide-angle lens has washed out the original colors in the image below and simply put has captured an ugly photo with a major loss of details.
The Lens Flare Episode
Huawei P30 Pro has been marketed as a smartphone that is made for photography lovers and thus it is quite bothersome to see such a basic flaw in the device's camera. While shooting in low-light conditions, outdoors as well as indoors, the light from an artificial source disperses in the image causing the lens to flare up.
Whether it is white light or a yellow one, if your subject is close to it, you cannot take a picture without the light source dazzling like a star in the sky which ruins our chances to take some artistic or even normal photographs.

Following is an image shared by one of the P30 Pro users on Huawei's forum. Here you can see how much worse this lens flare problem can become if you are shooting in a well-lit area at night.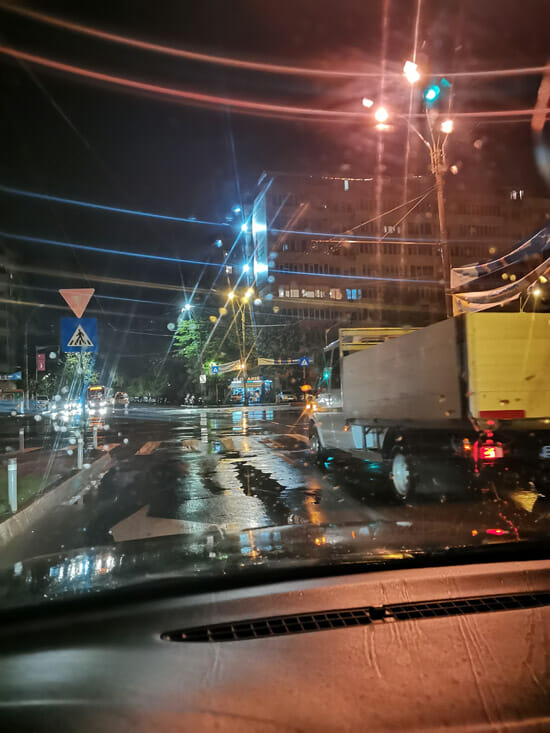 Huawei has undoubtedly created a camera that can see in the dark but its inability to shoot the same quality stills in the light calls the phone's camera prowess into question.
You can try to resolve this issue to some extent by using AI HDR+ mode but it is a constant problem that spoils P30 Pro's moniker of low-light camera king for us.
10x Hybrid Zoom and the Blackout Effect
Huawei P30 Pro is the first smartphone that comes with a 10x lossless hybrid zoom lens and we are quite impressed with how much details it can capture without distorting the image during the day as well as at night. But sadly, sometimes while using this feature at night, the end result is a completely black photo in an abyss of nothingness.
It is a recurring problem that can easily annoy the user as they'll have to try to recapture their perfect shot. By summoning some patience for the "blackout effect," you can take some good quality shots with 10x zoom even with minimum lights in the surroundings.
The Case of Missing Autofocus in Selfie Camera
The 32MP selfie camera that resides inside the tiny dewdrop notch of the Huawei P30 Pro lacks a common feature that can be found in many other flagship phones; the ability to autofocus.
Just like its predecessor, P30 Pro comes with a fixed-focus lens that loses details while taking selfies at different distances. If you are taking a picture alone or with a friend in a close range of the sensor, you will get some amazing shots but if the selfies are meant to include you and some amazing background or scenery, the end result may not be too sharp and you will end up losing some of the details.
Disastrous Video Quality while Zooming In
The telephoto lens can help to take some good close-up images but when it comes to shooting a video, let's just say you should try it at your own risk. The video quality while zooming in is worse than poor and you get highly pixilated clips that lack details and textures.
You cannot rely on P30 Pro's camera to record the video at 5x or 10x zoom especially if you want to record a live performance during a concert or capture some unforgettable moments while watching a game in the stadium.
Struggling Autofocus in Low-Light
Rear cameras of Huawei P30 Pro can capture some good videos but we observed that the autofocus struggles especially while shooting in low-light conditions without flash.
In the video above, you can see that the camera is shifting the focus between the subject and the background repeatedly leading to loss of details and a low-quality clip. You can resolve this issue by turning on the flash while shooting a video in low light.
Camera App Interface Is a Mess
Huawei needs to further simplify its camera app which at the moment feels like a mess especially when you are constantly taking pictures with the smartphone.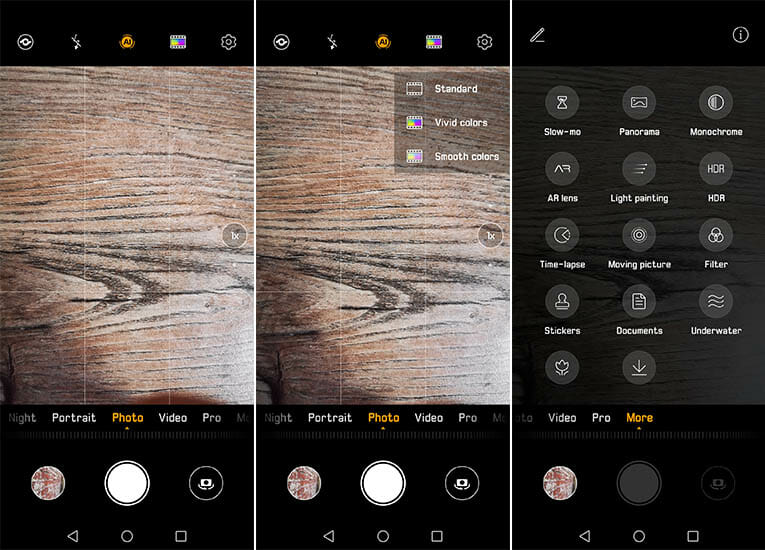 We do agree that the company has come a long way in designing its camera app's interface but the rush to find the relevant mode from the menu and repeatedly sliding from photo to more options becomes exhausting after a few tries.
Are you facing any other problems with the P30 Pro's cameras? let us know in the comments below