Huawei P40 Pro+ has this gigantic Penta camera setup that is miles ahead of the competition. The P40 series was launched in an online event in China owning to the coronavirus pandemic. The trio, P40 Pro+, P40 Pro, and P40 are just amazingly built devices with photography and videography being a few of the core features. Last year, the P30 Pro wowed us by capturing the moon, and now, P40 has upped the ante by video shooting the moon this time.
In many ways, it is more than we expected with high-profile features that dwarf even Samsung and iPhone. We think that after today Samsung will have to yield its throne to Huawei P40 Pro+.
Main highlights of cameras
This is the single feature that will allow Huawei to dethrone the new Samsung Galaxy S20 Ultra as its camera is in many ways ahead of its time. Huawei is relying on its Ultra Vision Leica Camera for the P40 series. The basic Huawei P40 has a Triple Camera, whereas Huawei P40 Pro has Quad Camera, and Huawei P40 Pro+ has a Penta camera setup. But let's take a look at its basic innovative features that Huawei has gotten us so Hyped up About?
An Absolute Beast for Night Photography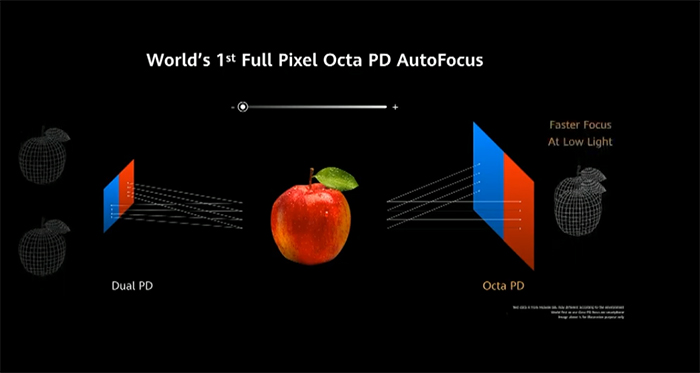 Huawei P40 has the world's 1st full pixel Octa PD auto Focus, which helps the camera focus much quicker even in low lights. So, your camera will autofocus on objects almost instantaneously, even in dark environments. Moreover, Huawei P40 also upgraded its 3 color channels to a mind-boggling 8 color channels, with AI Auto White Balance (AWB) algorithm. The AI AWB algorithm allows the camera to receive 45% better color precision.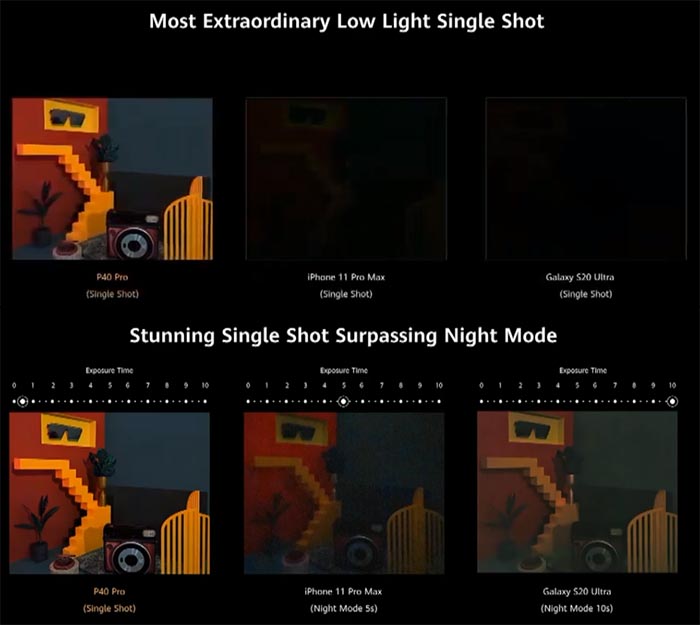 The P40 series uses the new XD Fusion Image Engine that allows the cameras to work simultaneously. This gives you the best detail, color, dynamic, and Bokeh effect. Huawei is focusing on the "Best" in terms of camera quality, and it shows in their presentation. That is why Huawei P40 Series is claiming to have the Best Sensor, Best Autofocus, Best AI AWB, Best XD Fusion Engine in the Industry. This is nothing less than an open challenge to its greatest rival, Samsung.
24 Hour All Day Super Definition Photography
Huawei P40 can take photos in such low light, that even the human eye fails to compare with it. It's the ability to capture portraits with true-to-life details. It is fantastic and something only possible with an XD fusion image engine. Huawei is already the leading long-range telephoto innovator. But now it has taken a step-up its own game, with the World 1st multi-Reflection Super Periscope Telephoto.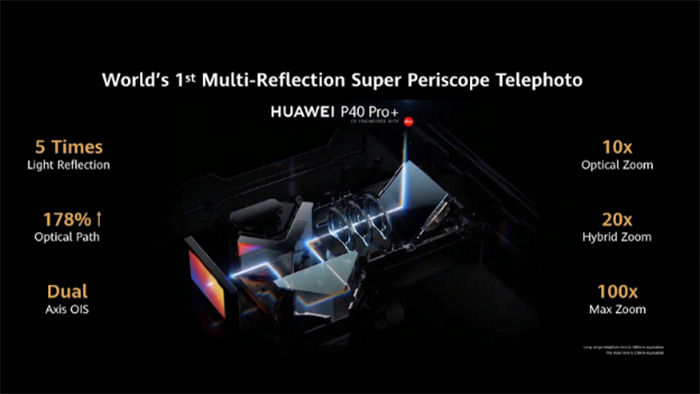 This allows for 5 times light reflection, 178% Optical path, a dual Axis OIS with 10x Optical Zoom, 20x hybrid Zoom, and 100x Max Zoom. The Huawei P40 series has a 4K time-lapse with Superzoom, along with a Dual-View video that allows it to take closeup and a wide view at the same time.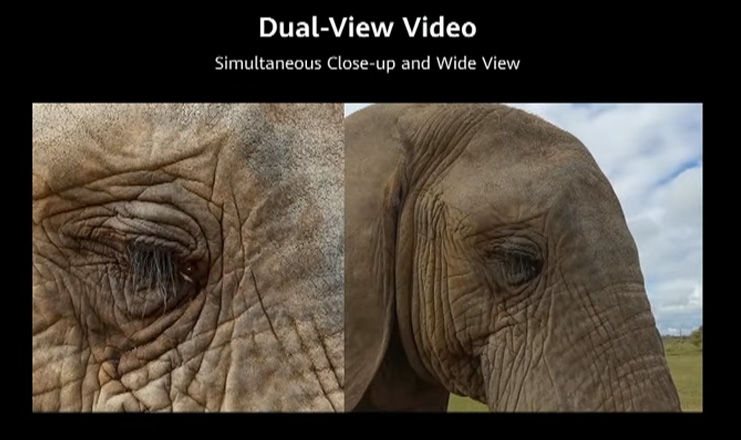 Enough about the back, let's take a look at what P40 has on the front.
The Most Powerful and Intelligent Front Camera
The front side has a compelling 32-megapixel AF camera, with IR depth and gesture camera, and an ambient & proximity sensor. This allows you to unlock your phone in low-light environments and also makes the phone aware of your presence. When you look at the front, its screen will automatically sense your face, and the display will light up. Moreover, it has a smart sensor that allows you to interact with the phone without touching it. This Smart Gesture Control allows you to scroll through the phone with a swipe gesture. Plus, it will enable you to take a screenshot with the help of a grab gesture.
Cine Camera/ Super Sensing Cine Camera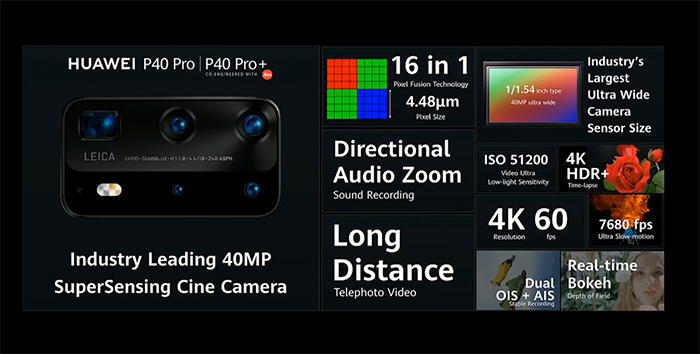 Although, Huawei introduced the world's 1st smartphone with a dedicated 40-megapixel Cine Camera. But in the Huawei P40 Pro and P40 Pro+, it has been enhanced with a Super Sensing Cine camera. Moreover, it improves it with the 16 in 1-pixel fusion technology and the largest ultra-wide camera sensor in the industry. It also brings the directional audio zoom with 3 all-directional microphones and a directivity beam-forming algorithm.
Huawei Golden Snap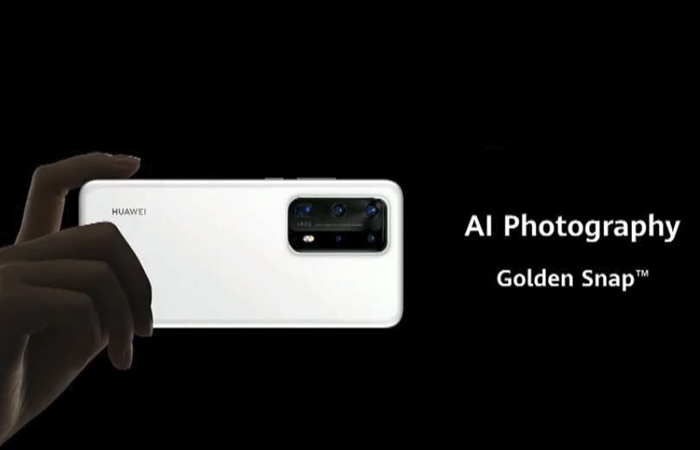 Never miss the best moment with the New AI Scene Recognition, which helps you by recommending the best shots. The P40 does this with the help of 90+ Facial Features Analysis and 30+ Posture Detection. That allows it to analyze the best posture and facial expression and take the shot. The advanced AI also helps you remove the passersby, so now no one will be able to ruin your perfect selfie. Moreover, the AI is smart enough to help you remove reflection for shots taken behind the glass.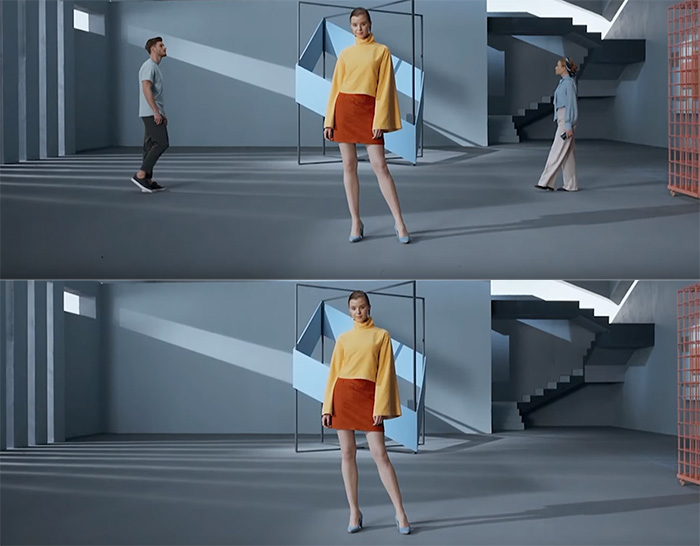 All in all, the Huawei P40 series is an absolute Champion both regarding its Camera and Smart Sensors. Huawei has proven its superiority over Samsung at present. Now it is up to Samsung how it seeks to answer this challenge.
Camera Comparison Between Huawei P40 & Samsung S20
Huawei P40 has a triple Leica camera with the main 50-megapixel Ultra Vision Wide camera and an Ultra-Wide 16-megapixel second camera. Whereas, the third 3x optical Telephoto camera is 8-megapixel. These cameras are supported with an 8-color channel multi-spectrum sensor.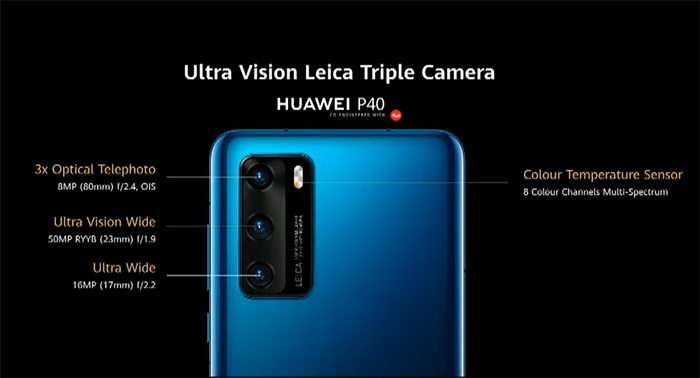 Whereas, Samsung Galaxy S20 has a 2-megapixel wide camera, with a 64-megapixel Telephoto camera. While the third camera is a 12-megapixel Ultra-Wide lens.
Samsung has a better telephoto camera, but it fails to compare with the rest of P40's specs. So, it is clear that in image quality, Huawei P40 takes the win here.
Huawei P40 Pro vs. Samsung S20 Plus
The Huawei P40 Pro has a 40-megapixel Ultra-Wide Cine Camera with a 50-megapixel Ultra Vision Wide. Plus, it has a third 12-megapixel 5x Optical Telephoto camera and a fourth ToF camera for depth sensing.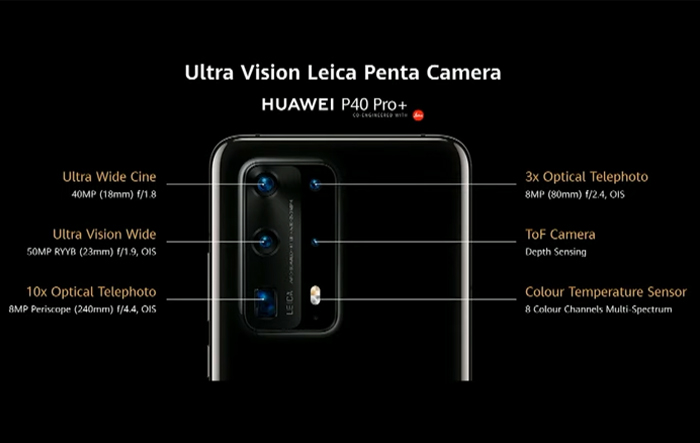 Whereas, Samsung Galaxy S20 Plus has a 12-megapixel wide camera, with a 64-megapixel Telephoto camera. Whereas, the third camera is 12-megapixel and the fourth, ToF 3D camera.
This is where in terms of the rear camera, Huawei easily takes over Samsung Galaxy S20 Plus. With better sensors and color channels, Huawei P40 Pro gives a better picture quality all around.
Huawei P40 Pro+ vs. Samsung Galaxy Plus Ultra
Huawei's crowned jewel and the throne bearer, for the time being, is the P40 Pro+. It has a 40-megapixel Ultra-Wide Cine Camera, with a 50-megapixel Ultra Vision Wide serving as the second. Next are the 10x Optical telephoto camera with 8-megapixels and 3x Optical telephoto camera also with 8-megapixel.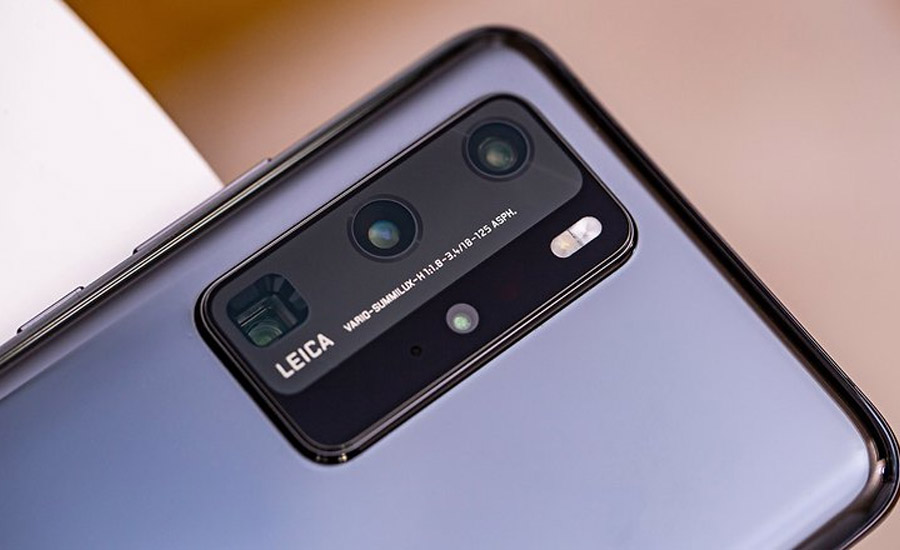 So, there are two Optical Telephoto cameras on the Huawei P40 Pro+. Whereas, the fifth camera is ToF, for the depth sensing. This entire arsenal also comes with an 8 Channel Multi-Spectrum sensor.
Whereas, Samsung Galaxy S20 Plus Ultra has a 108-megapixel Wide camera, with a second 48-megapixel telephoto camera. The third is a 12-megapixel Ultra-Wide camera and a Fourth ToF 3D camera.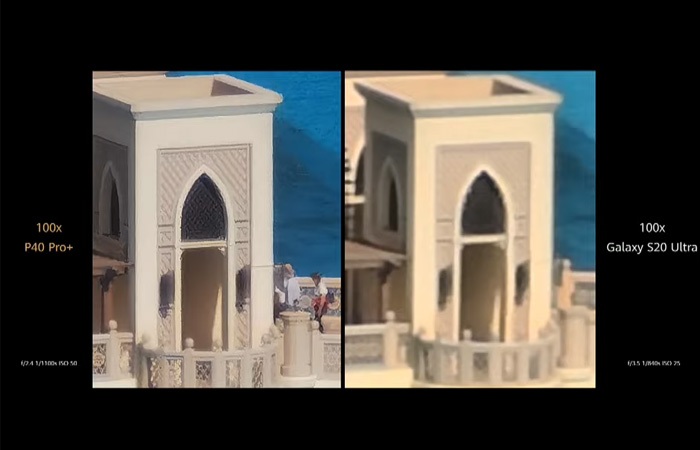 It is clear from this comparison, why Huawei P40 Pro+ is the new king in terms of camera quality. Huawei was quite the innovator before, but now they have surpassed their previous attempts. But this comparison is not enough as Samsung S20 praised its 100x Zoom, So let's see if Huawei can compete on that.
The Zooming Capabilities Samsung Galaxy S20 Plus Ultra vs. Huawei P40 Pro+
Optical Zoom:
Samsung Galaxy S20 Ultra has 4x Optical Zoom.

Whereas, Huawei P40 Pro+ has 10x Optical Zoom.
Hybrid Zoom:
Samsung Galaxy S20 Ultra has 10x Hybrid Zoom.

Whereas, Huawei P40 Pro+ has 20x Hybrid Zoom.
Maximum Zoom:
Samsung Galaxy S20 Ultra has 100x Max Zoom.

Whereas Huawei, P40 Pro+, has 100x Max Zoom.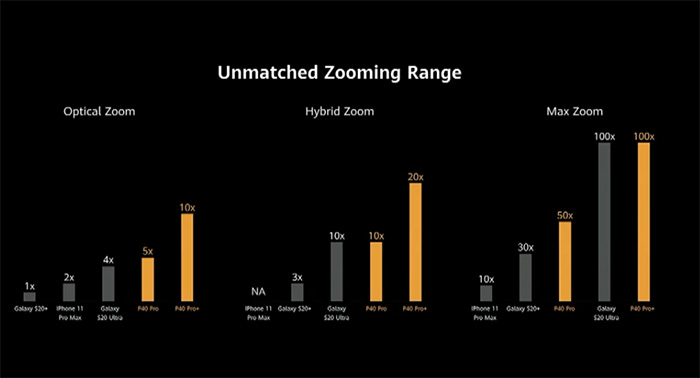 Apart from the Maximum Zoom Huawei more than doubled Samsung's capabilities. However, in the 100x, Max zoom Huawei P40 Pro+ can carry more details than Samsung. So, where 100x zoom may look the same, there is a significant difference in quality.