Many of us have had the unfortunate accident of losing our smartphones. It may happen to anyone considering the sensitive data that you want to protect, Android users have an option of "Find my Device" integrated within google settings so that you can track lost android phones.
This option can be availed to track down your phone once it is lost. Using find my device you can even remotely lock and erase your device and the good news is that you don't have to have the app installed on it. You just have to enable the option in Google settings.
Note: If someone has already performed a Factory Reset on the phone, the Find my Device option won't be able to locate the phone.
Enable find my device
Newer phones have the option already located in Google settings instead of a dedicated app. Usually, find my device is turned on by default but you can always enable the option if it's not already on.
Just go to Settings>Google>Security. There you can see "Find my Device". Turn it on and voila! That's it. You have enabled Find my Device. Now you can easily locate and reset your device using the following methods.
Locate device using your computer
You can track the lost Android phone by logging in to your account on any computer available. Just go to the browser and type android.com/find in the address bar or you can type "Find My Device" in Google search. A box will appear in search results asking you to sign in for confirmation. Once you sign in, it will start locating your device on the map.
Once the device is located, you can avail yourself of options displayed on the left side of the screen. You can make the phone ring for 5 mins (even if it's silent). You can also lock the phone so that no one has access to your phone and lastly, you can also erase your data from the phone. Keep in mind that after erasing your phone, you won't be able to locate it again.
Locate using find my device app
You can also track the lost Android phone using the find my device app. Just install the app on any other Android smartphone or tablet. Make sure the app you are installing is developed by Google as there are many apps with similar names.
Once you've installed and opened the app it will require your Google account. Sign in with the same account as in your lost phone. Your phone will be located on the map and a dashboard will pop-up showing where your device is and also options to erase, lock and ring your phone.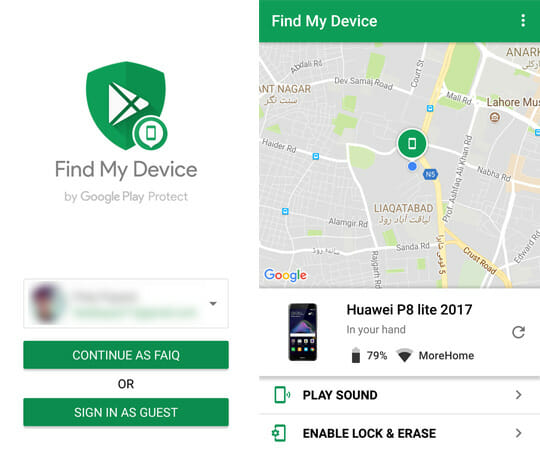 Although losing your phone may be upsetting for you as most of us rely on our smartphones for personal data. Despite that, try to remain calm and use find my device to locate your phone. Contact the local law enforcement to retrieve your phone. Don't get into any more trouble by retrieving the phone on your own.