Vivo Y series is busy with a range of smartphones that belong to either budget or upper budget segment, and Vivo Y21 is one of the members of this squad we have in our hands for review.
The device inherits a family look that straight away tells "it's a Vivo phone."
It's shiny, it's slim, and it shows off this peculiar camera setup that has somehow become Vivo's patent look.
In Pakistan, Vivo Y21 has launched with a price tag of PKR 27,999 where it faces tough competition.
Does Y21 stand a chance to prove its supremacy? My review tells the story.
Design sets it apart
As I mentioned, Vivo Y21 inherits the looks from the rest of the family members.
The phone features two-color variants, Metallic Blue and Diamond Glow.
I got hold of the Blue one that carries a combination of silver and curtain coating giving this purple-blue surface a metallic shine that changes with angles and light.
The Diamond Glow version also stands out with a unique diamond texture on it.
The rest of the phones is a pretty straightforward design language from Vivo with all the controls placed in usual places. I liked that Vivo has integrated a fingerprint scanner on top of the power key that is slightly indented.
If you are a Vivo user, you should be comfortable with a SIM tray on top instead of the left side.
Vivo Y21 display features a 720×1600 px resolution on its 6.5 inches LCD.
An HD resolution has been considered a usual offering in this segment until Infinix Note 11 hit the stores recently.
However, the screen is smooth to touch, and I enjoyed browsing and watching movies on the device, thanks to the reasonable loudness of a single firing speaker that can easily fill a small room.
The sound quality isn't too shrilling, but it lacks the bass effect, so a pair of good earphones can make up for the missing effect.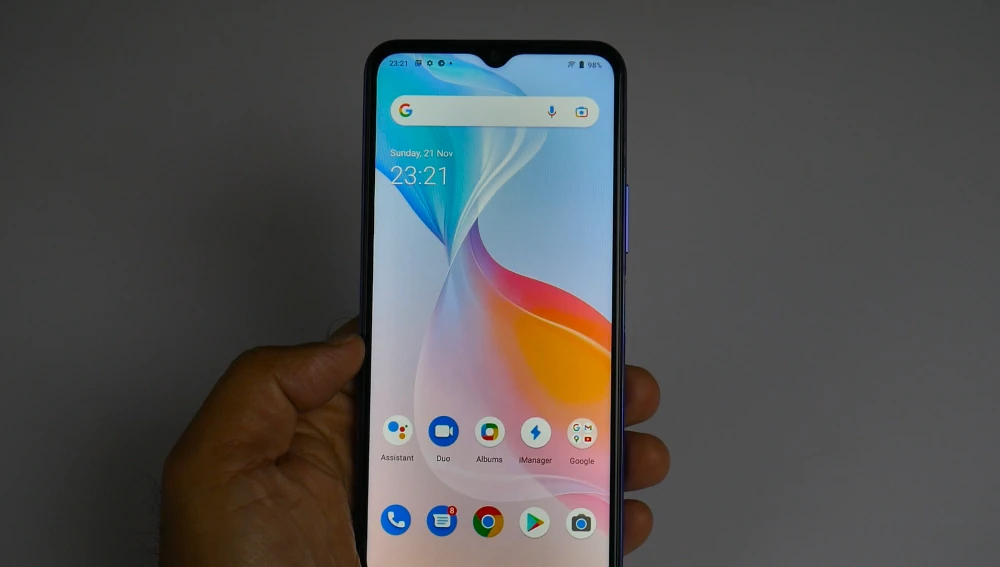 Vivo Y21 screen refresh rate is 60Hz which again has to compete with a few 1080p screens and 90Hz refresh rate on the market. The display setting area can let you tune up the color temperature, but I have seen an even better customization tool in Realme Narzo 50i, where you can alter the saturation and contrast as needed.
Vivo Y21 performance
Vivo Y21 performance is based on its Helio P35 chipset – an octa-core processor with a maximum frequency of 2.3GHz. You get the freedom to extend its 4GB RAM further by 1GB which it snatches from 64GB internal ROM, provided the system has enough memory available.
The smartphone also supports up to a 1TB microSD card.
The Funtouch 11.1 sits on top of Android 11, and it looks nice and clean. Vivo has come a long way from a really messy and bloated skin to something that blends well with Android.
Being a very basic phone, Y21 still provides some valuable tools to get the most out of your skin's version.
You can alter animations for charging and facial unlock in the "Dynamic effects" menu. Ultra Game Mode is present to help you do smooth and uninterrupted gaming.
You also get S-capture and Smart Split tools for taking screenshots and splitting the screens, respectively.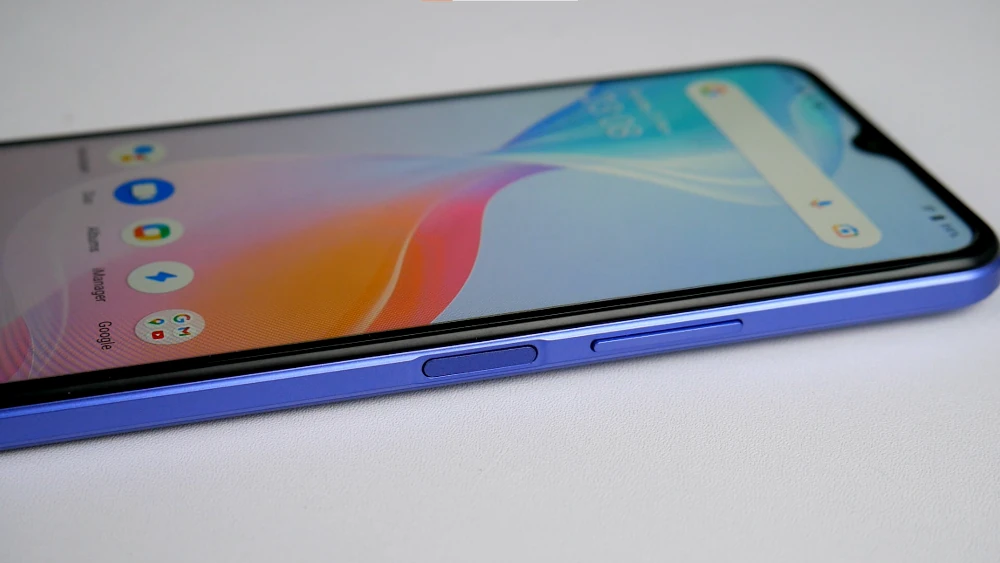 The fingerprint scanner works fine. You may feel a slight miss and hit initially, but it should get smoother after some time.
Vivo Y21 scored 93390 on Antutu and lost 1% battery during the testing session on the benchmark chart.
Realme Narzo 50i (83105), Samsung Galaxy A03s (91094), and Vivo Y21 belong to the same league of the budget category, but Y21 tops the performance benchmarks during our tests.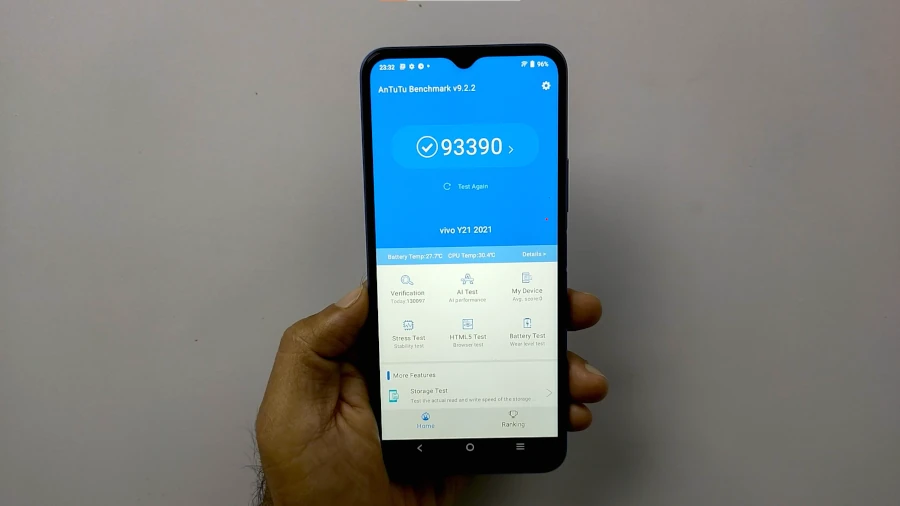 Although this phone does not feature a gaming chipset, for game lovers, Vivo has given us Multi Turbo 5.0, 4D game vibration (applies to PUBG only), a five-layered liquid cooling system, and a virtual gyroscope sensor.
I could easily play games like Call of Duty and PUBG on lower settings, though you should expect frame drops and lags here and there, but I believe it's a part of business for these entry-level devices.
The phone does not get stuck while multitasking. Our review unit gave us a nonstop performance every time we picked it.
Most of the time, Vivo phones provide an excellent battery experience, but Y21's 5000 mAh battery outperforms some of its siblings.
An hour of PUBG session drained 10% of battery, and similarly, you can lose 4 to 5% juice in 30 minutes on usual social media apps.
Indeed, this is the best battery consumption we have noticed on 4G, not only among the ranks of Vivo but also the rivals.
Its VEG technology seems to preserve the battery quite nicely. It fell short of our expectations during the back-to-back movie test, where it lasted only 12 hours.
In short, the Vivo Y21 battery backup could last two days for regular users. Even pro gamers can get an approx, and nine hours of continuous gaming backup.
We get an 18W fast charger out of the box that fills the entire battery in about 2 hours which we assume is a decent time in this price category. 34% battery gets charged in 30 minutes. It is certainly 47.8% faster than the 10W charger we got with Vivo Y20.
Camera test: great capturing speed
Vivo Y21 camera is loaded with the most essential features a beginner phone can offer you. It holds three lenses in total, an 8MP sensor on the front for selfies, whereas a 13MP primary lens and a 2MP macro sensor on the rear side.
The camera setup does not offer much-needed night mode and slow-mo, but it gives you the pro mode for a bit of creativity.
Despite the shortcomings, there are a few things I liked while doing the Y21 camera test. The camera module did reasonably well with continuous and burst shots.
Here is the camera result video with images and videos
The shutter speed is good enough to capture most of the details inside the frame; a very few images turned out blurry that I needed to reject.
However, I am not very convinced with the less than desired saturation and contrast on both front and rear. Whereas the HDR performs reasonably well to take care of backlit shots.
The phone can shoot up to 1080p videos through front and rear cameras. The autofocus doesn't impress; it struggles to keep the subject in focus in case of a movement. I had to manually tap on the screen several times while doing moving video shots.
Verdict
Vivo Y21 falls in a bustling price segment where no lesser equipped phone can face the wrath of tough opponents. In fact, there exist many.
The older Mediatek Helio P35 chipset looks a little slower, showing a usual lag we happen to experience on every budget phone; however, the device isn't a bummer.
It can run online games at lower settings; the battery consumption is impressive at the same time.
The camera doesn't offer a huge megapixel lens, but it is a decent performer in the daylight with excellent shutter speed among phones of the same price segment.
Alternative options
If you can slightly increase your budget by PKR 1000 ($5-10), you can get hold of feature-rich Infinix Note 11 that can provide:
A 6.7 inches AMOLED screen.
50MP main lens.
5000 mAh battery.
A 33W fast charger.
A gaming chipset Mediatek Helio G88.
Realme C25s also sits at the same price, giving a great battery backup and relatively decent camera performance.
Vivo Y21 specification
Display: 6.51 LCD, 1600 x 720px,
Color: Metalic Blue and Diamond Glow (diamond glow has a diamond pattern on the back) | 8mm thin body.
Process: Helio P35
RAM/ROM 4GB/64GB (up to 1TB card) Plus 1GB extended RAM
OS: Funtouch 11.1, Android 11
Battery: 5000, 18W charger
Camera rear: 13MP + 2MP
Camera (front): 8MP
Is Vivo Y21 a gaming phone?
No, Vivo Y21 features Helio P35 CPU which is not a gaming chipset.
Can Vivo Y21 reverse charge other devices?
Yes, it offers reverse charging through OTG.