Only a few months after the arrival of Realme C11, which we've previously tested for you, the company has introduced its successor named Realme C12 which is priced at Rs. 21,999. The two devices share some common features but the new smartphone comes with some new upgrades which make it more superior to the older device in many areas.
First of all, we get additional RAM in Realme C12 to ensure that the phone runs more smoothly. Then we get an additional camera lens at the back for taking macro shots even though I believe that super macro lenses are nothing more than a marketing gimmick as their presence on many budget devices and their smaller camera setup don't offer the real performance of a true macro lens but we can still take some fun photographs with it.
Finally, the major update lies in the battery compartment where the company has provided an additional 1000mAh battery capacity under the hood which will most likely keep the phone powered up for longer times. The question remains that apart from the change in specs, do we get a boost in performance in real life as well? Let's dive into the detailed review to find out:
Design and Display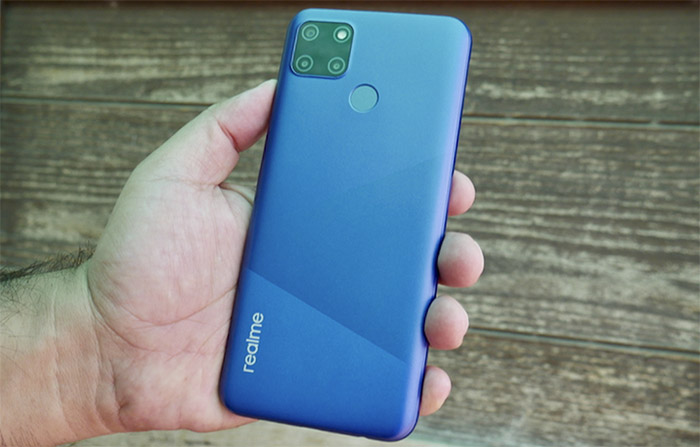 Starting with the design of Realme C12, after taking the phone out of the box, I first noticed the additional weight the phone carries as compared to the Realme C11 which can be due to the increase in battery and camera lens. The company which is known for choosing flashy, shiny, and bright colors to make its phones stand out as it did with Realme C11, Realme C3, Realme 5i, etc., this time chose to provide a sophisticated diamond cut gradient design which comes with a matte finish. At the back, you get a square-shaped camera module featuring three lenses along with a flash and a fingerprint scanner in the middle which doesn't infringe on the phone's beautiful design.
Our review unit was in Marine Blue color but you can also opt for a Coral Red colored variant which looks quite funky and bold while maintaining its somber demeanor. Talking about the buttons and other ports, you can find all of them at their usual place; power and volume buttons on the right, SIM tray on the left, and charging port, speaker, mic, and the headphone jack at the bottom.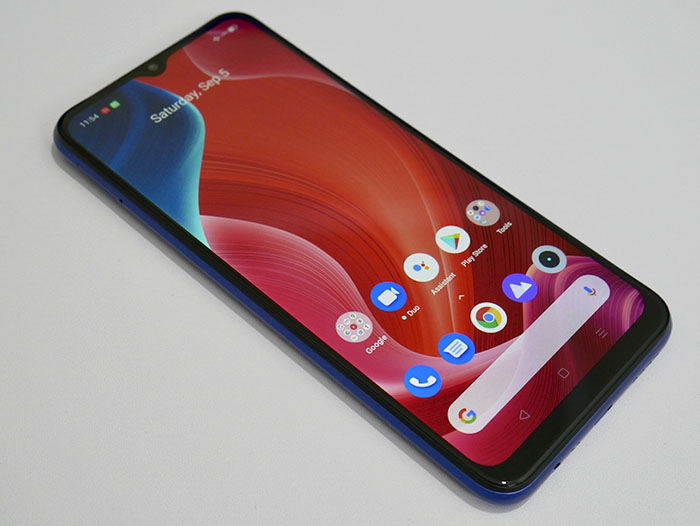 The phone features 6.5 inches of IPS LCD display which comes with 720 x 1560 pixels of screen resolution that translates into 270 ppi density. The dewdrop notch is quite tiny and houses the front camera inside but the bottom bezels are comparatively a bit larger in size.
Performance
Realme C12 comes with the same MediaTek Helio G35 gaming chipset as Realme C11 which is basically an enhanced version of MediaTek Helio P35 processor. The 3GB RAM feels like a breath of fresh air as it can provide adequate support to the chipset to easily complete the day to day tasks of the users. On the downside, you get only 32GB of internal storage which is hardly the storage capacity we can wish for in a phone especially those who are into mobile gaming. If you install PUBG and Free Fire on the smartphone, you will only be left with 14GB of space which is nowhere near enough for other social media apps and a few songs. Thankfully, the phone supports up to 256GB of extended memory through a microSD card and you will have to opt for this option card to enhance the phone's storage if you don't want to be plagued by the low memory notification on the device.
Coming to the Antutu benchmark, Realme C12 does not show any drastic change than Realme C11. There, the former scored 109120 against the latter's 105176 score but I believe that the additional 1GB RAM and better phone optimization in C12 give it an edge when we compare the real-life performance of the two devices.
While using the smartphone, you can notice the usual lag which has become a part and parcel of any entry-level smartphone but this minor issue doesn't spoil the overall experience as the phone can easily handle all the resource-hungry apps. The large screen and a gaming chipset is an ideal combination for low-budget users who want to spend most of their time playing games on their smartphones.
Talking about one of the hottest mobile game PUBG, the app allows you to choose between "smooth" and "balanced" graphics and personally I will recommend you to play the game with smooth graphics option on this device for better frame rate as longer sessions on balanced graphics lead to minor frame drops and lags but they are not as horrific as what we faced while using Realme C11.
The most attractive feature of the phone that you will notice while gaming is its 6000mAh battery that scarcely depletes. After one hour of playing PUBG with the WiFi, we saw that the device only consumed 11% of battery which is an excellent battery ratio.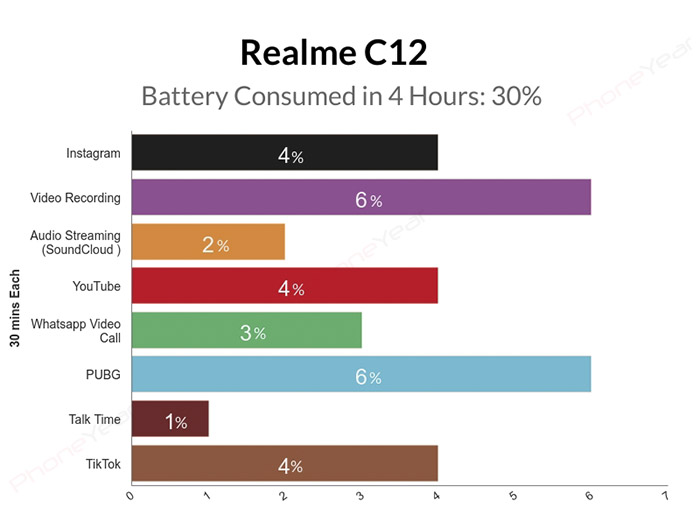 In our 4-hour battery test, the phone drained 30% of the charge and in our video loop battery test, Realme C12 survived for whopping 23 hours while playing back-to-back videos which is miles ahead of what Realme C11 could achieve in the same test as the latter's battery died in merely 14 hours. Realme C3, the forefather of Realme C12 that comes with the 5000mAh battery capacity previously set the benchmark of 20 hours and 34 minutes in the same test. By this standard, the new device is surely a true successor to the C3.
On the flip side, due to the mammoth battery and the absence of fast charging, the 10W charger took 3 hours and 32 minutes to fully charge the smartphone from 0 to 100%. But, the charging time is still better than other smartphones like Vivo Y30 (3hrs 33mins), Tecno Spark 5 Pro (4hrs 24mins), and Tecno Pouvoir 4 (3hrs 56mins), etc. If you want to see our detailed battery test, you can find it in the video below:
Lastly, the phone comes with a facial and fingerprint scanner, and the performance-wise, you will find that the fingerprint scanner and facial unlock features are also quite snappy.
Camera
Another major differentiating factor between Realme C12 and Realme C11 is that the former comes with a more capable camera onboard. The upgrade starts with the camera lenses; you get a 13MP main wide-angle lens, a 2MP macro lens, and a 2MP sensor for bokeh shots at the back. For selfies, there is a 5MP front shooter that resides inside a notch and looks considerably better than the 5MP lens present in Realme C11.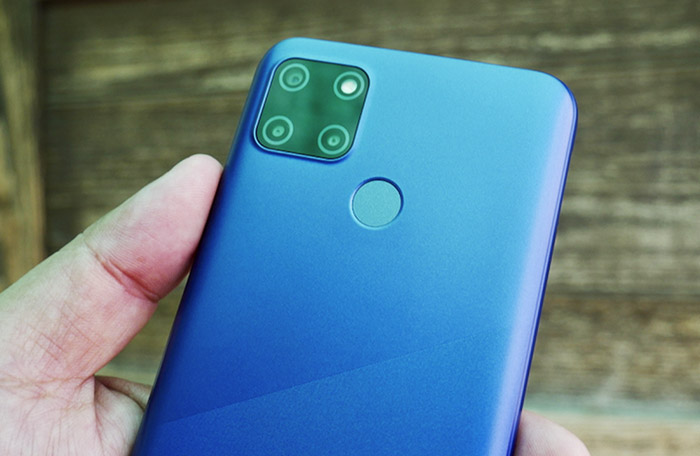 The camera setup comes with all the bells and whistles the modern smartphone user expects from its device like Chroma boost mode for more punchy photos, slow-mo video recording, a dedicated night mode (Nightscape mode in this case) for better looking night pictures, 1080p video recording from both front and rear camera, etc.
Coming to the phone's camera performance, both Realme C12 and C11 offer a 13MP main lens but the camera quality of the former device is altogether different. The new smartphone takes pretty decent images in daylight and captures good colors and details. Although the standard mode produces little saturated images, they look quite satisfactory for social media sharing.
If you looking for more colorful and punchy landscape images, the phone's Chroma Boost feature will be a massive help as it enhances the color saturation and exposure levels in a photograph. I also noticed that this mode takes a little more time to internally process the image after you tap on the shutter button so if you want to capture a moment by taking continuous shots, you will have to stick with the standard mode.
In this budget price, I liked the details captured by the smartphone's camera in daylight most of the time and depending upon the mode and landscape, the phone can capture up to 5MB images in size which is not too taxing on the storage.
The HDR mode, which practically annoyed us in our Realme C11 testing, performs amicably in Realme C12. As you can see in the following image, this mode can find a good dynamic range on brighter sunny days and can successfully balance the darker and brighter areas in the image.
I would like you to remember that you cannot use the phone's camera on a hot sunny day for a longer time as it is prone to heating up and shutting down and you will need to provide it with a cooling down period to rest. You will also need to get used to the slight delay in switching different camera modes and certain misses when you tap the toggle buttons. So, what I am trying to say is that you can expect the camera app to become slower in different occasions.
Realme boasts about the night photography of C12 and just like old times, we get a dedicated night mode, which the company is calling Night Scape, to take images in low-lightning conditions. The images taken in this mode show fewer details like the phone take 8MP shots in contrast to 13MP pictures in standard mode.
The nightscape also brings down the unwanted exposure that we can witness in the phone's default mode at night. So basically, we end up with a darker image with fewer details and more washed out areas at night. Though it does try to minimize the lens flare while facing an artificial or neon light at night, it fails to fully master this technique to control the lightning. The night mode also increases the saturation level in the image and thus, is not much of a help when there is extremely low or no light present.
If you want better-looking photos at night, there is no need to panic as you can still take some good pictures with the phone's expert mode which performs better than the night mode in most low-light situations. By spending some time mastering the ISO and shutter speed of the camera, you can take some good looking pictures at night that show lesser noise and more details of the subject.
The portrait mode, as you can see below, does a good job with subject mapping and as a result, we get a nice bokeh effect in the background. But for non-human subjects, the colors and details in the image are not as good as what we have seen in the standard mode.
The ultra macro mode, on the other hand, is a hit and miss feature as everything boils down to how much control you have to avoid the shaking of your hands. This feature can really test your patience but if you get some practice in, you can take some good macro shots with this phone. Again, this mode seems nothing more than a marketing gimmick to me.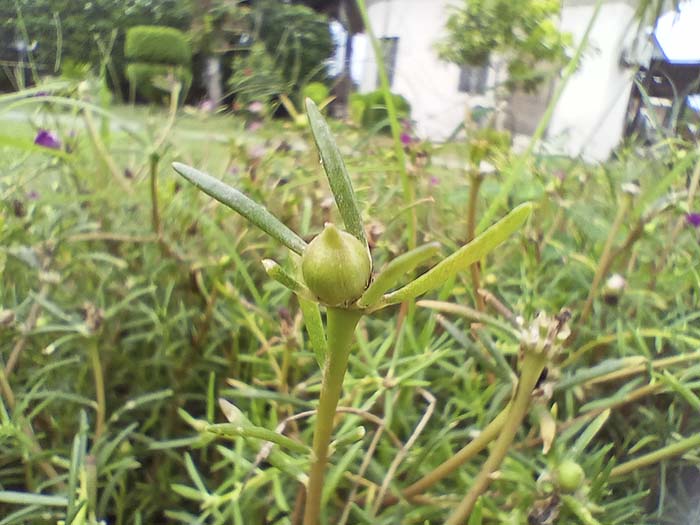 You can also zoom up to 4x in both photos and videos and interestingly, you can take zoomed images in the night mode, HDR mode as well as Chroma Boost mode.
As we have shared before, you can shoot 1080p videos from both the front and rear cameras and you can expect good details and colors in the produced videos.
The 6000mAh battery doesn't fail you while you're taking photos and you can expect the phone to last for a long time without consuming too much of the battery life. All in, I believe that Realme C12 has a decent camera setup. Although it becomes slower at certain times, it can produce some great images. At the same time, I am not impressed with the ultra macro mode as it is a hit or miss and the night mode needs some improvements as well. As for other modes, I quite enjoyed the camera results as they captured great images in a good light.
If you want to take look at the high res (original images), you can find them here in the Google drive link
Verdict
So how did Realme C12 fare in our tests? Well starting off I want to say that this device is an all-rounder in the entry-level phone segment. It comes with a good battery and a camera that can take great shots during the day but fails to maintain the same standard in bokeh and macro shots. The phone's overall performance is good but it is quite less than what we experienced with the Samsung Galaxy A21s. Then again, Galaxy A21s is a little pricier than Realme C12 so I think it is forgivable. Lastly, the one feature that put me off was the limited internal storage but overall I enjoyed using this smartphone.
Alternatives
If you are looking for better camera and gaming performance you can consider buying Realme 5i instead which is priced at Rs. 25,000. It scored 163563 in the Antutu benchmark but remember that Realme C12 still has the better battery between the two. If you are willing to spend a lot more money, you can also opt for Xiaomi Redmi Note 8, priced at Rs. 30,500, as its camera performance is miles ahead of Realme C12. The former has the Antutu benchmark score of 177451.