Two years since its official launch in the mobile world, Realme has successfully expanded its empire by launching different series of smartphones, and among its growing portfolio lies the Realme C series which specifically caters to budget users. Recently, the company has introduced a new addition to the growing series, Realme C11 which features a Mediatek Helio G35 gaming chipset that is specifically designed to provide a good gaming experience on entry-level phones.
In just Rs. 16,999, we also get a dedicated night mode for taking low-light shots, a feature we do not usually get to see in a budget phone. Interestingly, the phone is being pitched as a sturdy and durable device which according to the company has gone through a 10cm micro drop test 56,000 times, power button test 200,000 times, charging port stability test 10,000 times, power button test 200,000 times, and so on.
This information, as intended, piqued our curiosity to see if the phone that is being showered with praises actually worth being a part of your life. Let's dive into the phone's detailed review to see how it fared in real-life tests.
Design & Display
When it comes to the phone's design language, Realme has adopted a bold look that attracts the budget user with its spicy colors. Our test unit comes in a mint green color which is quite unique in looks. It has a matte finish which guarantees that it wouldn't actually slip off from your hands like many other shiny phones. Realme C11 is also available in a pepper grey color for people who prefer a somber-looking gadget.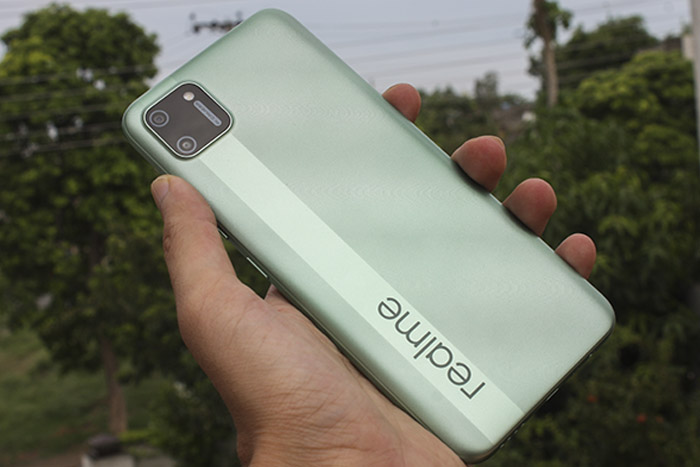 At the back, a vertical plain strip featuring the brand logo boldly breaks the monotonous design pattern and meets the squarish dual camera setup which comes with an LED flash. The phone has slightly curved edges and offers a little tapered side frame which allows the user to keep a strong grip on the gadget. The design of the Realme C11 is similar to what we have seen in Itel Vision 1 Plus which makes us wonder if the company took inspiration from the said device.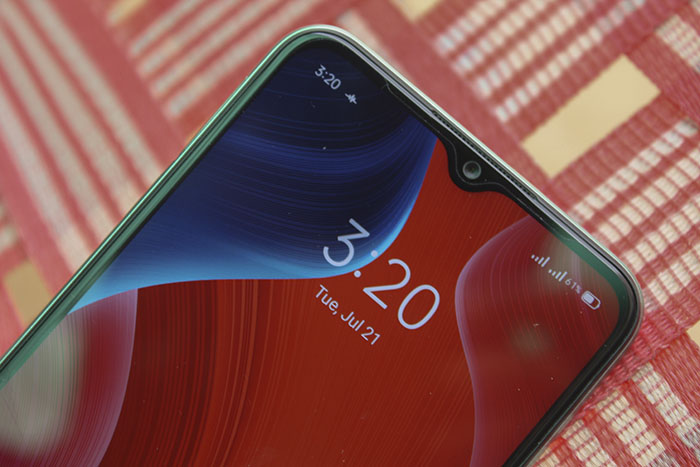 Coming to the phone's display, we get 6.5 inches of IPS LCD screen with a 30% smaller dewdrop notch that provides more display area to the user. The bezels on the sides are not as big as the ones we noticed at the top and bottom chin of the screen which frankly does not look unpleasing to the eyes. The quality of the display is also not bad as the 720p resolution screen shows good color reproduction and contrast.
Performance
As we have described before, Realme C11 comes with an Helio G35 octa-core chipset that is designed to support gaming on entry-level phones. The processor is built on a 12nm technology in a time when Samsung has successfully built Exynos 850 chipset for budget phones on an 8nm design structure. The processor is also accompanied by PowerVR GE8320 GPU to provide better graphics.
Though it features a gaming chipset hinting it to be a phone for gamers, what we actually get is a meager 2GB RAM and 32GB internal storage under the hood. We can confirm that the company has announced a 3GB variant of the phone as well but unfortunately, it is not available in Pakistan.
While using your phone, you'll have to rely on an external SD card for extra storage as you will constantly be plagued by low memory notifications after downloading a few basic apps and games on the device. Fortunately, Realme C11 has a separate memory card slot so you can keep on using two SIM cards without any hassle.
Checkout best mobile phones with the longest battery life
On Antutu, the phone scored 105176 which is considerably better than itel Vision 1 Plus and Huawei Y6p which scored 93047 and 90938 respectively but it is behind Samsung's Galaxy A21s which scored 113827 on the same benchmark. On the paper, everything looks quite peachy but when it comes to real-life testing, we experienced profound lags while using the smartphone. Even if managed to beat itel and Huawei's entry-level phones in benchmark scores, it is quite behind them when it comes to actual performance. The apps on Realme C11 take too much time to open and 2GB RAM is insufficient for multi-tasking.
The device also comes with a dedicated gaming mode and offline games can easily run on the phone. The good color contrast of the screen adds to the gaming experience but the intermittent lags end up ruining all the fun in the end. With Relme C11, you are bound to run into hanging issues sooner or later.
As expected, graphic-hungry games like PUBG or Call of Duty cannot run smoothly on the smartphone and show frequent frame drops and lags. During our gaming session, the screen actually went unresponsive and we had to restart the smartphone to get it back to normal. So it is safe to say that despite the gaming chipset, Realme C11 is not made for gamers.
Unlike most devices, we do not get a fingerprint sensor in a smartphone instead, the company has provided a snappier face unlock feature. But if you are worried about the security of your device, we would recommend that you rely on using a PIN code option. The bottom-firing speaker of the smartphone is loud enough to fill a medium-sized room and does not sound irritating to the ears even at the maximum volume.
Battery
Following the latest trend, Realme has provided us with a 5000mAh battery in its new smartphone which is supported by a 10W charger. Sadly, there is no fast charging option for the device and it takes 2 hours and 57 mins to fully charge it from 0 to 100%. In our video loop test, the phone fully discharged its battery in 14 hours and 12 mins which is quite lower than the company's claim of this phone playing a movie for 21.6 hours.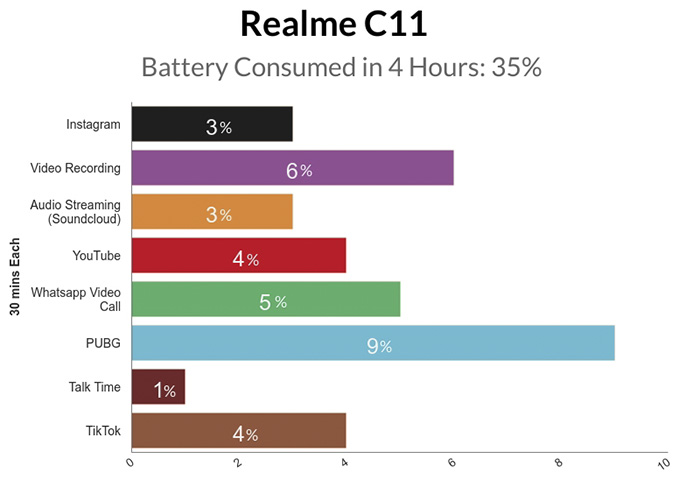 In our 4-hour battery test featuring resource-hungry apps running on mobile data, the phone drained 37% of the battery. Out of all the apps, PUBG drained most of the battery i.e. 9% while on WiFi, the phone depleted 8% of the battery while playing games. One of the most shocking discoveries about the phone was that if left unchecked, the device can discharge a considerable amount of battery overnight especially if the WiFi or the mobile data were enabled. So you might have to keep the phone plugged in if you want to wake up to a fully charged phone.
Camera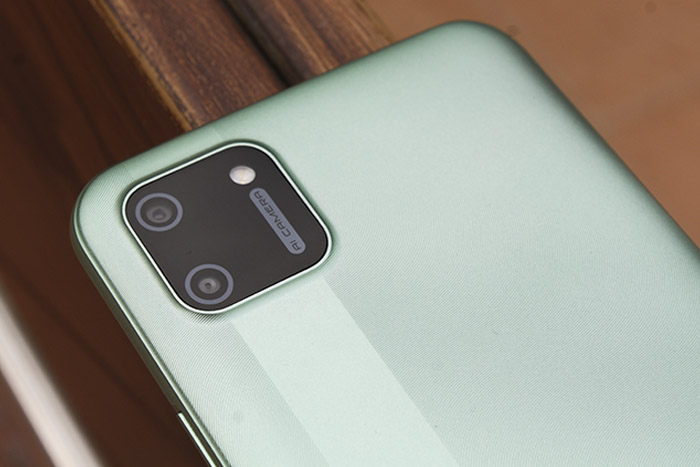 Realme C11 is equipped with dual rear cameras featuring a 13MP main lens and a 2MP sensor for bokeh shots. For selfies, there is a 5MP shooter residing inside the mini-drop notch at the top of the screen. For an entry-level phone priced quite affordably, the camera specs are quite acceptable. The good thing about the camera module is the presence of a dedicated night mode, slow-mo videos, and extensive pro mode, a rare combination in budget devices. The phone is also capable of shooting 1080p videos at 30fps from the front as well as rear cameras and zooming in photo and video mode by up to 4x.
Coming to the camera result, as you can see in the picture below, the phone can take quite decent shots under good light. Although the details of the subject are not as high as we have seen in other 13MP camera phones like itel Vision 1 Plus and even a little more pricey Vivo Y30, Realme C11 makes up for it by providing adequate color contrast.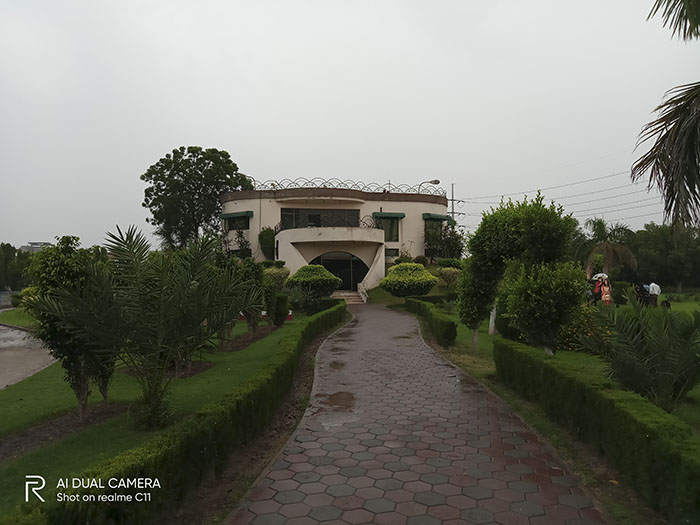 When it comes to bokeh shots, apart from some struggle with the subject detection, we get pretty good pictures.
The HDR mode takes much brighter and vivid pictures and shows a good dynamic range as compared to the standard mode. It is capable of efficiently handling any light source, something the phone's standard mode finds hard to do.
While testing the phone's camera, we noticed that the phone takes a little more time to process the image after it is being captured which stops us from immediately clicking another photo of the subject. Maybe this issue will be resolved by Realme through a software update or has provided a better performance on its 3GB variant.
The chroma boost feature also takes a little more time to process the image and thus, you cannot use it to capture moving objects. However, this mode provides more colorful and punchy images to the users.
The phone's night mode does not work perfectly on the smartphone but we can use it to take some nice images at night time granted that you keep your hands stable or use a tripod. The feature also takes 8MP shots in contrast to the 13MP used by the standard mode and we get a little warmer and more colorful images as a result though they are full of noise and show far fewer details.
The portraits and selfies shot with the front camera are quite acceptable when taken in a good light. But due to the phone's smaller camera at the front, the pictures struggle to carry more details of the subject.
Overall the phone's camera work expectedly and the only thing that slightly put us off was the delay in image processing and this lag, especially while shooting outdoors spoils the moment which can sometimes translate into a blurry image.
Verdict
Realme C11 is quite an average device that despite its hyped Mediatek Helio G35 gaming chipset missed all the basic checklists that make up the performance of a smartphone. The only positives about the phone are its design and camera which offers a vast selection of modes despite the budget tag. The battery life, though not disappointing, does not stand out especially when you notice the constant discharge even while it's non-active.
Alternatives
If you are looking for a phone which offers more worth for your money, you should consider selecting Infinix Hot 9 whose 3GB/32GB variant is available for Rs. 17,999 while the 4GB/64GB variant can be bought for Rs. 19,999. With the same price tag as the Realme C11, you can buy Tecno Pouvoir 4 or can even spend less money on Xiaomi Redmi 9A.