Smartphones are getting powerful in the mid-range category, and getting hold of a phone with the best battery life is perhaps the most sought-after feature besides processing power.
Realizing the importance of smartphone battery life, we hand-picked some of the best phones of 2018 to find the winner device with the best battery life.
You can also watch the detailed video about the test at the end of this post.
How Did We Test The Phones?
We don't test in a controlled environment; instead, we wish to use a phone as close to the actual experience as possible.
Our 3-hours battery testing includes everything that could possibly be a trait of an average smartphone user. We made sure;
The brightness was cranked to full.
Both the SIM cards are inserted.
WiFi and Bluetooth are off while Mobile Data and location services are turned on.
The test is always conducted on the same place so that change of environment doesn't affect the test.
To find the mobile phone with the best battery life, we did the following real-life tests using the 4G mobile data.
30 minutes of Instagram
30 minutes of Whatsapp video call
30 minutes of video recording (1080p and 720p depending on the maximum recording capacity of the device)
30 minutes of YouTube video streaming (1080p or 720p depending on the maximum resolution of the device)
30 minutes of Soundcloud music streaming
30 minutes of Gaming
Check out our ranking of the best mobile phones with the longest battery life
Smartphones With Best Battery Life (Worst to Best)
Following are the smartphones that were included in our best battery test. We only included the 10 most popular phones in the Pakistani market to settle it once and for all. According to our testing, the ranking goes like this in ascending order.
Huawei P20 Lite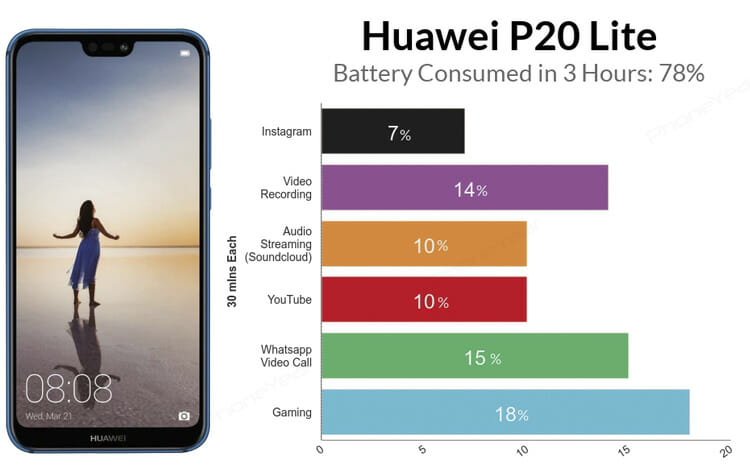 In our list of best battery life, Huawei P20 Lite turned out as the worst performer. It packs a 3000mAh battery and maybe that's a reason that it performed below average. The phone consumed 75% battery in just 3 hours.
Other than a 3000mAh battery, it contains the Kirin 659 chipset and 4GB RAM along with 64GB internal storage.
Honor Play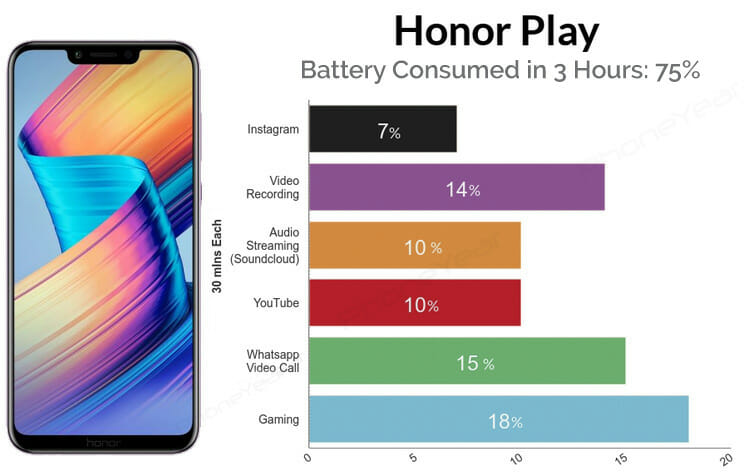 Though it was a bit surprising, Honor Play came second last in the list with a consumption of 75% battery in 3 hours. Although the phone packs GPU Turbo technology that helps in conserving battery and maximizing efficiency, the results depicted something else.
Honor Play packs a 3750mAh battery and a flagship Kirin 970 chipset coupled with 4GB RAM. All of the factors should have helped in better battery consumption but our results state otherwise.
Realme 2 Pro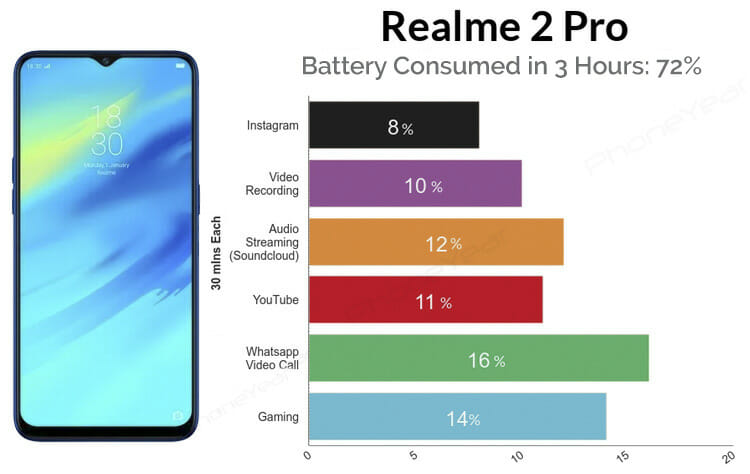 The debutant from Realme didn't do quite well in our real-life test and consumed a total of 72% battery in 3 hours despite having a significant battery of 3500mAh.
Realme 2 Pro lacks battery optimization because Snapdragon 660 that it possesses is known to be a power-efficient processor. It came on 8th ranking out of 10 phones which is quite unsatisfactory, if not the worst.
Nokia 6.1 Plus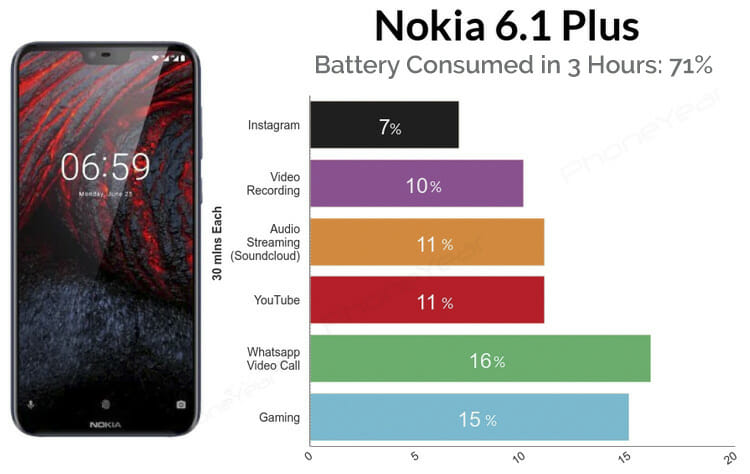 Surprisingly, with a small battery, Nokia 6.1 Plus managed to perform well even against the phones with bigger batteries. Nokia 6.1 Plus has a 3060mAh battery and consumed 71% of the battery in 3 hours. Though it's not much less than the Realme 2 Pro, if we consider the battery capacity difference, we think it's significant.
Nokia 6.1 Plus is another mid-ranger from HMD Global with 4GB RAM and 64Gb internal storage and a glass body that looks just amazing.
Redmi Note 6 Pro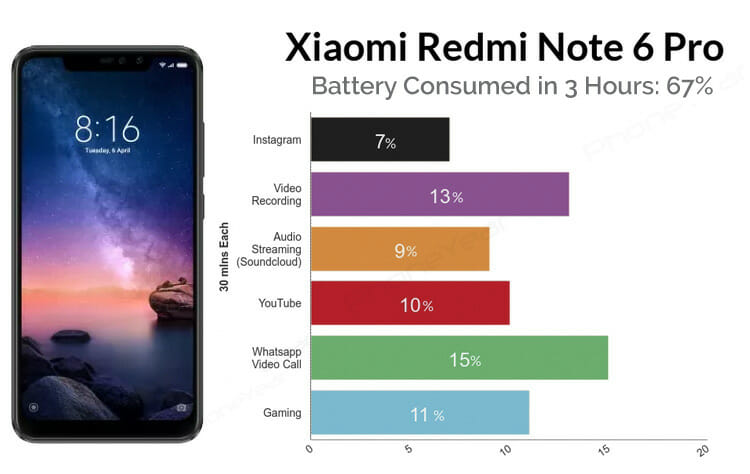 The successor to the Note 5 Pro comes with a 4000mAh battery and a Snapdragon 636 along with 4GB RAM. The phone consumed 67% of the battery in 3 hours. This roughly translates to almost 4+ hours of screen time.
Considering the 4000mAh battery we were expecting the phone to be a much better performer. Looking down to the 3060mAh of the Nokia 6.1 Plus, the Redmi Note 6 Pro didn't perform significantly better even with its 4000mAH capacity.
Honor 8X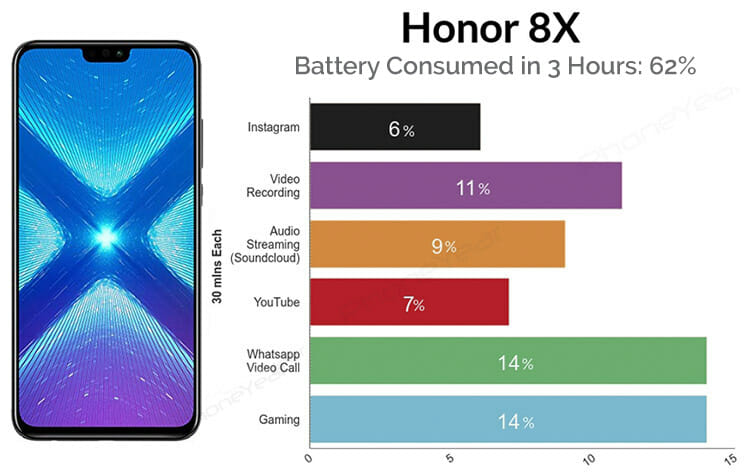 Honor 8X is one of the most popular mid-range phones of 2018 from the Chinese manufacturer and it checks most of the boxes too. From a great build to a decent battery, Honor 8X does many things right.
The handset comes with Kirin 710 and a 3750mAh battery that performs in a balanced way. It consumed 62% battery in our real-life tests which we think is decent enough to carry around for a whole day.
Vivo V11 Pro
Vivo V11 Pro caused quite some ripples with its great design and unique features like the in-display scanner. Not only the phone provides all the visual glimmer, but it also performs excellently in the battery.
Despite having a 3400mAH battery, which is less than many of its competitors in the test, Vivo V11 Pro managed to consume 62% battery in the test which is the same as the Honor 8X, although it possesses a lower capacity battery.
Huawei Y9 2019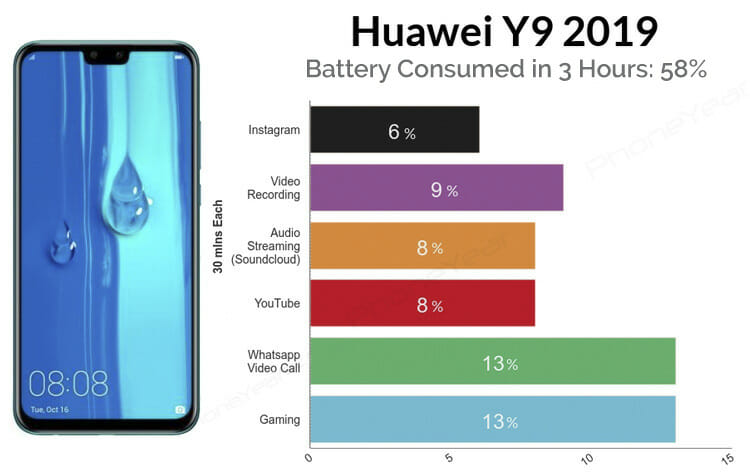 Huawei's mid-ranger comes with a massive 4000mAH battery. At first, we were skeptical about the battery performance of this phone as we had our ambiguities after seeing the phones with bigger batteries performing much badly.
Huawei Y9 2019, however, proved us wrong and gave an excellent battery performance with total usage of 58% battery in 3 hours making it to the top three.
Vivo Y95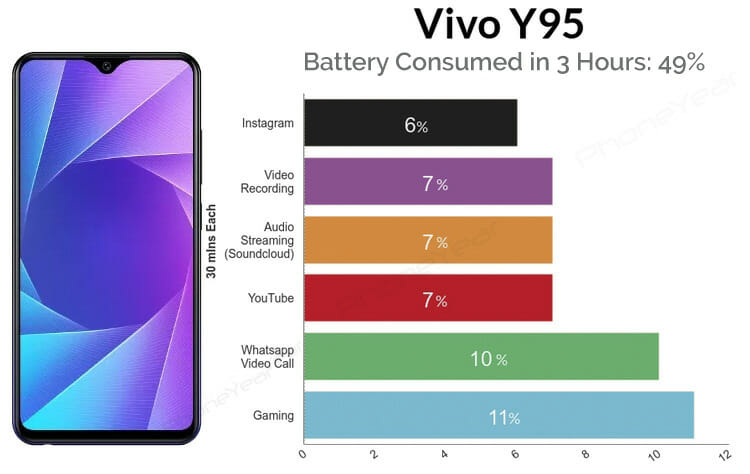 Amazingly, another Vivo phone made it to the top 5 of our best battery life phones. Vivo Y95 packs a 4030 mAh battery and a Snapdragon 439 with 4GB RAM.
Y95 made it to 2nd place with its outstanding battery consumption of 49% in 3 hours of extreme testing. It indicates that the phone could actually give out more than 6 hours of screen on time even with heavy usage which is no less than amazing.
Vivo Y91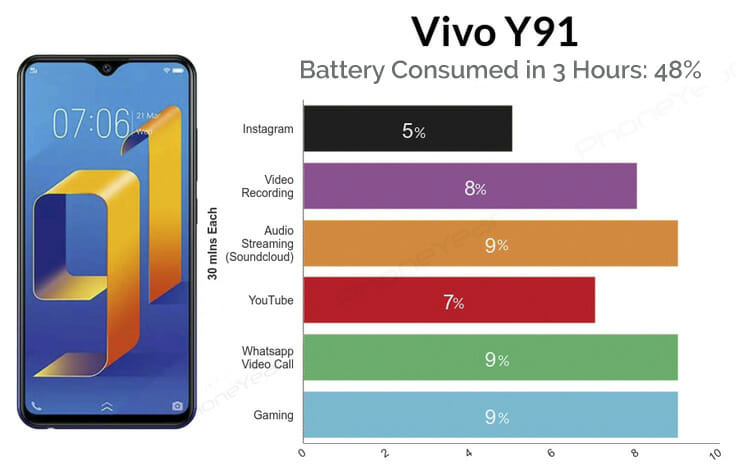 Vivo Y91 throned the best battery phone due to its amazing battery consumption. Though there was not much difference between the top two but a difference of even 1% is still enough to make the Vivo Y91 the best battery life smartphone and the winner in our test. It ate up 48% of the battery is a 3-hour test of ours.
Y91 has a 4030 mAh battery but other than the battery the phone might be below average as it has got an entry-level chipset that cannot deliver power-intensive performance. The 720p screen also plays a huge part in conserving the battery of the phone, hence pushing it to the top.