Mobile apps are quite handy and can offer many other services to the users besides just games. Those interested in learning English can also use the help of apps. From practice apps to learning English from scratch, these apps can be quite useful. Here is a list of the 10 best android apps for learning English.
1- Talk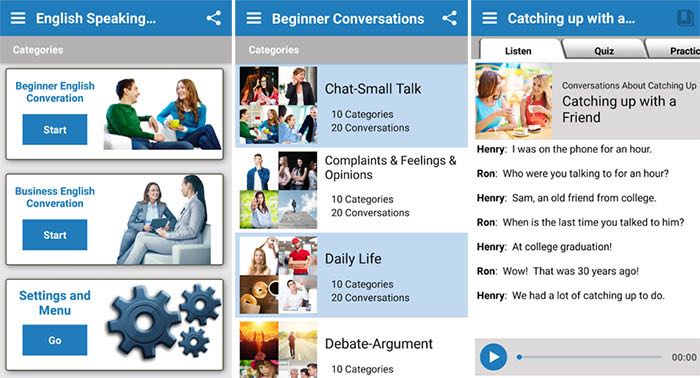 This is a great app that helps you with English learning skills through its interactive conversational tools. These tools help you practice and improve your English conversation skills. The interactive lessons not just help with English speaking skills but also better your English listening skills.
Once you have been through the tools of this app, you will be able to speak with native English speakers without any hesitation. The conversation lessons are for beginners, beginners that would like to learn business-level conversation in English, and beginners that wish to perfect their English conversational skills.
2- Duolingo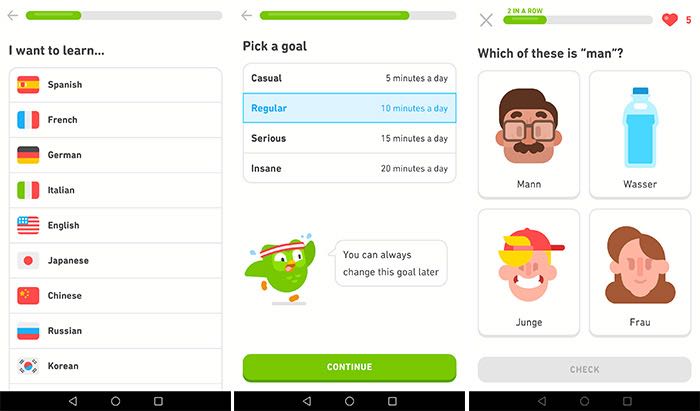 Duolingo has been said to be one of the best English learning apps by TIME, The Wall Street Journal, and PC Magazine. The lessons are created to be short, which is why it manages to keep the users' interest. Lessons are both interesting and useful. The users easily grasp the teachings and can enhance their vocabulary in no time.
The app lets you learn new words, their meaning, and their appropriate usage in sentences. You begin with basic phrases and then move to a more advanced level. One bonus of using Duolingo to learn English is that you also get to learn other languages such as Russian, Spanish, French, German, Irish, Polish, Hebrew, Swahili, and more.
3- Hello English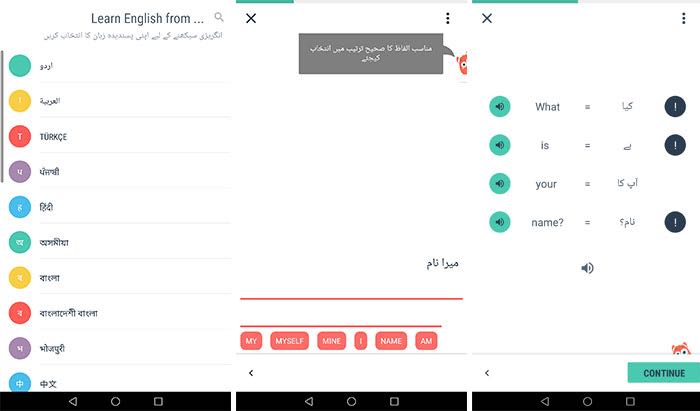 This is another very popular Android app for learning the English language. This app is loved and used by a large part of the population as it allows users to learn English from 22 other languages. This app uses several fun learning methods, including daily news, video, audio, etc.
Also, this is a feature-rich app that comes with an almost 10,000 words dictionary, offline support, 475 lessons along with a teacher for assisting. Hello English is used by more than 50 million users and is known to improve the overall English knowledge such as vocabulary, grammar, and spoken English capacity.
4- Beelinguapp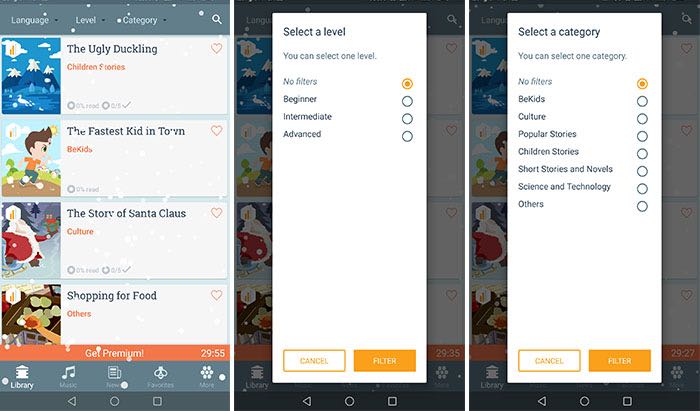 This is a unique app that lets the users both read and hear the text. Along with this, you will be able to read the text in your native language, also for reference. Beelinguapp helps you learn English through different stories. The audio continues to run even when the phone is in sleep mode.
The user doesn't need to rush in if they are learning English with this app. They can learn English or any of the other Languages that Beelinguapp offers to learn at their own pace.
5- Memrise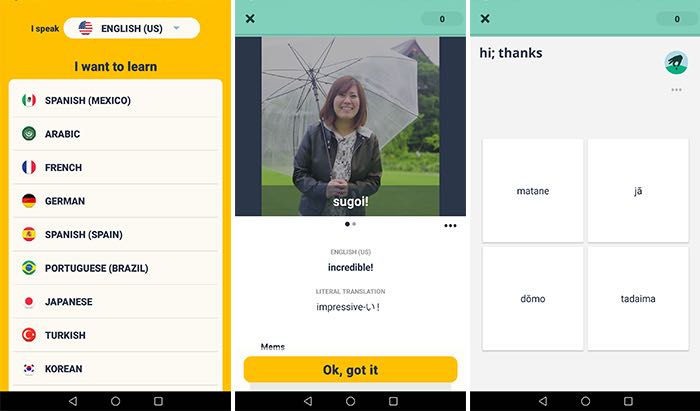 This app is another widely used English learning app in the list of 10 best android apps for learning English. There are over 45 million users of the app that, along with English, have used it to learn other native languages such as Danish, Portuguese, Korean, Mexican Spanish, and others. Memrise boosts your English learning and helps you remember and add your new words to your memory bank.
There are many interesting fun video clips related to the language that you wish to learn. You will also find real locals in different destinations and playing quiz-based games – all of which have been designed to help you learn the language.
6- Busuu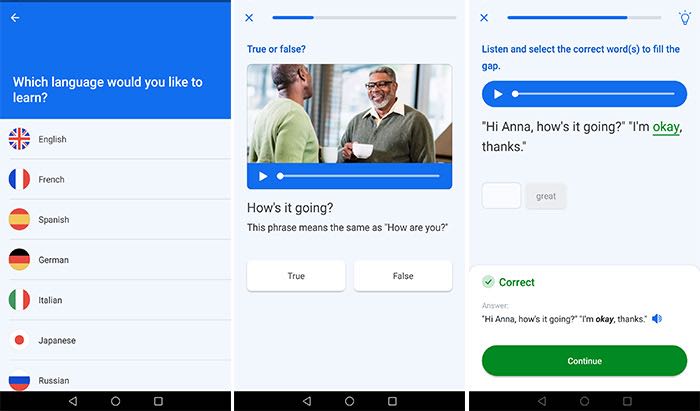 You will not just be able to learn English with Busuu, but you can also get certified with McGraw-Hill Education in English or the other 11 languages that it has to offer to its users. There are more than 150 units in each language, and the natives will correct your exercises, so you know where you stand.
A placement test decides which beginner level is perfect for you. Speech recognition exercises ensure that you don't just get the spelling and meaning correct, but you also pronounce it right. You do not require the internet to use Busuu.
7- Xeropan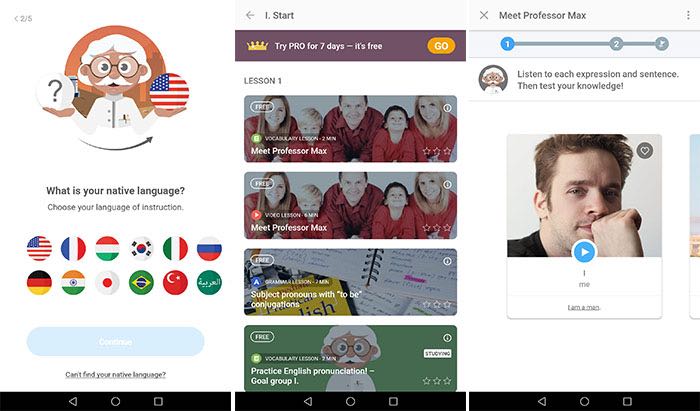 This app is specifically just for users that wish to learn English. Millions of users have reviewed it to be one of the 10 best android apps for learning English. Xeropan offers interactive, fun, and very interesting learning techniques to the users.
With the app, you can improve your grammatical skills, learn English, thorough your pronunciation, and enhance vocabulary. There is a daily progress tracking system that will tell you where you stand.
8- Drops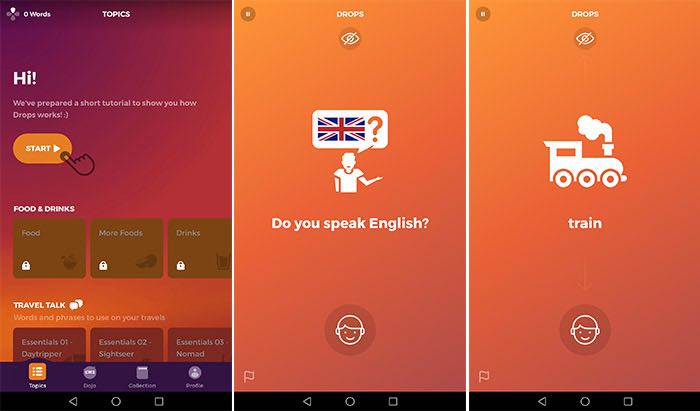 This is a fun and almost magical little app that can perfect you in US American English in no time. All it asks is to give five minutes a day, and you can learn English. The creators of the app have eliminated the pain of typing through your keyboard; instead, they use taps and swipes in their sessions.
The games are effortless yet effective. They help you grasp quickly because of which you get an immersive experience.
9- Babbel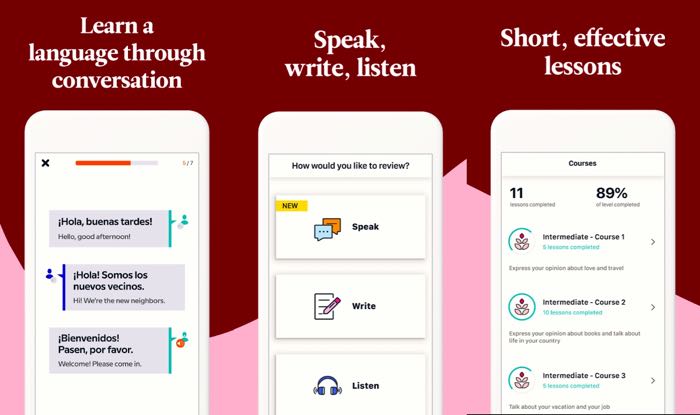 Language experts have created the app. It is not just for those that like to learn English but also for people that wish to learn languages like French, Italian, Spanish, Indonesian, Norwegian, Turkish, and more. The effectiveness of the lessons taught in the app has been given thumbs up by Yale University researchers.
Michigan State University research showed that people that used Babbel for just 10 hours performed better in grammar and had improved their vocabulary. The courses have been tailored according to the language, and each lesson is only 15 minutes or lesser. It is one of the most popular 10 best android apps for learning English.
10- Learn English Phrases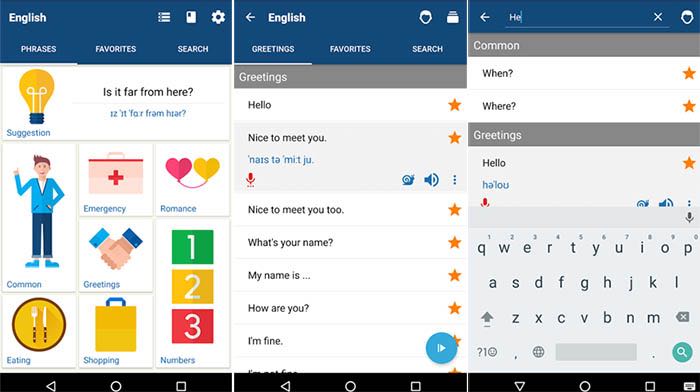 This is a great app that helps its users learn English phrases and words quickly. It speaks out loud for the user to understand its pronunciation. They also have the option to slow down the pace at which it is pronouncing the words or phrases. Once you have heard the phrase/words, you can record, listen, and compare your own pronunciation with theirs.
Use any one of these top 10 English learning Android apps mentioned above to learn or strengthen your hold over the English language. All of these apps are very helpful and offer excellent features.