Mega smartphone displays have made it easier for senior citizens to use smartphones easily since phones now offer many options to customize the font size, icons size and shape, screen colors, and much more.
But some of the companies also make phones that are easier to use, and we can call them the best smartphones for senior citizens.
If you want one for your parents or someone you care about, here is the list of the easiest smartphones for senior citizens you can buy online.
They are durable with long-lasting batteries and carry all the necessary bells and whistles old folks need.
Jitterbug Smart3 Smartphone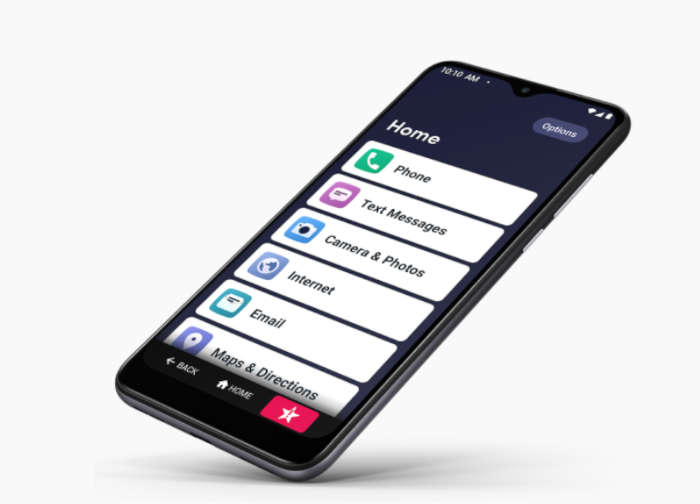 Manufactured by TCL, Jitterbug Smart3 has specific features that are very friendly for people in old age. It's an Android 10 device with a sizeable 6.22-inches screen and weighs 5.6 ounces.
Simple and list-based large icons on the screen make it easier to reach phone calls, text messages, camera and photos, internet browsing, and many others. One can easily tap on prominent 'back' and 'home' buttons, and in case of emergency, the urgent response key requires a single tap, and the agent will be online right away.
The black-colored device can run on 4G and gives you the following features that make this device one of the best smartphones for senior citizens.
Voice typing makes emails and writing text easier. Plus you get hearing aid with M4/T4 rating.
Powerful speaker at the bottom for those who need to hear loud, and you can attach wired headphones through a 3.5 mm jack.
The dual camera on the backside carries 13MP + 5MP lenses and a 5MP camera on the front. So video chat and video shooting are easier.
32GB internal storage but expandable up to 256GB.
Bluetooth and GPS
USB Type-C charging.
Long battery life.
24/7 access to Lively response team which is very friendly.
By this phone on Amazon
Artfone C1+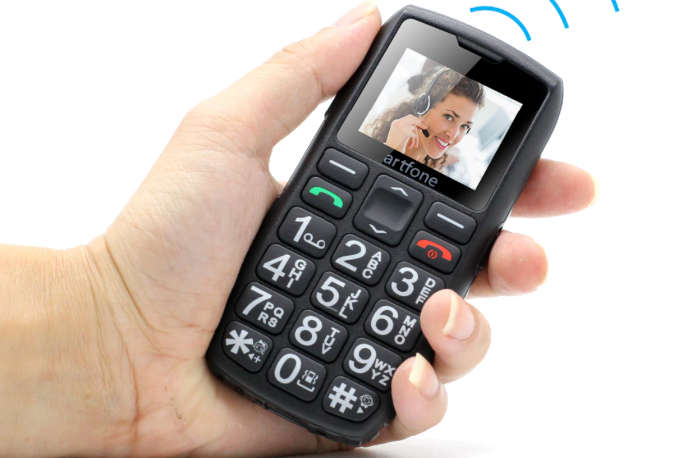 It's a clean and simple mobile phone for old folks who don't want their fingers to slip through a glossy touch screen. The buttons are large and very clicky that one can't miss them; even someone with weaker eyesight can easily use them.
The mobile phone provides SOS features through a button for dialing one of 5 pre-saved numbers in an emergency.
C1+ does a very basic job, so you should know a 3G SIM won't work on it. It only accepts normal-sized 2G SIM, and you can add two SIMs inside.
Artfone C1+ gives the following features;
Chipset: MTK6261D
Memory: 32MP + 24MP (expandable up to 23GB)
Display Size: 1.77 inch 120 x 160 QQVGA
Battery: 1400 mAh Li-ion
Others: headphone jack 3.5mm, Bluetooth
No camera on this phone
Buy on AliExpress
UNIWA V808G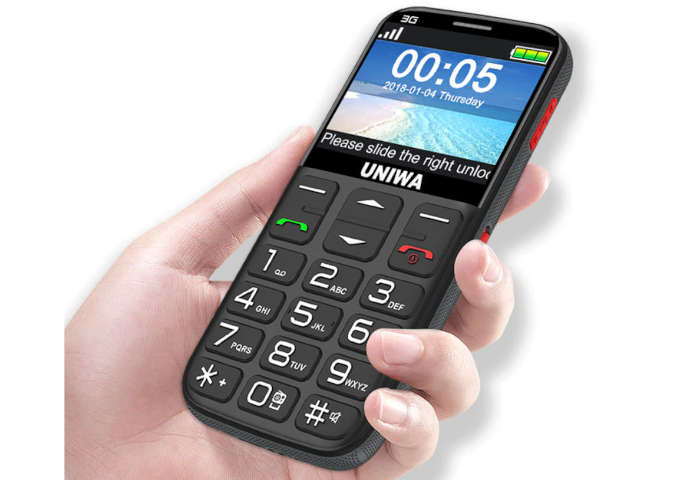 V808G is another basic mobile phone, but it has an additional advantage; the phone can work on a 3G network. And that is why become a great phone for senior citizens.
2.4 inch LCD and larger 'physical' buttons are extremely helpful features for senior citizens.
Unlike C1+, V808G also features a primary camera, 0.3MP, and you can get this phone in blue, black, and grey colors.
Here are the rest of the features;
An SOS button is onboard for emergency calls
torchlight
SC7701 chipset
Bluetooth, Wireless FM
1400 mAh battery (micro USB)
Buy this phone on Amazon