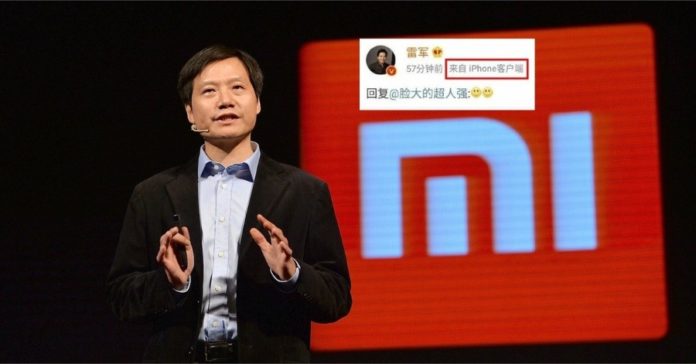 In a recent post made by the CEO of Xiaomi Mr. Lei Jun on Weibo, fans noticed that he was using an iPhone. This quickly spread like fire, and suddenly everyone in China was talking about it. Fans started expressing their concern for such an action, saying that if a CEO does not believe in his product, how will others do then. Yet Xiaomi's partner Pan Jiutang came out for his defense, saying that many of the elites use iPhone. Adding further that, almost every CEO of major mobile corporation uses an iPhone now and then.
But how did things get so far? And Is there a policy against it?
This whole mess started when Mr. Lei Jun made a post telling fans to buy a few good books. This post, in its nature, was not controversial in any way or form. But what Mr. Lei Jun failed to notice is that he was making the post on Weibo using his iPhone. Weibo tends to display which phones are being used in its post. This is mainly how many major spoilers and leaks get out, but this time it gave rise to a controversy.
Also Read: Xiaomi Sells 30 Million Units
People argue if the CEO of Xiaomi is not using their products, then it reflects badly upon its quality. To which Mr. Pan Juitang states that innovation exists by copying and improving upon a concept. So, using a phone of a different brand is just their way of testing out its capabilities. Therefore, this will help them incorporating such innovations into their own devices.
Similar incidents have happened in the past, as CEO of Realme Mr. Li Nan was caught using an iPhone after leaving Meizu. This only heats up the debate that Apple products are superior to Android smartphones. Although, Mr. Lei Jun has stated on multiple occasions that Xiaomi's staff are not banned from using other devices.
Check Out: Xiaomi Black Shark 3 Pro
He claims that such practices help them root out the comparison between different mobile phones. Yet, many do not share his enthusiasm and feel that a corporation should rely on their own products. Chinese companies being the major manufacturer of Android smartphones, gain a disadvantage from such controversies.
Therefore, as the CEO of Xiaomi, Mr. Lei Jun has deleted his post for now, but the debate over the controversy continues.        
Image: MobyGeek