Cellphone data plans always have a limit, no matter how expensive they are, which makes online content watching pretty inconvenient, like on Netflix. If you want your media content to be available on the go, you'll need to download your Netflix content in order to keep it with you in case you run out of your data package and want to watch movies offline.
Here is how you can use the Netflix app to watch movies offline. Though this method is primarily intended for the Netflix app for Android tablets, these instructions will also work for the Netflix app for Android smartphones.
Things to Consider
You'll only be able to download and watch movies offline via the Netflix app if you follow all the instruction correctly and furthermore are aligned with the following.
Make sure you are running the compatible version of Android. if you are not having Android 4.4.2 (KitKat) or above version, you won't be able to download TV shows and movies.
The most important thing is that some movies and shows are not available for offline downloading. That's the way it is. Don't pull your hair out for that.
How to Watch Movies Offline with Netflix app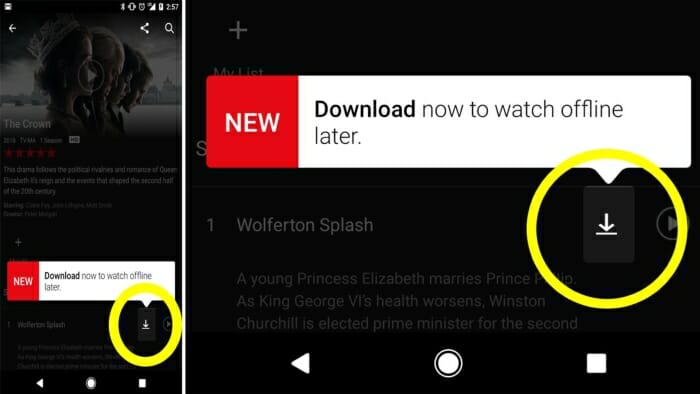 Launch the Netflix App on your device and Login
Tap the Download icon which is represented as a downward arrow pointing towards a single horizontal line.
(For the movies, the icon will appear on the description page. For shows, it will appear next to each episode, hence a single episode will be downloaded every time you press the button.)
Tapping the button, the download will start for that very movie or show. It will also show in the notification bar and within the app.
When the content is finished downloading, you'll be able to access it from the Netflix's app download page.
How to use Smart Downloads
Smart Downloads is a great feature if you don't want to manually download movies and TV shows. It automatically deletes the episodes of the series that you have just watched and, downloads the next batch so they're ready to go. However, it only works on WiFi so you don't have to worry about how will it chew your data even without you knowing.
This option is enabled by default and if you wish to disable it, just tap Downloads tab and there will be a toggle for the Smart Downloads option to turn it on and off.