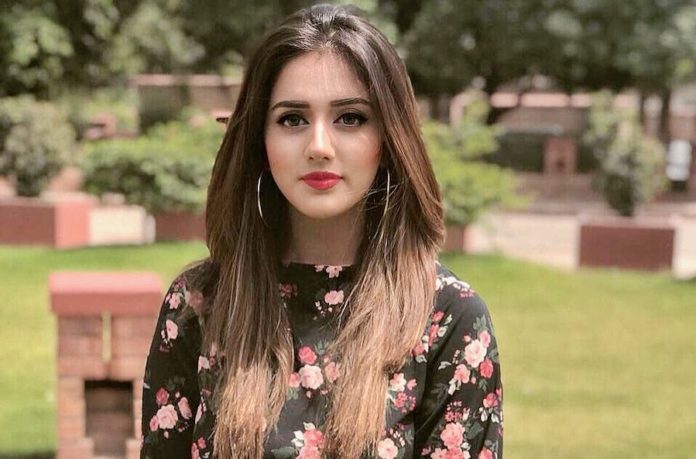 TikTok is the second most downloaded app in Pakistan and second only to WhatsApp. There are millions of active on TikTok users that are either making or watching content on a daily basis. In recent years, some TikTokers have taken the status of celebrities and have amassed millions of followers. Therefore, we are going to talk about some of the most famous TikTok stars in Pakistan.
#1 Jannat Mirza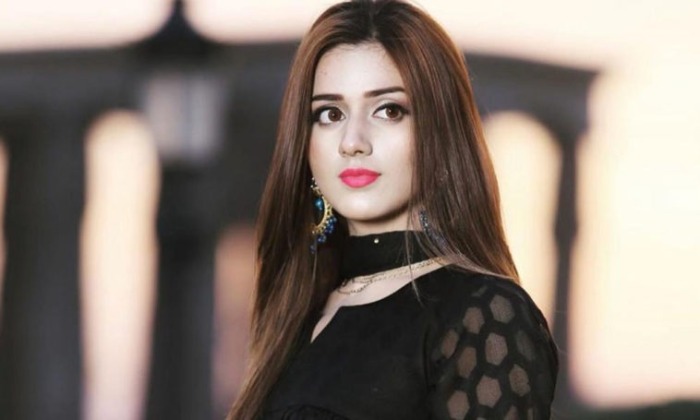 Jannat Mirza has almost over 6 Million followers on TikTok and growing, and she has gained over 90 million likes on her content so far. She currently stands on the top of the charts, and her splendor attracts everyone around her. Apart from making lip-sync videos, she makes excellent slow-motion and transformation videos. Plus, she never shies away from making a few funny ones as well. This adds to her diversity as her sense of humor sits well with her easy-going attitude.
As big of a star as she is in Pakistan, Jannat Mirza also has a following in India. She reveals to have received an offer from Bollywood to work alongside Kartik Aaryan. This was a bold move, as she is about to make her debut film in Pakistan. Her fans much admire her decision to choose Pakistan's industry over India.
#2 Zulqarnain Skiandar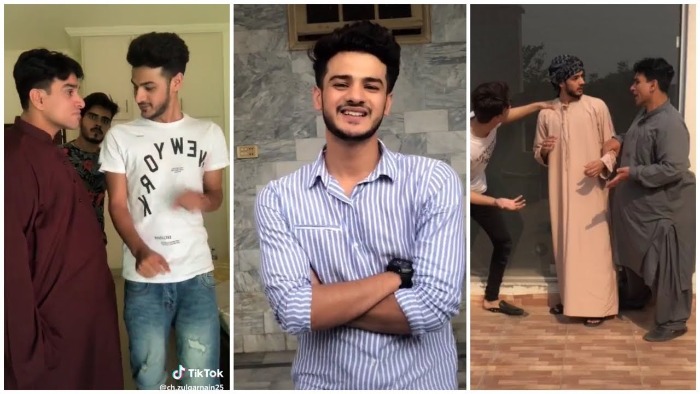 With a following of over 5 Million, Zulqarnain Sikandar is an entertainer to his core. He makes a lot of funny videos, and his humor is simple yet very connecting. He can be quite a jester at times, but there is nothing artificial about him. Zulqarnain is entirely original and sticks to his style despite what people say. Hearing his dialect, you can easily point to where he comes from, and he likes to stick to his root.
Looking at his page, you may notice he just sits in any corner of his house and makes a video. There is nothing too flashy about him, but regardless Zulqarnain Sikandar has made a significant impact on the community. He is currently among the top TikTok stars in Pakistan leave many celebrities behind.
#3 Pinky Francis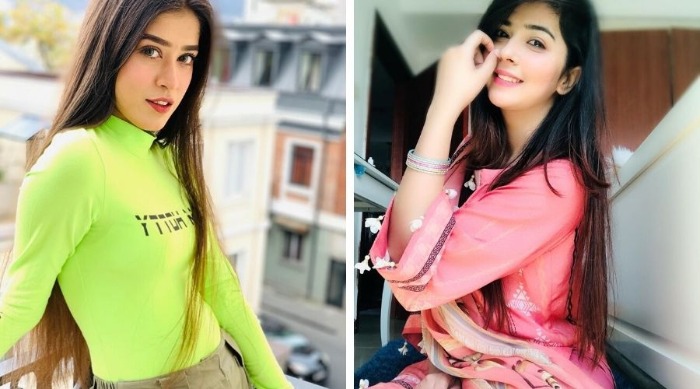 Due to her following of about 2.8 Million, Pinky Francis was seen endorsing Huawei P40 in one of her TikTok videos. Previously she even endorsed Huawei Y7p, so this shows us that she is definitely on the radar of some major brands. She primarily makes funny videos along with a lot of lip-syncing. Her followers explain her personality as majestic, and she is full of splendor.
Her fans much admire her fashion sense, and her videos where she wore wearing a bridal dress were a hot trend. She chooses to make a lot of Punjabi videos, which adds to her diversity significantly. Pinky even earned a badge for being an "Ace Comedian" on TikTok. She has a great future ahead of her, and we may see many brands support her career.
#4 Harris Ali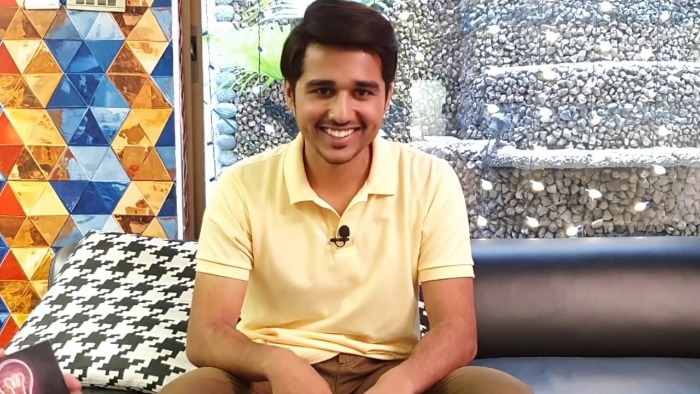 A simple funny Pakistani boy with a following of over 2.6 Million and more than 103 million likes on his videos. Harris Ali is just like you and me, but something sets him apart, which we really cannot put our finger on. He is funny and very likable; moreover, his sense of humor is the highlight of his personality. His fans describe him as having a simple that "makes our day," and we know exactly what they are talking about. He has a comforting presence, and even though he likes not to go overboard with expression. What he chooses to show is enough to do the job. He is among the most famous TikTok stars for being himself, and he tends to surprise us every time.
#5 Phoollu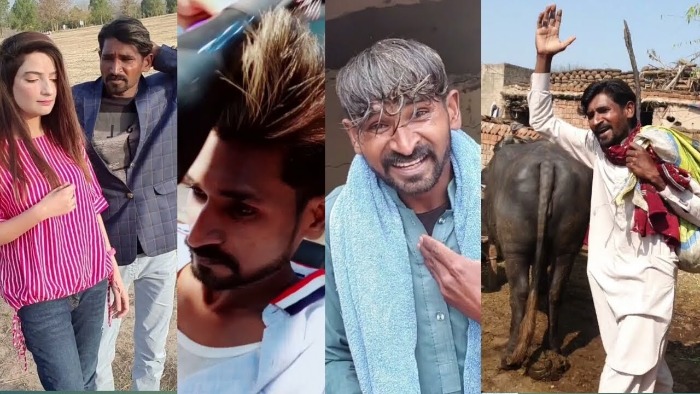 A simple and humble man Phoollu never imagined gaining a following of 3.4 Million. His funny demeanor and down to earth attitude are what allow people to adore him more and more. He appears to be a hard-working man, and his positive outlook towards his life helps people gain insight into village life. Where TikTok stars stick to making videos in their houses, Phoollu takes to the streets. His fans have grown to think of his village as his home. His catchphrase "Sisteron Brotheron" is often repeated by many other TikTok stars.
#6 Malik Usman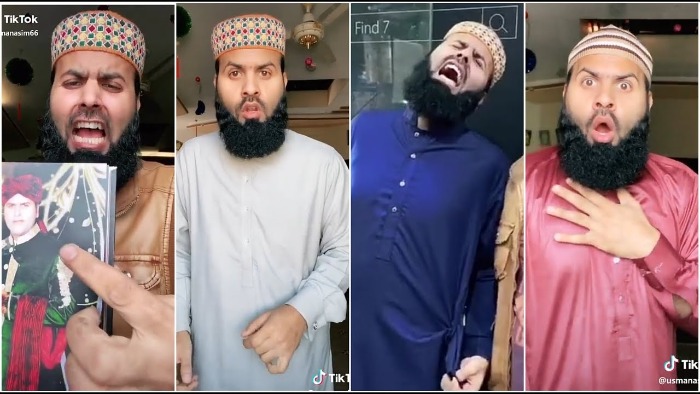 Another unusual fellow to grace the ranks of TikTok stars is Malik Usman (#Famousmolvi), with over 5 Million followers. He, like all others, makes funny videos, but on the side note, he likes to make a lot of messages videos as well. He is not the one to shy away from the camera, and he is very comfortable diving deep into his inner child. We, too, did not believe at first that such a serious-looking man could make us laugh so much.
Each of his videos gains millions of views, and to date, he has collected 156 million likes on them.
Honorable Mentions
Sadly, as there are so many TikTok stars with a great fan following in Pakistan. That we find it difficult to do justice to all of them. But here are a few honorable mentions of People just as good and rapidly rising among the ranks.
Reeja Jilani, a fantastic person who we would love to cover in the future. She is equally famous on her Instagram as she is on TikTok. Pir Ahmed worthy of being among the top, he had a personality that would take him to be a model one day. His smile is full of innocence, and he knows how to carry himself. Then there is Hazeera, beautiful, funny, smart, and girl you would never want to see cry. She is gaining popularity because of her funny bone and emotional dialog delivery.
Also Read: Pakistani Celebrities Promoting Mobile Phone Brands
Although there are many celebrities on TikTok, however, two worth mentioning here are; Noor Hassan and Yassir Hussain, who are rapidly gaining a lot of fan following. This is the right way of gaining insight into what goes on in their life. Yassir Hussain's TikTok videos often feature Iqra Aziz and they are seen doing charity work. Noor Hassan, on the other hand, takes TikTok to show his funny side to us. As his original work on tv mostly revolves around dramatic shows. That is why it is nice to see him on the lighter side of things. His activities have remained less in the past, but recently due to quarantine, he is making videos actively.