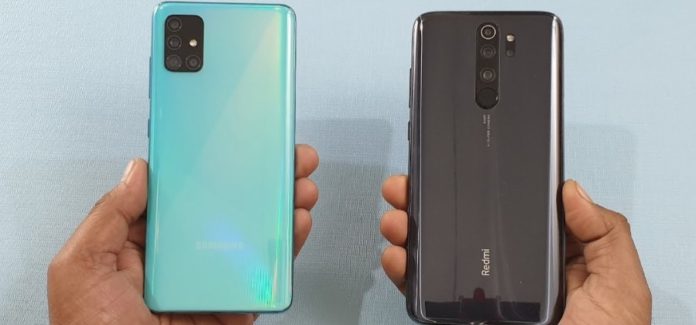 According to a report by Strategy Analytics, Samsung Galaxy A51, and Redmi 8 were the best performing phones in Q1 2020 on the global level. Despite the COVID-19 crisis, these mobile brands managed to capture a big part of the mobile market. Samsung Galaxy A51 managed to capture 2.3% of the market in the first quarter. Whereas Redmi 8 managed to capture 1.9% of the market share. Following closely, Samsung Galaxy S20+ captured 1.7%, Galaxy A10s 1.6%, Redmi Note 8 1.6%, and Galaxy A20s 1.4%.
This clearly shows that Samsung A series is still managing to capture some good spots in the global market. Last year, it also managed to grab the top three spots among the best selling phones. Xiaomi is further progressing rapidly, and securing two spots for the Redmi 8 and Note 8 is a good sign. Amidst the COVID-19 crisis, where economies are entering a recession, mid-range mobiles are turning out to be good for business.
The reports show that 275 million smartphones were shipped off during the first quarter of 2020. Among these, Android is contributing almost 86%, making it the major stakeholder for the industry.
In a statement given by the Associate Director of Strategic Analytics, Juha Winter states "As mobile operators have reduced subsidies in recent years, and many countries are now tumbling into post-virus recession, smartphone consumers globally are becoming increasingly price-sensitive, and they are seeking out new Android models that deliver the biggest bang for their buck. Samsung Galaxy A10s, Xiaomi Redmi Note 8, and Samsung Galaxy A20s round out the fourth, fifth and sixth most popular Android smartphone models worldwide, and a further sign that many consumers want value-for-money devices with good-enough specs at affordable prices. Android is entering a post-premium era."
Following its own tradition, Samsung Galaxy S20+ secured a spot at the top charts. Similarly, its predecessor Samsung Galaxy S10+ also secured a place on the list last year. These are the only premium devices to secure their position in the top five bestselling smartphones, as the list might continue to be dominated by Mid-range devices for quite some time.