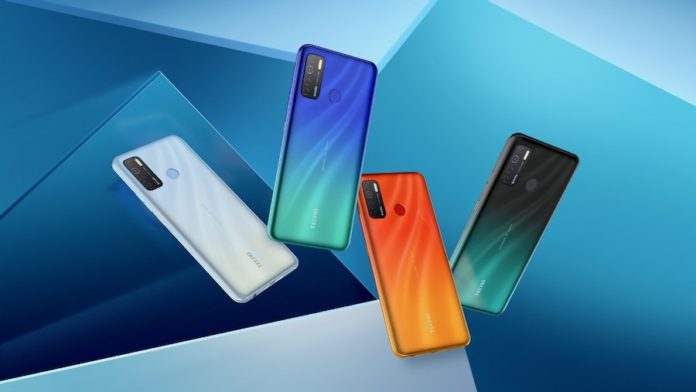 TECNO Spark 5 is the latest phone the Chinese phone maker is going to launch in Pakistan. The phone has been launched elsewhere, and a local launch is imminent but with different specifications for the Pakistani market. It is expected to hit the shelves in two weeks. The device is a successor to the popular Spark 4 phone that was a big hit all over the world.
Spark 5, the upgraded version of the Spark family, is going to be available in three variants, both having good camera specs, long-lasting battery, and spacious memory. 
The standard Spark 5 is expected to come with 4GB RAM + 64GB ROM for PKR 19,499, and the premium Spark 5 is expected to feature 4GB RAM + 128GB ROM for PKR 21,499. Early images revealed on the TECNO's official site show that the series is equipped with five camera lenses; 13-megapixel AI Quad on the back and 8-megapixel on the front display. 
There is going to be a Lite version as well that will feature 2GB RAM and 32GB internal storage.
TECNO Spark 5 is going to be launched due to immense positive feedback by the customers on Spark 4. This series is presumed to give splendid camera results with its unprecedented 6.6-inch dot-in-display, powerful mobile performance with 5,000 mAh battery. On the software front, it will feature the latest HighOS v6.0 features built on Android Q (10).
The TECNO Spark 5 is recommended for photography enthusiasts as it is equipped with upgraded AI Camera 3.0 and AI Scene Detection algorithm. Its advanced camera performance allotted with quadruplet rear-camera flash and duplet front camera flash would elevate the entire photography experience of the users.
Tech analysts anticipate that Spark 5 would outrank its predecessors Spark Go and Spark 4 due to its high-versatility, advanced features, and an affordable price. Maintaining the brand's essence of "Expect More," TECNO has once again surprised its consumers with its five-camera array smartphone innovation, providing them with the ultimate photography experience and outstanding performance.
Are you excited about TECNO's upcoming SPARK 5 series? To know more about its advanced specifications, stay tuned with TECNO.