Finally, we have the Motorola Razr 2019 in reality which is more like a blend of past and present. The T9 keypad has been replaced by a tall 6.2 inch foldable plastic OLED. And on the OS side, Android 9.0 runs the show inside.
It is the feverishly anticipated phone which is very much in line with the leaks we have seen lately and the most recent one came just yesterday when the images were all over the tech blogs.
It is a true successor to 2004's flip phone model that packs different ingredients this time. Although it inherits the form factor for creating the nostalgia, the specifications can be matched with any modern-day device. 
However, it is still a mid-range device since Motorola has put a Qualcomm 710 processor inside. Another shortcoming we notice here is the single lens of 16MP that too in an era when even an entry-level phone does not dare to come with a dual-camera. 
We really wished it to be a flagship device but Motorola has deliberately kept the specifications on the lower side to give battery life a little boost to last the whole day. It could have inserted a larger battery inside, a Qualcomm 855 chipset or maybe a triple camera but that would have compromised on the exact physical measurement that Motorola wanted to match with the original phone.
A little thicker or bigger in size, it wouldn't have given an exact feel of the good old days.
This phone currently packs a 2510 mAh battery.
Motorola Razr 2019 relies on; 
Qualcomm Snapdragon 710 chipset 

6GB RAM, 128 GB internal storage 

6.2-inch foldable pOLED display of 2142 x 876 resolution.

2.7-inch quick view display of 800 x 600 res 

16MP front-facing camera with night vision mode 

5MP internal camera

2510 mAh battery.

USB Type-C support

eSIM

Android 9.0

Fingerprint reader
The awe factor for this phone is no doubt the foldable screen which is entirely a different mechanism than Samsung Galaxy Fold and Huawei Mate X.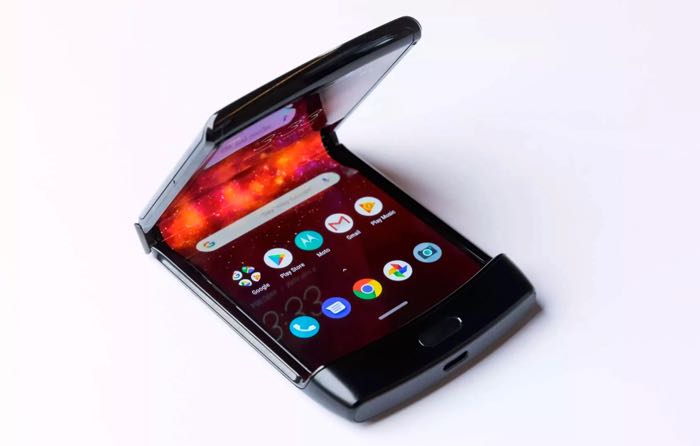 There is an Applish notch in the top area that takes care of earpiece, a front lens, and the sensors.
The screen looks tall when it is opened but does not look odd. It folds along the horizontal axis which is a complex mechanism and a combination of multiple hinges and plates that do the work for folding and unfolding the device. 
Motorola ensures that it is confident that the system will keep working for an average lifespan of a smartphone. Their past experience with the folding Razr device gives this claim more strength but on the other hand, Samsung also had produced folding phones in the feature phone era but Galaxy Fold has proven that folding phones of 2019 are entirely different in functioning and requirements.
Certainly, we should wait for tech geeks to come up with their versions of satisfaction in the coming days after performing their rigorous tests on Motorola Razr 2019 but TheVerge in its first look calls it a seamless screen that bridges across the hinges. 
Right across at the bottom, there is a big chin, just like the past, that shows off a fingerprint scanner, a USB Type-C slot, and the microphones. 
In the closed position, the Motorola Razr 2019 becomes half the size of a normal smartphone that can be easily slipped into a pocket without the fear of catching scratches on the screen.
It folds up to reveal another low-resolution 2.7-inch screen for displaying the notifications instead of doing a hassle of opening the phone for every little thing.
For $1,499 asking price, this foldable device looks a much better deal than pricier Huawei Mate X and Samsung Galaxy Fold but does it look really affordable considering the average specs it offers? Only the coming days will confirm if Razr entices the millennials who could spend a fortune for their love of past or not?
It is still higher in price than the latest iPhones, Samsung and Huawei phones.
Motorola hasn't announced its global roadmap for other markets, however, the phone will remain Verizon exclusive in the US market for now for which the pre-orders start on December 26th and the device will finally land in consumer's hands by January 2020.