Looking at the current economic situation of Pakistan, it won't be wrong to say that the country is thirsty for foreign investment and if Pakistan Tehreek-i-Insaf (PTI) leader Aleem Khan is to be believed, we will soon be welcoming Huawei head office in our country.
The former provincial minister who was recently granted bail by Lahore High Court in the case concerning owing assets beyond known sources of income and other corruption allegations took to his official Facebook account and posted a picture which reads that Huawei has decided to open its head office in Pakistan.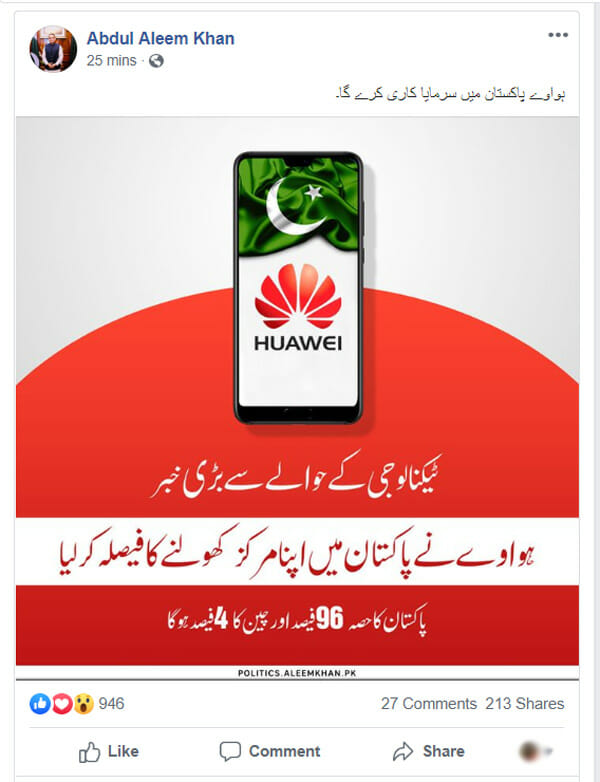 While the current government has repeatedly propositioned Chinese smartphone brands to start manufacturing their devices in Pakistan, this is the first time we are hearing about such plans to establish Huawei head office. What's more confusing is the statement that Pakistan will have 96% share while Chine (not Huawei) will have a 4% share.
In April 2019, Chief Executive of Huawei,  Ren Zhengfei while meeting the Prime Minister of Pakistan also expressed interest in making heavy investment in the country which we earlier assumed was related to its aim to test the 5G technology in the future, but could it be related to building Huawei head office in Pakistan?
While talking to us, Huawei spokesperson said, "We have offices in Lahore, Islamabad, and Karachi already," but when we presented a query related to Aleem Khan's recent post, he refused to give a comment.
The Facebook post despite being published by a major PTI member is quite vague as it neither tell us which division of Huawei, network, mobile phone, etc. will be opening its head office in Pakistan and nor the source of such a bold statement.
What's more perplexing about this situation is that the news has not been revealed by the PTI or Huawei's official social media handle instead by Aleem Khan who before his resignation was in charge of the ministry of local government and community development in Punjab and also carried an additional charge of running the ministry of planning and development.
Till now, no official press release has been issued by the Government of Pakistan and the Chinese smartphone maker and thus, we advise you to take this news with a pinch of salt as Huawei is already embroiled in the heated battle with the US government over the recent ban and amid the disaster which is suspension of business with companies like Google, ARM, etc. it seems unlikely for it to make such a big decision.
The company will be financing the first cloud center in Pakistan in collaboration with Airlink Communications and we have to wait and see if a Huawei head office is in the cards as well or not.