After the rise of Artificial Intelligence trend in smartphones, Huawei put its back in improving the camera on their phones which paid off very well and now almost all the Huawei and Honor phones, regardless of their price range, have an AI-enabled dual camera setup as per the ongoing trend.
The growing popularity of Huawei is heavily dependent on innovation in the camera compartment. The Chinese giant has already set foot in triple camera arena with last year's P20 Pro and is now planning a phone with 5 rear cameras, possibly the Mate 30.
However, a bigger chunk of company's success comes from mid-range phones and since all the Huawei and Honor phones rock the same EMUI overlay, they are equipped with the same camera features as far as the software is concerned.
If you are a mobile photography enthusiast and are new to Huawei phones, you are in for a treat. Here is a complete guide on camera features that Huawei and Honor phones offer and how can you best use them
Camera interface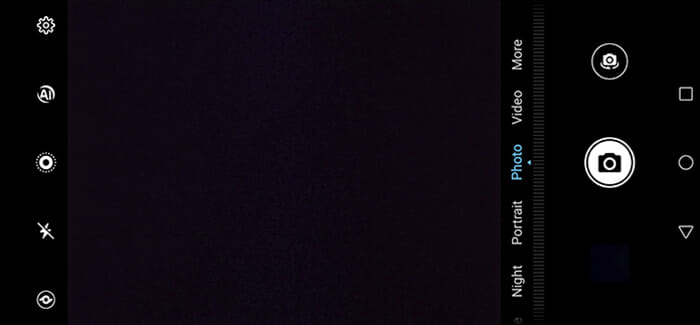 The user experience while taking pictures is equally important as the quality of the picture. You wouldn't want a cluttered software experience. Huawei's main camera app is very intuitive and easily laid out in a manner that isn't confusing even for the novice users.
Once in the camera app, you'll come across the viewfinder with a shutter button at the bottom and plenty of modes on the slider just above it. On the top bar of the finder, you encounter some more options like the AI button, a "moving picture button that lest you take GIF-like moving pictures, a flash toggle and a scanner button that can scan objects and search for similar suggestions online.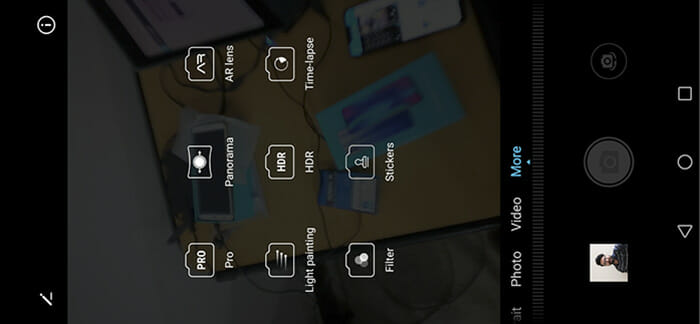 The mode slider contains the modes like Aperture, Portrait, Photo, Video, Night and "More". Clicking on the More button takes you to another set of modes which include Pro Mode, Panorama, AR Lens, HDR, Light painting, Filter and Timelapse. If your phone supports slow-mo video, it can also be found in the More category.
The modes remain more or less the same through all Huawei and Honor phones camera application but strangely, the placement of the modes might vary from one device to other.
Auto/Photo Mode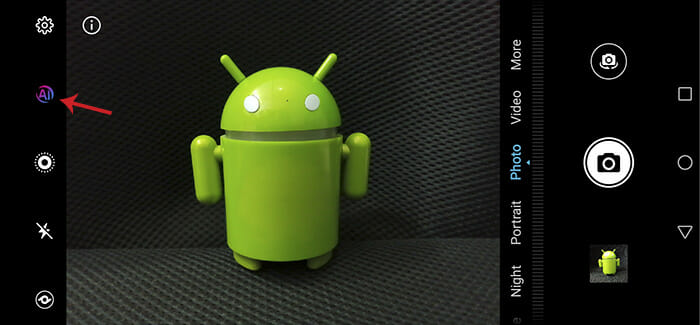 Photo mode on Huawei and Honor Phones camera is particularly useful. For a majority of people, this suffices as the only mode needed. It is the best one for point and shoots photography as it adjusts the settings accordingly with every scene.
Once you click the Photo mode, you'll see an AI toggle at the top which only works in this mode. If the AI in on, the camera will automatically detect the subject and change the settings like Text, Portrait, greenery, Sunset etc.
Portrait and Aperture Mode
Apparently, both these modes focus on your subject and give you a shallow depth of field (blurred background) and since both of these are somewhat the same, we decided to discuss both simultaneously but don't get confused. As much as they are similar, they have obvious differences as well.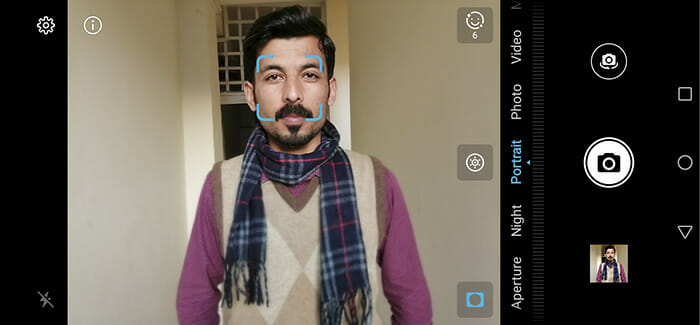 Portrait mode is usually used to focus well on your subject and wors best with a human subject in the picture. It gives a nice bokeh effect in the background so your images mimic the ones from DSLR. If you open portrait mode, you can find a bokeh toggle which you can enable or disable. A beauty meter which lets you enhance beauty features of the subject and a light meter that lets you change the light handling with the camera to give you a varied result.
Portrait mode requires to move a bit closer to the subject. Pictures taken in this mode from more distance don't turn out to be very well so the closer you are, the better will be the focus and the blur effect.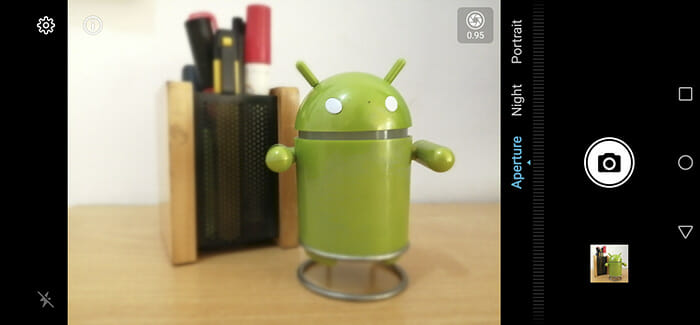 Aperture Mode is somewhat different. It collects more data that the portrait and blurs the part of the image that isn't focused. However, you can also change the focus after taking the picture. All you have to do is go to the gallery, open the picture taken in aperture mode,  tap on the lens button in the top and from there you can shift your focus from one subject to another.
Night Mode
First introduced by Huawei in the amazing P20 Pro, Night mode is used to take shots in low light conditions with long exposure. You can also adjust the shutter speed and the light sensitivity (ISO) in Night mode.
What's more amazing about this mode is that you don't need a tripod to take such shots. The camera in Huawei and Honor phones use the Artificially Intelligent image stabilization so your pictures come out steady even you took them while holding the device in your hands. The stabilization eliminates the motion blur and it also decides the length of exposure automatically based on how dark the conditions are.
Pro Mode
Pro Mode is the most difficult one to master. It takes a lot of practice and patience to be good at this one. Pro Mode basically lets you change the value of everything from the ISO to White balance. It gives you complete grip on camera controls so you can alter any value as you like.
Once you click Pro mode, you'll be presented with a number of options in the viewfinder. These buttons let you control and adjust focus, ISO, Shutter speed, Auto Focus, Exposure, and White Balance.
Though Pro mode is a very useful feature, it requires a lot of skill to master so we suggest you keep on practicing and playing with options in Pro Mode till you get a better understanding of how it works.
Other Modes and Filters
If you click on the More button you'll find more interesting modes to play with, "Light painting" being one of them. It allows you to take long exposure shots of traffic lights or star trail and moving water but a tripod is required to use this mode.
AR Lens is another great mode to play with. It uses Artificial Intelligence and enables users to change the background of their pictures in real time as well as add cool effects and characters to the pictures.
While this may be all for now, Huawei is certainly not holding back when it comes to the camera. The quality of Huawei and Honor phones camera is enhancing with every iteration of the software.