Samsung phones come with the One UI and among many other software features that compliment the hardware of the phones, Galaxy Edge panels are one of the most useful features that come with Samsung phones. These panels have been coming in Samsung's flagship phones since their first phone with a curved screen, S6 Edge
Edge Panels are basically drawers that you can open from the side of the screen on any supported Samsung device. They allow you to access apps, settings, contacts and multitask in a very easy manner. Good news is, that now you don't have to own a Galaxy Edge phone to have these panels and can install them on any Android phone that you have.
How to Get Galaxy Edge Panels
The first thing that you have to do to get those panels is installing the Edge Action app that is available on Play Store. It's okay if you are not willing to pay for it because it is a free app anyway, however, for extra features of the app you'll have to pay a minimal price of $5.
Once you have installed the app, tap it to run. You can run this app alongside almost all the third party launchers that you already have installed on your phone so you don't have to worry about its compatibility. Open the app and grant it all the permissions that you want.
Once the permissions are granted, you'll see a small tab appearing at the right of the screen. Clicking on that tab will open the panel from the right side of the screen. You can swipe left on the edge for many additional pages that give you access to different apps, quick settings, contacts, calendar, calculator and many more tools.
Customization of Edge panels
You can also edit what you want to show in the edge panel. To do so, you have to open the Edge Action app and from there you can select which tab to show or which one do not just by checking or unchecking that tab. You can also change the order of the panels here. Just drag and drop them in whatever order you want them to appear.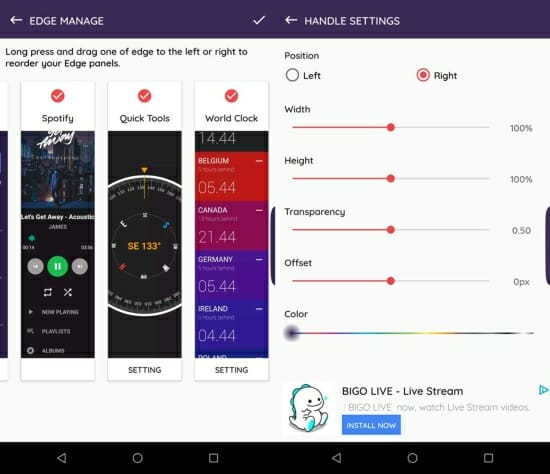 Besides that, you can also determine the size and color of the handle which you tap to open the panel.
Edge Actions also has extra panels like playing music, Weather, Voice recorder, File manager and the most useful like the double app but all these options are only available for the premium version and can be paid to unlock. However this does not undermine the usability of the app and if someone opts to use the free version, it has enough options to entertain your day to day multitasking use.