The latest version of OS from Google is already out now and if you can also install it in your device depending upon which phone you have. Not all devices will receive the Android Q simultaneously however, it's some of the best features of Android Q that make it a worth waiting upgrade.
Officially, Android Q will not be introduced until May 7 at Google I/O conference. As every year, it has first made its way to the beta version several months before its official launch. After this first beta, the beta 2 has already been scheduled for April, the beat 3 after May 7 and the final version of Android Q will roll out in Quarter 3 of 2019.
Google has already released the launch schedule.
System-Wide Dark Mode
One of the best features of Android Q the dark mode. By displaying pure black in the background of applications, OLED smartphones will use less energy and less eye fatigue. It would definitely be the most awaited feature too.
As of the beta version on pixel phones, the dark mode is already present but can only be accessed if you had earlier enabled dark theme of the Pixel Launcher under Android Pie. It cannot be disabled or turned off in the beta version but its obvious that the full version of Android Q will feature a toggle to turn it on and off.
Customizing Stock Android
Next on our best features of Android Q is the ability to theme your Android phone. We earlier saw the same thing in OnePlus devices with OxygenOS and now it has made its way to stock Android as well.
n the developer options we find at the bottom the sub-menu Customizing themes. You can choose a different system font, change the shape of the icons and select a new accent color. The possibilities are still very limited in the beta 1 version, but it is very promising.
More Control Over Location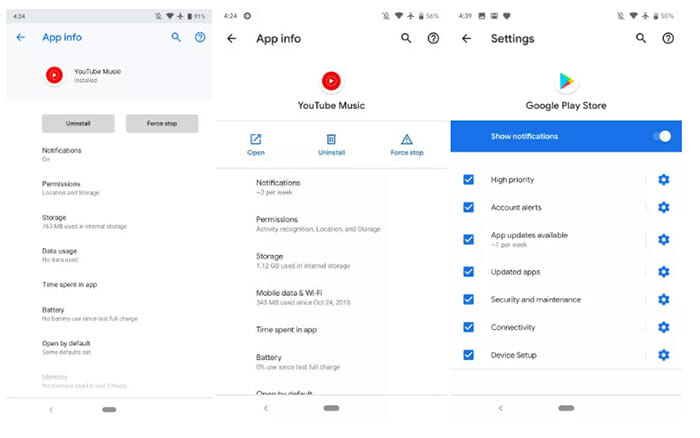 How to prevent an app from monitoring your location permanently? one of the best features of Android Q is that it gives you complete control to choose which app uses your location and if you close an app, let's say Facebook, it will be impossible for it to continue tracking you down.
A Newly Designed Files App
This one is an aesthetic change rather than a design revolution. There is an all-new files application that you can use to browse through your phone's data. Its overall look is simplistic and syncs with the overall look of the Android which looks quite pleasant.
Easy WiFi Sharing
Fed up with the question "what's your Wi-Fi code"! To answer this problem, Q proposes in its settings to create a QR Code corresponding to your home connection. Other users have to scan it to be immediately connected. When we connect to a new Wi-Fi, we also have the option "scan password". The smartphone then searches for a QR Code.
Desktop mode
Android Q also has a desktop mode mentioned in the developer settings which is similar to Samsung's DeX or Huawei's PC mode. The desktop mode allows you to connect your smartphone to a screen using an HDMI cable to replicate the interface of a computer, and it also allows you to use a mouse and a keyboard with your smartphone.
The feature is currently unavailable in the beta 1 of Android Q but hopefully, it will be available in the next beta versions of the OS or may be in the final release of the Android Q.