The entire country is in a state of lockdown, and this has restricted the access of people to several essential services, including online payment services. As the Coronavirus spreads and millions of people are getting affected around the world, restaurants, hotels, and shopping malls are closed, and even the conventional banks no longer are fully accessible. 
The lockdown continues, the Government is taking measures to give out relief to the people; therefore, they are allowing online payment services such as Easypaisa to remain open in Islamabad territory for three more days. However, these services will have to stay open at a limited time while they need to implement all Coronavirus preventive measures.
Regulations for online payment services
As per the orders issued by the Government from 24th March 2020, all shops were to remain closed. But today the Government came up with a few relaxations for the people of the Capital. All online payment services such as EasyPaisa, Jazz Cash, UBL Omni, and more will remain open till Friday. However, this will impose some restrictions upon them due to the Coronavirus crisis. The first of which is the timing for the shops, which can remain open for just 4-hours between 12 pm to 4 pm. All remittance collection from these services will occur within this time, after which the centers will shut down once again.
The relaxation is provided for only three days from 30th March onwards. So, keeping that in mind, the online services will close once again on Friday, 3rd April. Thus, the public can settle their remittances before that; otherwise, they will solely be responsible. The authority responsible for issuing these orders is the District Magistrate of Islamabad. Hence, these orders will be applicable only in the country's capital during the Coronavirus crisis.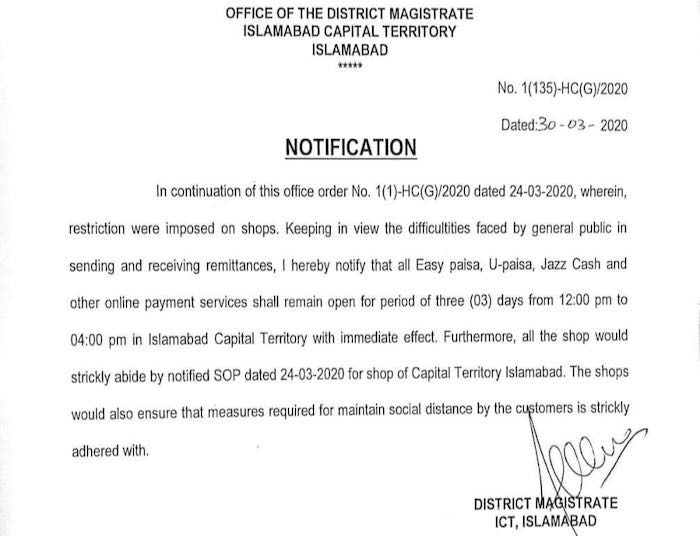 Social distancing during coronavirus crisis
All online payment services need to ensure that the public maintains social distancing while within the shops. Moreover, all Coronavirus preventive measures like disinfecting, wearing masks, and sanitizing, etc. are necessary within the shops. No other stores except the online payment service are to remain open during this time.
This is like a minor exercise to facilitate the people of Islamabad; hopefully, as this goes well, similar measures will be taken throughout the country. Now, it rests in the hand of the public to make it a success or another failure.